The month of November is always the best time to start investing in your online security. No matter what kind of cyber security software you're looking for (VPN, password manager, antivirus, etc.), almost all of them run a sale for Black Friday and Cyber Monday. Here are the best you'll find.
Be sure to subscribe to the All Things Secured YouTube channel!
First things first – it is not ABSOLUTELY necessary to spend money in order to secure yourself online. Often the best type of security is simply being alert and having common sense.
However, I've personally invested in these online security tools because:
They simplify and strengthen the security I already have;
They offer more privacy than many of the free services available;
The online security tools I use and will be mentioning here will be broken down into the following categories:
Let's jump right in!
Note: Some of the links in this article may be affiliate links, which means that at no extra cost to you, I may be compensated if you choose to use one of the services listed. I only recommend what I personally have used, and I appreciate your support!
Best VPN Sales for Black Friday
I've already written about the best VPN Black Friday deals here, but I'll repeat them again so you can see them here.
Recommended: Save 68% on NordVPN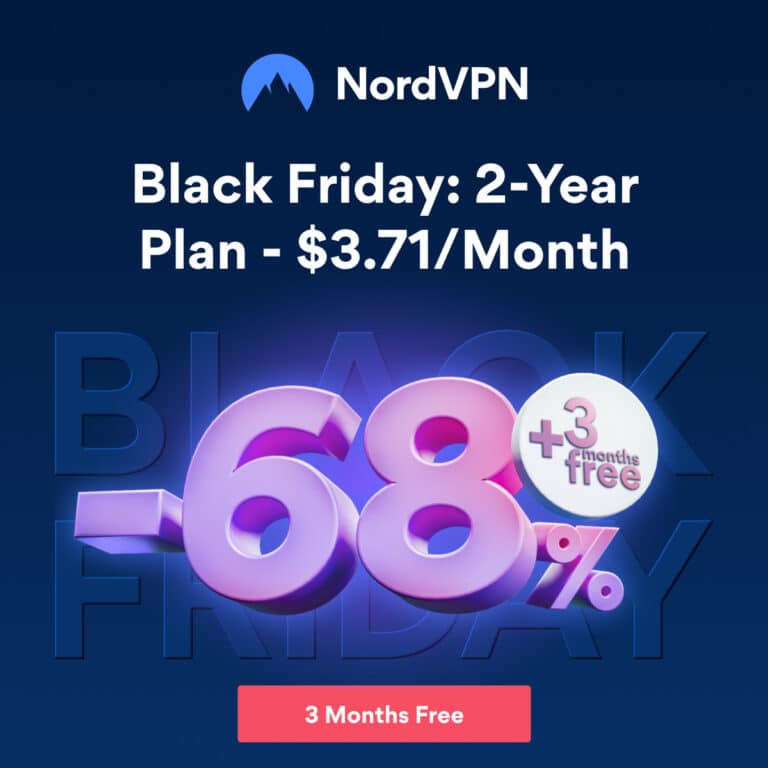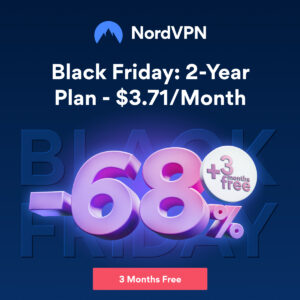 While most every VPN service is currently running a promotion right now, I often recommend NordVPN because it's the easiest software to download and use.
Right now, when you buy the 2-year plan, you'll not only get 68% off, they'll also give you 3 months free.
And as with all the VPN services I recommend, NordVPN comes with a 30-day money back guarantee, so you can get your money back if you decide it doesn't work for you.
Other VPN Black Friday Deals
As I said earlier, NordVPN isn't the only virtual private network that is running Black Friday and Cyber Monday deals. Here are a few more to consider as you're doing your research:
Best Identity Monitoring Deals
Sometimes the best thing we can do to protect our identity and credit online is to monitor it. So much headache and money can be saved if you can stop identity theft the moment it happens.
For this reason, I use IdentityForce to monitor the credit and identity of not just me and my wife, but also my two young boys (yes, even your kids can have their identities stolen!).
Recommended: Save 12% on IdentityForce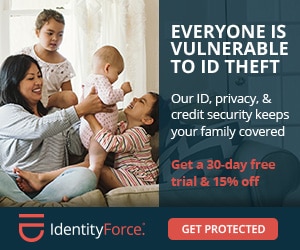 I've used a couple different identity monitoring services, and I've settled on IdentityForce as my favorite.
Not only do they monitor the credit and identity of myself, my wife and my kids, they also offer $1 million in identity theft insurance in the event that something does happen.
Identity monitoring doesn't prevent identity theft, but it gives me the peace of mind that it will get handled immediately.
Best Secure Email Black Friday Sales
For anybody that is starting to really take their online security seriously, one of the best things you can do is wean yourself away from free email like Gmail, Hotmail and others.
Using email that is end-to-end encrypted and that doesn't show you ads every single moment of the day is worth the small annual payment, trust me.
Recommended: Save 50% on ProtonMail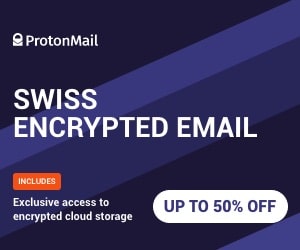 ProtonMail offers the best combination of user experience (very familiar for anybody who has used Gmail) and security.
Every email you send is end-to-end encrypted and you won't have Google's bots scanning the contents of your communication in order to serve you ads.
Using a good alternative to Gmail is not about deleting your Gmail address (unless you really want to!). It's a way to ensure that you have a secure mailbox outside of the Google ecosystem with which to communicate.
Get a better understanding of end-to-end encryption as well as comparing ProtonMail to Gmail here.
Best Antivirus Deals for Black Friday
Viruses, malware and ransomware are a threat you need to take seriously, it doesn't matter if you use a Mac, a PC, iOS, or Android.
Don't think that just because you have a Mac, that you're immune to viruses. It's just not true. We all need to be wary.
Recommended: Save 50% on Avast Protection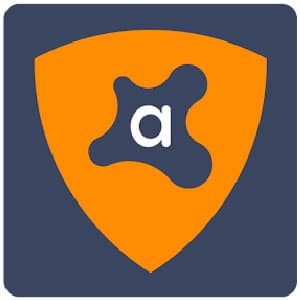 With the Avast Premium Security package, you'll not only be able to scan all your devices for viruses and malware, you'll also have protection against ransomware.
Having Avast installed is another way to make sure that you – or perhaps a parent you love – doesn't fall prey to fake or unsafe websites.
They secure against phishing sites that attempt to steal your data and money.
Best Password Manager Deals
Last, but most certainly not least, a password manager finishes off this list of the most important personal online security tools you need to consider during this Black Friday sale season.
This is the one piece of software that I use more than any of the others listed here, mostly because I'm always logging into my accounts every day.
Recommended: 1Password Manager App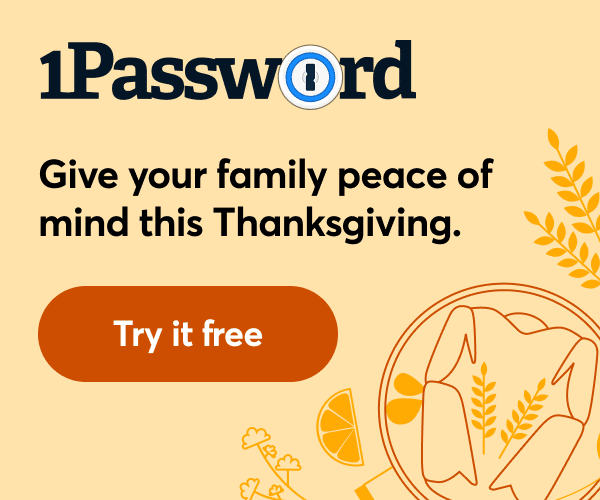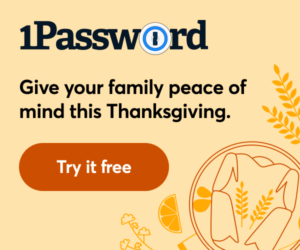 I've been using 1Password for about 2 years now and I absolutely love it.
It does a great job of helping me create better passwords, organizing them within the app and syncing them between my devices.
What's even better, though, is that I can now store my 2-factor authentication within 1Password so I don't have to open up my Google Authenticator app for 2FA. It saves me at least 10-15 minutes a day!
Download the software and give it a try. They'll let you use it for 30 days for free, I believe, and once you've finished your month, I'm betting that you'll be as hooked on it as I am.