In August 2023, Proton announced an enhanced account security feature known as "Proton Sentinel". But if your data is already encrypted and our account protected by 2-factor authentication, what kind of security does Sentinel add? I've noticed two primary benefits that we'll discuss here, as well as answer the question of whether or not YOU should turn it on.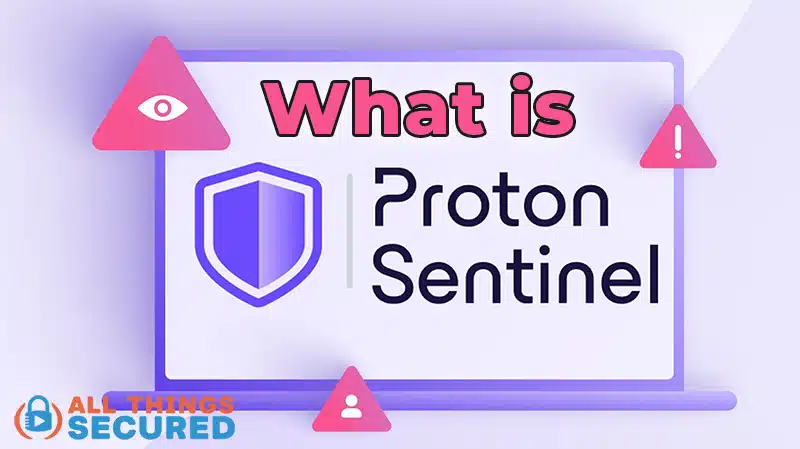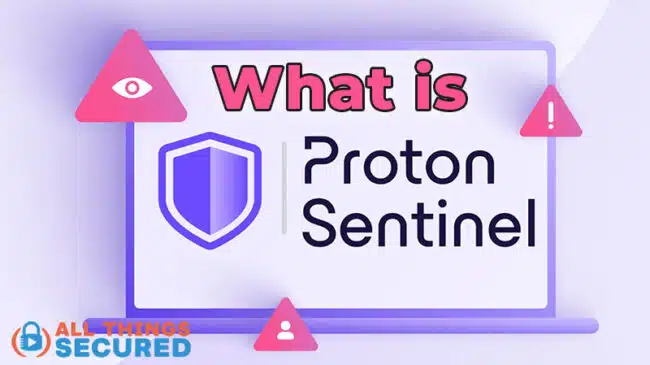 The Proton Sentinel program is specifically designed for those Proton users who need advanced security protection. It strengthens your account against suspicious login attempts, adds 24/7 monitoring backed by human security analysts, and detailed security logs.
Whether it's journalists, politicians, activist, government officials or other high-value targets, Proton needed a better way to protect the sensitive Proton Mail accounts from takeover attempts by bad actors. Here's what you need to know.
Let's start with how to turn it on.
How to Enable Proton Sentinel
First things first, it's important to note how easy it is to enable Proton Sentinel for those who are paying Proton users, which includes all Proton Unlimited plans, Family plans and Business plans.
If this is you, you want to navigate to:
Account Settings: In your Proton account, find the account Settings page. You can usually find this by clicking on your name and email address on the upper-right corner.
Security & Privacy: On the left-side menu, click "Security and Privacy".
Enable Proton Sentinel: You will see a simple toggle button to turn it on or off.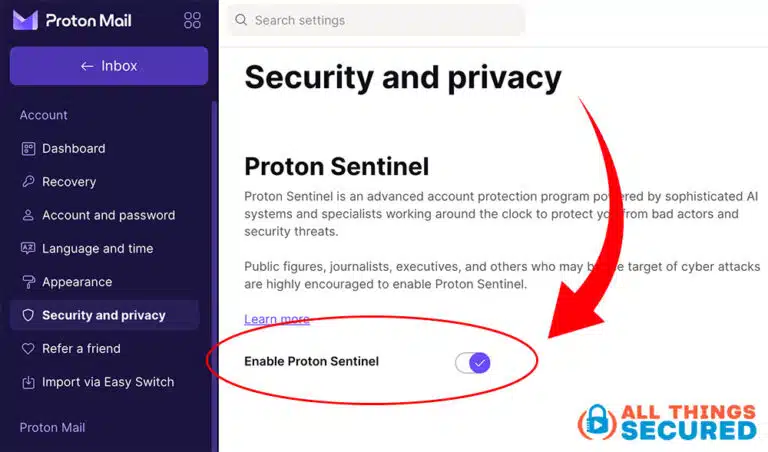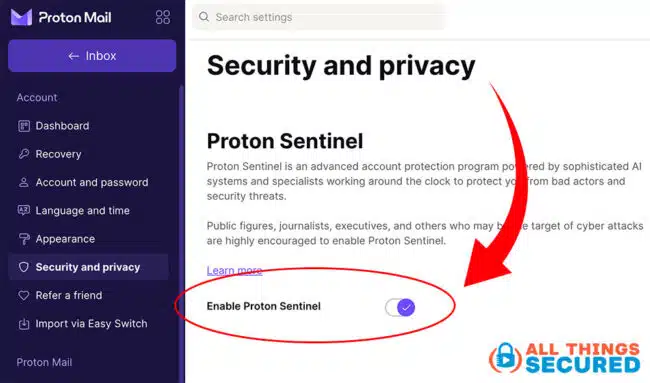 That's all it takes to activate Proton Sentinel. With this toggle on, you're now taking advantages of the benefits the program has to offer.
Benefits of the Proton Sentinel Program
When it comes to any kind of advanced login protection program, a lot of the benefits will often seem like inconveniences at first. This is because you might find yourself having to "prove" your identity more often, particularly if you travel a lot or use a VPN, and there might be more frequent security alerts you have to deal with.
The primary goal of the Proton Sentinel program is to limit suspicious login attempts.
Protecting Your Account Login
The first step to protecting your Proton account is having a strong password and two factor authentication (2FA). If you aren't already using 2FA for account security, that would be the priority before you enable Sentinel.
The Sentinel program builds high security for your account login in two ways:
Automated Systems: Proton will add strict challenges to any suspicious activity in the account, most commonly at the login attempt.
Human Security Analysts: These suspicious events will be escalated to trained security professionals who will combine AI with human analysis to review the activity and determine whether or not account changes would be necessary.
Support Requests: The advanced protection extends to support requests which are automatically directed to trained security specialists.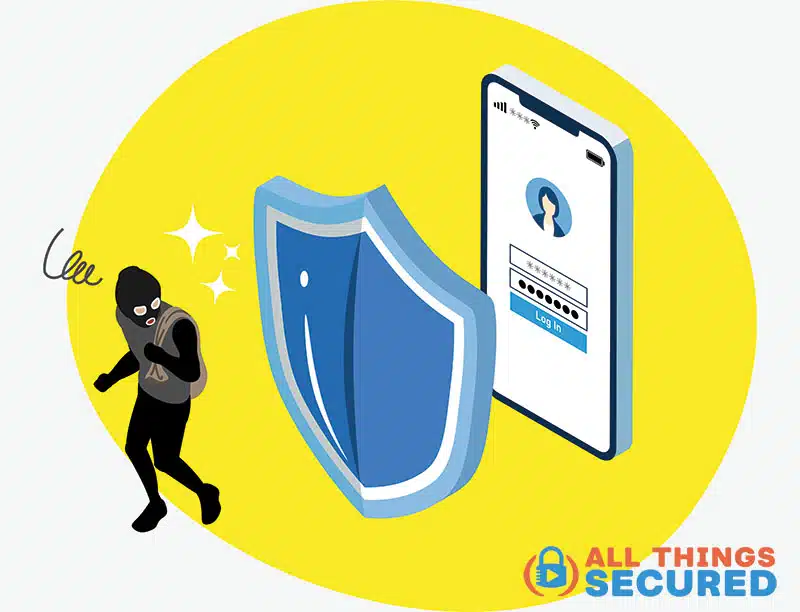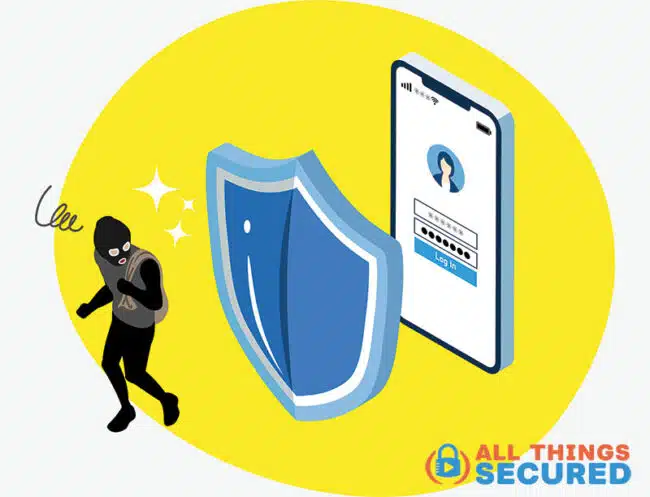 As stated earlier, as a Proton user with this activated, you should expect to see more security alerts for suspicious login attempts.
Account Security Logs
In addition to this AI with human protection against account takeover attempts, Proton Sentinel also gives users access to advanced logs that enable you to see exactly what is happening with your account.
With more detailed security logs, you get visibility into:
All account login attempts;
Device and operating system;
IP address, location and ISP (when you enable advanced logs);
Any account changes that were made (password changes, added 2FA, etc.)
Any action taken by Proton (a column called Protection);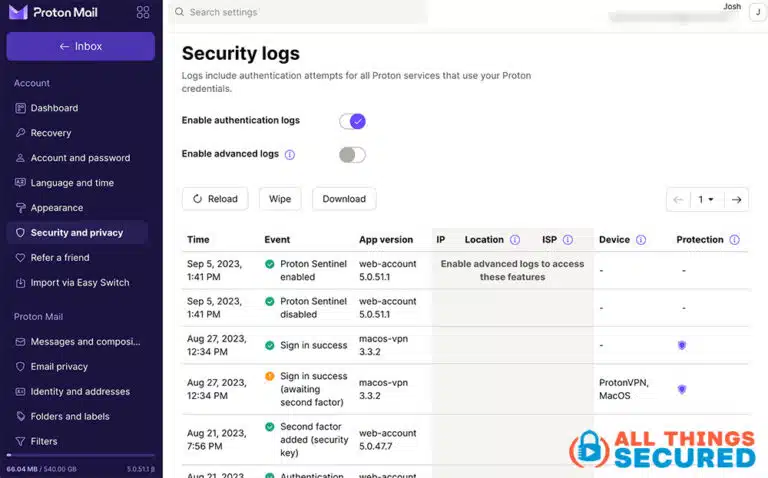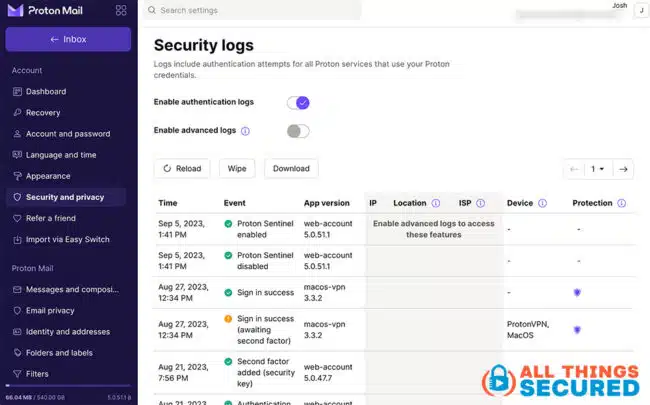 The action taken by Proton could be a verification process, a human review or even a blocked login attempt. In each case, it's an example of advanced protection at work.
Should YOU Use Sentinel?
So this is the million dollar question. Which Proton accounts need Sentinel?
According to Proton, this kind of high security program isn't meant for everybody. If you're dealing with particularly sensitive data or consider yourself a higher risk than the average user, then it's a no-brainer.
But for most users, the real question boils down to this:
Are you willing to trade a little convenience for additional security?
Logging in to use your favorite Proton services may become a bit harder with Proton Sentinel enabled, but the protections will be stronger. Personally, the inconvenience has been minimal for me, but I also highly value my security and privacy.
Ultimately, it's up to you and your risk profile. If you're already a Proton Unlimited user, it's a simple switch. And if you're not a paying Proton user, perhaps this is the push you need to start using encrypted communications.
Start Encrypting Your Sensitive Data
Control your privacy.