First launched in 2018, Surfshark VPN jumped into a cut-throat industry full of fierce competition. Surprisingly, they have not only survived their first couple of years, they seem to be making a name for themselves. In this Surfshark VPN review, I want to look at what sets them apart and how they compare with the established VPN players.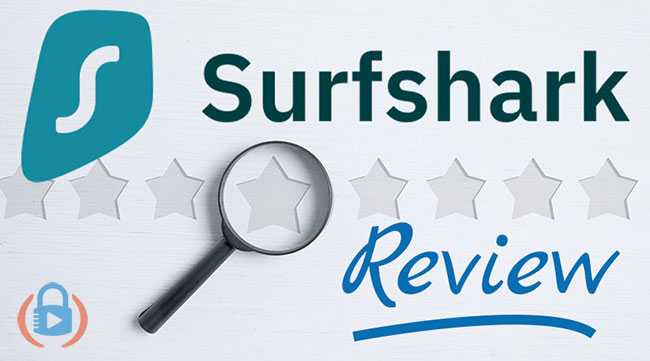 I rarely review newer VPN services. Trust me – I get at least 2-3 emails per week asking me for a review.
But there was something about Surfshark that struck me as different. I can't explain exactly what it was in the beginning, but now that I've had a chance to use the software, I know exactly why.
It's just a good VPN.
In this Surfshark review, we're going to uncover how they've managed to create such a good service. I'll explain the kind of features they offer and how it runs on various devices.
You can use the navigation links here to jump to a specific section, or you can continue scrolling to read more.
As you can see above, I'll also be covering a quick Surfshark setup tutorial for those who want help installing the software on their desktop or mobile device.
I hope that you find this review of Surfshark VPN helpful as you continue to do your research for a service that fits your needs!
Note: Some of the links in this article are affiliate links, which means that at no extra cost to you, I may be compensated if you choose to use one of the services listed.
Who Owns / Runs Surfshark VPN?
As our world continues to get more connected, people are becoming more aware of the need for internet privacy.
Commercial VPNs have become a staple of this privacy movement, a tool used to encrypt data as it travels from your devices (laptops, tablets & mobile) through the internet.
The problem is that there are hundreds of companies that sell virtual private network services and a few of them have been caught offering back door access to governments.
Where does Surfshark fit into this?
Honestly…
…I have no idea.
Other than the fact that the company is based in the British Virgin Islands (as are many other VPNs because of the privacy laws), I can't find too much detail about them. LinkedIn shows a few affiliate managers, but no leadership.
Here's what their "About" page looks like: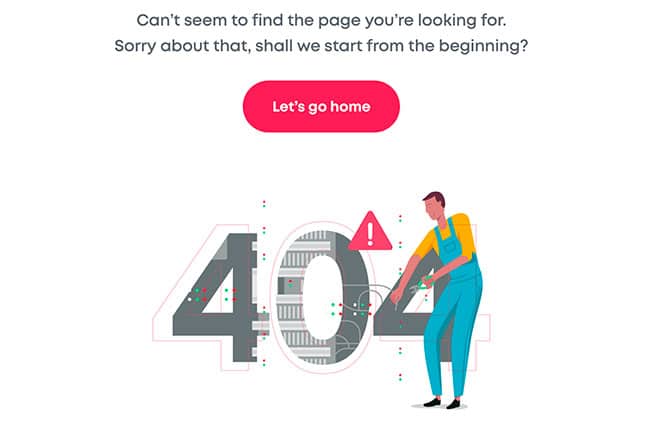 Is this a good or a bad thing?
It really depends on who you talk to. For me, I like to know who I'm entrusting my data privacy to, and Surfshark doesn't give me much to go on.
Bottom Line: In my opinion, this is my only complaint about the company I'll give in this Surfshark review. If they give me more details about who they are, I'll update this article.
When you compare Surfshark to one like VyprVPN, a company that not only lists their leadership team on the about page but also has a team picture, you can see there's a major difference.
Surfshark Review for 2020
To start, you can watch my Surfshark review on YouTube:
Be sure to subscribe to the All Things Secured YouTube channel!
| | |
| --- | --- |
| Review | Surfshark VPN |
| Summary | Surfshark VPN is a young company that has made big waves in the VPN industry by creating excellent apps, offering unlimited simultaneous connections and having some of the lowest subscription pricing. Unfortunately, details behind who is running the company are sparse. |
| Author | Josh Summers |
| Rating | 4.8 (out of 5) stars |
As we dive deeper into this Surfshark review, I want to clarify a couple point here.
First, I've used over 30 different VPNs over the past ten years, so a lot of how I'm structuring this review of Surfshark VPN is based on how it compares to other popular services on the market today.
Second, since I don't have the ability to audit their internal security or logging practices, I can only share with you what they themselves market on their website. Take that for what it's worth (and this is true for pretty much all VPNs).
Now, with that said, I have to admit that Surfshark is quickly becoming one of my favorite VPNs.
It has obviously been designed by someone who has taken all the best features and benefits of other virtual private network apps and packaged them into one, new service.
What kind of features and benefits does it offer?
Surfshark Features | What They Offer
When compared against this list of the most important features in a VPN, Surfshark ticks all the boxes.
These are the features that I consider standard. In other words, every VPN should have these features, and thankfully Surfshark does.
Standard VPN Features
AES 256 Encryption;
Live Chat 24/7 Support;
1000+ servers in 60+ countries;
Zero-log policy (so they say);
Multiple connection protocols;
Apps for most devices (Android, iOS, Mac, Windows, Fire TV, Linux, etc.);
These standard features aren't what make Surfshark unique, though. This is what you should expect from any service, honestly.
It's the extra features offered by Surfshark that I find interesting. You won't find these features in most virtual private network apps, especially not all together.
These extra features include:
Double-Hop VPN: As an added security feature, Surfshark allows users on all platforms to connect on what's known as a "double-hop" server. Basically, this means that you're routing your connection through two VPN servers instead of just one, which increases your security and makes it harder for your location to be traced.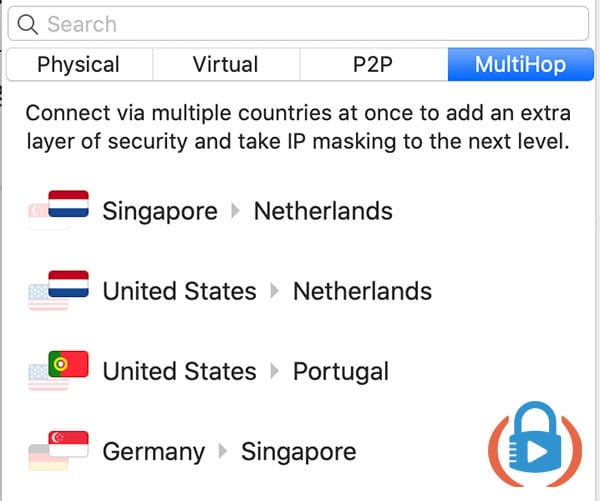 SmartDNS: Surfshark offers SmartDNS! This is a huge benefit for those users who want to add a VPN to Apple TV which, unlike Amazon Fire TV, doesn't offer dedicated VPN apps.
Unlimited Simultaneous Connections: If you're a family, this is a feature you're going to love. While most services only allow you to connect 3-6 devices on one account simultaneously, Surfshark removes those restrictions. Each member of your family can connect their phones, tablets, computers and TVs without any worry about simultaneous connections.
Split Tunneling ("Whitelister"): Surfshark is one of the few apps that offers VPN split tunneling, a feature that lets you choose which apps or websites get directed through the encrypted tunnel. Sadly, it's only available on Windows and Android (Apple doesn't allow this kind of feature on its devices yet).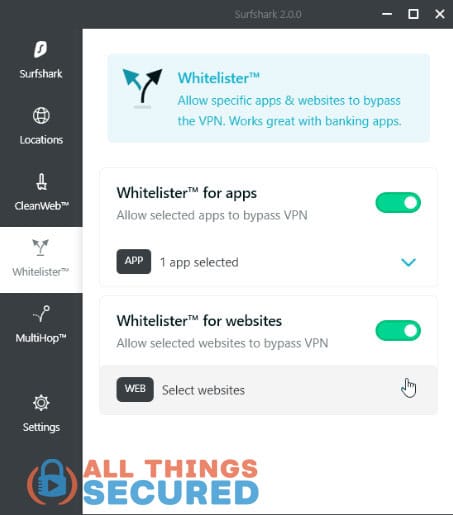 GPS Override: This is a cool feature I haven't seen in many other apps that overrides your phone's GPS coordinates. It'll mess you up if you want to call for an Uber, but if you want to watch YouTube TV, this feature will be your best friend. (again, only available on Android, unfortunately)
WireGuard Integration: As of late 2020, Surfshark VPN has rolled out the WireGuard protocol as a connection option. WireGuard is an open source protocol that is widely considered one of the fastest, most secure connection options available today, so this is definitely a good thing that not all virtual private networks offer.
What I love most about these features is that many of them aren't concealed behind some weird "advanced settings" tab. They're right in the open, begging for you to use them.
Surfshark Review | VPN Pros and Cons
There's a lot to love about using the Surfshark apps. They're designed well so as to be easy to use, even if you don't consider yourself to be "tech-savvy".
For the purpose of this Surfshark review, I'm going to quickly list the pros and cons of the service below.
Surfshark Pros
Easy-to-use apps;
30-day money back guarantee;
Allows P2P downloading;
Extremely affordable;
Unlimited simultaneous connections;
Surfshark Cons
Certain features not available on Mac/iOS (split tunneling, OpenVPN protocol, camouflage mode);
Vague company details;
Unfortunately, there a few great features of the VPN that aren't available to us Mac and iOS users.
In some cases (i.e. no OpenVPN protocol option for Mac), that's the fault of Surfshark. In other cases (i.e. split tunneling), that has to do with what Apple allows developers to do.
Ultimately, the pros far outweigh the cons, which as you can tell in this Surfshark review, makes it easy for me to review them.
What Makes Surfshark Different?
Before I finish up this formal review of Surfshark, there are a few "add-ons" that set Surfshark apart from the competition.
I don't consider these "features", which is why I'm listing them separately.
What makes Surfshark different?
NoBorder Censorship Bypass: For those users who live in countries like China that heavily censor their internet, Surfshark offers a setting called "NoBorders". They don't specify exactly what this setting does, but my guess would be that this setting limits you to specific obfuscated servers within their network.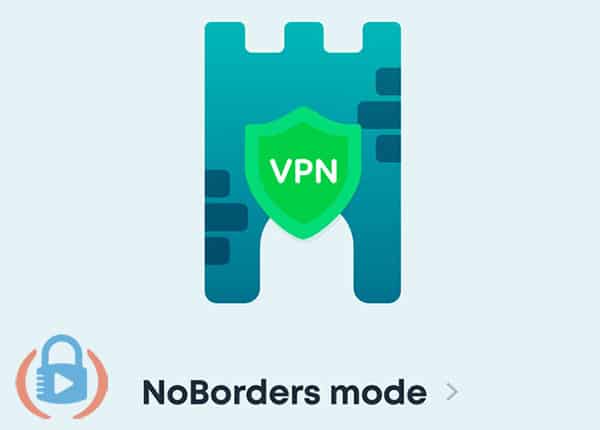 CleanWeb Ad Blocking: Another aadd-on to Surfshark is their CleanWeb service. Not only does it end up blocking popups and intrusive ads as you surf the internet, it also prevents you from visiting malicious websites or clicking through email phishing scam links.
BlindSearch: If you'd rather search the internet without leaving a trail or seeing a whole page-worth of advertisements, BlindSearch gives you the option to make anonymous searches. If you often use "Incognito Mode" in your browser, this is something you might like.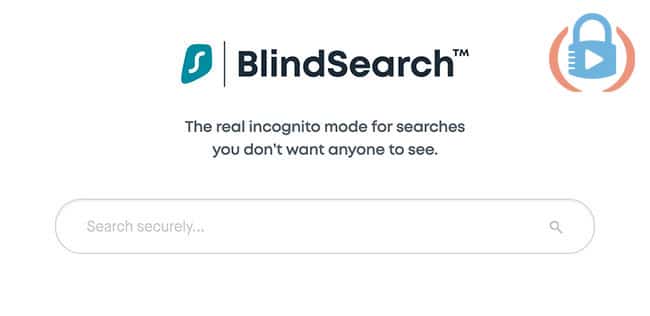 Alert (formerly "HackLock"): Surfshark isn't heavily promoting this, and honestly I don't find it extremely useful. By providing your email address, you can see if it's been leaked on the so-called "dark web". Personally, I prefer using a good password manager app to monitor not only my email addresses but also the health of my passwords.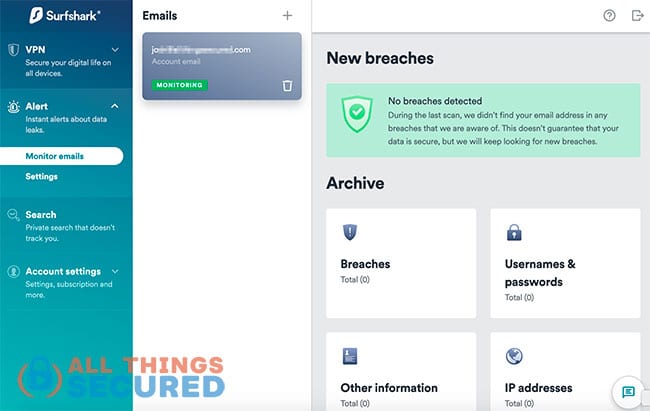 With the exception of Alert, I find each of these to be add-ons that provide a lot of value to an already low-cost service.
When you consider that Surfshark is already half the price of most other popular VPN services, but packed with just as many (and in some cases more) features, it's no wonder they've made a name for themselves in such a short time.
Surfshark vs ExpressVPN Compared
When it comes to competition, ExpressVPN is definitely the 400 pound gorilla in the VPN industry. They're well-established and have been updating their software for the better part of a decade.
Surfshark is comparatively young and doesn't have the same user base.
I use both Surfshark and ExpressVPN, and I find them to be more similar than they are different. They both have great apps, they're both fast and they're both easy to use.
The few differences between the services can be seen below:
| | Surfshark VPN | ExpressVPN |
| --- | --- | --- |
| Simultaneous Connections | Unlimited | 5 |
| Wireguard | Yes | No |
| Multihop | Yes | No |
| IPv6 Leak Protection | No | Yes |
| # of Countries w/Servers | 63 | 94 |
As you can see above, the main benefit of Surfshark is that they offer WireGuard, better simultaneous connections and a multihop feature.
ExpressVPN, on the other hand, has servers in more countries and offers IPv6 leak protection.
Which is better – Surfshark vs ExpressVPN?
They're pretty neck-and-neck, so it depends on what features are most important to you.
Surfshark vs NordVPN Compared
NordVPN is another very popular virtual private network that often gets compared with Surfshark VPN.
More than any other service, I feel like this comparison is the most similar.
Both Surfshark and NordVPN offer beautifully-designed apps on every platform you need, P2P and multihop (double VPN) options, and extremely fast speeds.
Here's a quick rundown of the most important similarities and differences between Surfshark and NordVPN:
| | Surfshark VPN | NordVPN |
| --- | --- | --- |
| Simultaneous Connections | Unlimited | 6 |
| Dedicated IP Option | No | Yes |
| Multihop | Yes | Yes |
| SmartDNS | Yes | Yes |
| # of Countries w/Servers | 63 | 59 |
Again, you can see that with the exception of simultaneous connections and an option for a dedicated IP address (which costs extra with NordVPN), these two services are mostly the same.
Surfshark VPN Setup Tutorial
Ok, I'm now going to transition out of a focused Surfshark review to more of a setup tutorial.
The value here, though, is that you're going to get a good look at exactly what the apps look like for both desktop and mobile devices.
The app differs slightly for different operating systems (i.e. Mac vs Windows or iPhone vs Android), but I'm not going to get into all the details on the differences.
The hope here is that you can see how they've designed the user experience to see if it works for you.
Desktop Setup Tutorial for Surfshark
After you visit the Surfshark website to download and install the Surfshark desktop app, you'll be prompted to either sign in or sign up for a free 7-day trial.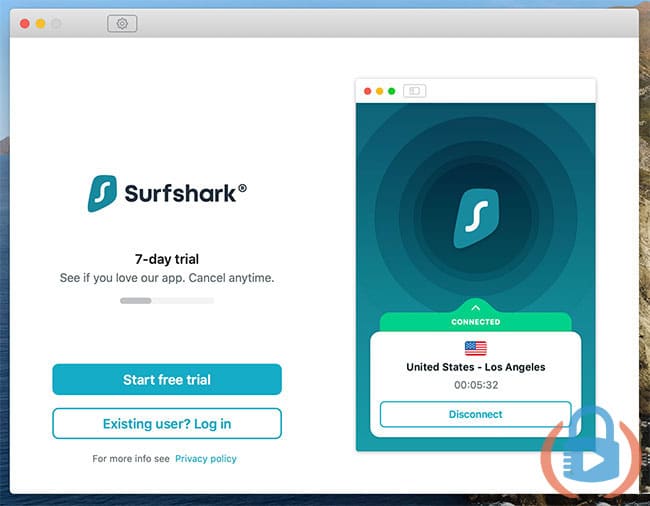 You can take advantage of the 7-day free trial, but with a 30-day money back guarantee, it makes more sense to just sign up first and then test out the software.
After you sign in, the primary screen that you'll work from looks like this: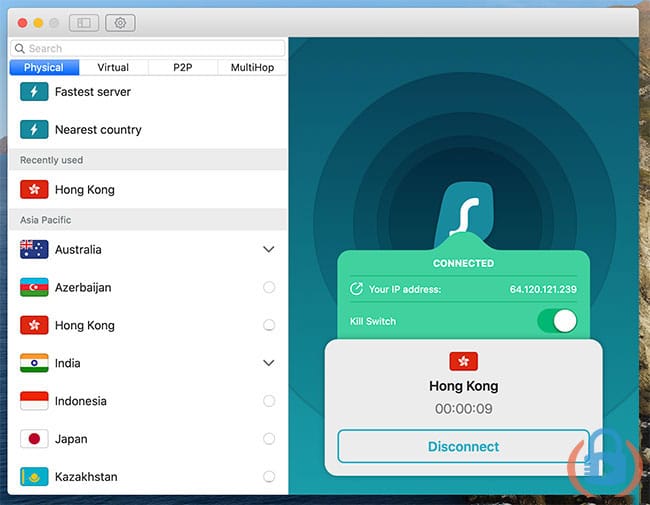 In the above screenshot, there are couple things that you'll see:
IP Address: Surfshark's desktop app tells you exactly what your IP address is both when you are connected to the servers and when you aren't.
VPN Kill Switch: It's easy to toggle the VPN kill switch from within the app at any time.
VPN Server Choices: On the upper-left, you'll see that you have options to connect to physical servers, virtual, P2P and MultiHop servers (available with the OpenVPN protocol). This is a convenient way to find exactly what you need and something not many other VPN services do well.
As for preferences and advanced settings on the Surfshark desktop app, here's what you get: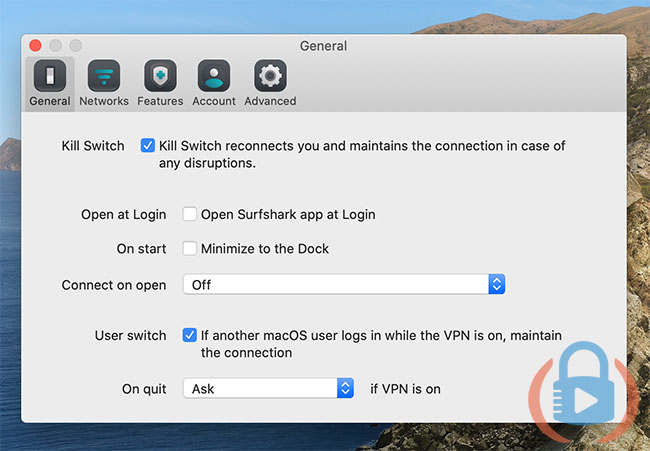 Most of this is pretty standard for VPNs, but it's nice that the options are there.
Under the advanced settings tab, you can see the various connection protocols that are available, including the new WireGuard option.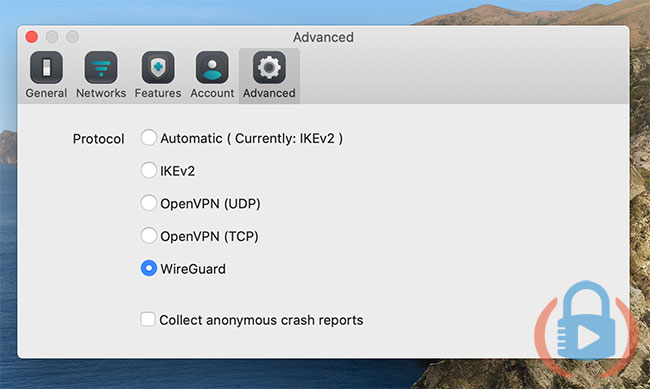 Whether you allow anonymous crash reports is up to you, but I do recommend you choose WireGuard as the default connection option.
Now's let's take a look at the mobile app for Surfshark.
Mobile Setup Tutorial for Surfshark
The Surfshark VPN app on your mobile device looks incredibly similar to what you'll find on your desktop app.
After you download and sign in, you can easily tap "Quick Connect" to get connected to the fastest available server.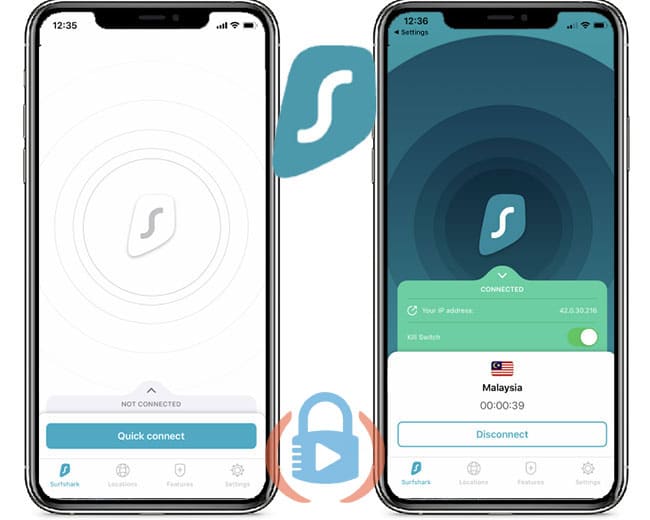 In the above screenshots, you see what the app looks like before you're connected (left) and what it looks like when you're connected (right).
You can allow the app to choose the best server, or you can click on "Locations" on the bottom menu to access the available servers.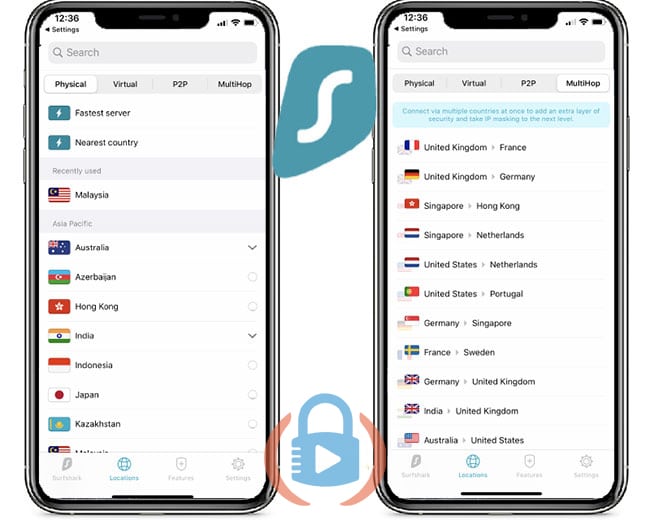 As with the desktop app, the mobile app gives you the option to choose from physical servers, virtual servers, P2P and MultiHop options.
Finally, we'll take a look at the available settings that come with a mobile app.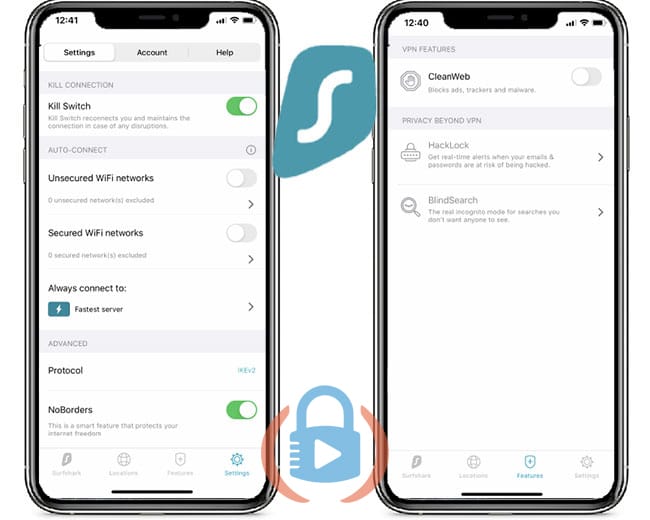 The settings here give you access to things like the kill switch, WiFi network configurations and protocols (unlike the MacOS version, the iOS version gives you options for different connection protocols).
You also get access to the add-ons I've covered in the above Surfshark review, including BlindSearch, Alert (aka Hacklock) and CleanWeb.
CleanWeb is the only one that is native to the app. The other two are opened in a separate browser.
Overall, the app is very user-friendly and quick to connect.
Final Thoughts: Is Surfshark Worth It?
So the million-dollar question: Is Surfshark worth it?
Hopefully you've seen in this review of Surfshark what makes the service unique. It shares many of the same features that you'll find in other virtual private networks, but it seems to do them better.
On top of that, it gives you access to a number of different features you won't find with other services. This includes SmartDNS, Whitelister (split tunneling), CleanWeb and many more.
Finally, if you've done your research and compared other competitors like NordVPN or ExpressVPN, you know by now that they are significantly cheaper.
So yes…Surfshark offers amazing value and is definitely worth it.
Give them a try and if you don't agree with me, get your money back within 30 days.