For the past few months that I've been using Mozilla VPN, I've had a chance to compare it with other VPN services, understand what makes them unique and discover what features they lack. If you're looking for a more personal Mozilla VPN review, you've come to the right place.
Starting in late 2019, Mozilla – the company behind the popular Firefox internet browser – began testing what was then known as the "Firefox Private Network" or "Firefox VPN".
The browser extension was limited to encrypting and protecting browser traffic only, but Mozilla used it as a testing ground for a full VPN service.
Fast forward to mid-2020, the name was changed to Mozilla VPN, they exited beta and was made available to the public as a subscription service.
As a long-time Firefox user (I ditched the Chrome browser a while ago), I've been curious to see how Mozilla would apply their customer- and privacy-focused mission to an entrenched VPN market.
Can Mozilla VPN do it better?
For the sake of easier navigation, I've broken out my thoughts into the following sections:
I hope you'll get all your questions answered in this Mozilla VPN review! If not, please leave a comment at the end and I'll do my best to respond.
Let's dive in!
Note: Some of the links in this article are affiliate links, which means that at no extra cost to you, I may be compensated if you choose to use one of the services listed.
Mozilla VPN Review 2023
| | |
| --- | --- |
| Review | Mozilla VPN 2023 |
| Summary | Mozilla VPN is a highly anticipated offering from a respected privacy company that delivers an exceptional security and privacy product. However, it still lacks many of the standard features and advanced settings that most users have come to expect with a VPN. |
| Author | Josh Summers |
| Rating | 4.7 (out of 5) stars |
Throughout the period that I've spent reviewing Mozilla VPN, I've tried to focus on a few key questions that I want to answer:
Is Mozilla VPN consumer-friendly?
Does Mozilla VPN deliver on its promise to offer a better security and privacy product?
Is it worth the fee compared to other VPN services?
Here's what I found:
What Does Mozilla VPN Offer?
There are a few key selling points for Mozilla VPN that are important to mention here. Much of it really boils down to two things:
Simplicity and trust.
I'll cover trust more in a moment, so let's focus for a moment on simplicity. Mozilla VPN offers:
One VPN Protocol (WireGuard): Most VPNs give you the option to choose from a number of connection protocols. Mozilla has decided to give you only one. Fortunately, the WireGuard VPN protocol is quickly becoming the most respected protocol for its speed, stability, and security.
5 Registered Devices: Mozilla allows you to connect 5 devices with your account to use the VPN. Notice I didn't say simultaneous connections, which is how most VPNs market this feature. Using Mozilla VPN, you have to register your device with your Mozilla account before you can use it. De-registering that device is done simply through the account settings.
Mullvad-Powered Server Network: Mozilla VPN boasts 500+ servers in 30+ countries, using a network powered by Mullvad. Mullvad is widely known as another privacy-centered company and this partnership offers quite a few advantages over the traditional method of leasing 3rd-party servers that other VPNs use.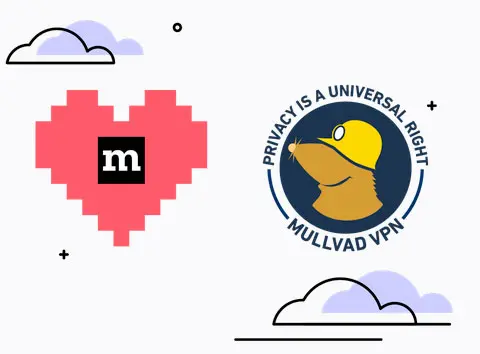 Flat Pricing, No Gimmicks: Most VPNs have multiple price plans based on subscription term (1 month, 6 month, 1 year, 2 years, etc.). Mozilla VPN simplifies this with a single offering: a monthly service that costs $4.99. Period. No extra fees. No "flash sale". This is the price you'll get.
VPN Kill Switch: I consider this a "standard feature" for any VPN nowadays. Still, it's worth mentioning that Mozilla VPN offers a VPN kill switch feature and it's set on by default for all devices.
Even the software itself is simple. No maps, no advanced settings. Just a place to select your location and an on/off button.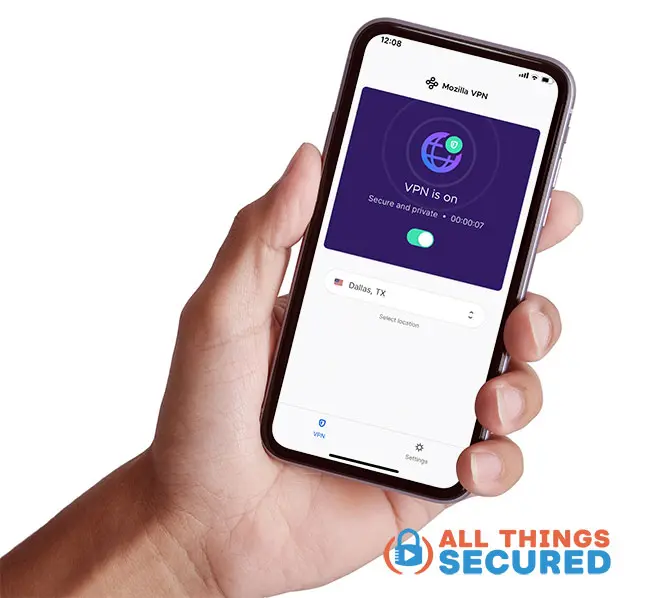 There's a lot that I love about this simplicity, but it also comes at a cost.
As we continue this Mozilla VPN review, let's take a look at the features and settings that it lacks.
Missing Features and Settings in Mozilla VPN
When Mozilla first brought their VPN product out of beta, it was missing a number of key features. It was what the business community we would call an "MVP" or "minimum viable product".
For example, they launched without apps for MacOS and Linux.
Thankfully, that has since been rectified. And I'm sure many of my fellow Mac users would be glad to know that is the case.
However, there are a few other features and settings I'm used to seeing in VPNs that I haven't found with Mozilla VPN, including:
Limited VPN Connection Options: As I said earlier, WireGuard is an excellent protocol, so having it as the only option isn't terrible. However, certain times when having the ability to change connection protocol might be useful, and Mozilla VPN lacks these options.
Device Limitations: Although they've now added apps for Mac and Linux, Mozilla still doesn't have a VPN app for Fire TV, Kodi or routers. When you combine this with the fact that you have to literally register each device you connect, you'll see that Mozilla is extremely restrictive in its device policy.
Limits on VPN Servers: The most popular VPNs on the market today tend to boast thousands of servers in 50-60+ countries. When you compare that to Mozilla's measly 280 servers in 30 countries…well, it looks pathetic. This honestly doesn't bother me much since VPNs tend to inflate their server numbers a bit and I trust the Mullvad network, but it's a lacking feature none-the-less.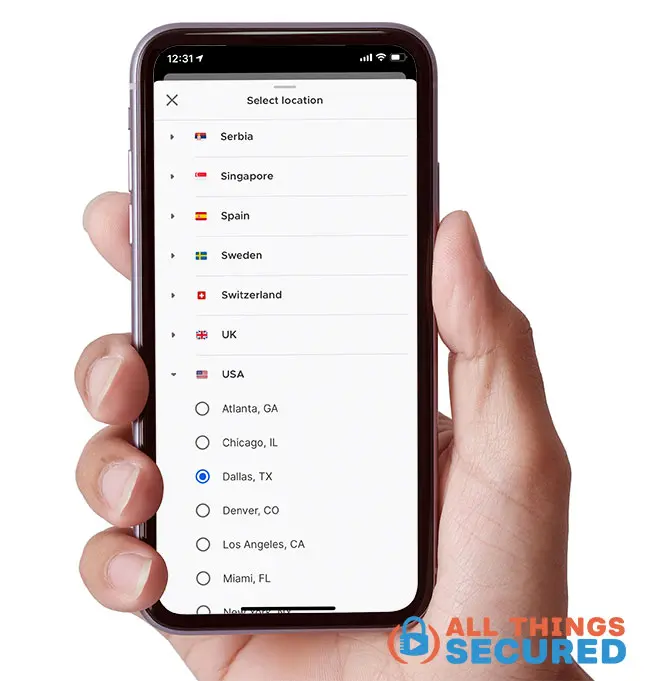 Limited Anonymous Options: While Mozilla VPN excels in the areas of security and privacy, it's far from anonymous. To start, there are no anonymous forms of payment – only credit cards right now. Second, you need to create a Mozilla account with your email in order to log in and register devices.
Few Advanced Features: To show you what I mean, below is a screenshot of the "settings" tab of the iOS app. Other than a place to add/remove devices, get customer support and give feedback…that's about it. There are no options to launch on start, auto-connect, use SmartDNS, etc.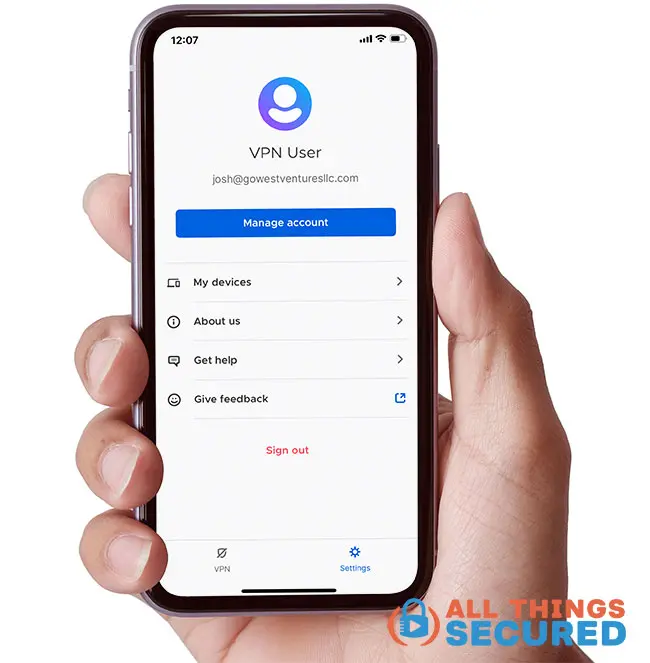 Limited Worldwide Availability: For reasons beyond my understanding, Mozilla VPN has limited its rollout to only the US, the UK, Canada, France, Germany, Italy, Ireland, New Zealand, Singapore and a handful of other countries (17 in total). Ironically, you can use a VPN to trick the service into believing you're in one of those locations, but that's beside the point.
These lacking features are extremely obvious when you realize that you're paying pretty much the same price (or more, in some cases) for Mozilla VPN than its competitors.
But before you write-off the service completely, there is one important factor to consider that is the key to this Mozilla VPN review.
Most Important Feature Mozilla VPN Offers
Trust.
This is a huge pet-peeve of mine when it comes to virtual private networks. They love to blow smoke about zero-log policies, country jurisdiction, and high security standards.
But the moment you try to dig into the company and find out exactly whom you're entrusting all your internet data with…
…they go nuts.
"We want you to trust us, but we won't tell you anything about who we are, who owns us, and our IT practices. We prefer to remain anonymous".
Do you see the problem here?
This is the most important feature Mozilla VPN offers.
Mozilla. Is. Trustworthy.
The company has earned that trust over 20 years of doing business. They have put privacy first and proven that their software products prioritize this.
They have built trustworthy partnerships (Mullvad), they use a trustworthy protocol (WireGuard) and as a company, they have a trustworthy corporate governance.
You may not realize it at first, but this is a very important detail worth paying attention to when you're comparing Mozilla VPN with its competitors.
How Does Mozilla VPN Compare with the Competition?
It's easy to look at a software like Mozilla VPN in a vacuum, but thankfully we live in a world where competition spurs companies to build better products.
So I want to take a few moments to compare Mozilla VPN with some of the more popular VPN services on the market today.
Mind you, most of these companies have been running a VPN service for more than 10 years, so they have a bit of a head-start on Mozilla, but it will help you understand how they compare.
Mozilla VPN vs ExpressVPN Comparison
We'll start by comparing ExpressVPN vs Mozilla VPN.
ExpressVPN was established in 2009 and has built up a base of tens of millions of users over the past decade. They're known for a software that is ridiculously simple and a connection that just works (see my ExpressVPN review to understand more).
Like Mozilla VPN, the home screen for the app is as simple as a location choice and a power button.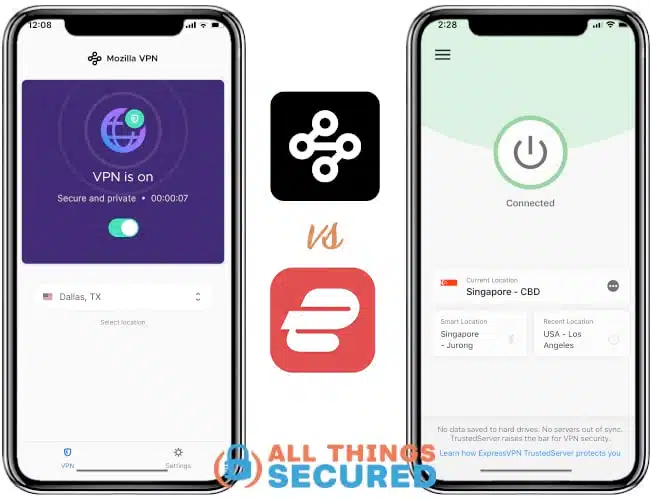 In terms of features, ExpressVPN has an upper-hand. When you compare the two, it looks something like this:
| | ExpressVPN | Mozilla VPN |
| --- | --- | --- |
| Kill Switch | ✔ | ✔ |
| # of Servers | 3,000+ | 500+ |
| # of Countries | 94 | 30+ |
| Protocols | OpenVPN, IKEv2, L2TP | WireGuard |
| # of Devices | 5 | 5 |
| Anonymous Payments | ✔ | ✘ |
| Pricing | $6.66/mo* | $4.99/mo |
*Price based on an annual subscription
Trust is an issue with ExpressVPN, though.
As with many VPNs, ExpressVPN doesn't have an "About Us" page and other than the fact that they're based in the British Virgin Islands with offices in Hong Kong, we don't know who owns or runs the company.
It seems that ExpressVPN is the best option for those looking for a bit more anonymity. Their software is also more robust, offered on more devices, and packed with more features.
For now, it seems that ExpressVPN is a slightly better option, but that trust factor is still a glaring one for me.
When you compare ExpressVPN vs Mozilla VPN, it's also worth noting that both offer a no-questions-asked 30-day money back guarantee.
Mozilla VPN vs NordVPN Comparison
As probably the 2nd most popular VPN on the market, it makes sense to want to compare NordVPN vs Mozilla VPN.
NordVPN was first established as a company in 2012 and they've built their reputation on the strength of their apps. When it comes to UX (user experience), the NordVPN apps truly are in a category of their own.
The main difference you'll see when you compare NordVPN vs Mozilla VPN, both in the desktop app and the mobile app, is the map.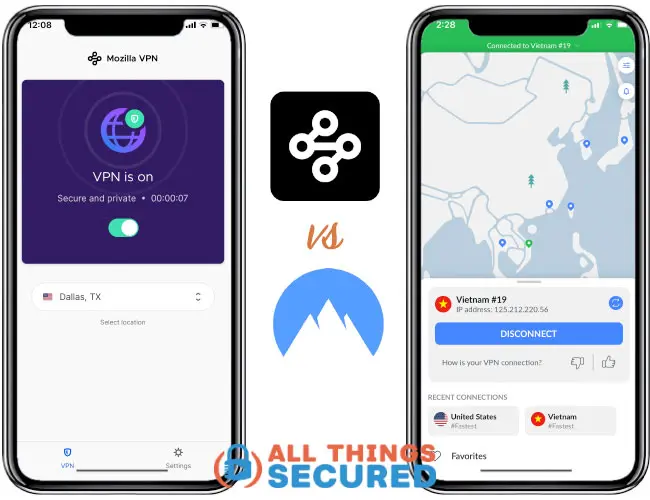 NordVPN makes it easy to see where in the world you are connecting and which servers are the fastest based on your location.
In terms of features, here's how they stack up against each other.
| | NordVPN | Mozilla VPN |
| --- | --- | --- |
| Kill Switch | ✔ | ✔ |
| # of Servers | 5,111 | 500+ |
| # of Countries | 59 | 30+ |
| Protocols | OpenVPN, IKEv2, NordLynx* | WireGuard |
| # of Devices | 6 | 5 |
| Anonymous Payments | ✔ | ✘ |
| Pricing | $4.99/mo** | $4.99/mo |
*NordLynx is the name NordVPN gives to its WireGuard protocol;
**Pricing based on purchase of an annual plan;
I've gone into greater detail in my comprehensive NordVPN review, but they offer a number of other benefits and features you won't find with many other VPN services, including:
Ad Blocking: NordVPN offers a feature called "CyberSec" that blocks ads while you're browsing the web;
Specialty Servers: They offer specialty servers for P2P activity as well as Onion over VPN.
Double VPN Options: For additional privacy, you can run your internet connection through two VPN connections instead of just one. Your speeds will be slower, but it will be harder to track.
NordPass & NordLocker: The company also offers (for an additional fee) other software services such as a password manager – NordPass – and an encrypted file storage – NordLocker.
But again, NordVPN is another company that doesn't tell you much about who owns and runs the company. Mozilla VPN remains a more trustworthy option in this regard.
Trust aside, if these extra features appeal to you, NordVPN might be a good option.
Both NordVPN and Mozilla VPN offer a 30-day money back guarantee.
Mozilla VPN vs Surfshark VPN Comparison
Finally, I want to compare Surfshark VPN vs Mozilla VPN, since Surfshark is quickly becoming a popular encryption option.
Surfshark is a relatively young company, having been launched in 2018, but that still makes it an older product than Mozilla VPN.
When you compare the mobile app for Surfshark vs Mozilla VPN, you'll see that while they're unique, they offer the same home screen.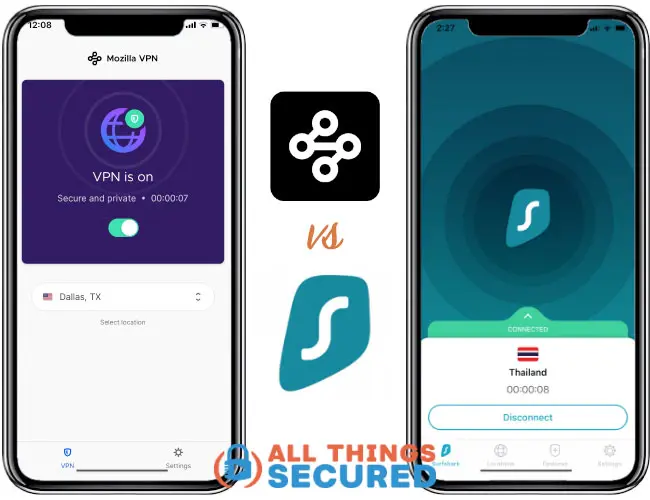 Both apps focus on giving you the ability to choose your location and then, simply to connect.
Here are how the other features compare:
| | Surfshark VPN | Mozilla VPN |
| --- | --- | --- |
| Kill Switch | ✔ | ✔ |
| # of Servers | 1,700 | 500+ |
| # of Countries | 63 | 30+ |
| Protocols | OpenVPN, IKEv2 | WireGuard |
| # of Devices | No Limit | 5 |
| Anonymous Payments | ✔ | ✘ |
| Pricing | $1.99/mo* | $4.99/mo |
*Pricing based on purchase of an annual plan;
The two biggest differences between Surfshark and Mozilla VPN (or most other VPN services for that matter) are the fact that they offer unlimited devices and they have pretty much the lowest prices on the market right now.
What Mozilla VPN has going for it is the integration of WireGuard, which Surfshark has not yet implemented (but they say they will later this year).
Surfshark has a number of other features not present in the Mozilla VPN app, such as auto connect, trusted WiFi, an ad blocker (CleanWeb) and Multihop. More details on these features can be found in my full review of Surfshark VPN.
Multihop is basically a double VPN that sends your connection through two VPN servers instead of just one for added privacy.
But again – and I feel like a broken record here – Mozilla VPN wins in the trust category. Little is known about Surfshark and what kind of funding allowed them to burst onto an already crowded scene like they did.
It's a risk you're taking by using any of these other VPN services that I feel Mozilla VPN does well. How much do you trust (or even care) about where you're sending your internet data?
Final Verdict | Is Mozilla VPN Worth It?
Now that I've shared with you what they offer, what they lack and how they compare to the competition in this Mozilla VPN review…
…what's the final verdict?
In the end, since I prioritize privacy and security, I think Mozilla offers an excellent product that is poised to only get better over time.
There are plenty of features that it lacks and this can sometimes be frustrating for me as a user, but since I'm not locking myself into an annual contract, I have the freedome to ditch them anytime I want.
They offer a 30-day money back guarantee, so you can try them for a month to see if it works for you.
Be sure to subscribe to the All Things Secured YouTube channel!