If you're in the market for a piece of software that can help you simplify your password security, this Dashlane review will give you an overview of all the software (desktop, browser extension & mobile app) as well as explain all the features. Is it worthy of being called the best password manager app? See for yourself.
Be sure to subscribe to the All Things Secured YouTube channel!
Ten years ago I would have called you crazy if you told me I was going to need to remember passwords to over 350+ online passwords in order to log into my bank, social media, email and more.
And yet this is true for many people today, including you.
We're expected to not only create super-secure passwords, but find a way to remember and recall them as well. This leaves you with just a few options:
Use the same password for all your logins: This is one of bad online security habits you need to break. All it takes is one data breach or one hack where this single password is compromised, and your entire online identity is in danger;
Write your passwords down: I still have many friends who keep a sheet of paper with all their passwords written down, but it's useful only if they're sitting at their desk. Not only that, but the list can become crazy to keep once you hit more than 50 logins to keep track of.
Use password manager software: This is the easiest and, believe it or not, most secure way to manage all your online passwords and logins. This is part of what I will explain in this review of Dashlane.
Obviously, Dashlane is part of this final solution and is one that I've been using for the past year on my computer and phone. Below, I'm going to cover the following topics:
Even if you don't consider yourself "tech-savvy", this Dashlane review will show you how they work and what makes this particular service unique.

Note: Some of the links below are affiliate links, which means that at no extra cost to you, I may be compensated if you choose to use the services listed. I only recommend what I have personally used, and I appreciate your support that allows me to provide this free content!
How Dashlane Password Manager Works
As with all of the best password manager apps, Dashlane works by helping users create passwords, store them securely in a vault and then easily search and retrieve them.
Password managers use a Master Password to unlock all other stored passwords.
These password managers encrypt this vault with a single master password that you set. Using this one password unlocks your access to the database of usernames and passwords you've created.
Because so much is riding on this master password, it's critical that you create a super-secure password here!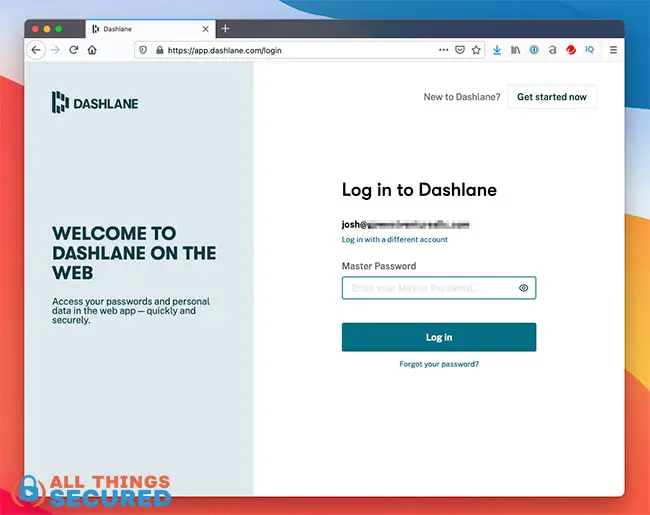 As you may notice in the screenshot above, one of the biggest changes over the past year is that Dashlane has moved from a software-based solution to a web application.
The experience is the same on your mobile device, but you'll notice on your desktop that you're no longer downloading any software. Instead, you're logging in on the web and accessing your vault from an internet browser extension.
This web-application approach has many pros and cons that we'll cover later.
The primary difference is that on a desktop, instead of opening an application, the most common usage of Dashlane is the browser extension which you can see for Chrome below.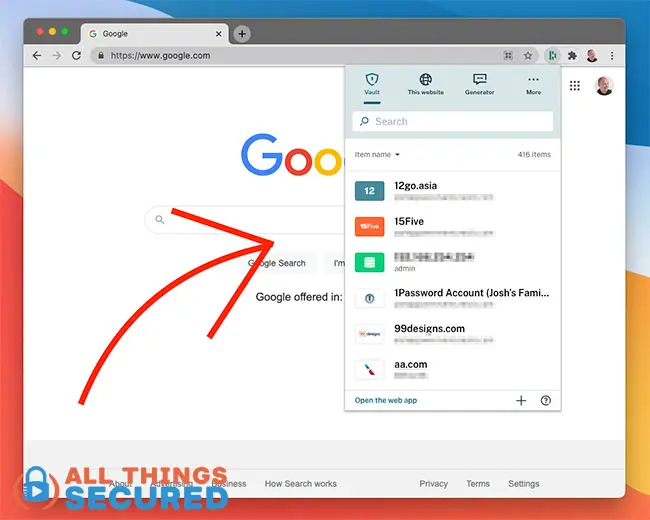 The browser extension will automatically fill in my username and passwords when I visit a website. Depending on my preferences, I can even have Dashlane automatically log me in to known websites.
Creating New Passwords with Dashlane
Of course, the security of your logins is still only as good as the individual passwords you use.
If you're still one of those people who uses "password" or "123456" as your password…then it is absolutely critical that you start using a password manager app like Dashlane.
If you're not sure, you can use our password strength checker to see how good your password currently is.
When you create a new login online, Dashlane will offer a random, secure password to use. You can set the length of the generated password as well as the type of characters (digits, letters, symbols, etc.).
Dashlane will immediately store the new password in the secure vault so you don't have to remember it.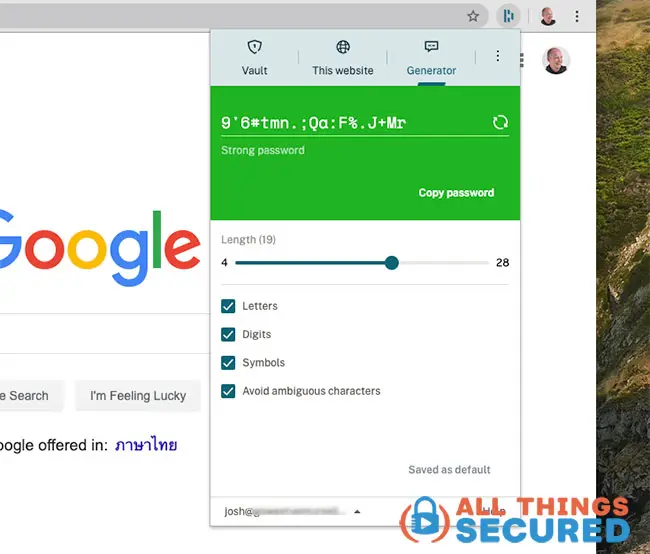 And that's pretty much it!
Using a password manager isn't crazy complicated, which is great because that makes it accessible to the average internet user to use. And if you feel intimidated, we've created a beginner's tutorial for password manager apps that you can reference.
Now that we have an understand of the basics of a password manager app, let's dive deeper in this Dashlane review to share my experience with this service and how it rates against other similar apps.
Dashlane Review 2023 | My Thoughts
| | |
| --- | --- |
| Review | Dashlane Password Manager App |
| Summary | Dashlane is a popular password manager because it's easy to use and offers excellent features such as emergency lockout protection, password sharing, dark web monitoring and more. However, their migration to web apps has been clunky, various features are hidden and the free version is quite limited. |
| Author | Josh Summers |
| Rating | 4.5 (out of 5) stars |
Let me begin this review of Dashlane by sharing what I think is important to note for ever security-type software: using Dashlane is not a foolproof, silver bullet for security.
Online security is a mentality, not a piece of software that you can download.
Dashlane is not a silver bullet that will solve all your online security problems. As you'll see in this Dashlane review, however, it can reduce the chances of you or your family getting hacked significantly.
Pros and Cons | Dashlane Review
Dashlane is an application first developed in 2012 and the company has grown to include office in New York, Paris and Lisbon.
They claim that over 11 million people use the software, which includes both individuals and businesses. For the sake of this Dashlane review, I'm going to focus primarily on the individual usage of the password manager app.
To begin, let's break down the initial pros and cons of the Dashlane software, followed by a more thorough explanation of each.
Dashlane Pros
Easy-to-use software for desktop, phones & tablets;
Emergency lockout protection;
Auto-sign in feature;
Easy password sharing (without actually revealing the password!);
Virtual Private Network (VPN) included (but hidden);
Dark web monitoring service;
Free service available (try before you buy)
Dashlane Cons
Free version limited to 50 logins;
Hidden desktop software;
No live chat support option (only a forum, email and Twitter options).
No option to store vault locally or on your own cloud servers;
To be clear, Dashlane's "Free" option is really a "Freemium" option.
Without syncing between devices and a limit of 50 passwords, you'll find that it won't be useful for long without upgrading. It's good marketing: it's technically free, sure, but it's really just a "try before you buy".
There are a number of unique features Dashlane offers that I haven't found used by many of their competitors. Let's go into a bit more detail about these features:
Easy to Use Software: Dashlane boasts Editor's Choice awards for their apps on both the Apple App store and the Google Play Store. There's a reason for this – they are really easy to use.
Emergency Lockout Protection: This is a big deal and I'm surprised more password manager apps haven't addressed this issue. What happens if you die or lose your master password? Dashlane allows you to set up "Emergency Contacts" that can get access to the account.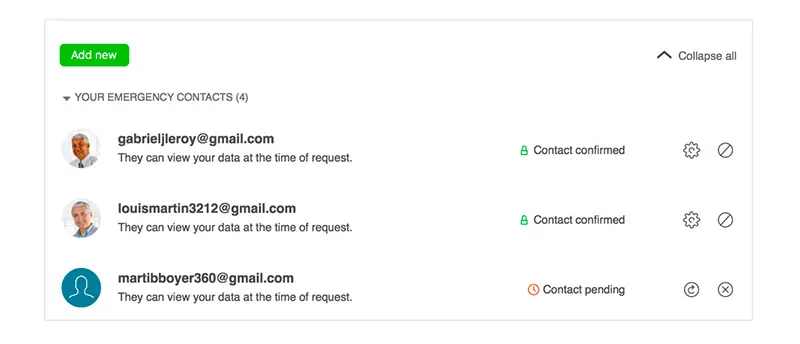 Auto Sign-in Feature: While they don't highlight this feature much, I have enjoyed how the software will not only auto-fill your passwords, but also auto-sign in. I know it seems lazy to say "gee, I don't even want to click the sign in button", but it saves at least an extra 5-10 seconds per sign in.
Easy Password Sharing: Have you ever had times where you need to share a password with somebody but you don't want to give them your password? Dashlane lets you do this! You can give permissions and easily revoke the permissions when needed. Very handy indeed!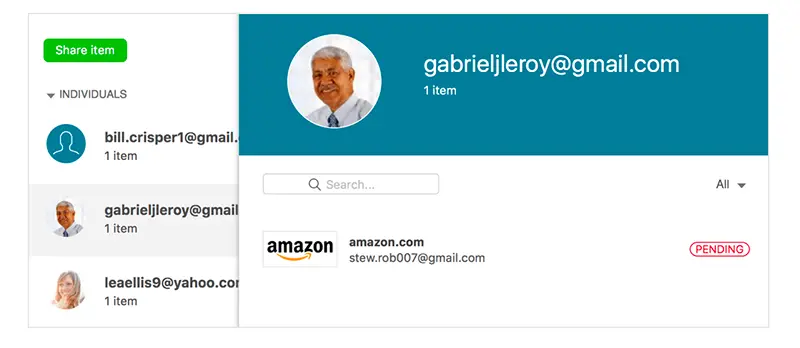 Virtual Private Network Included: A Virtual Private Network (or VPN for short) is extra security for those times when you connect to a public network. You can learn more about what a VPN is here. The problem is that the VPN is only accessible from within the Dashlane desktop app…which is hidden under "My Account" and "More features" in the settings. They're moving away from the desktop app, which probably means the VPN feature will be leaving or changing soon.
Dark Web Monitoring: The "dark web" are those places on the internet that most of us don't want to even know exist. It's the places where stolen information gets bought and sold. Dashlane scans these dark corners of the internet to see if your information is on the market to be purchased – and then tells you what to do if they find it.
Has this Dashlane review convinced you the software is worth at least a free try? Signing up and downloading takes less than 10 minutes.
Speaking of software, let's take a few minutes in this Dashlane review to show the app working on both my desktop and mobile device.
Dashlane Web App & Browser Extension
If you're this far in the review of Dashlane, you've probably already seen a number of screenshots o Dashlane.
Instead of reviewing the entire web app, I want to point your attention to the sidebar to explain to primary security feature of the desktop version: the Identity Dashboard.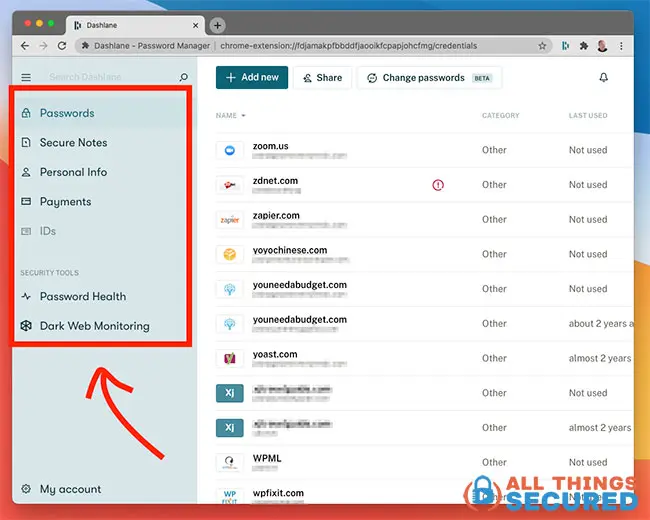 In the above screenshot, you'll see that Dashlane is a vault that stores more than just passwords. In the vault, you can keep:
Passwords
Secure Notes: This can be anything you want it to be;
Personal Info: Your name, birthday, etc. for filling out online forms;
Payments: Used to fill out credit card info for purchases;
IDs: This can include your driver's license, passport, etc.;
The Password Health section is a feature not unlike Watchtower with the 1Password manager app. It's a place where you'll find the Dark Web monitoring in addition to a score for my password health.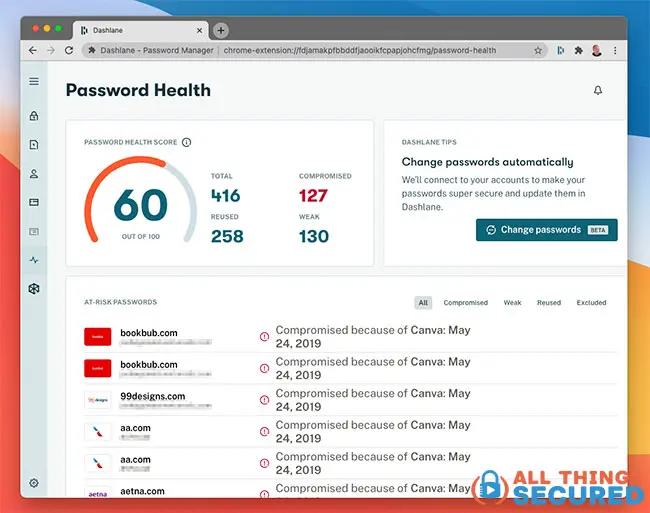 As you can see in the screenshot above, Dashlane has given me a low password score because I have quite a few reused passwords, a number of weak passwords and even 127 compromised passwords.
Seeing this, it's easy to understand where I need to work to create a more secure password profile.
Dashlane offers 2-factor authentication (2FA) as an added security feature but unfortunately, it's darn near impossible to find or use on the web app. You need to have the desktop software downloaded (which they make hard to do) or set up 2FA on your mobile device.
In addition to the web app, you really need to install a browser extension for your preferred internet browser (I recommend Firefox for those who want to stay secure). The web app alone is pretty useless.
Dashlane Mobile Apps for Phones & Tablets
If you're like most people, you'll probably end up using the mobile version of Dashlane about as often as you do the desktop software and browser extension.
So now I'm going to focus this Dashlane review on the mobile app.
After you've installed the Dashlane app from either the App Store or Google Play Store, you'll need to set up the app as your default password manager.
Once this is done, whenever you reach a login screen anywhere on the phone, you can click the "Passwords" option.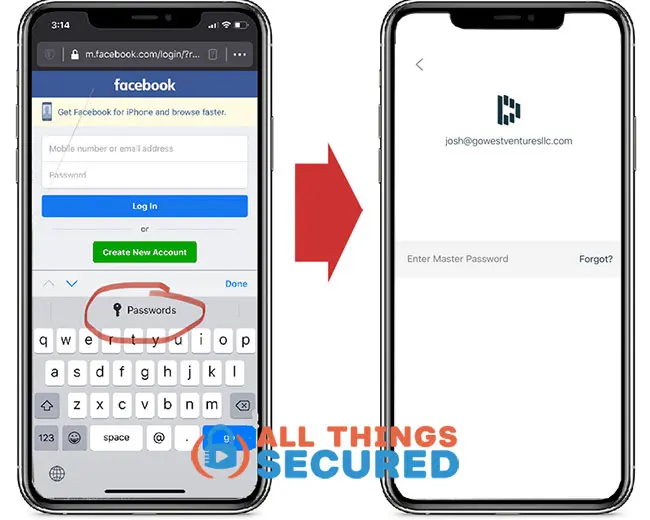 With an iPhone and many Android phones, you can take advantage of finger print or Face ID to authenticate your identity (as opposed to just the master password).
At this point, just choose the appropriate login and your username and password will automatically be entered for you.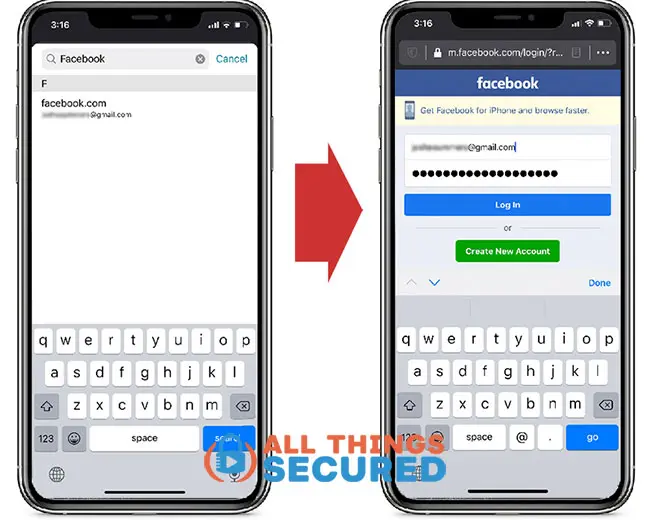 I have access to all data stored in the Dashlane vault from within the mobile app. It also comes with the password generator, the native VPN, password sharing/emergency contact features, and more.
Now that we've concluded the Dashlane review portion of this guide, let's look at the most commonly asked questions about the company, security and software.
Frequently Asked Questions About Dashlane
Although I've done my best in this Dashlane review to cover the most important topics, there are still a number of questions people ask that didn't really fit in any of the sections above. And I've already written up a comparison of Dashlane vs 1Password that might be helpful.
Here are the most frequently asked questions I hear about the Dashlane password manager app.
Where are the Dashlane passwords stored?
Dashlane keeps an encrypted version of your vault on their dedicated cloud servers that can be synced between all your devices. This vault is inaccessible without the master password that the user sets.
Can Dashlane be hacked?
Any piece of software can be hacked, period. If you're relying on a single service or tool to ensure 100% of your online security, you're doing something wrong. Thankfully, even if Dashlane were to be hacked (which they discuss in this blog post), the stolen vaults would be worthless without your master password. Still, for those who want extra security, you can utilize the double blind password method.
Can I use my Dashlane on multiple devices?
While the free version of Dashlane limits you to a single device and only 50 stored passwords, upgrading to premium unlocks the ability to store unlimited passwords on all your personal devices. While it's technically possible to use a password manager app on unlimited devices, for the sake of security you'll only want to sync between your own personal devices.
What if I lose my device that has Dashlane on it?
Unless you have reason to believe that your master password has been compromised in addition to your device being stolen, your encrypted Dashlane vault should still be safe. You probably need to be more worried about all the other apps to which the device thief has access.
What happens with my Dashlane if I die?
Since your Dashlane vault is encrypted with a master password, Dashlane as a company would not be able to grant anybody access to your passwords in the event that you die. This is why it's so important to take advantage of the Emergency Contacts feature in Dashlane. By setting up an emergency contact, they will have access to your passwords in case you pass away or can no longer access your vault.
---
If there's a question you don't see listed above, leave a comment on this page and I'll do my best to answer.
Final Thoughts | Dashlane Review and Recommendations
While password manager apps like Dashlane can't guarantee complete online security, they are an important key to making it all possible. Awesome passwords are a foundation to great protection of your online identity.
As covered in this Dashlane review, the software will help you create good passwords, store them securely and then access them easily on your desktop and mobile devices.
Best of all, even if you're not sure that it's right for you, you can still try Dashlane for free with your first 50 logins. See if you like it before you purchase the annual subscription.