I'll warn you right now – this Ivacy VPN review is not going to be the typical analysis you'll find elsewhere online. You're not going to find trivial speed tests or meaningless missives about a "no log policy". Instead, you're going to get the answer to the one question you should be asking: Can I trust Ivacy with my data?
Be sure to subscribe to the All Things Secured YouTube channel!
Although we often associate privacy and security with specific companies or pieces of software, the truth is that it's all dependent upon one thing:
Trust.
No matter how paranoid you are about your online security (and you should be slightly paranoid in my opinion), eventually you have to choose to trust somebody.
You trust your ISP (internet service provider) with your internet traffic.
You trust Google, Microsoft or even a secure email provider with your communications.
And when it comes to VPNs, despite all of their marketing, you're essentially trusting them with all of your internet data.
In this review of Ivacy VPN, we're not only going to look at their apps and discuss their features, we're going to dive deep into this issue of trust.
Here's what it will look like:
I hope you'll get all your questions answered in this Ivacy VPN review! If not, please leave a comment at the end and I'll do my best to respond.
Let's dive in!
Note: Some of the links in this article may be affiliate links, which means that at no extra cost to you, I may be compensated if you choose to use one of the services listed. I only recommend what I personally have used, and I appreciate your support!
IPVanish Review for 2023
| | |
| --- | --- |
| Review | Ivacy VPN 2023 |
| Summary | Ivacy VPN has been around for more than a decade and offers a beautiful suite of apps that include all of the standard security features. However, their website and marketing are shady and leads to questions about their trustworthiness. |
| Author | Josh Summers |
| Rating | 4.3 (out of 5) stars |
During the time that I've been able to personally use Ivacy VPN, there are a number of questions that I've tried to answer.
Is it easy to install and use?
Does it offer the advertised security and privacy?
What's the difference between Ivacy and every other VPN service out there?
Let me list out a few of the most important things you need to consider here.
Pros vs Cons | Ivacy VPN Review
Because Ivacy is a company that has been around for so many years (first launched in 2007), they've had plenty of time to adapt to the changing needs of privacy-conscious consumers.
For this reason, a lot of what you'll find on the "pros" side of this list is related to the user experience and available features.
However, there are a few things I don't like about Ivacy that I'll share briefly here and go into more detail below.
Ivacy Pros
Long history of service (est. 2007);
10 Simultaneous devices;
Beautiful, user-friendly apps;
Budget-friendly pricing (some of the cheapest on the market);
Supports P2P downloading
Unique features like Smart Connect and On-Demand VPN;
30-day money back guarantee;
Ivacy Cons
OpenVPN not natively available on all platforms (namely, MacOS & iOS)
No company transparency;
Not developed or marketed by native English speakers;
So with these pros and cons in mind, I want to continue this Ivacy VPN review by explaining two categories of features:
Those which are "standard" (i.e. every VPN has them) and those that are unique to the service.
Standard Features of Ivacy VPN
As with any VPN review that I do here on All Things Secured, I don't make a big deal out of the features that I think should be standard in any VPN today.
It's like a car salesman saying "this car comes with four wheels!". Of course it does. That's what it's supposed to have.
Here's a list of the features Ivacy VPN offers that are certainly good to have, but don't make them particularly special.
Security & Encryption: Ivacy talks about having "military-grade" 256-bit encryption on their website. This is certainly the kind of encryption you want to have when you're connecting to a VPN, but it's also standard across the industry.
Server Spread: Ivacy gives you the option to choose from 1,000+ servers spread across 30+ countries around the world. This is far more than you'll ever need or use, but again, this is standard.
No Log Policy: Ivacy VPN boasts a zero-log policy, but I'm only going to say this once: most everything you read about the importance of a no-log policy is a joke and even if it wasn't, zero-log policies are a lie.
Customer Support: Ivacy offers both email and live chat support for their customers. Aside from the IPVanish VPN, which goes above and beyond with phone support, this type of customer support is on-par with every other service in the industry.
Dedicated Platform Apps: When you're using a consumer VPN, the last thing you want is to have to manually set up the connection. Ivacy does a great job of offering beautiful apps for pretty much every platform you can think of using, including Windows, Mac, Linux, Amazon Fire TV and even Kodi.
As I said earlier, these are the features that I expect any VPN I use to offer. Anything less isn't worth my time or yours.
So if these standard features are, well…standard, then it's important in this Ivacy VPN review to explain what's unique.
Unique Features of Ivacy VPN
Over the time that I've been using the software apps on my laptop and tablet computers, there are only a couple things that really stand out as being "unique".
These unique features include:
Simultaneous Connections: Ivacy offers 10 simultaneous connections. Honestly, this is on the cusp of being a "standard" feature, although there are still a few major VPNs that limit you to between 4-6 simultaneous connections (such as ExpressVPN, NordVPN and VyprVPN).
Smart Connect Feature: Ivacy's Smart Connect feature is one of my favorite aspects of their software. For those users who aren't tech-savvy, Ivacy breaks down their app into three primary use cases: 1) Streaming, 2) downloading and 3) unblocking. Choose your reason for connecting and the app will automatically choose the appropriate server and protocol for you to use.
On-Demand VPN: Ivacy markets a feature they call "on-demand VPN", which is basically just a better version of VPN split tunneling. You can tell Ivacy to automatically connect to a VPN anytime you access certain websites that you choose. In this way, you're not encrypting all of your internet traffic and you have control over which websites get the extra security treatment.
Add-Ons: Ivacy is once of a few services that offers a dedicated IP, which means that you can pay for a static IP address to be assigned to you. It's an added fee (extra $1.99/mo), but there are advantages with a dedicated IP VPN.
So how do all of these features look in the desktop and mobile apps? Let's take a closer look.
Ivacy VPN Software Overview
A VPN service is only as good as the software that it provides.
Generally speaking, I only recommend companies that invest the time and resources that it takes to develop a proper software for the various platforms.
While they offer apps for all sorts of platforms including smart TVs, Kodi, Linux and others, for the sake of this Ivacy review we're only going to cover the two most important:
Desktop and the mobile apps.
Ivacy Desktop App Review
The desktop app is easily downloaded from the Ivacy website (it's not available on the app store) and it takes no more than a minute or two to install.
After you've logged in, you're met with a home screen that feels very comfortable and familiar for anybody who is used to this type of software: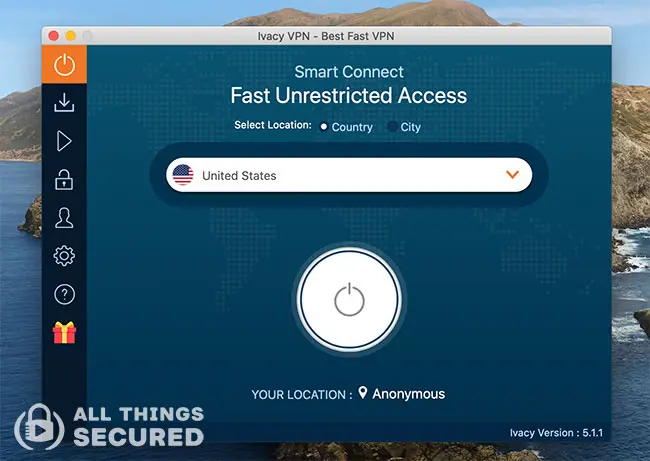 The first thing you'll see is the massive "power button" here. This is what you'll click to connect to the VPN server.
Above the power button, you have a drop-down menu that lets you choose the country or city where you would like to connect.
As I've already mentioned in this Ivacy VPN review, this simple user experience is one of the reasons why I like the software.
But it gets even better when you put your cursor on the left sidebar.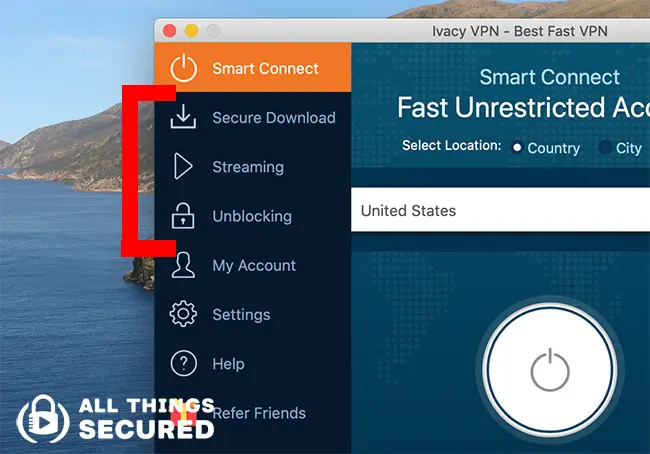 By clicking one of these three options, you are taken to the Smart Connect menus where you can choose between:
Secure Downloading: Meant for those who want to use P2P downloading, this section will connect you to specific servers meant for that purpose.
Streaming: Choose the service you want to stream (such as using a VPN to stream Netflix, Hulu, BBC or many others) and Ivacy will automatically connect you to the appropriate server.
Unblocking: This is what I would consider to be the "general" setting and allows you to search for servers in specific countries or cities that will let you get around censorship.
This is quite a bit different than what you'll find with most virtual private networks, most of whom just give you a long list of server locations or, at best, a map of all the servers.
When we click into the settings, however, you'll find that – at least on Mac OS – your options are very limited.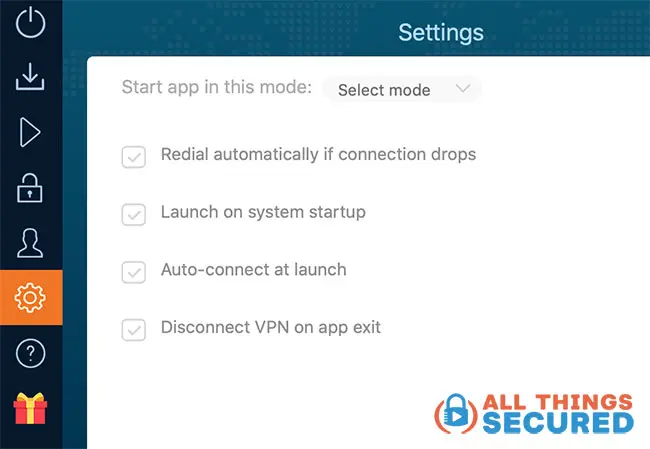 If you're wondering where the rest of the settings are, so am I.
You can start the app in a certain mode (one of the three smart connect menus) and you can setup launch, auto-connect and re-connect, but…
…that's it.
Mind you, this is specifically for the Mac OS platform. Windows gives you the option to change the protocol, but nothing more.
In fact, if you're a Mac user, you also won't have access to other Ivacy features such as:
Split tunneling;
On-Demand VPN;
Multiport (automatic port selection);
It's a shame, since there are quite a few Mac users who would benefit from many of these features as well.
Note: An Ivacy representative told me that the OpenVPN protocol is available to Mac users, but it requires the download and configuration of the 3rd-party Tunnelblick software.
Finally, it's possible to create a support ticket within the app and manage your subscription – although in both cases it often bumps you over to your preferred internet browser to complete the task.
Overall, it's a polished desktop app that offers a user-friendly experience, but if you're a Mac OS user, it lacks the ability to choose your protocol and other important features.
Ivacy Mobile App Review
As you'll see in just a moment, the Ivacy mobile app looks almost identical to the desktop app I just shared above.
The home screen displays a massive power button to connect to the VPN.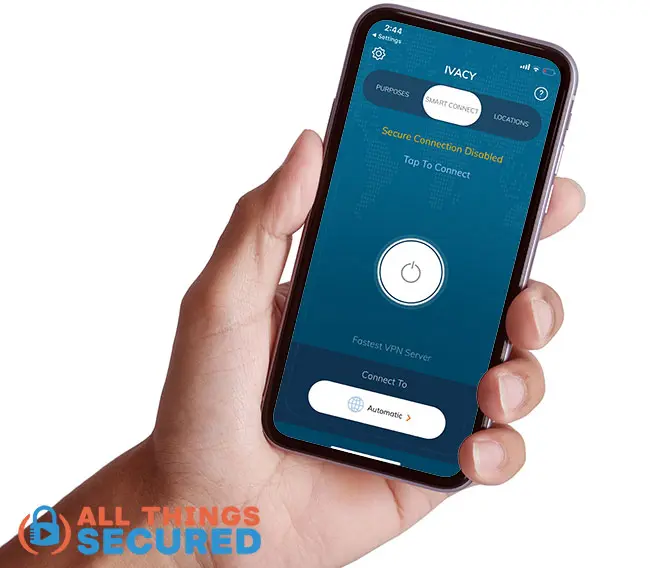 Similar to the desktop app, you also have the Smart Connect feature that allows you to connect to a server based on your specific needs.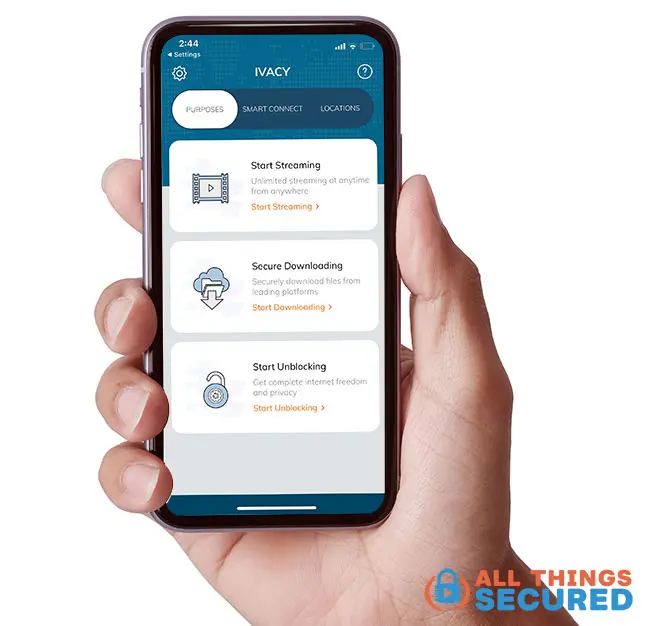 If you navigate to the mobile settings, you'll find that the iOS version of the Ivacy app gives you a choice of protocols (IKEV & IPSEC) as well as an option for on-demand VPN, the feature I mentioned earlier.
OpenVPN is still missing (it's available on Android), as is the kill switch, but it's slightly better than the desktop app.
Overall, it's a slick mobile app that takes the confusion out of the process of connecting to a VPN server.
But Can you Trust Ivacy with Your Data?
It's worth repeating: the foundation of a good piece of security software is trust. And trust requires accountability.
IMPORTANT: Find out how to not get scammed by a VPN
Unfortunately, in the world of VPNs, transparency and accountability are hollow words. In fact, there is so little accountability that most VPNs have cleverly resorted to a marketing message that says their lack of transparency is to your benefit.
In case you weren't entirely clear:
It's not.
Keep this is in mind as you use a VPN – you are sending all of your internet traffic through their servers. Every bit of it.
Sure, it may be encrypted from the government or your ISP, but now you're trading your distrust of the government for trust in some unknown entity.
Speaking of an unknown entity…who owns and run Ivacy anyway?
Who Owns & Runs Ivacy?
Technically speaking, Ivacy is owned by PMG Pte. Ltd., a Singapore-based IT company that was established in 2016.
I say "technically speaking" because as with most VPN companies, the registered entity is usually nothing more than a shell company. You can't go to their Singapore office and meet their CEO. In fact, most of their staff aren't Singaporean.
They're Pakistani.
Now at this point I have to admit that I'm speculating based on my own online research. I tried asking Ivacy representatives about their company ownership and history, and they kept evading the questions.
As far as I can tell, Ivacy VPN and PureVPN have some sort of connection, although both claim that it's very minor. If this is true, that means that Ivacy VPN has had some sort of connection with parent company Gaditek, which is based in (can you guess?)…
Pakistan.
Honestly, I don't care if they are a Pakistani company. It even makes sense considering that Pakistan is not known for its internet freedom.
But I find it unnerving that Ivacy representatives keep trying to lie to me and misdirect me. It's like they're trying to hide something, and I don't like it.
It's Just a Bad Look
I know this is nit-picky, but my interactions with Ivacy VPN representatives have brought to light another interesting facet of the company:
It's not a native-English company.
If you dig around their website long enough, you'll start to see all the English spelling and grammar mistakes.
For example, when the Ivacy representative was trying in vain to convince me that Ivacy was a transparent company, they sent me to their "transparency page", which looks to have been written by an elementary student using a thesaurus.
The bizarre nature of this page is almost humorous. In it you'll find:
A journalist whose name is "Journalist";
A PR manager named "Frank" who apparently doesn't have a last name;
A statement that the "VPN industry is generally shrouded in mystery" followed later by the defense that they have "no legal or ethical obligation to reveal who the people behind Ivacy are". A bit contradictory, don't you think?
A claim that they're "tackling the burning questions!" and then answering one of those questions by refusing to answer and saying "I'll just leave it at that". Seriously?
Could Ivacy VPN be a legitimate company that treats your data with the utmost respect and privacy?
It's possible.
But what they've shown me hasn't been a good look and it makes me extremely skeptical.
You can tell me until you're blue in the fact how amazing or how fast their software is (and many VPN review websites do just that), but I just don't trust them.
Final Verdict | Ivacy VPN Review
So what's my final verdict in this Ivacy VPN review?
They offer an excellent suite of apps that achieves the stated goal of encrypting your data and connecting you to servers all across the globe.
It's easy to install, easy to use and includes some great features like Smart Connect and On-Demand VPN.
But……it's unclear who they are, who owns them, and how they operate. In other words, they have no accountability and I find it very difficult to trust them.
For me, trust is the ultimate test of a VPN. If I don't trust them, I don't use them.
But for some people – including maybe you? – the fact that they have great apps and the lowest prices on the market today (seriously) is enough to convince you to give them a try.
They offer a 30-day money back guarantee, so you can try them for a month to see if it works for you.