IPVanish is a popular virtual private network, or "VPN" service, that has been around since 2012. As we'll cover in this IPVanish review, there's a lot to like about this company, but there's also a bit of controversy related to their location.
Be sure to subscribe to the All Things Secured YouTube channel!
As you'll see throughout this review of IPVanish VPN, it's a fairly typical service that offers the standard features you'll find anywhere.
There are a couple unique features that set IPVanish apart from the competition, and we'll cover each of these in detail.
However, what I've found to be most interesting is the fact that IPVanish is a US-based company, something that is somewhat rare in the VPN world.
Can a US-based virtual private network guarantee privacy?
We'll cover all of this and more below. Use these navigational links to jump to a specific section or continue scrolling to read more.
I hope you'll get all your questions answered in this IPVanish review! If not, please leave a comment at the end and I'll do my best to respond.
Let's dive in!
Note: Some of the links in this article may be affiliate links, which means that at no extra cost to you, I may be compensated if you choose to use one of the services listed. I only recommend what I personally have used, and I appreciate your support!
IPVanish Review for 2023
| | |
| --- | --- |
| Review | IPVanish VPN |
| Summary | IPVanish is a popular VPN in the US market that offers all the standard features, up to 10 simultaneous connections and amazing customer support at a competitive price. The only downside is that their software needs a refresh. |
| Author | Josh Summers |
| Rating | 4.7 (out of 5) stars |
During the time that I've been able to personally use IPVanish VPN, there are a number of questions that I've tried to answer.
Is it easy to install and use?
Does it offer the advertised security and privacy?
What's the difference between IPVanish and every other VPN service out there?
To start this IPVanish review, let's compare the various pros and cons.
Pros vs Cons | IPVanish VPN Review
IPVanish is considered one of the most popular services in the US market right now, and there's a reason for that. Overall, the pros heavily outweigh the cons.
Much of what I'm going to list here will be explained in more detail in the following features sections.
IPVanish Pros
History of service (est. 2012);
User-friendly apps;
Competitive pricing;
Incredible customer support;
30-day money back guarantee;
IPVanish Cons
US-based service subject to US laws & regulations;
Software needs a refresh;
IPVanish has built a strong reputation in the market by providing the standard features everybody expects with a VPN service.
Standard Features of IPVanish VPN
As with any VPN review that I do here on All Things Secured, I don't make a big deal out of the features that I think should be standard in any VPN today.
These kind of standard features found in IPVanish include:
AES 256-bit encryption (aka "military-grade encryption"…whatever that means);
1,400+ servers spread across 50+ countries around the world;
A no-log policy (although these zero-log policies are a lie);
A VPN kill switch and VPN split tunneling features (only available on some operating systems);
Dedicated apps for all major platforms (Mac, Windows, iOS, Android, Linux, Fire TV, routers, etc.);
Again, these are the features that I expect any VPN I use to offer. Anything less isn't worth my time, and it's definitely not worth yours.
So if these standard features are, well…standard, then it's important in this IPVanish review to explain what's unique.
Unique Features of IPVanish VPN
Over the time that I've been using the software apps on my laptop and tablet computers, there are only a couple things that really stand out as being "unique".
These unique features include:
Simultaneous Connections: IPVanish offers 10 simultaneous unlimited simultaneous connections (new change as of June 2020). The industry standard is between 4-6 (which is what popular VPNs like ExpressVPN and NordVPN offer), so this definitely sets them apart.
Customer Support: IPVanish not only offer the typical email and live chat support options – which I believe are "standard" – they go above and beyond by offering phone. That's right, you can actually call in to a live person in the U.S. any time of day to get help with your account. Honestly, I don't think I've seen this on any other VPN in the market.
Free Secure Cloud Storage: At the moment, any VPN account also comes with a free SugarSync account. This gives you 250GB of free cloud storage that can be synced between all your devices. When you compare that to the measly 1GB of free storage you get from Dropbox, this does add quite a bit of value.
Relatively Clear Ownership: I'll dive deeper into this below, but suffice to say most VPN companies don't even tell you who owns the company. IPVanish is different.
But what about the server speeds? This is a hot topic with VPNs that I'd like to address.
IPVanish Server Speed Comparison (or not)
If you happen to have seen other websites with an IPVanish review, you've probably seen a server speed comparison.
This is total garbage.
Seriously.
There are far too many variables when it comes to your internet speeds and trying to make comparisons is ridiculous and only done for the purposes of marketing.
What things could affect your internet speeds?
Your WiFi: How strong is your WiFi signal? That affects speeds.
Your ISP: How fast is your ISP internet connection and are they throttling you?
Time of Day: Are you online when everybody else is online?
Server Load: Are you connected to a server that many others are connected to and using?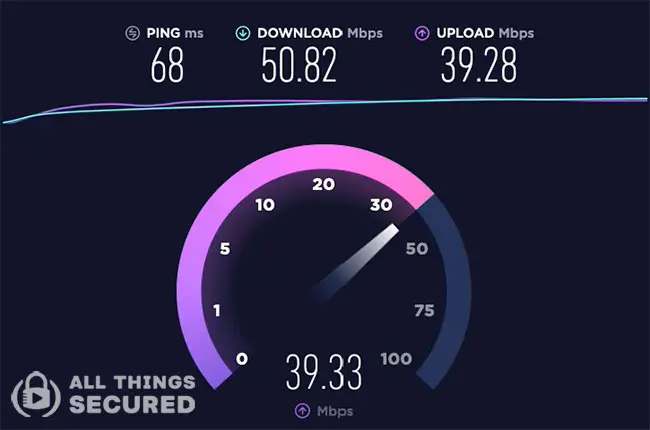 What you need to know is this: if you decide to try IPVanish, you get one month to test their speeds and their software.
If you don't like what you get, you can get your money back with their 30-day guarantee.
IPVanish Software Overview
A VPN service is only as good as the software that it provides.
Generally speaking, I only recommend companies that invest the time and resources that it takes to develop a proper software for the various platforms.
While there are downloads for routers and smart TVs, for the sake of this IPVanish review we're only going to cover the two most important:
The desktop and the mobile apps.
IPVanish Desktop App Review
The IPVanish desktop app is a simple download that takes no more than a minute or two to install.
After you've logged in, you're met with a home screen that at first might seem a bit confusing: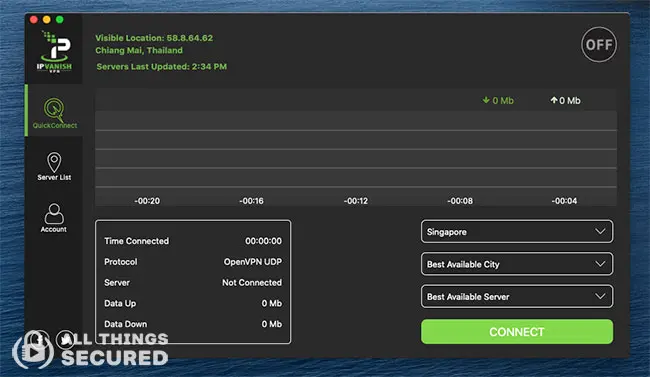 On this home screen, the most important features are found on the bottom right. It's here that you can choose a country, city or even specific server to connect to.
I'd like to stop and point out that this is a feature of the software that I really like. Most VPNs allow you to sort the global servers by speed, but few of them allow you to sort by speed within a specific country or city.
Once you connect to a server, you're given all the information you need about your connection on the left as well as a visualization of your data usage on the top.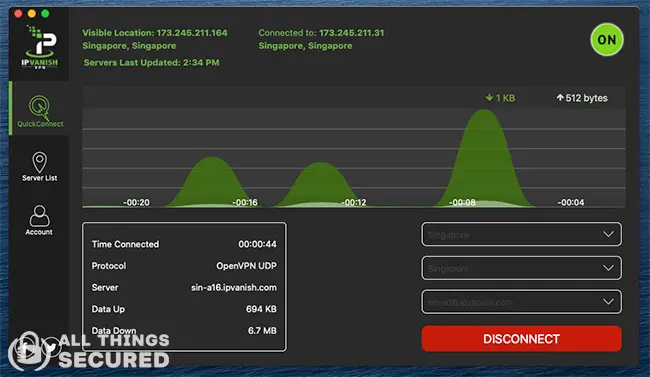 Now this is the one thing that I find puzzling about IPVanish.
Honestly, this data visualization means nothing to me. Not only do I have no use for it, the graph also makes the software seem more complicated than it really is.
As for settings, you'll have the option for basic login features…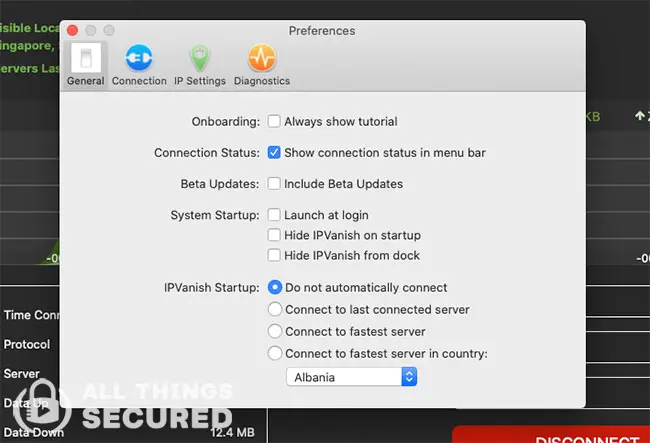 …basic connection features including a choice of VPN connection protocols, the kill switch feature and what's known as "Scramble".
The scramble feature on IPVanish is the equivalent to what's known as "obfuscation" with other VPNs. It's a technology that helps make your VPN traffic look as if it's just normal internet traffic.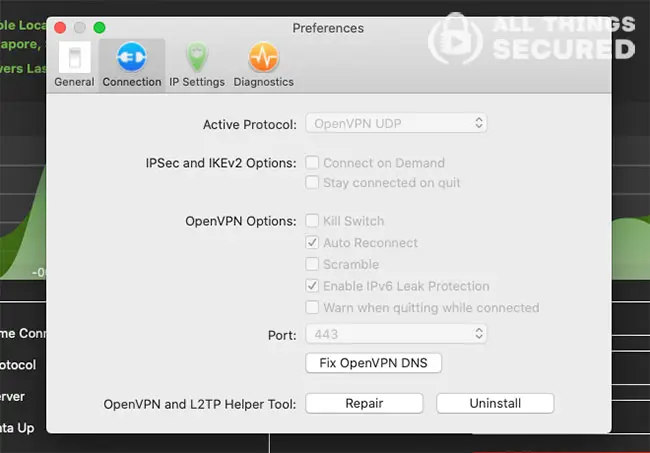 You have an option for 3rd party DNS and then the final option within settings is the Diagnostics.
These connection logs are kept here in your diagnostics tab (not on the IPVanish servers) and can be easily downloaded to use when speaking with customer support.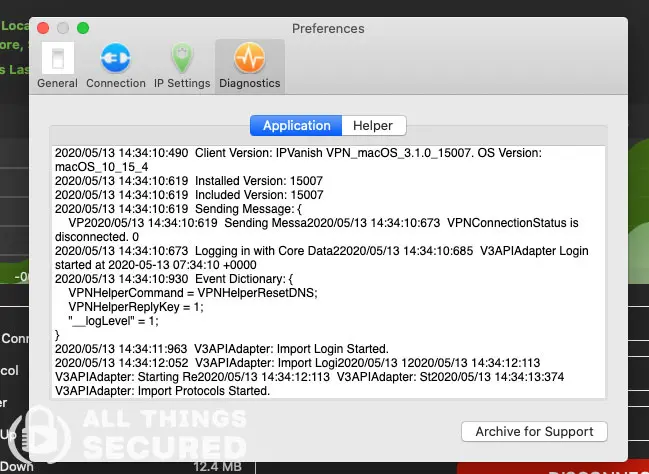 This is an amazing feature that I'm surprised I don't see with more VPNs that claim to be "zero-log".
Because the fact is, most of them keep some sort of limited connection data for the purpose of customer support.
IPVanish Mobile App Review
As you'll see in just a moment, the IPVanish mobile app looks almost identical to its desktop cousin.
Most of the same features are present, including the connection button on the bottom-right and the data visualization in the top center.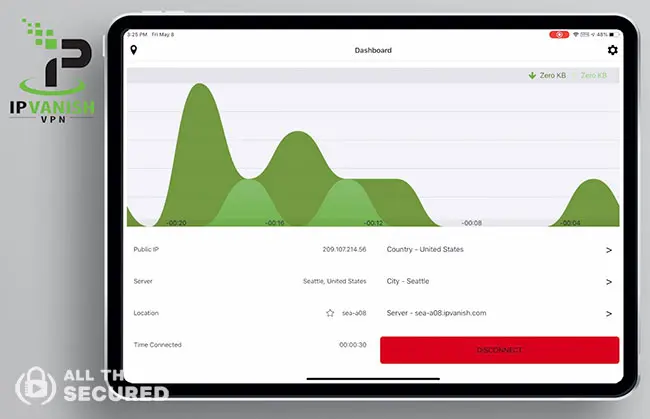 The mobile app doesn't have as many advanced settings as the desktop software does, but this is common and expected.
You have the option to choose when you connect (automatically?) as well as how you connect (which protocol).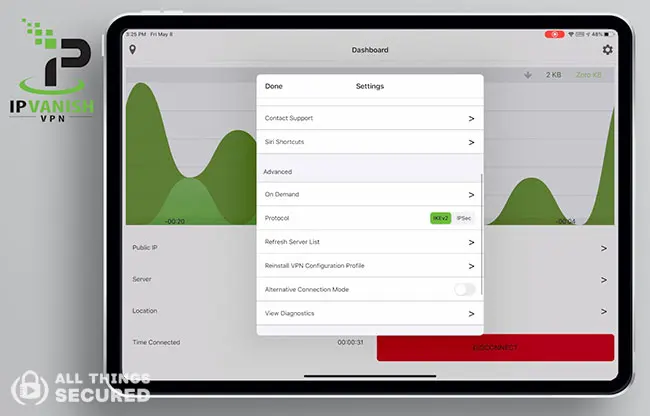 And really, that's all you need. Once you connect to a VPN server, you never keep the app open. It always works in the background as you continue to surf the internet with other apps.
Controversial Ownership & Location
One of the most interesting things I discovered while doing research for this IPVanish Review is that it is one of the few VPN companies that is owned and operated within the United States.
Before I discuss how this might be good or bad, let's look at the ownership structure of the company.
NetProtect and J2 Global
First things first: IPVanish is run by NetProtect, a company that owns a number of other VPN brands including StrongVPN, SaferVPN and Encrypt.me.

I'm finding that this kind of ownership strategy is quite common nowadays. Tech companies are buying up successful VPN brands because they see an opportunity with a growing segment of the security market.
What makes things interesting, though, is that NetProtect was acquired in 2019 by J2 Global.
J2 Global is a publicly-traded technology company based in the US.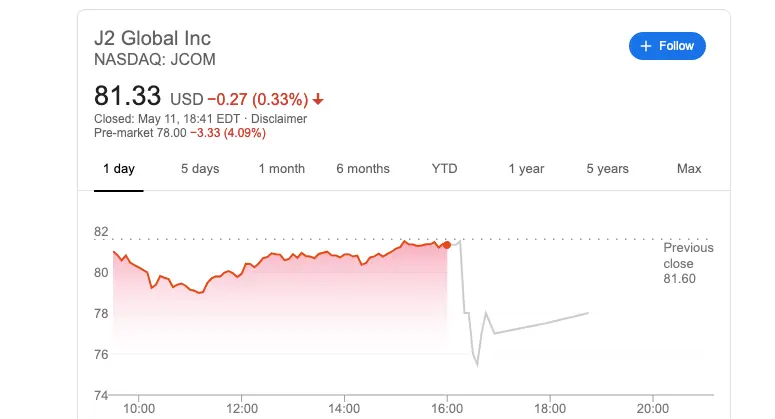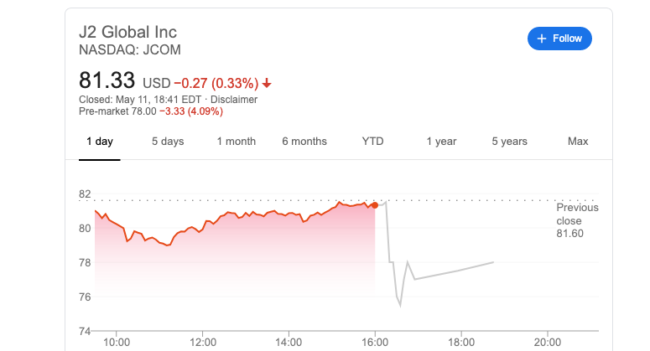 Although IPVanish has servers all across the globe, their headquarters is in California and they are subject to all US laws and regulations.
So is this a good thing or a bad thing?
US-Based Ownership for a VPN: The Debate
Most tech websites doing a review of IPVanish tend to see the US-based ownership as a negative.
Why?
In short, it's for two specific reasons:
The US doesn't have strict data retention laws (i.e. the FBI can subpoena a US-based VPN company for their records);
The US is part of an intelligence-sharing alliance.
These intelligence sharing alliances (known as the 5-eyes alliance, 9-eyes alliance or 14-eyes alliance), are groups of countries that have agreed to share intelligence data between one another.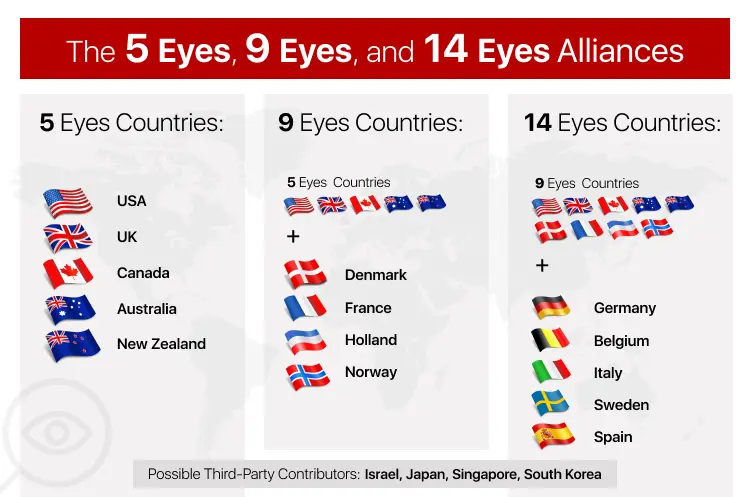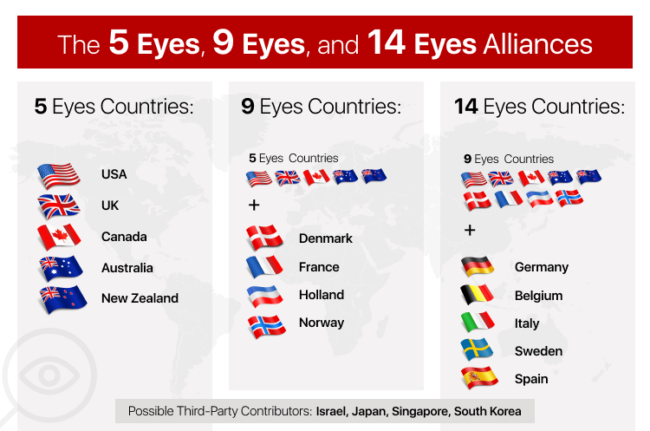 So how does this affect a VPN user?
It really doesn't. Since your VPN is supposed to be a zero-log VPN, if the government were to subpoena them for records, they shouldn't have any. Even if you're worried about how you pay for them, you can use one of these virtual credit card options to hide your data.
And honestly, are you planning to do something so illegal with a VPN that governments will be passing along your data? If so, you have bigger problems to deal with.
Here's the truth.
Being based in the U.S. and being owned by a publicly-traded company might actually be a good thing.
The fact that they have to be transparent about their governance and comply with very strict regulations in the US should give us consumers the confidence that we can make an informed decision.
Final Verdict | IPVanish Review 2023
So what's my final verdict in this IPVanish review?
They have all the standard features I look for in a VPN, they offer a generous 10 simultaneous connections, and I think the addition of secure cloud storage is a valuable bonus.
On top of that, they have one of the best customer support programs I've seen with a VPN service.
I think the fact that they're based in the US and owned by a publicly-traded company is a good thing, but that's my personal opinion. I also don't use a VPN for illegal purposes, so you'll have to make your own decision there.
When you compare IPVanish to others like NordVPN, you'll find that they have more features in common than they do different.
My only complaint is the software itself. Don't hear me wrong: it works great and is very user-friendly, but it feels like it needs a refresh.
Secure Your Devices Online
Try risk-free for 30 days!
Give them a try using this IPVanish link. If you don't agree with me, you have 30 days to get your money back!