Since 2012, NordVPN has been offering VPN security solutions for both personal and business use. More than likely you've seen their TV ads or sponsored YouTube videos online, but how reliable are they as a service? In this personal NordVPN review I'm going to take my 6 years of experience using the service to cover what they've done right…and what you need to know before you decide to sign up.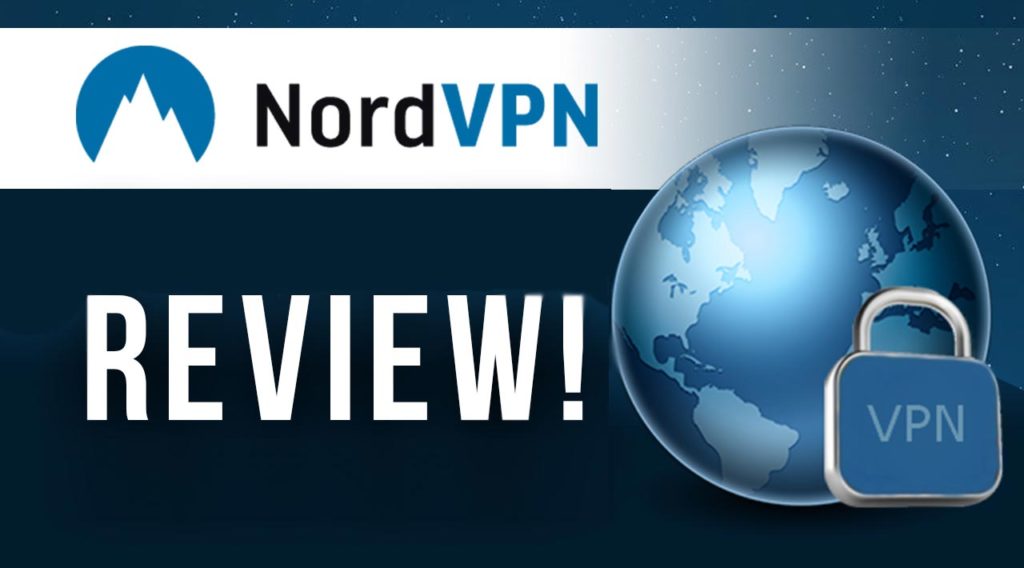 | | |
| --- | --- |
| Review | NordVPN Virtual Private Network |
| Summary | NordVPN has become one of the most popular VPNs on the market because it is so easy to install and use. They offer 6 simultaneous connections, comparable speeds and pricing and plenty of servers. The only negative is the lack of advanced features or information about the company. |
| Author | Josh Summers |
| Rating | 4.8 (out of 5) stars |
In the following NordVPN review I'd like to cover a few different questions that people have asked me about the different VPN services that I cover. These questions include:
Is NordVPN comparable to [name any other VPN]
How does the NordVPN software function?
What are the NordVPN server speeds?
How do I set up NordVPN on my computer or mobile device?
I'm going to try to answer all of these questions listed above and more in this NordVPN review (skip to NordVPN setup by clicking here).
Note: Please be aware that some of the links below are affiliate links, which means that if you enjoy this review and decide to purchase NordVPN, I will receive a small commission. Of course, this brings into question any sort of bias I might have, but I promise you that I don't write about anything I haven't used in person and I don't ever recommend a service that I don't genuinely like.
NordVPN Video Review
Before continuing with the NordVPN review, take three minutes to watch my "everything you need to know in 3 minutes" review of NordVPN for an overview of the service. I find that it helps to see the product in action instead of just reading about it.
Please note that the video was recorded and published a few years ago, so there might be some elements of the software that have changed. The overall NordVPN review remains the same, however, and I've kept the written portion below updated every year.
NordVPN Review 2019 | Pros & Cons
There are many things to like about NordVPN, one of the reasons I list it as one of the best VPNs on the market today. In short, what I really like about NordVPN is:
Simple Setup Process: It took me less than 5 minutes to purchase, install and activate NordVPN on my computer (see the video above for proof).
Excellent User Interface: Based on my experience with numerous VPN services, this is actually quite a hard thing to get right. NordVPN has a very clean interface with a beautiful map design that makes it easy to choose the server you want.
Competitive Pricing: Nowadays, the VPN market has normalized to the point that there's only a dollar or two difference between most VPN services. If you purchase the NordVPN 2-year plan, you'll find that it's right in line with what is standard pricing.
30 Day Money-Back Guarantee: This is a BIG deal to me. NordVPN gives you 30 days to try out their service and ask for a full refund if you aren't completely satisfied. If you've read my ExpressVPN review, you'll know that they offer this as well. That's why I often suggest people purchase both to see which one they like better and then refund the other (or keep it as a backup).
Simultaneous Connections: Whereas most VPN services cap users at 3 simultaneous connections (which is the number of devices that can be connected to the VPN at one time), NordVPN offers a whopping six (6). If you're somebody who has a lot of devices or perhaps a number of different people in your family, this could be an important feature.
Kill Switch: NordVPN includes a VPN kill switch by default, a security feature that makes sure you don't accidentally expose yourself if the VPN disconnects.
RELATED: What are the most important VPN features for security?
All in all these extra features coupled with the security, privacy, and ability to unlock hundreds of streaming websites make NordVPN a great option.
Here's a quick pros vs cons list for NordVPN:
NordVPN Pros
Incredibly user-friendly
Advanced Encryption via Double VPN feature
30-day Money back guarantee
Connect 6 devices simultaneously
High value for industry-standard pricing
NordVPN Cons
Very little company transparency
Lacks a number of advanced features (such as the ability to change connection protocols)
Unable to turn off the VPN Kill Switch feature
Get 66% off NordVPN by Clicking Here
Speed Comparison (NordVPN vs Competitors)
How do NordVPN's server speeds compare to competitors like ExpressVPN or VyprVPN?
The truth is that I'm not a big fan of speed tests. There are far too many factors that play into your internet speed that include things like your ISP, your router, and even your computer. In other words, just because your internet speed is slow, that doesn't mean it's your VPNs fault. It could be a number of different reasons.
I think of speed as one of the many myths related to VPNs, but for the sake of this NordVPN review, we'll cover the speed test anyway.
In order to make my speed tests as fair as possible, I decided to test NordVPN against its competitors using the same computer, on the same internet connection, at the same time of day, connecting to the same city server. Got that? So here were my results: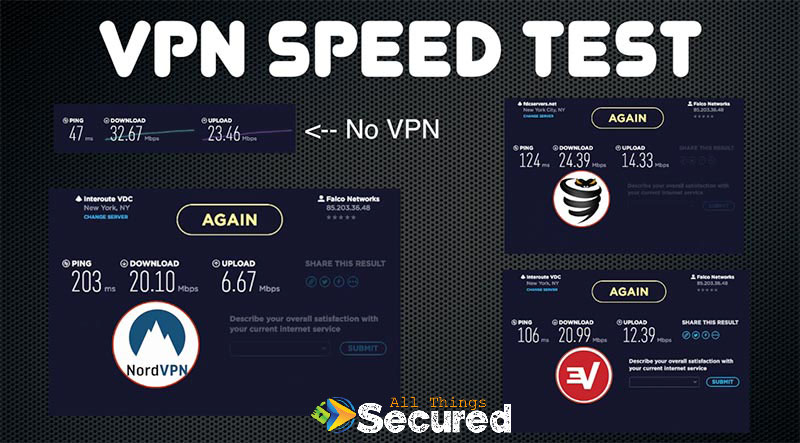 As you can see, there's not too much difference, with the exception of the upload speeds. This doesn't alarm me, however, as there are a number of reasons this test could have shown slow upload speeds. In practice, I've never had a problem uploading videos or other large files using NordVPN.
Try NordVPN Risk Free (30-day guarantee)
*Use this link to get 66% off a 2-year plan*
Who is the Company Behind NordVPN?
Founded in 2012 and registered in Panama, the story goes that NordVPN was created by a close group of friends who had spent time in various parts of the world where Internet censorship, content control, and government agency surveillance are commonplace.

According to the website about page, their founding principles were to develop technology to overcome these solutions to liberate the Internet. Today NordVPN claims to serve more than 1 million people worldwide to provide security and privacy services.
Aside from this information, they don't provide more detail about the company. In this regard, I wish NordVPN would change. I feel like the world of VPNs is already quite shady and it doesn't help when these companies – which claim to serve a million people – don't even allow you to know who is on their leadership team. It's a bit scary.
How to Set up NordVPN on Computer or Mobile Devices
Now that we've covered the primary portion of this NordVPN review, I'm going to detail below how to setup NordVPN both on your desktop and mobile device but honestly, it's much easier if you watch it being done. Take a few minutes to see the installation and setup process in my NordVPN setup tutorial video below.
NordVPN Setup on a Computer
After registering your e-mail, choosing a password (here are some pro tips for creating a strong password), and submitting payment, log in to your custom profile on NordVPN's website. At this point, follow these simple steps:
Download the Appropriate Software: From the download area, you will find numerous operating systems. These include Windows, Mac OSX, Linux, and mobile platforms. Select to download the VPN to your device.
Log in on Your Device: Once you have downloaded and installed NordVPN, open the application and login with your account info. From here everything is pretty intuitive as NordVPN has an extremely user friendly platform. Within the global map of servers, simply select the server you prefer and you will automatically connect. It is that simple.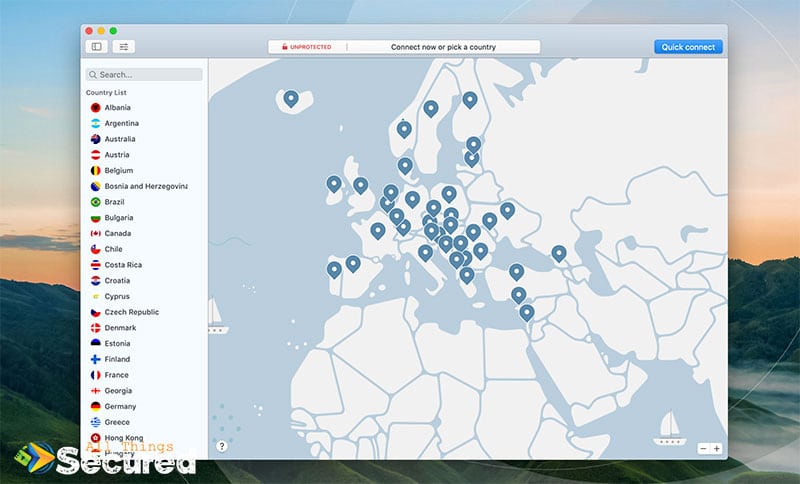 As you can see from the above screenshot, the app is fairly simple in that you have a world map on the right and a list of all the countries with servers on the left.
You have the option of clicking on a country on the map and choosing a specific server or you can just do a quick connect using the list on the left.
It used to be that NordVPN had a number of advanced features within its desktop app, but apparently they've come to the conclusion that it confuses the average user, so those have been removed.
NordVPN still offers specific servers for Onion over VPN or P2P downloading, but no options for changing additional VPN connection protocols. The extent of your ability to change settings looks like this: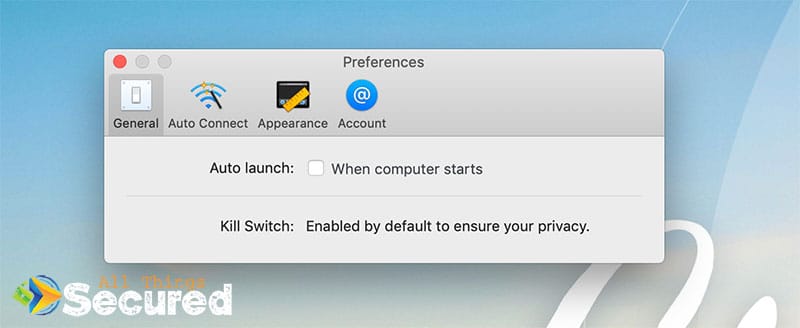 As you can see, there aren't too many settings to change here aside from asking the program to boot up when you first start your computer.
In many ways, this is a good thing, though. The app is easy to set up and even simpler to use. No extra bells and whistles that you won't end up using anyway. It's part of what makes NordVPN such a popular VPN service.
Get Started with NordVPN by Clicking Here
NordVPN Setup on Mobile Devices
If you would like to set up NordVPN on your mobile device, you must:
Find and Download the NordVPN app in Your App Store: There are apps available for both iOS devices and Android devices.
After downloading NordVPN onto your mobile device, follow the prompts as the software redirects you to your settings to install the profile for VPN.
Connect to a Server: Once the app has been given permission to install a VPN profile, you will be able to scroll through the various countries and even the different cities within a country and choose which server to connect.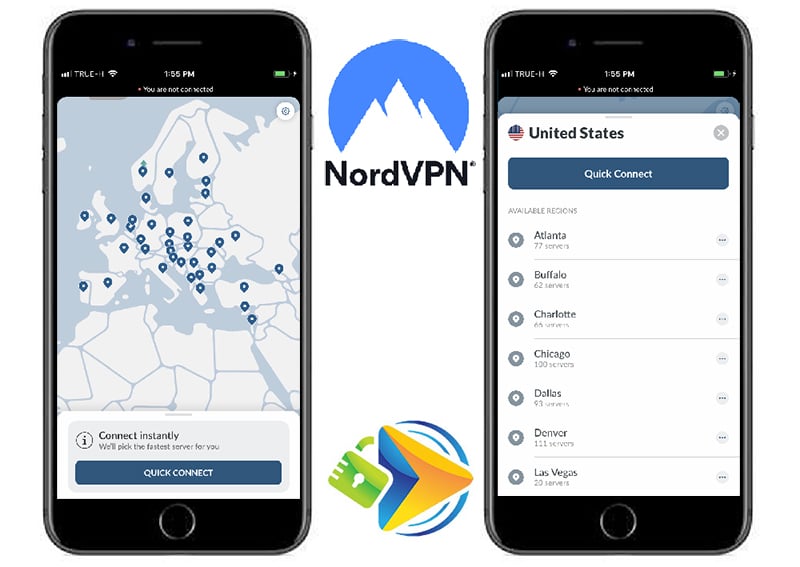 When opening the app you have the choice to select your preferred server from the map or use the quick connect feature where NordVPN will recommend the best server based on your location.
Similar to the desktop app, there aren't too many settings to play with on the NordVPN mobile app. They do offer what they call "CyberSec", which blocks ads and malware. You can also choose to auto-connect NordVPN when you're on Wi-Fi or on any network that you don't mark as "trusted". This is a unique feature that I really like about NordVPN.
Aside from these limited settings, you are unable to change connection protocols or even use a kill switch on the mobile app.
Side Note: NordVPN used to display server loads more prominently in a previous version of their app. While this has gone away, if you drill down from a country to a specific city to see the available servers, you will also see a load percentage. It's not incredibly important, however, since the Quick Connect at any level (city, country, overall) will select the closest, fastest server automatically.
Final Thoughts | NordVPN Review 2019
Overall, I give NordVPN 4.8 stars out of 5, making it an excellent option for the average VPN user who doesn't want to spend too much money. If you recognize the need for higher security on public networks or perhaps you need to bypass geo-blocking overseas, NordVPN has been very reliable for me over the past 6 years.
Being headquartered in Panama, where there are no data retention laws, you can reasonably count on NordVPN to protect your data and security.
At the very least, I suggest you download and give NordVPN a try. If it's not what you're looking for, you have 30 days to get your money back and try something else.
What do you think? What has been your personal experience with NordVPN?