A VPN kill switch is a security feature that cuts off network traffic in the event that your connection to the VPN server drops. The purpose of this network lock is to ensure that you don't leak any sensitive data over an unsecured network connection.
Be sure to subscribe to the All Things Secured YouTube channel!
For many VPN users, the most important part of the software just that it works. You click "connect" and it connects.
Period.
There are other VPN users – perhaps that's you – who like to play in the "Advanced Settings" sandbox. That's where you'll find the Kill Switch feature.
VPN Kill Switch?
As ominous as it may sound, an internet kill switch has become a very popular feature among online security companies. There are different reasons why this might be valuable to you. There are also various methods that companies use to deploy this kill switch feature.
I'm going to take some time to answer the following questions in-depth:
Use these navigation links above to jump down to a specific section, or continue to scroll down to start watching an introduction video that will explain this concept.
Note: This article contains affiliate links, which means that at no extra charge to you, I may be compensated if you choose to use some of the services here.
What is the Purpose of a VPN Kill Switch?
The purpose of a kill switch is to add an extra layer of protection while you're browsing the internet on a VPN (for more information on VPNs, check out our helpful What is a VPN? guide).
Here's a quick look at what happens behind the scenes when you connect to a VPN without a "kill switch":
You connect to a VPN, which encrypts your data and protects you from exposing sensitive or private information;
Somewhere along the line, your VPN connection gets broken and the encryption is lost (it happens more often that you would imagine);
Until you recognize that you've been compromised, the data you are sending is unsecured.
Now, if you check that advanced settings box that says "Enable Kill Switch" in your VPN software, the process would look like this:
You connect to a VPN, which encrypts your data and protects you from exposing sensitive or private information.
Somewhere along the line, your VPN connection gets broken and the encryption is lost.
Instead of continuing unsecured, your VPN software automatically shuts down your internet connection so that no data is transmitted which isn't encrypted.
You realize your internet isn't working and then reconnect your VPN to get back up and running.
It's really as simple as that.
Just like the name implies, this VPN feature kills your internet activity if ever your server connection is lost.
How to Enable the Kill Switch Feature
Not every VPN company offers a Kill Switch, but for those that do, it's usually pretty easy to find.
More and more, I'm finding that many VPNs enable a kill switch by default – they don't even give you an option to turn it off!
For the purpose of this guide, I'm going to use two examples – ExpressVPN and NordVPN – to show you how to turn on the VPN kill switch feature.
The process should look mostly the same for any other virtual private network software, as long as they offer the feature.
The ExpressVPN Kill Switch or "Network Lock"
Hands down my favorite VPN is ExpressVPN, and they call their kill switch a "Network Lock".
You can see it under the preferences in the desktop software here: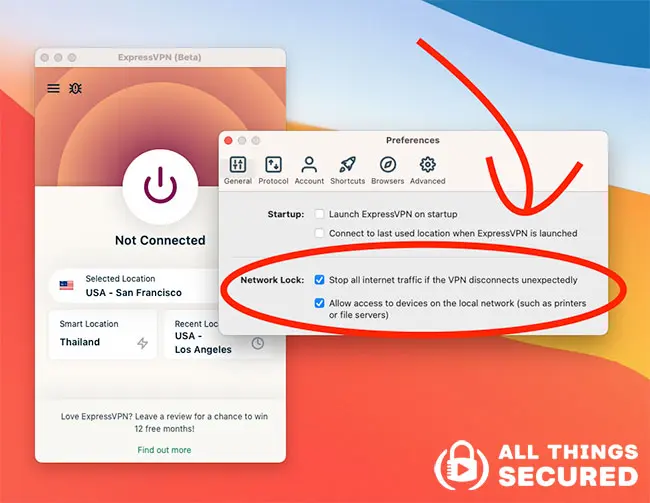 By default, ExpressVPN does not enable the Network Lock, so if you're interested in a kill switch you'll want to go into your preferences and check the box.
ExpressVPN is like many other VPN companies that program their internet kill switch to lock the entire network connection in the case of a failed VPN connection. This means that any program on your computer that wants to access the internet will go through ExpressVPN first.
If the Network Lock gets initiated, the whole computer is locked down.
**Special** If you use this link for ExpressVPN, they'll give you a bonus 3 months of service with the purchase of an annual plan. Don't be afraid to give it a try – they have a 30-day money back guarantee!
The NordVPN Kill Switch (enabled by default)
NordVPN, which is another excellent VPN I use, keeps things simple by calling a kill switch a kill switch. You can see it in the settings here: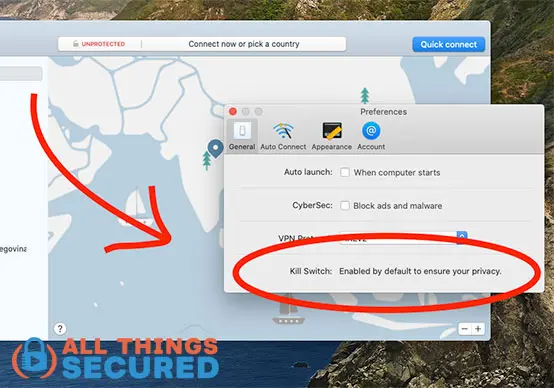 Unlike ExpressVPN, NordVPN enables the kill switch feature by default and, as far as I can tell, doesn't allow you to turn it off.
Frankly, I'd much rather have control over these kinds of settings, but their stance is that it's not just an optional security feature, it's essential.
If you're a fan of simplicity and beautiful maps, give NordVPN a try. They have excellent user apps and also offer a 30-day money back guarantee.
There's a lot about these two VPNs that are similar, but also a few features that are different. You can learn more in my comparison of ExpressVPN vs NordVPN.
Do I NEED this Kill Switch Feature?
Of course, it helps to understand exactly why you would want a VPN kill switch in the first place. The truth is that a kill switch isn't much of a value add for the average VPN user who only connects to the internet at home.
A VPN kill switch can be important if you are:
Transmitting Sensitive Data: To make sure that this data remains encrypted, you don't want to risk exposure in the event of a VPN connection break.
Accessing the Internet on a Public Network: If you're on a VPN at a coffee shop or airport, enabling a VPN kill switch makes sure that you're protected the entire time you're using the public network.
You're Serious About Location Privacy: All it takes is one moment disconnected from your VPN for your actual location to be broadcast. If this is a serious issue for you, you'll want to enable a VPN kill switch.
Best VPNs Offering a Kill Switch
If you're in the market for a good VPN that offers this particular feature, here is a quick look at my favorites:
Calls the VPN Kill Switch a "Network Lock"
Unblocks Netflix, Hulu, Disney+ & BBC;
Easy-to-use apps for most devices;
30 Day Money back guarantee;
Kill switch is on by default;
Map-based design makes it easy to install and use, even if you're not tech-savvy;
30 Day Money back guarantee;
Offers high speed servers;
Unblocks Netflix, Hulu, Disney+ & BBC;
Numerous smart device apps to use;
30 Day Money back guarantee;
Each of the above VPNs provide top-of-the-line security and easy-to-use apps, so you can't go wrong with any choice.
Final Thoughts | Internet Security & Privacy
Hopefully this has given you a good overview of what a VPN Kill switch is, how to find it and why you would want to use it.
This is just one of the many advanced features in the rapidly evolving world of Virtual Private Networks. We often have the impression that we're more secure than we really are online, and it's our duty to change that.
If you have any questions or comments about VPN kill switches, please leave them in the comments below!