Is VyprVPN a VPN worth purchasing? Since you've landed on this VyprVPN review, I can assume this is a question you're currently asking yourself. Whether you're new to VPNs or you're a seasoned online security veteran, I'd like to walk you through the pros and cons of VyprVPN, how it compares to other software and what you can expect.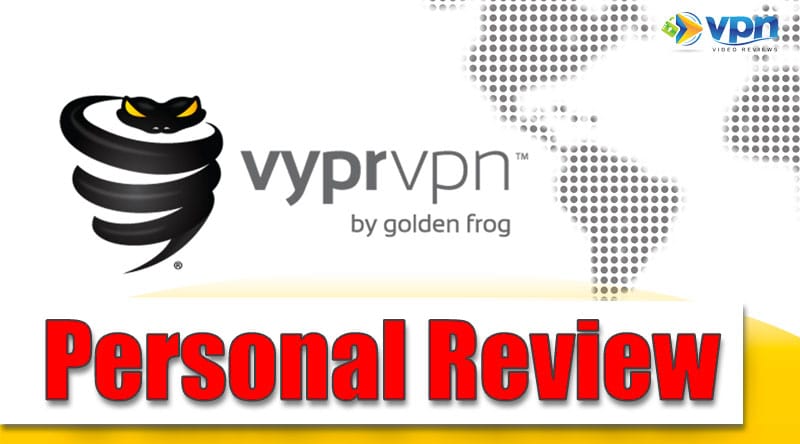 When it comes to VPN reviews, you'll find that they're a dime a dozen on the internet. So why should you care about this particular VyprVPN review?
There are two simple but important reasons:
Because I've been using many VPNs for over 10 years now and I know what makes a VPN great versus just good.
Because I show you how it works instead of just telling you about it. It's easier to see what it's like than to imagine it.
Join me as we walk through not only a review of VyprVPN, but also an introduction to the company, a look at their privacy policy, a comparison of the VyprVPN services against other VPNs and finally a VyprVPN setup tutorial for computers and mobile devices.
Note: Some of the links on VPNVideoReviews may be affiliate links, which means that at no extra cost to you, I may be compensated should you choose to use one of the recommended services. Rest assured I never recommend anything I haven't personally used and you're under no obligation to use my links. Thank you in advance for your support of this free information!
VyprVPN Video Review
Before I dive into the written review and setup tutorial for VyprVPN, take a moment to watch this 3-minute VyprVPN video review.
Get weekly online security tips when you subscribe to VPNVideoReviews on YouTube!
As you can see in the video, there's a lot to like about VyprVPN and it compares well to many of the other top VPNs on the market today. They're one of the few transparent VPNs, which is where I'll start with this VyprVPN review.

Ready to try VyprVPN?
Get a 3-Day VyprVPN Trial Here
Who is VyprVPN (i.e. Golden Frog)?
One of the first questions you should ask when shopping for a good VPN is a simple one: Who is this company?
The problem is that it's far too easy for shady characters to set up a VPN service from their mother's basement. They accept credit card payments and route all internet traffic, making this industry a scammer's playground.
If you look at the About Page on most VPN websites, you'll find vague references to people and locations that may or may not be true. You never know who's running the company, how qualified they are (we're talking about digital security and encryption here!), or how to accessible they are.
No so with Golden Frog, the company that runs VyprVPN.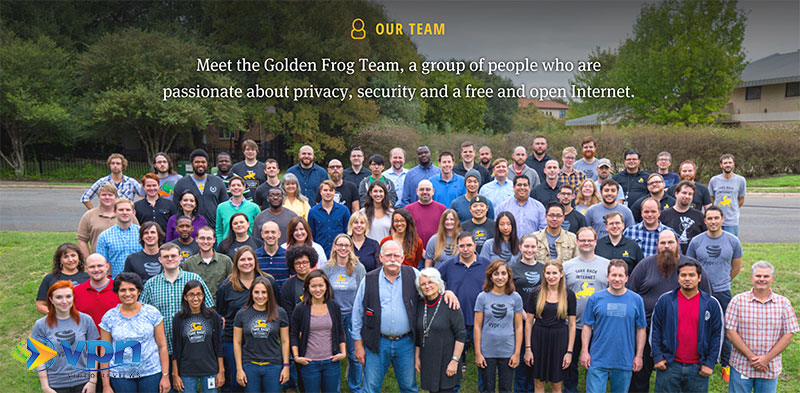 The VyprVPN about page includes bios on their executive team, an explanation of where the company is incorporated (Switzerland) and why, as well as a brief history of the company.
In the dark world of cyberspace, this kind of transparency is quite rare.
Pros and Cons | VyprVPN Review
I've come to realize that every VPN has its pros and cons. There is no perfect VPN software.
I've already listed out the most important VPN features to consider as you're shopping around. The challenge is to match that against a top-rated VPN like VyprVPN and determine if it fits your needs.
Here's a quick look at the pros and cons of VyprVPN based on my personal opinion.

3-5 Simultaneous connections (based on plan)
Proprietary "Chameleon" connection protocol
Offers control over amount of data logging
Allows P2P traffic
3-Day Free Trial (to see if you like it

No anonymous payment methods (Bitcoin, etc.)
Clunky mobile apps
Interested to try VyprVPN? Click below for extra savings:
---
A Closer Look | VyprVPN Review
Now that I've walked through the various pros and cons, let's dive a little deeper into each VyprVPN feature so you can understand what I'm talking about.
VyprVPN Connection Protocols
VyprVPN offers most of the regular connection protocols that you'll find with most VPN services: OpenVPN, PPTP, L2TP. If you need help understanding what this means, check out my explanation of all the VPN connection protocols.
VyprVPN goes a step further, though, with their proprietary "Chameleon" connection protocol. According to their marketing, Chameleon has the ability to thwart VPN blocking where other connection protocols can't.

In my experience, particularly in China where the government makes VPN blocking a priority, the Chameleon connection was good but not 100% effective. It wasn't a "magic bullet" but I did appreciate having another option to choose from.
VyprVPN Simultaneous Connections
VyprVPN offers two different plans: the regular plan allows for 3 simultaneous connections while the Premium plan offers 5 simultaneous connections.
While you're allowed to download the VyprVPN software on as many computers and devices as you want, a limit on simultaneous connections is normal. Most VPNs allow for 3 simultaneous connections, so VyprVPN beats a lot of the competition in this regard.
VyprVPN Data Logging Policies
I've talked about this a lot before on this website: most VPNs are lying to you about their logging policies. It's a bit of a pet-peeve of mine.
It doesn't make for good marketing, but VyprVPN is one of the few companies out there that seems to be up-front about a simple truth. They do log some data.
If this scares you away and makes you think that other VPNs are safer, I've got some bad news for you: no VPN on the market offers full-proof protection.
VyprVPN is unique in that they allow users to choose exactly how much data is logged. Under the "Advanced" settings, you'll find something called "Verbosity" that lets you choose from level "0" to level "10". This is the level of detail recorded in the connection log.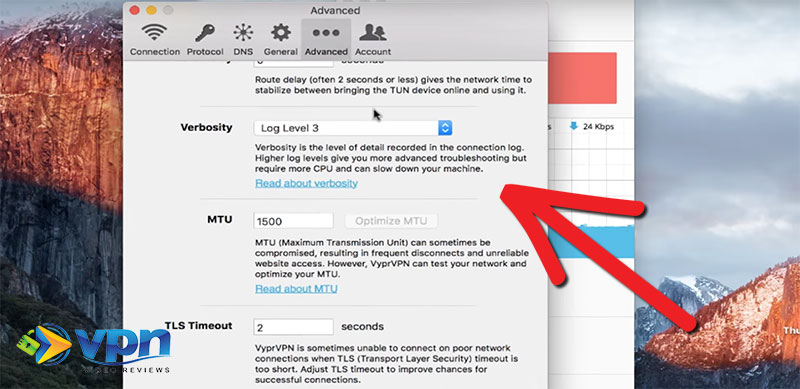 I've never seen this kind of feature on any other VPN software. My guess is that adding the feature indicates that some level of data logging is happening, and most VPNs don't want to give away that information.
Payment Methods for VyprVPN
VyprVPN offers a number of ways that you can pay for their service, and most of these will work for you. In addition to the regular Visa/Mastercard and Paypal, you can also use Alipay (Chinese method of payment), American Express, JCB and Diner's Club.

Absent on this list is any anonymous form of payment, which I know some people would prefer. Representatives I've spoken to at VyprVPN say there aren't immediate plans to include payment methods like Bitcoin or gift cards, which are options for other VPN services.
I don't consider this a huge disadvantage, but it is worth noting for those who prefer a higher level of anonymity.
Added Bonus Features with VyprVPN
There are a lot of little features I like about VyprVPN that don't fit into traditional VPN boxes. I'll list a few of my favorites here:
VyprVPN Owns Their Servers: You know how most VPNs boast thousands of servers across the globe? While true, 90% of the time they lease those servers, meaning they don't own or control all the data. While you're probably fine, it's not the most secure way to go about things. VyprVPN is different in that they own all of their servers – none of them are managed by 3rd parties.
VyprDNS: VyprVPN gives you not only excellent VPN service, but also good SmartDNS service as well (click here to learn more about what SmartDNS is). You may or may not use this feature, but it's there if you want it, which is nice.
NAT Firewall Protection: This adds an additional layer of security for you and runs on their servers instead of your computer. Many other VPN services offer this, but it's a good feature.
VyprVPN Cloud: Moving to the cloud is the future of VPNs and VyprVPN is ahead of the curve in this regard. It adds an additional layer of security and flexibility, but is probably only useful for more tech-savvy users.
VyprVPN Setup Tutorial
If you've read through this VyprVPN review and have decided that it's worth giving the service a try, check out this video below to see how to purchase, install and set up VyprVPN on a computer or mobile device.
VyprVPN offers apps for the traditional platforms: Windows, Mac, Android, Blackberry and iOS.
In addition to these, they also offer apps for routers, QNAP, Blackphone, Anonabox and even most smart TVs. Detailed tutorials for setup on each platform can be found on their website.
Final Thoughts | VyprVPN Review
As you can probably tell in this VyprVPN review, I'm a fan of VyprVPN. It's not my absolute favorite software, but it's up there in the top 5 and is certainly worth the cost of service.
For those less tech-savvy users, the software is simple to download and use. For those who want access to advanced settings, VyprVPN allows you some of the best controls that I've seen on a VPN.
Any way you cut it, VyprVPN is a quality option at a price that matches any similar-level VPN software. Try it for free for 3 days to try for yourself and then take advantage of up 68% in savings using the button below.
What's been your experience with VyprVPN? Leave a comment below to let me know!
---