If you're in the market for a free password manager app, no doubt NordPass has come up many times in your research. But since it's such a young company, is the software any good and is their security worth trusting? Over the past few months, I've been using the software and I'd like to share what I've learned in this NordPass review.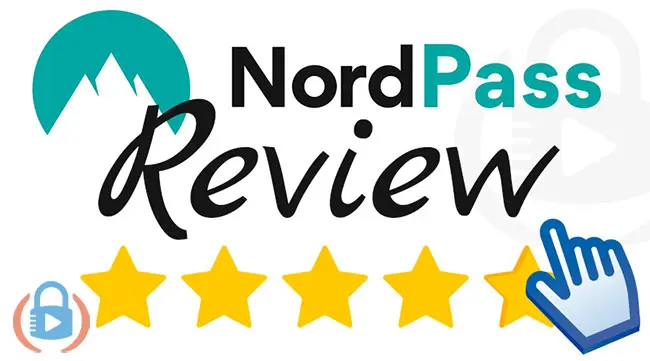 Password manager apps are quickly being adopted as a must-have security software for individual computers and devices.
But with so many established players in the field already (1Password, Dashlane, Bitwarden, etc.), it's important to consider what a newcomer like NordPass can offer that would be unique and valuable.
Obviously "free" is a big selling point.
But there's more to it than that. A password manager app is one of those pieces of software that you want to have but not know that you're using. It needs to blend into your daily life such that you forget that it's there.
In this review, I want to cover a few different aspects of my experience with the software:
How does this stack up against all the competition?
Let's dive in and check it out in this review of NordPass.
Note: Some of the links below are affiliate links, which means that at no extra cost to you, I may be compensated if you choose to use the services listed.
NordPass Review | Is It Any Good?
Let's cut to the chase and just answer the one question everybody wants to know when they read any kind of review:
Is it any good?
Concise Review of NordPass
As a free option, NordPass offers one of the best user experiences; as a paid password manager, despite it's low price, it still lags behind the competition a bit.
There's a bit more nuance to that review, though.
Let's start with a video review where you can hear my thoughts directly and see the setup tutorial before we continue on.
Be sure to subscribe to the All Things Secured YouTube channel!
| | |
| --- | --- |
| Review | NordPass Password Manager App |
| Summary | NordPass offers some of the best software and user experience for a free app, but has a few bugs and lacks a number of features that are expected in a paid software. |
| Reviewer | Josh Summers |
| Rating | 4.5 (out of 5) stars |
As with any analysis, I'm going to begin this review by comparing the pros and cons.
NordPass Pros
Free version offers unlimited password logins;
Easy-to-follow instructions to import passwords from other managers or browsers;
Offers both individual and family plans;
Comes with 3GB of secure online storage (NordLocker);
Utilizes 2-factor authentication;
Biometric login (mobile-only)
Accepts cryptocurrency payments;
NordPass Cons
Free version only works on 1 device at a time (you have to re-log in);
Free version doesn't allow you to share passwords;
Secure notes aren't searchable;
2FA keys aren't yet supported;
Biometric authentication doesn't work on desktop yet;
Browser extension is dependent on the desktop app being open;
Let's take a closer look at how these pros and cons might affect how you use this password manager app.
Benefits of Using NordPass
NordPass is a software that was launched in 2020 by the same team that developed the NordVPN security software.
The most important thing you need to understand in this NordPass review is that it's built on a freemium model. This means that you can download and use it, completely free, and then upgrade to a subscription plan to get a few extra bells and whistles.
The premium version allows you to share passwords and stay signed into multiple devices at the same time.
So how does all of that translate into benefits for you as a user?
Unlimited Free Passwords: Other "free" password manager apps cap you on the number of logins you can store in your vault, but NordPass doesn't do this. You can legitimately use the free version and never upgrade if you don't want to.
Simple Password Import: If you already have your passwords stored in your internet browser (i.e. Chrome/Firefox) or in another password manager app, NordPass makes it very easy to switch. They have detailed instructions for each platform you might currently be using.
Audited Security Practices: In addition to the latest security encryption algorithms (XChaCha20, if you care to know), the software also allows you to use 2-factor authentication as an extra layer of security.
Password Health Checker: This is pretty standard for any premium password manager, but it's a feature that was only recently introduced. You can see which of your passwords is weak, reused or old (more than 90 days).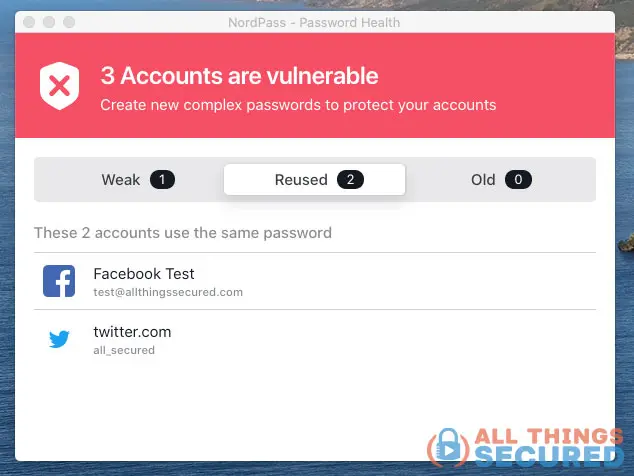 Individual and Family Plans: The beauty of a family plan is the ability to create separate "vaults" for each member of the family, as well as one to share. The family plan allows for you and four other members of your family to have their own premium account.
30-Day Guarantee: While you can use the free version for as long as you want for free, if you ever decide to upgrade to premium, you get an automatic 30 days to try it out and get your money back if you don't love it.
The truth is, though, that most of these benefits are standard across the industry. Pretty much every other password manager app offers them.
I'm going to cover what makes them unique a bit later. But first, I want to focus on what I didn't particularly like about the software.
Drawbacks of the NordPass Service
As you read through this list of drawbacks, keep in mind that I'm being extra critical here. That's part of my job as I review this.
What are the things I didn't like or wish could be changed about NordPass?
2FA Keys Aren't Supported: Yes, they allow you to use 2-factor authentication, but only authenticator apps like Google Authenticator are supported. I prefer to use 2FA keys like the Yubikey and unfortunately, at least for now, they don't support these keys.
Biometric Login Doesn't Work on Desktop: Even though you can login with your biometrics on mobile devices (Face ID or fingerprint ID), you can't do that with your desktop. I have a Mac and I love how I can use my fingerprint with 1Password. I wish NordPass did the same.
You Can't Search Secure Notes: This is an interesting one to me, and a flaw that I hope they fix soon. As of this publication, I have been unable to search the contents of my secure notes. The software search can find logins, credit cards and other items, but it won't search the contents of my notes like I can with Evernote. This needs to change.
Poor Browser Extension Design: While the NordPass browser extension for Chrome and Firefox works, it is entirely dependent on the desktop app. It requires you to have the desktop app open and running in order to work.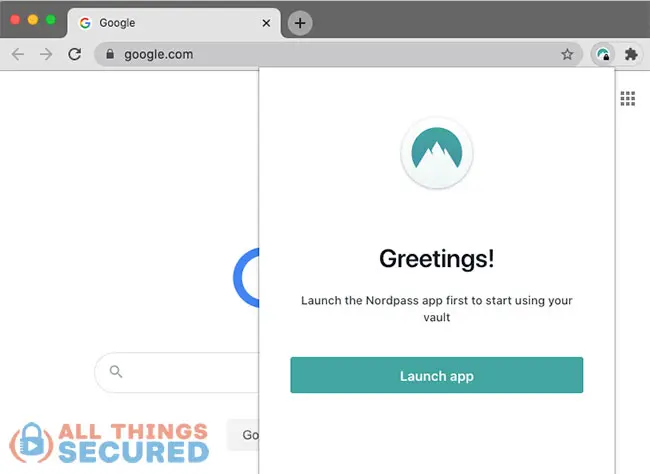 If I had to choose, this last point about the browser extension is the one that frustrated me the most. The browser extension should work independently of the desktop app, in my opinion, and doing it this way feels awkward and clunky.
Like I said earlier, I'm being pretty nit-picky here. Overall, the NordPass password manager app functions well.
But what do they offer that is unique to their service?
Unique Features that NordPass Offers
Whenever I do any kind of product review, one of the first things I like to ask is, "What makes this service unique?"
In other words, why should you or I choose NordPass over any of the other, more established options?
As I've used the password manager more and more, here is what I've found:
A Free Version That Works: Unlike 1Password (which only offers a free trial) or Dashlane (which caps free users at 50 free logins), you can actually use the free version of NordPass and be perfectly fine. You don't have to upgrade to premium.
They Accept Cryptocurrency Payments: NordPass is the only password manager app service I know that accepts cryptocurrency payments. Perhaps this isn't something you care about, but for some people, the ability to pay with a sense of anonymity gives them peace of mind.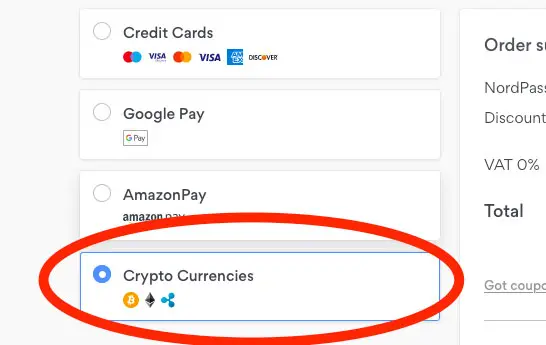 Free NordLocker Online Storage: Every NordPass account comes with 3GB of free, secure online storage through NordLocker. Think of this like OneDrive or Dropbox – a secure place to store your files that can be accessed anywhere.
Best Value for Premium: When it comes to paying for a password manager app, NordPass has the cheapest plans on the market. Honestly, though, we're talking about the difference of something like US$.50.
Who is Nord Security? (and Can You Trust Them?)
The final part of this review is going to focus on trust. Specifically, I want to answer two questions:
Who is the company behind the Nord software?
Can you trust them?
Interestingly, the answer to the first question has had some positive changes recently.
Before 2023, the only thing we really knew about Nord was that they were based in Cyprus. They didn't have a useful "About Page" and there was no transparency in regard to their leadership team.
While the About Us pages on NordVPN, NordPass or NordLocker are still completely useless, a new parent entity has finally entered the scene.
Nord Security
The NordSecurity website not only lists out their full suite of security products, it also includes a helpful list (with photos!) of their management team.
This may seem like a small thing, but in the world of anonymous security companies, I think it's important that there is transparency and accountability for the company with whom we're entrusting our data.
Nord is taking positive steps toward that goal, and I'm very happy about that.
Final Verdict | 2023 App Review
Having shared with you what I liked, didn't like and what I found unique in this NordPass review, overall I'd say that I'm pretty excited to see another solid player enter the password manager field.
Especially since they offer an excellent free version of the app.
In my opinion, until passwords go away (and they will eventually), I believe that everybody needs to use a password manager. If you're the type of person that refuses to pay for another piece of software, then I'm happy to say that NordPass is a perfect free option.
As a premium service, even though the price is the lowest in the industry (that I've seen), the software still feels a bit clunky and not all the features are fully operational.
If you want all the bells and whistles, I'd probably still go with 1Password.
NordPass Setup Tutorial (How to Install the Software)
If you read the above NordPass review and decide that it's worth a try, but you're not quite sure how to start using a password manager app…
…then this setup tutorial should be helpful.
I'm going to quickly walk you through how to set up and use the software both on desktop and mobile, although I recommend you start on the desktop and then download the mobile app later.
Desktop Setup Guide for NordPass
To install the software on your desktop computer, visit NordPass and click to download the software. It should only take a minute or less for the software to download to your computer.
When you open and run the software, you'll first be met with a login screen like this: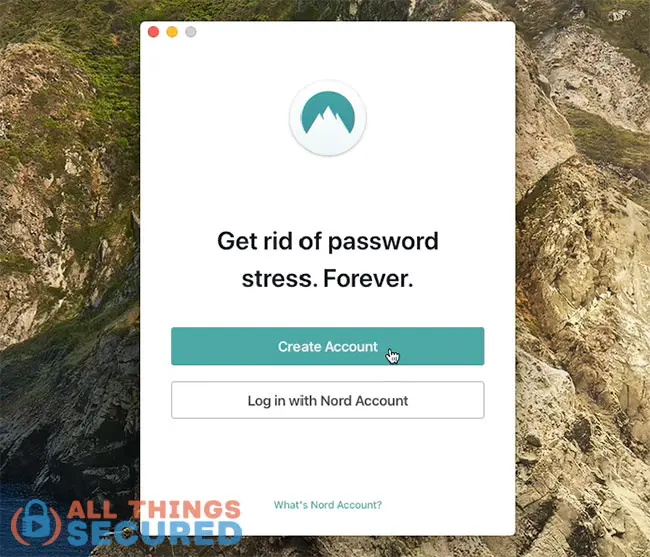 From here you can either create a Nord account or log in if you already have one (for example, if you already have a NordVPN account).
Once your account has been set up, you'll need to create your master password.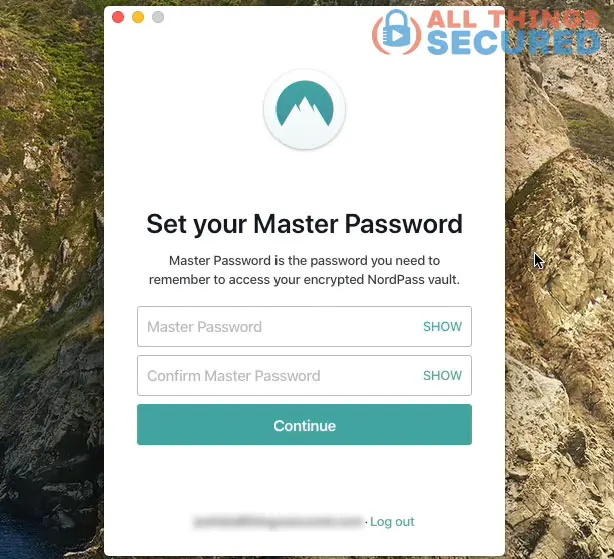 It's important that your master password be strong, so if you need to, use this password checker to see if what you're thinking will work.
Once your master password is set, you'll be given recovery codes as a backup. You can write these down and store them somewhere safe, but just remember – if somebody gets their hands on this code, they will get access to all of your passwords.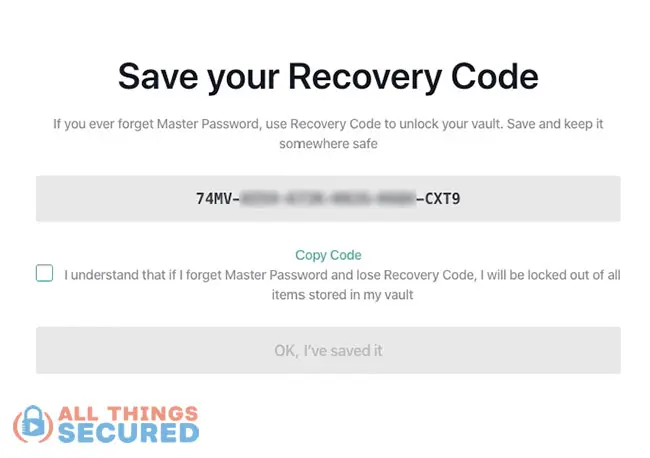 At this point, the software will launch and you'll have the opportunity to start adding passwords.
You can do this either individually (one-by-one) or as a bulk import.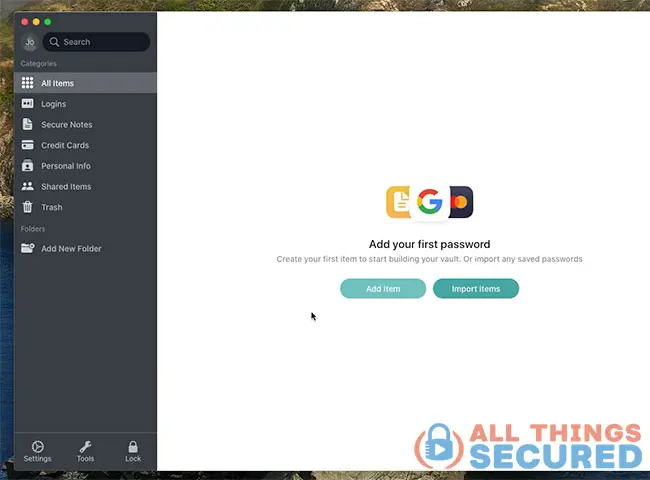 The great part about using this is that they have an intuitive import setting.
You can choose exactly where you're importing your passwords from and they will give you step-by-step instructions on what you need to do to export from your previous location and import them into NordPass.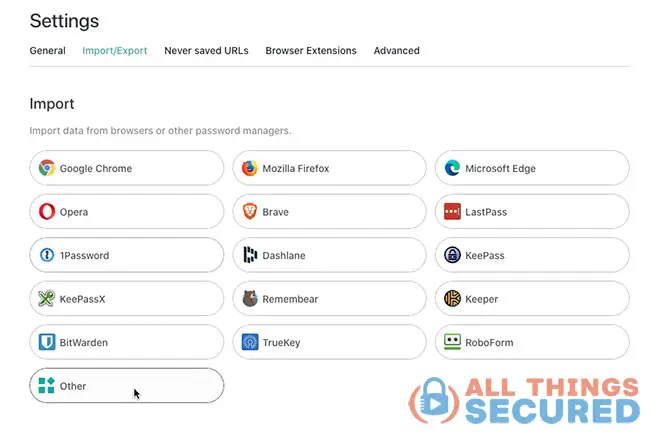 That's it!
Now it's just a matter of downloading the extension for the internet browser you prefer to use and start using the software.
This also makes the mobile setup process much easier.
Mobile Setup Guide for NordPass
If you've already setup the NordPass password manager app on your desktop computer, doing so on mobile is extremely simple.
Simply download the app from the app store, sign in to your Nord account and then input your master password.
Here's what the home screen will look like when you log in: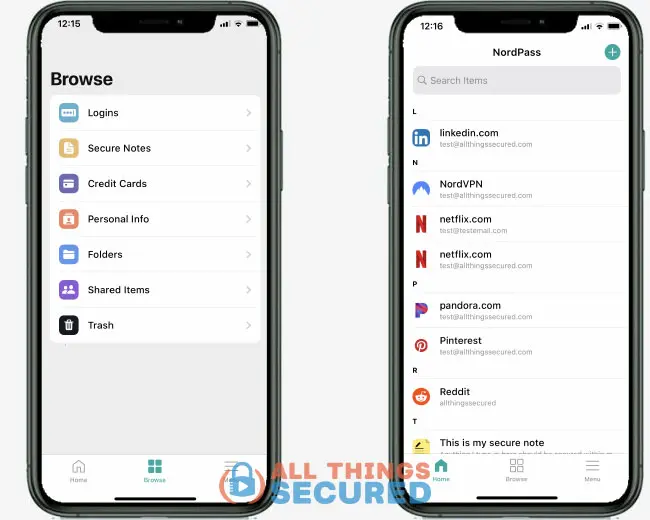 There are a number of settings that the app allows you to control as well.
By clicking on the "Menu" button on the bottom right of the app, you can access the settings menu that you see below.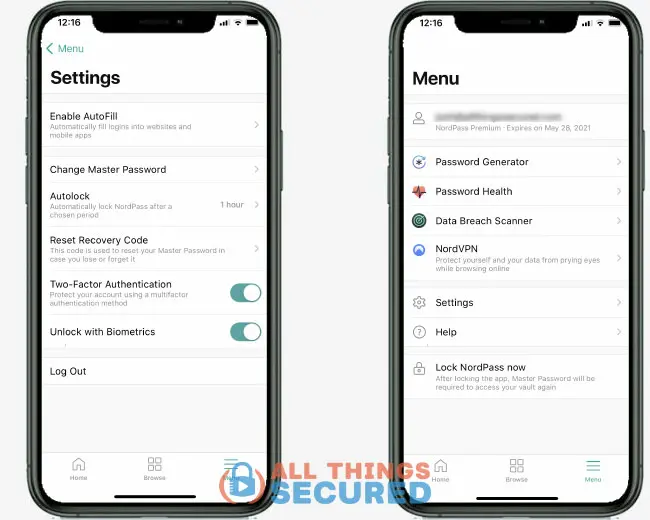 The most important thing you can do next is make sure that you're set with the right default password manager on your phone.
For this, navigate to your phone's settings menu and search for "Passwords".
Here you'll find an option to set NordPass as the default password manager app.
Frequently Asked Questions | NordPass Review
Although I've done my best in this review to cover the most important topics, there are still a number of questions people ask that didn't really fit in any of the sections above.
Here are the most frequently asked questions I receive that might be helpful to you.
What is NordPass?
NordPass is a desktop software and mobile app that helps you create more secure online logins by creating strong passwords and storing them in a secure vault that you can access from any device.
Is NordPass free?
NordPass offers a free version of their software that includes unlimited passwords but only one device login. They operate on a freemium model that pushes you to sign up for their premium plan that allows for more simultaneous devices as well as password health features.
Is NordPass included with NordVPN?
Currently, NordVPN and NordPass are two separate pieces of software that aren't bundled together. While you can subscribe to both services under the same Nord account, neither comes as a free add on for the other.
What happens to my NordPass vault if I die?
Because your password vault can only be decrypted with your master password or recovery code, you need to either store these codes with a trusted family member or you can use the NordPass Trusted Contacts feature to allow others to access your vault if necessary.
---
If there's a question you don't see listed above, leave a comment on this page and I'll do my best to answer.
Final Thoughts | NordPass Review and Recommendations
I've already said this before, but I believe it bears repeating: just because you use a password manager app – or any type of security software – doesn't mean that you no longer have to worry about being hacked.
This is true of password manager apps just as it is true of good VPN apps.
That said, I recommend NordPass as an excellent free option for those who just can't get themselves to pay for a password manager app.
Whether you're an individual or a family, as I've already shared in this review, the app allows you to create and store better passwords than you're probably doing right now.
It's easy to install and use, so you no longer have an excuse for your bad password habits!