There's a lot of misinformation and misleading marketing about VPNs online. I've received numerous emails over the years from people whose questions reveal a confusion about basic online privacy and internet security problems. What is true and what are just VPN myths? Below, I'd like to share with you some of the most common VPN myths I hear.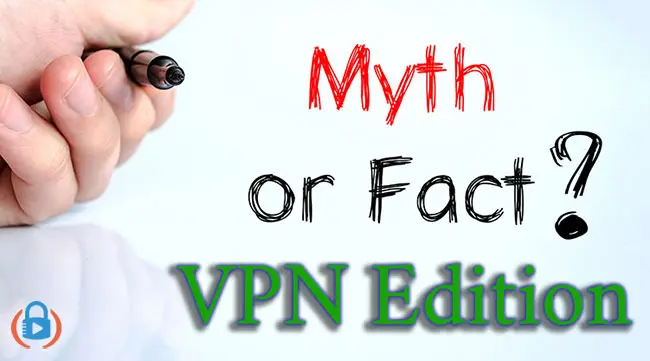 For anybody who isn't well-acquainted with online privacy and security, the threat of hackers and identity thieves seem distant (that is, until you actually get hacked).
It's the stuff that only happens in the news and in the movies, right?
That being said, the world of online security – particularly VPNs – seems like a shady business that preys on your fears.
Unfortunately, this detachment from the need for security and misunderstanding of VPNs is what keeps most people from protecting themselves the way they should.
If you find yourself in a similar boat – encouraged to protect yourself online but confused by VPN myths you've heard or misgivings you have…
…you'll probably find this list helpful. We're going to cover common ideas like:
Below I'd like to dive deeper into each of these VPN myths we're led to believe and the reasoning behind it.
Note: Some of the links in this article are affiliate links, which means that at no extra cost to you, I may be compensated if you choose to use a service listed. Thank you for your support!
Myth #1: VPNs are Only for Crazy Privacy Nuts
Unless you're living in a country that censors the internet (consider countries like China which actively block many international websites), it may seem like the use of a VPN is overkill.
"Only conspiracy theorists and privacy nuts use VPNs!" you might say to yourself.
But consider this:
In 2017, identity fraud hit an all-time high with 16.7 million victims totaling $16.8 billion in losses. It's only gotten worse as we move ahead toward 2023.
Chances are, you personally know somebody who has been the victim of identity fraud if not yourself.
Although there are many steps that you can take to secure your privacy and identity online, downloading and installing a VPN service like ExpressVPN is the most inexpensive and easy first line of defense.
Myth #2: VPNs are Illegal to Use…Right??
There's an interesting misconception about VPNs that if you get caught using one, you'll end up like this guy: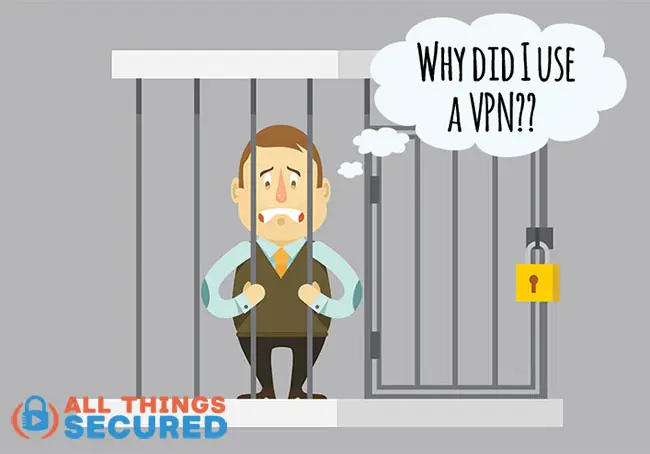 What most people don't understand is that although VPNs are sometimes used by shady characters to do illegal things, the use of a VPN by itself is not illegal!
The truth is that VPNs were first developed for businesses to allow them to transfer sensitive data securely – and it's a technology that they still employ today.
Personal VPNs have only recently gained in popularity (think ExpressVPN, NordVPN, VyprVPN and others), but corporate VPNs have been used by small and large companies for decades.
Any product or technology can be used for legal or illegal purposes.
As long as you're using a VPN for legal activities, you're perfectly safe.
Myth #3: VPNs Provide COMPLETE Anonymity!
Now a quick note to those of you who might be considering buying a VPN so that they can download illegal torrents or commit any type of fraud:
There is no VPN that provides complete anonymity.
Not.
A.
Single.
One.
Even when protecting yourself with a VPN kill switch or making sure you use https instead of http protocol, it's impossible to guarantee completely protection.
I don't care how good their marketing copy is;
I don't care if you're using a multi-hop VPN connection through multiple servers in different countries;
I don't care if the VPN company itself is based in a different country not subject to the reach of your country's judicial system;
If you think something as simple as some VPN software is going to give you all the protection you need…
…you're WRONG.
The software isn't a "get-out-of-jail-free" card for illegal online activity. This is no VPN myth. Use it for these purposes at your own risk!
While a VPN is best used as a censorship evasion tool, TOR (The Onion Router) is more geared toward privacy. Learn more about a VPN vs TOR in this article.
Myth #4: VPNs Don't Log My Information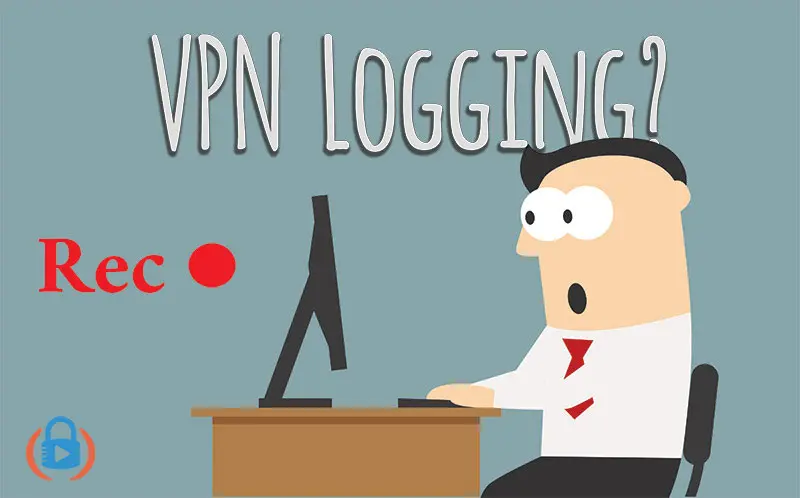 Once you connect to a VPN, there are a numerous pieces of information about you that start floating into the open space of the internet. This includes:
Your IP address: This is the address that your computer is given as it surfs the internet.
Your Browsing History: Many websites leave "cookies" on your computer that can report back what other websites you've been visiting. Yikes!
Internet Connection Logs: This refers to how, where and when you connect to the internet. What device are you using? How long did you stay connected?
Most VPN services will advertise their service as "no logs", "zero log VPN" or "logless".
They're trying to sell you on the fact that while using their servers, they aren't recording anything that you're doing.
LISTEN UP, because here's the TRUTH.
When it comes to VPN logs, it's not a matter of if a VPN service logs your information. It's a matter of what the service logs and how long they keep those logs.
Most VPN services are lying to you about logging. Thankfully, if you take the time to read through their Terms of Service, you'll get a better understanding of what they keep and (hopefully) how long they keep it for.
Myth #5: Free VPNs Get the Job Done…I Don't Need to Pay
I've written previously about the differences between free VPNs vs paid VPNs. Still, it's worth repeating the danger:
You completely negate the value of a VPN when you use a free one.
A VPN is meant to provide you with privacy, anonymity and security. These services cost money to develop and maintain.
Where does that money come from with a free VPN? There are number of different ways that a free VPN makes money including:
Selling Your Information: Many free VPNs admit to selling the information of their users to advertisers.
Showing Ads: Again, this allows advertisers access to some of your information.
The Freemium Model: This is where a company might offer you a limited free version of their service in an effort to convince you to buy the full product. In some cases, this is good. Many times, though, these lesser products don't provide any sort of security and you're always being bombarded by marketing messages telling you to upgrade.
If a VPN is free, there's probably a good reason (although there are some freemium VPNs that I do recommend).
Unfortunately, that reason has never been, "Because we, the developer, want to donate the best product possible for the security of humankind".
Sorry.
That just doesn't happen.
Myth #6: All VPNs are Basically the Same
When I first started working with VPN companies, I was under the impression that all VPNs are pretty much the same. I mean, honestly there's not much that seems to differentiate these services at first glance.
They all offer hundreds (or thousands!) of servers.
They all boasts "military-grade encryption".
They're all approximately the same price.
Over time, however, I've come to realize that as with any product or service, there are a few things that help a VPN company stand out. These include:
User Experience: Not every VPN is easy to install. Likewise, not every VPN software has a user-friendly interface. The good companies do it well. The bad ones…well, they don't.
Customer Service: It's simple to put a VPN software on the market but much more challenging to provide the appropriate back-end customer service. The good VPNs invest in customer support. Some VPN services only offer email support. Others do live chat. The best I've seen is IPVanish, which offers customer support via phone!
Simultaneous Connections: If you'll be using a VPN on multiple devices or as a family, you're going to want to pay attention to the "simultaneous connections" number. This refers to the number of devices that can be connected to the VPN server at a single time. Many VPNs offer around 3 connections before you have to pay for a new account. Other services offer more, such as ExpressVPN (5 simultaneous connections), NordVPN (6 simultaneous connections) or even Surfshark VPN (unlimited simultaneous connections).
Connection Protocols: Many people don't realize that there are varying levels of encryption. Higher encryption results in slower speeds. Lower encryption allows for faster speeds. Some services only offer a single connection protocol, whereas the good services give you a selection of VPN connection protocols.
Myth #7: VPN Reviews are Unbiased & Authentic
Oh boy. This is one of the biggest VPN myths.
And it's hard to write about it when I'm sure people could accuse me of doing the same with my VPN reviews.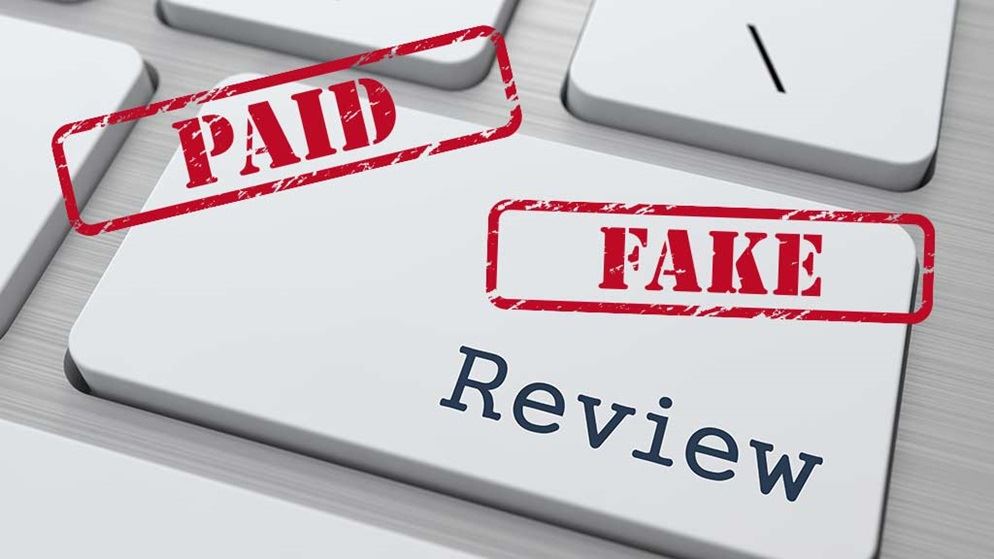 The truth is that VPN companies offer excellent commissions to people who refer new customers. I earn income from these commissions and 99.9% of the websites you see with reviews of VPNs do the same.
The problem here is that we have a financial incentive to tell you to go and buy this VPN service or that VPN service.
This bias automatically taints our "real and honest" reviews.
That's not to say that I don't stand behind my recommendations for the best VPN on the market – I do! I have used these VPNs every day on my computer, iPad and phone for almost a decade, so I feel qualified to share my experience.
However, there's a lot of money to be made in the VPN industry and that attracts some shady players.
Warning About VPN Reviews
Be wary and critical of any VPN reviews you read online. Test them for yourself and never buy a VPN that doesn't offer a money-back guarantee for at least 30 days or more.
I've known VPN companies to buy or start their own "VPN review" websites and just name their VPN as the best VPN on the market (and make commissions off of the other companies!).
Myth #8: VPNs are a Fad that will Go Away
I can guarantee you this is no VPN myth. Surveys have shown that over 64% of people have experienced online fraud in the past year.
Every single week I read a new report in the news about a major hack, identity theft or online privacy breach.
VPN usage around the world has risen by double digits each year. For populations all over the world, this often has to do with internet censorship or "big brother" monitoring.
Percentage of VPN Users Across the Globe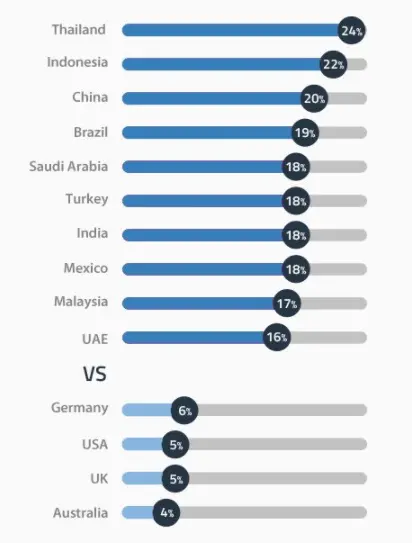 We in the "west" have been very slow to catch on to the fact that we should be worried about these same monitoring trends.
VPN usage is huge and it's just going to get bigger.
Final Thoughts | VPN Myths and Misconceptions
As you consider signing up for a VPN, it's good to think through all these different VPN myths and misconceptions.
We're often afraid to act on what we don't completely understand, so hopefully this list has armed you with all the information you need.
As I've said earlier, my favorite VPN is ExpressVPN, but there are plenty of other good ones out there.
The important thing is that you do everything you can to protect yourself online.