For years I've used ProtonMail as a secure and private alternative to options like Gmail. I've never been comfortable with Big Tech being able to scan my emails and show ads in my inbox, yet time and again I'm met with the same question from people who don't understand the cost of these free services: why would you pay for email? In this ProtonMail review 2023, we're going to take a deep dive into the pros and cons of this privacy-first email solution and compare it's encryption and suite of features to its competitors so you can make an informed decision for yourself.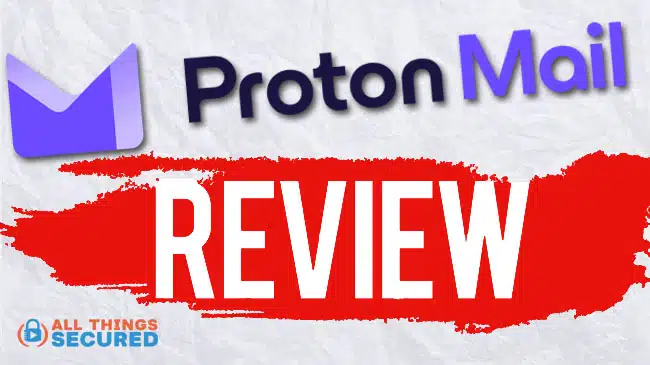 As a privacy and security advocate, my desire isn't to simply promote ProtonMail as some kind of "better version of Gmail". In the end, my hope is that you'll begin to understand the value of end-to-end encryption with your communications and how you can start using these kinds of services in your daily life.
Short Summary
ProtonMail is a secure email provider that offers end-to-end and zero-knowledge encryption, as well as an array of features for privacy protection.
It provides a familiar user friendly interface with customizations to create tailored experience, allowing you to send encrypted messages to ProtonMail users and even non-users alike.
Proton's competitive edge is its comprehensive ecosystem that includes a calendar, encrypted drive, VPN, email aliases solution and password manager.
ProtonMail Overview & Ecosystem
Proton is based in Geneva, proudly operating under the strict data privacy regulations that Switzerland offers. The foundation of what they offer is end-to-end encryption across an array of services that we tend to use on a daily basis.
But what exactly does it mean to have end-to-end encryption? And how is that different from "zero knowledge encryption"?
End-to-end encryption means that communication between ProtonMail users is encrypted in such a way that only the sender and recipient can access the email content. This ensures that your messages remain private, even from the email provider itself.
Zero knowledge encryption, on the other hand, protects your data from unauthorized access, ensuring that only you can access your inbox.
Honestly, these two phrases get interchanged frequently, but the point here is that this combination of encryption technologies makes ProtonMail a highly secure choice for those who prioritize control and privacy in their online communications.
Beyond email, the Proton ecosystem includes:
ProtonVPN: A virtual private network service that builds a private onramp to the internet.
ProtonCalendar: The most secure Google calendar alternative that keeps your meetings and whereabouts private.
ProtonDrive: Secure and encrypted cloud storage for your sensitive documents and files.
Proton Pass: An encrypted password manager that allows you to create not only strong passwords, but also unique usernames (via email aliases)
Bonus – SimpleLogin: A way to create email aliases. Proton bought SimpleLogin and has integrated its features into their other products.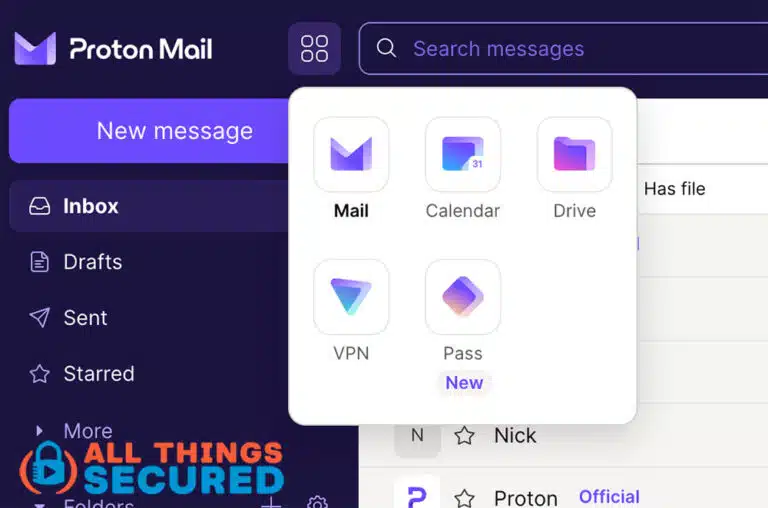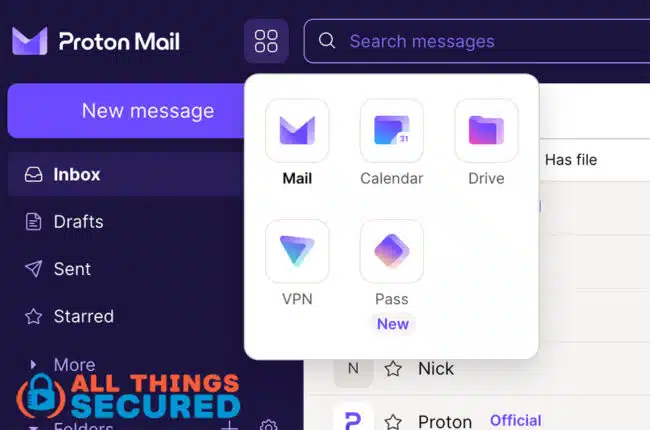 All of these services are included to some degree in every ProtonMail plan, although with Proton Unlimited you have maximum access to the full suite.
So when you're looking at ProtonMail as an option, keep in mind that you're not just considering a secure email provider, you're looking at a secure and private alternative to a number of digital services.
ProtonMail Security Features
ProtonMail's security features are one of its main selling points, setting it apart from other email providers. As mentioned earlier, ProtonMail offers end-to-end encrypted emails for anybody you communicate with – even if they don't have their own ProtonMail account. This ensures that only the sender and recipient can access the email content, keeping your messages safe from prying eyes.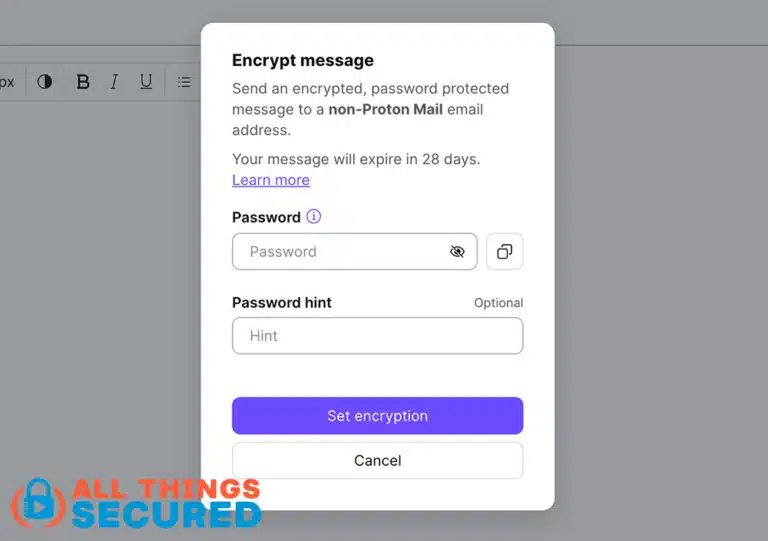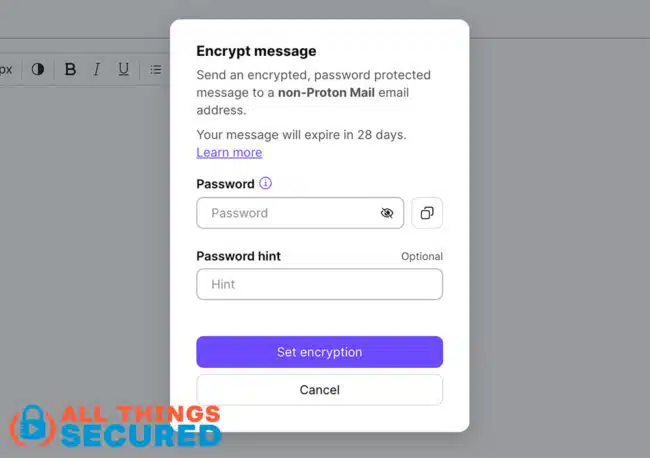 The above is an example of a user's ability to add password encryption to any email that you send. When a user opens this email, they would be instructed to follow a link and provide this password. Only then can they see the contents of the email, and it wouldn't be stored in their Gmail archive.
Of course, you could also just take advantage of ProtonMail's support for Pretty Good Privacy (PGP) encryption with external accounts. This allows you to send encrypted messages directly to users who are not on the ProtonMail platform, further expanding the reach of secure communication.
You also have the option to set your emails to self-destruct. By setting an expiration time for your messages, you can ensure that sensitive information does not remain accessible indefinitely.
Account Security
In addition to these security measures for email communication, ProtonMail also allows for two-factor authentication (2FA) to protect your Proton account.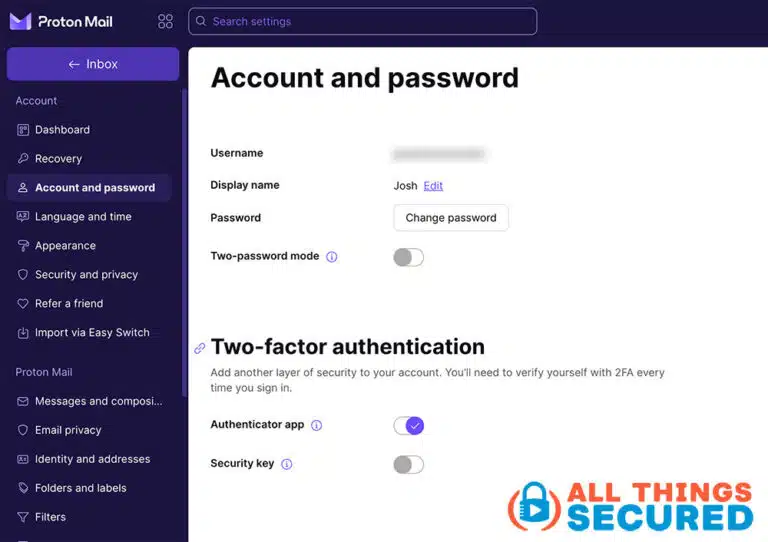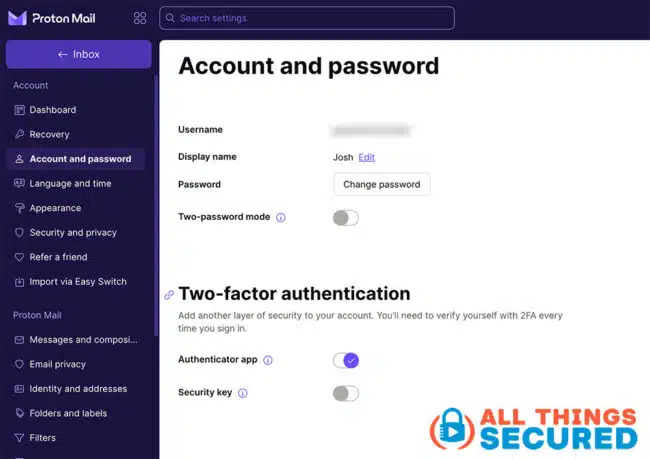 With 2FA enabled (either an authenticator app or a security key), any new device or login session would need to be authenticated with a code or key. This adds an extra hurdle for would-be attackers trying to access your account.
Similarly, you can also enable "Two-password mode", which requires two different passwords for your account login and to decrypt the inbox. Generally speaking, if you have 2FA enabled, I think that two-password mode is unnecessary.
Data Protection and Account Recovery
The ProtonMail data centers are physically located in Switzerland, a country known for its strong privacy laws. This means that your data is protected under Swiss law, which is generally considered a strong benefit by privacy advocates.
Also, because all of your data stored on these servers are encrypted so that even Proton can't access it, this means that setting account recovery and data recovery methods is imperative.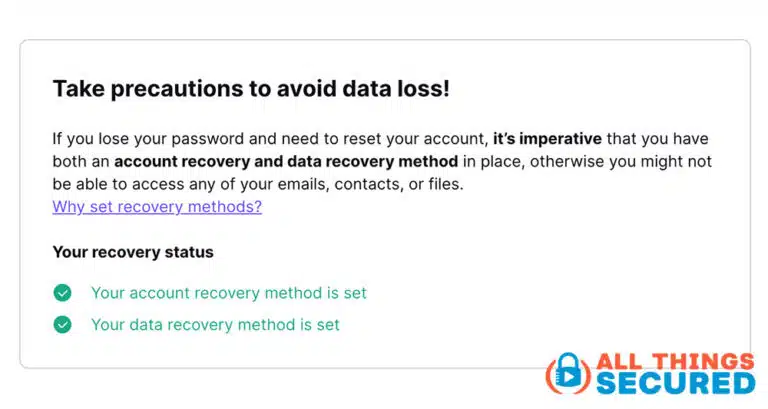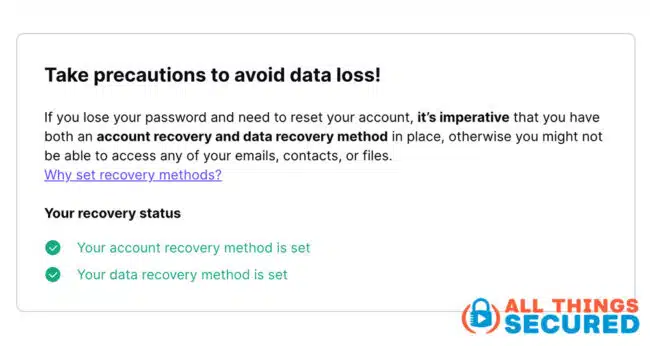 If you don't set this up and somehow lose access to your Proton account, Proton does not have "master keys" to help you unlock your account.
ProtonMail Mobile Apps
Good security and privacy almost always seem to come at the expense of convenience, and while those tradeoffs do exist in some ways (explained later), the good news is that ProtonMail's mobile apps are beautiful, familiar and easy to use.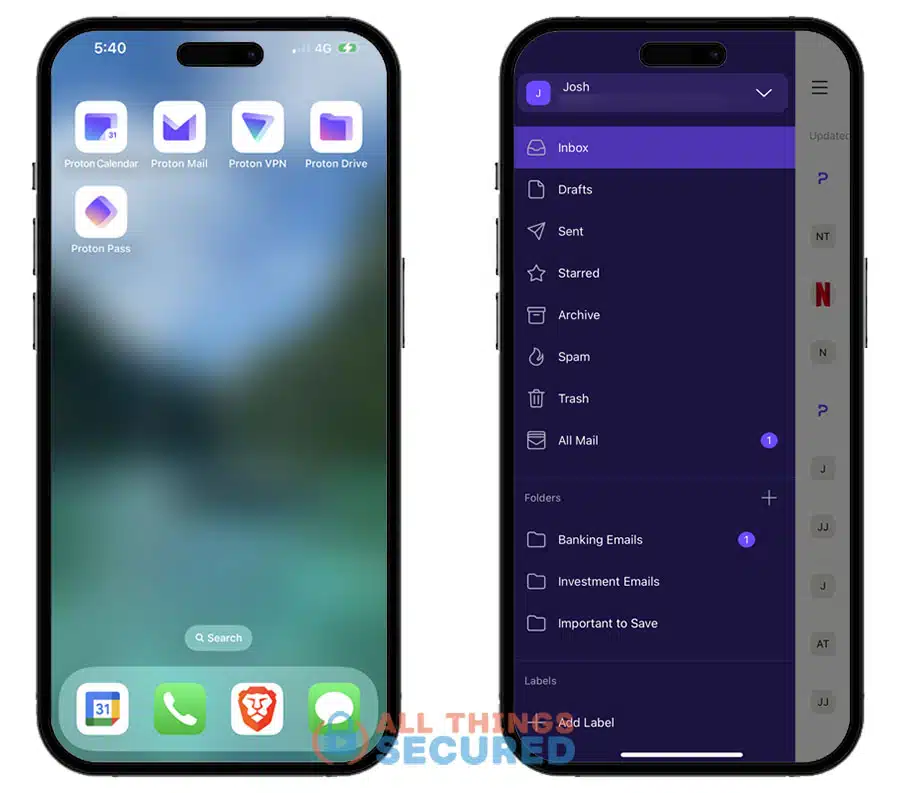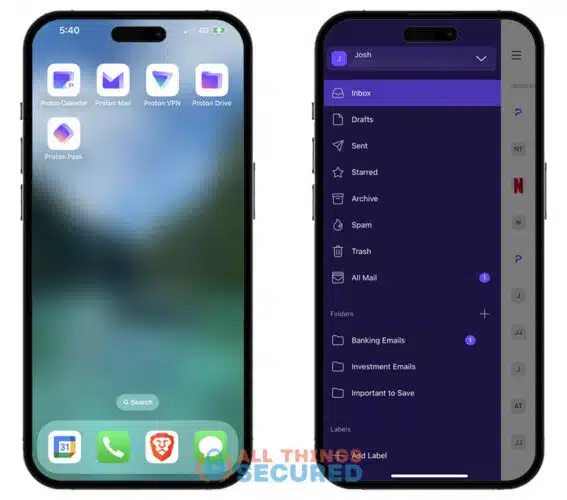 And, thankfully, available for both iOS and Android devices.
These apps provide a seamless experience across platforms, ensuring that you can access your ProtonMail account and enjoy consistent security features from your smartphone or tablet. Access to the apps can be protected by either a PIN code or biometrics, either of which can be set up in the app settings.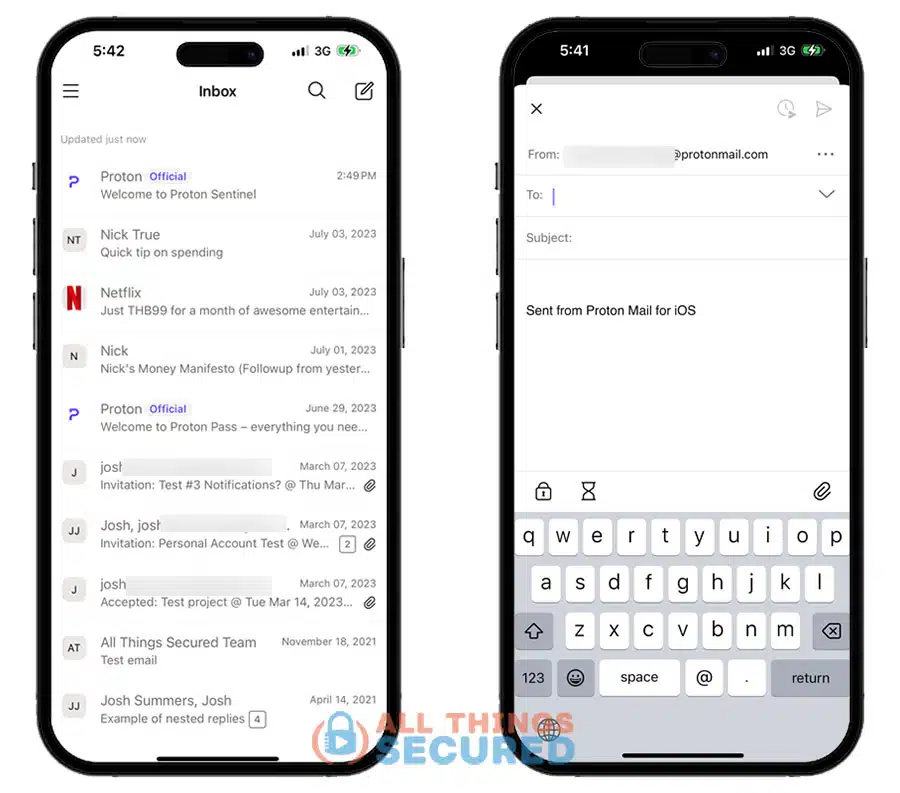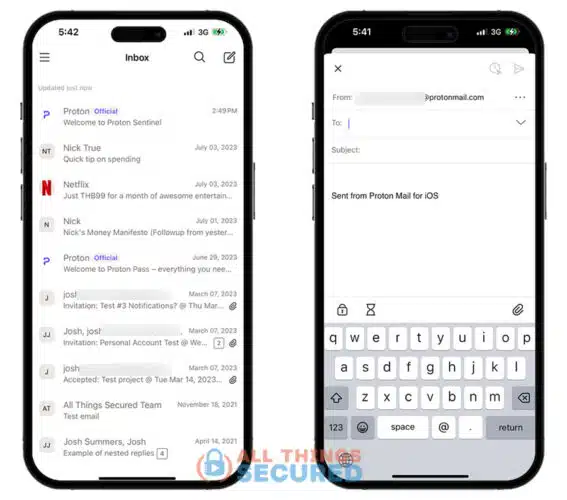 All data on the apps are still end-to-end encrypted and when composing a new message, you still have the ability to set a password, mail expiration date or attach an encrypted file.
Other Important Features
Although security and platform availability are two of the biggest draws, there are other features that have proven very useful as I've used used ProtonMail over the years.
For those who have doubts about switching from their legacy email provider – even if they're drawn to the secure email features – these other features are important.
Import via Easy Switch
The difficulty that most people have with switching to a new email provider is one thing: their email archive.
The thought of losing access to years of emails that you may need to search and find later is daunting. That's why ProtonMail's Easy Switch tool exists.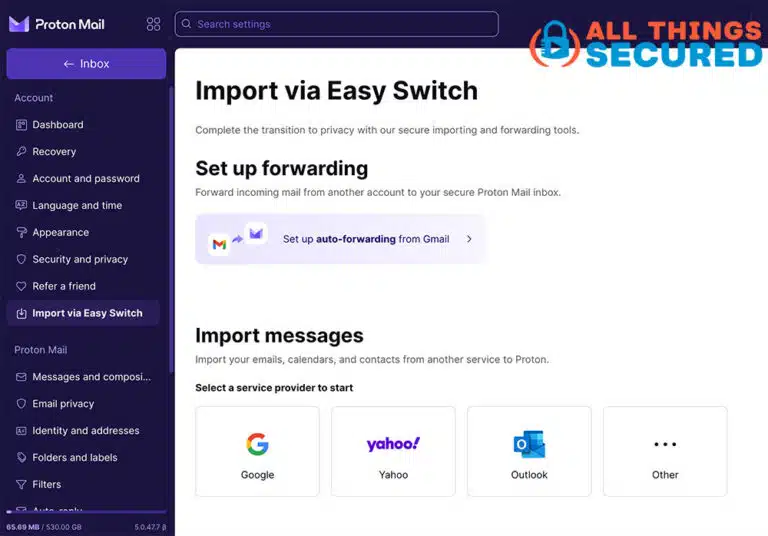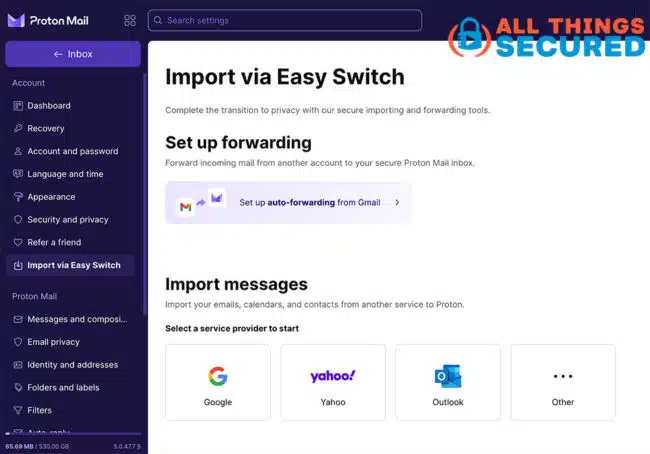 Not only does this tool make it possible to import your archive of emails from other major providers (including calendars and contacts), it can also help you set up auto-forwarding so any messages that still come through your old email address are sent to your new Proton inbox.
User Interface and Customization
If you're used to Gmail, Yahoo or Outlook, then navigating ProtonMail is a breeze thanks to it's very similar user interface. You can customize the layout of your ProtonMail inbox by adjusting themes and layout while also organizing your messages via folders and labels.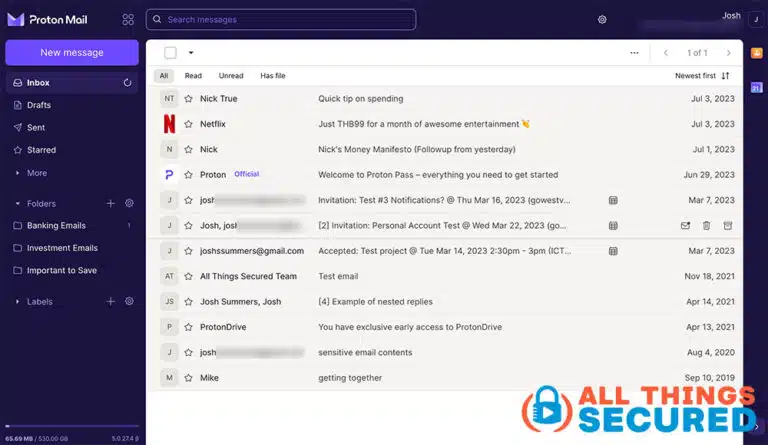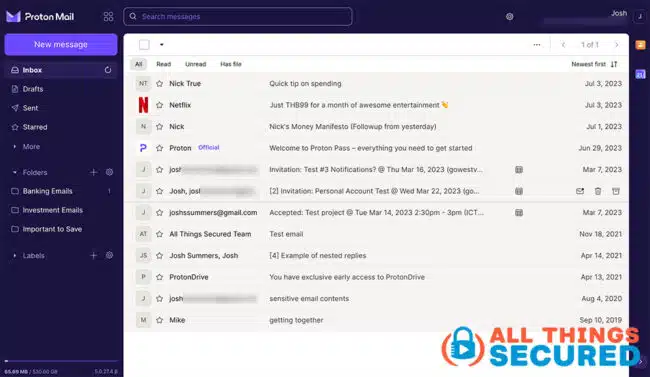 But the ability to customize your inbox goes beyond simply aesthetics. In the settings you have the option to control:
Conversation View: Do you want each email to be an individual entry in your inbox or do you prefer the modern "conversation view" where all emails from a thread are grouped together?
Email Domain: ProtonMail allows you to connect your custom domain so that messages are sent and received via your custom email address and not one provided by Proton.
Remote Image Load: Similar to other email providers, ProtonMail allows you to auto-load images. The difference is that it's protected via proxy so that markers won't get access to your IP address data when it loads.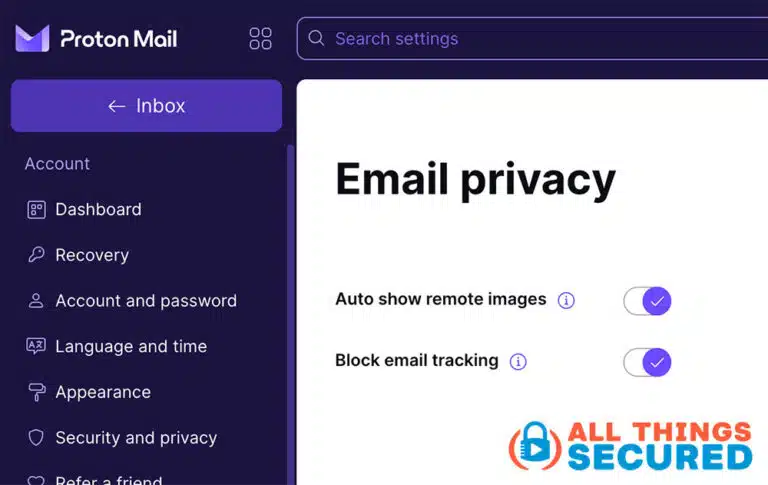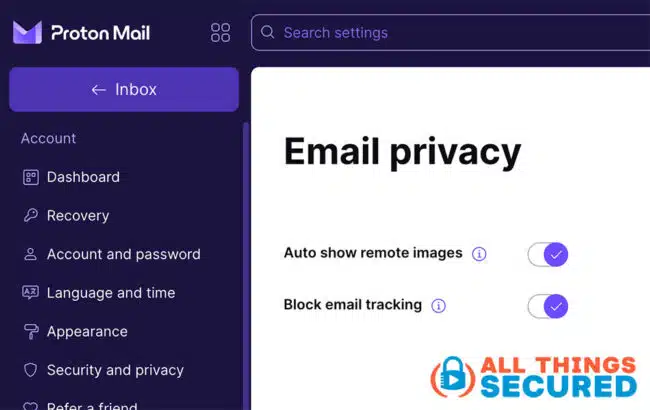 Proton Sentinel (advanced security protection)
In 2023, Proton rolled out a new security feature they've called Proton Sentinel. This new feature, which can be turned off or on in your ProtonMail settings, includes:
Advanced Login Protection: If Proton notices any odd or suspicious logins (i.e. coming from a new IP address or suddenly from another country), they'll force strict challenges to verify your identity and prevent unauthorized account takeover.
Detailed Security Logs: Within your settings, you can see exactly which devices logged in, sent mail or made changes to your account.
Human Reviews: Suspicious login attempts that are flagged by automated systems are automatically reviewed by human security analysts.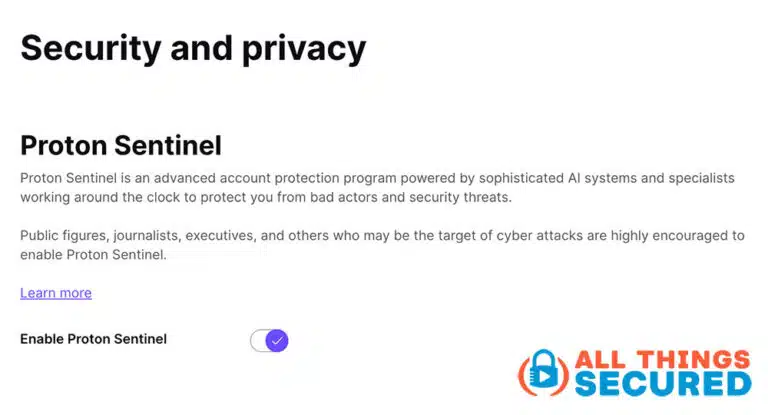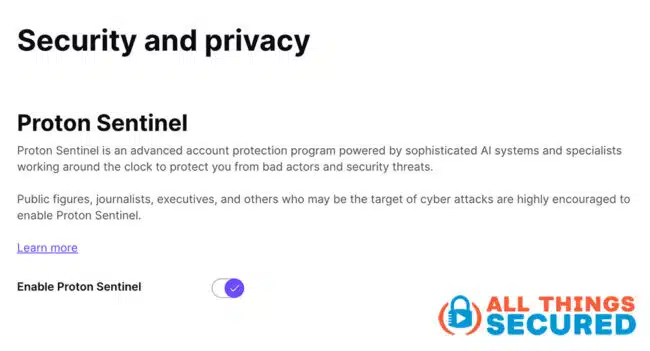 Setting Up a ProtonMail Account
Creating a ProtonMail account is a thankfully very easy. Unlike other email services that require personal information, ProtonMail allows you to set up an account without divulging any personal details.
You can choose a unique username and create a strong password to secure your account. During the account creation process, you have the option to provide a recovery email address (not mandatory). Keep in mind that while ProtonMail does not require any personal information, using a VPN or the Tor network to create an account may trigger phone (SMS) verification.
Free vs Plus and Unlimited Plans
Creating an account does not require giving over payment information, but if you want to take full advantage of the security products that Proton provides, it's worth considering an upgrade to either the Plus plan or the Proton Unlimited plan.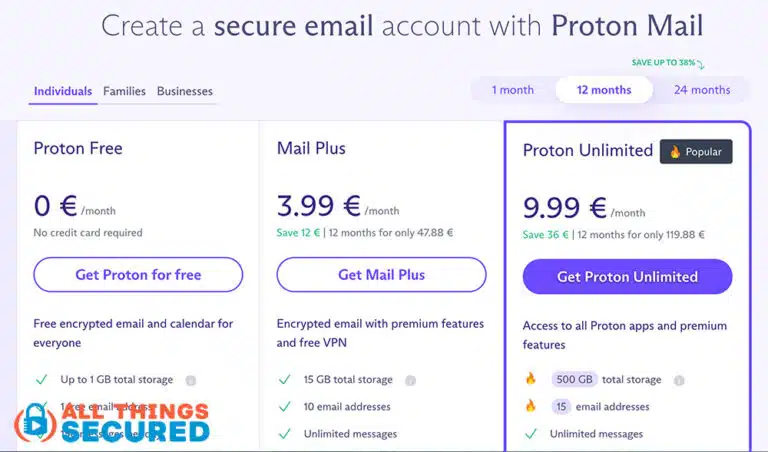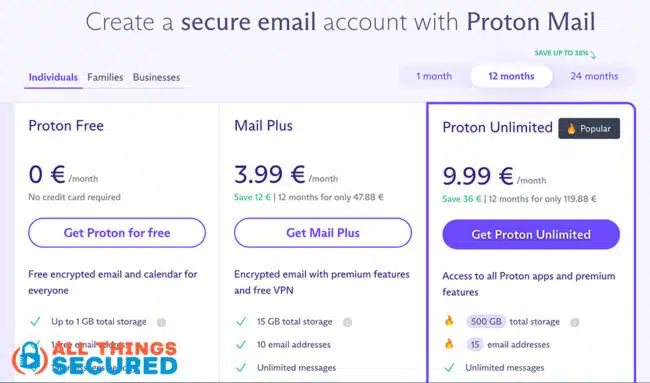 The free plan includes 1 GB of storage, 150 messages daily, and 3 folders/labels. While this plan may be sufficient for some users, others may require more storage or additional features.
For users seeking more robust functionality, ProtonMail offers the Mail Plus and Unlimited plans.
Ultimately, the choice between ProtonMail's free and paid versions will depend on your individual needs and priorities. If security is your primary concern, the free version may be sufficient – at least to start. However, for users seeking additional features and storage, a paid plan may be well worth the investment.
Both the Plus and the Unlimited plan give you access to the additional services within the Proton ecosystem.
Proton Ecosystem: Calendar and Drive
By nature, your email communication is closely linked to both your calendar and cloud storage (for attachments).
This is where ProtonCalendar and ProtonDrive come in.
These complimentary products provide users with even more tools to maintain their privacy and security online. ProtonCalendar offers end-to-end encryption for calendar events, ensuring that details such as event titles, descriptions, locations, and invited guests are kept private. All ProtonMail users have access to ProtonCalendar, making it a valuable addition to the Proton ecosystem.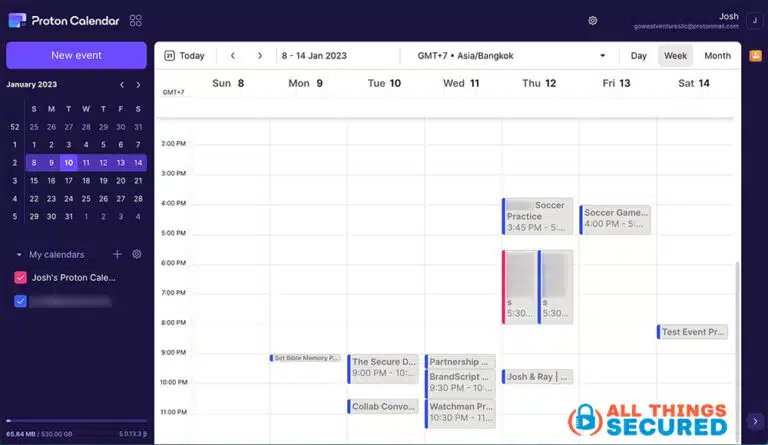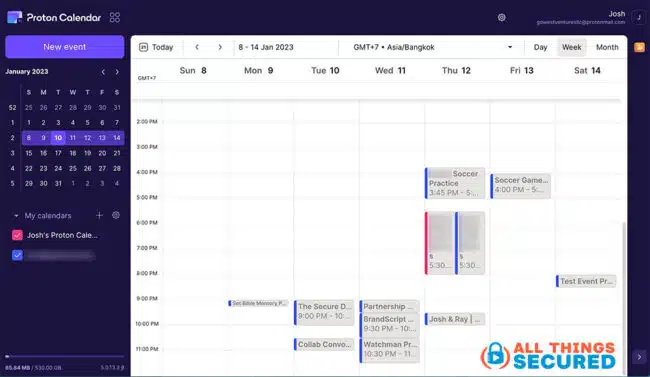 ProtonDrive, on the other hand, is a secure and encrypted file storage solution. Users can upload files and create shareable links, while also having the option to secure the link with a password and set an expiration date.
It's important to note that ProtonDrive is only available to paid users.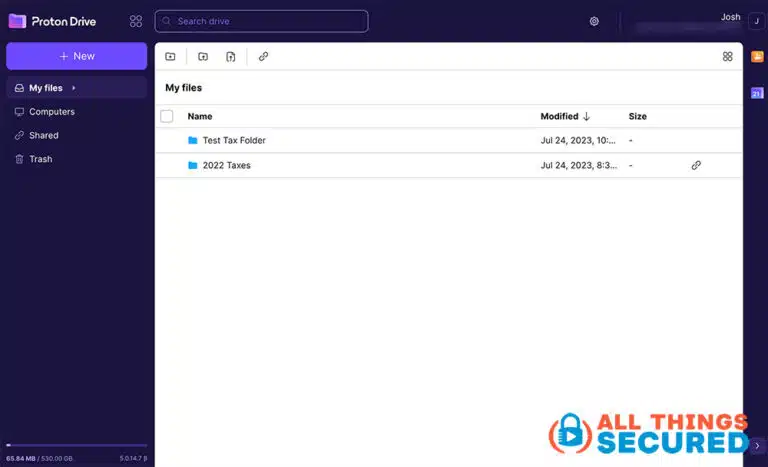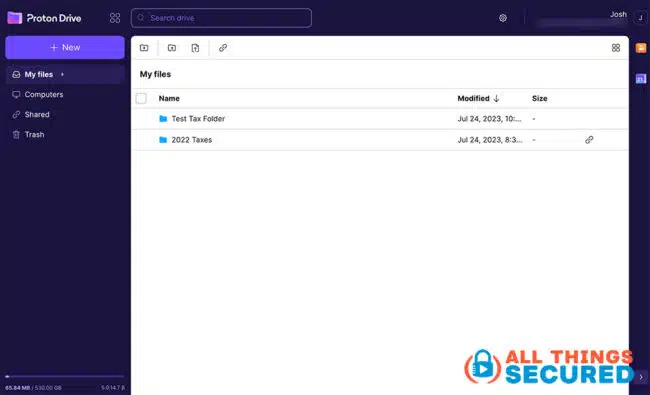 By offering ProtonCalendar and ProtonDrive alongside its secure email service, ProtonMail provides users with a comprehensive suite of tools to protect their privacy online. This robust ecosystem makes ProtonMail an attractive option for those seeking an all-in-one solution for secure communication and data management.
ProtonMail for Business
For those business owners or IT professionals, the option to use Proton as an alternative to Google Workspace or Microsoft 360 is attractive.
With end-to-end encryption, migration tools, and user hierarchy, ProtonMail can be a valuable asset for companies seeking a secure email solution.
One potential limitation of ProtonMail for businesses is its lack of advanced search and a calendar that isn't integrated with a meeting solution like Google Meet or Zoom. While ProtonMail's security features are top-notch, businesses with more complex organizational needs may find these limitations to be a drawback.
Despite these potential limitations, ProtonMail remains a strong option for businesses seeking a secure email provider.
Comparing ProtonMail to Alternatives
While ProtonMail has carved a niche for itself as a secure email provider, I'd be doing you a disservice if I didn't mention other alternatives on the market that may be worth considering. There are other top secure email providers including:
Tutanota: offers unparalleled security, with full encryption of subject lines and robust data protection;
Fastmail: provides a user-friendly interface and advanced integration with those who have 1Password as their password manager;
StartMail: combines encrypted email with unlimited email aliases;
Tutanota may be an attractive alternative to ProtonMail if security is your top priority. However, ProtonMail provides more customization options and better customer service.
Fastmail, on the other hand, does not provide end-to-end encryption, meaning its security features are not as comprehensive as those offered by ProtonMail. However, Fastmail may be a suitable choice for users who value customization and ease of use over top-tier security.
StartMail, built by the same company that offers the private search engine Startpage, is known for offering unlimited email aliases for users, something that Proton limits inside the inbox.
In conclusion, while there are alternative email providers to ProtonMail, each comes with its own set of strengths and weaknesses. When choosing an email provider, it's crucial to weigh the importance of security, customization, and aliases to find the best fit for your needs.
Customer Support and Resources
ProtonMail's customer support options vary depending on your subscription plan. Free users have access to a searchable knowledge base, while paid users receive email and priority support. This tiered approach ensures that paying customers receive timely assistance with their inquiries.
In most cases – and in my own personal experience – ProtonMail's customer service is able to resolve issues within a reasonable timeframe. Phone support is not available for more complex issues, but when filing a bug report, a response is typically received within 24 hours. Depending on the complexity of the issue, it may take several days to resolve.
Overall, ProtonMail's customer support and resources are adequate for most users. While there may be room for improvement, the company's commitment to security and privacy outweighs any minor shortcomings in customer service.
---
Summary
Throughout this ProtonMail review 2023, we've explored the various features, security measures, and customization options that ProtonMail offers. From its end-to-end encryption and zero-access encryption, to the broader Proton ecosystem, it's clear that ProtonMail is a top choice for those seeking a secure email provider.
While ProtonMail may not be the perfect fit for everyone, its strong security features and user-friendly interface make it an appealing option for individuals and businesses alike. Additionally, its mobile apps for iOS and Android ensure that users can maintain their privacy and security on the go.
Of course, it's essential to consider alternative email providers such as Tutanota, Fastmail, and StartMail when making a decision. Each provider has its own set of strengths and weaknesses, and the best choice will depend on your individual needs and priorities.
---
Frequently Asked Questions
Is ProtonMail legitimate?
Yes, ProtonMail is a legitimate email service with over a decade of solid history as proof. They've consistently offered end-to-end encryption, providing reliable features that one would expect from an email service.
Is ProtonMail really better than Gmail?
Although "better" is mostly subjective, ProtonMail offers a similar user experience to Gmail while providing greater overall security. If privacy is your priority, ProtonMail is certainly the better choice.
Why ProtonMail is not accepted?
Sometimes ProtonMail can be blocked on certain sites due to its lack of recognition compared to larger email providers such as Yahoo, Outlook and Gmail. This is less and less common and can easily be fixed by either using a custom email domain or logging into your account with a VPN.
Is ProtonMail safe from hackers?
ProtonMail offers superior security compared to Gmail, with end-to-end encryption and advanced account security features such as two-password mode, 2-factor authentication, and the new Proton Sentinel feature. With these measures in place, it's significantly harder to hack a Proton account than the average Gmail account.
What is the downside of ProtonMail?
ProtonMail lacks IMAP/SMTP service for free accounts, meaning users must upgrade to a paid plan in order to use a third-party email client.