Back in 2018, after having both my bank account and email hacked, I started using 1Password to not only manage my passwords, but also to help me create better passwords. In this 1Password review, I'll show you how I use the software and why I eventually chose this password manager app over other competitors.
Be sure to subscribe to the All Things Secured YouTube channel!
Currently, I have 298 327 378 different online logins that I have to manage. This includes everything from banking to frequent flyer programs to my home insurance provider.
While this is more than most, chances are that you also have more online usernames and passwords than you realize.
This leaves you with just a few options:
Use the same password for all your logins: This is one of many bad online habits you need to break. If somebody gets a hold of this one password, they can hack your entire online life;
Write all your different passwords down: This "pen and paper" method works, but only if you're sitting at your desk. The list can get a tad unwieldy once you hit more than 50 logins to keep track of.
Use a password manager app: This is the easiest and, believe it or not, most secure way to manage all your online logins. I'll explain more below.
Obviously, 1Password falls into the latter category, which is what I'm going to explain below.
This 1Password review is broken into different section for easy reading. You can use the navigation links below to jump ahead if you like:
If you've never used a password manager before…
…never fear!
I'm going to show you exactly how it works before I dive into the specific pros and cons in this 1Password review.
Note: Some of the links below are affiliate links, which means that at no extra cost to you, I may be compensated if you choose to use the services listed. I only recommend what I have personally used, and I appreciate your support that allows me to provide this free content!
How 1Password Works to Secure You
At their core, 1Password and most all good password manager apps operate as a secure, searchable database for all your logins, passwords, and secure notes.
One Master password to rule them all!
You set one master password to unlock access to all the usernames and passwords that have been stored in the database. (and for the love of security please, make sure you create a very secure password to be your master!).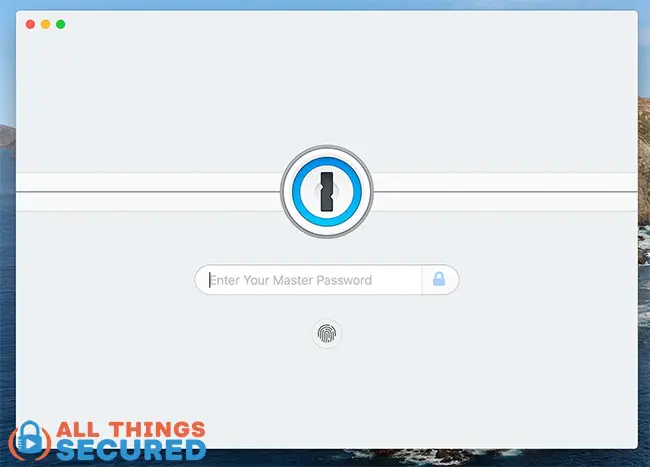 It is possible to browse and edit the password database through the app. More often than not, however, the software works in the background while you're using the internet on your various devices.
We're going to use Facebook as an example here. Instead of typing in your email and trying to remember your password, the 1Password app pops up and shows any logins in the database that are available to use.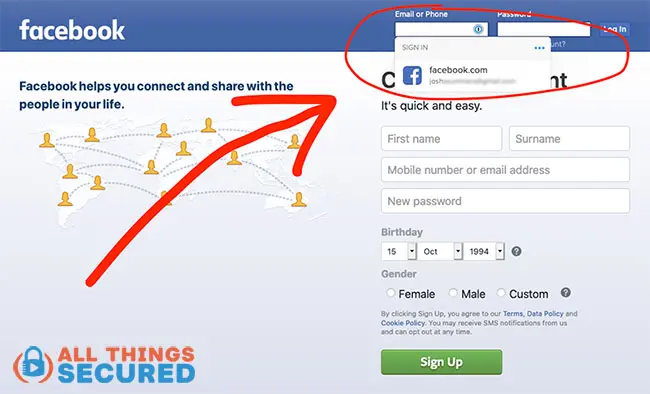 In the above example, if I click on the Facebook login credentials, my email and password are automatically filled in. I just have to click the "Log In" button.
If you're using the double-blind password strategy, you'll also add your unique key.
Of course, the security of your passwords is only as good as the passwords themselves.
If you're still using "password" or "123456" as your password, then software like 1Password isn't just helpful…
…it's absolutely necessary for you.
And if you're not sure how strong your password is, you can use our handy password strength checker here.
When you create a new login online, 1Password will offer a random, secure password to use. Once selected, it will immediately store it in the database so you don't have to remember it.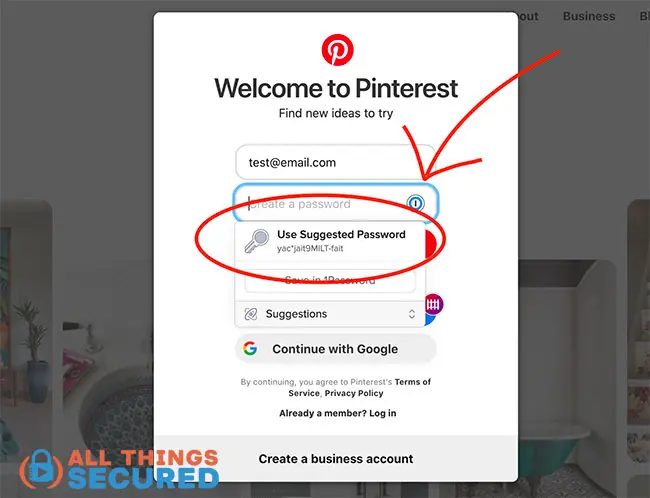 And that's pretty much it! A password manager app isn't overly complicated, and yet it's an important tool for online security.
So now that you understand the basics of a password manager app, I'd like to dive deeper into this 1Password review to show you why I use this service over other great software that is available.
1Password Review 2023 | My Thoughts
Let me begin this review of 1Password by saying this: using 1Password (or any security software for that matter) is not a foolproof, silver bullet for security.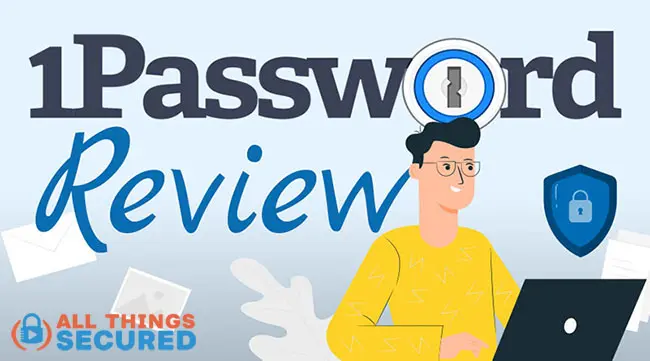 Your online privacy and security is a mindset, not a piece of software that you can download.
1Password will not keep you from ever getting hacked, but it will reduce those chances significantly.
Below is a summary of my 1Password review, followed by more details and screenshots.
| | |
| --- | --- |
| Review | 1Password Password Manager App |
| Summary | 1Password ranks as one of the best password manager apps not only because it offers seamless integration between easy-to-use apps, but it also features 256-bit encryption, the option for a family plan, and a unique travel mode. My only minor gripe is they don't offer a free version or live-chat support. |
| Author | Josh Summers |
| Rating | 4.9 (out of 5) stars |
Pros and Cons of 1Password
The 1Password software was first developed back in 2005. It has gone through almost 16 years of iterations to get where we are today.
While password management software is used by different kinds of groups (i.e. individuals, families, businesses), for the sake of this 1Password review I'm going to focus on individuals and families.
To start, I'm going to list out the pros and cons and follow with a deeper explanation of each.
1Password Pros
Easy-to-use software for desktop, phones & tablets;
Well-documented, 256-bit encryption (this means a high security standard);
Offers both individual and family plans;
Standalone company (not tied to a separate for-profit company);
Seamlessly integrates into Chrome, Firefox, Safari and many other browsers;
Travel Mode;
14-day free trial.
1Password Cons
No free version available;
No live chat support option (only a forum, email and Twitter options).
Obviously, the pros outweigh the cons for 1Password. That's why I have no problem recommending the service to my friends and family.
Now, let's go into a bit more detail about these pros and cons for 1Password:
Easy to Use Software: The idea with any manager app is that you can set it and forget about it. I'll walk through the software more below, but suffice to say 1Password does this well.
256-Bit Encryption: "But what if somebody hacks into my password database!? Then they'll have everything!!" There are ways to make sure that using a password manager is secure, but on 1Password has done everything on its end to secure your passwords. Most of it is technical jargon, but the basics of the encryption rely on a secret key that is generated locally on your device, not store on 1Password servers.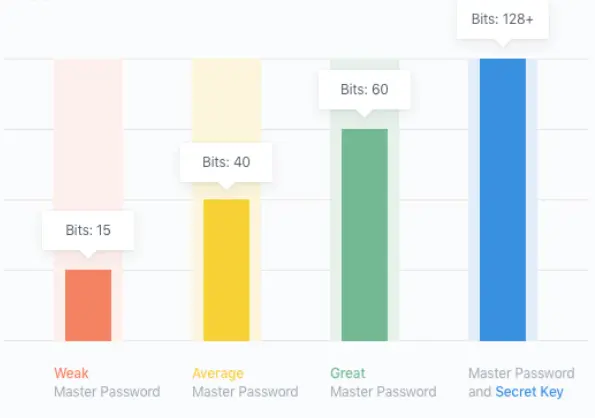 Individual and Family Plans: The beauty of a family plan is the ability to create separate "vaults" for each member of the family, as well as one to share. For example, I have all my personal social media logins in my private vault. However, my wife and I share our Netflix login in the shared vault so we can both use it.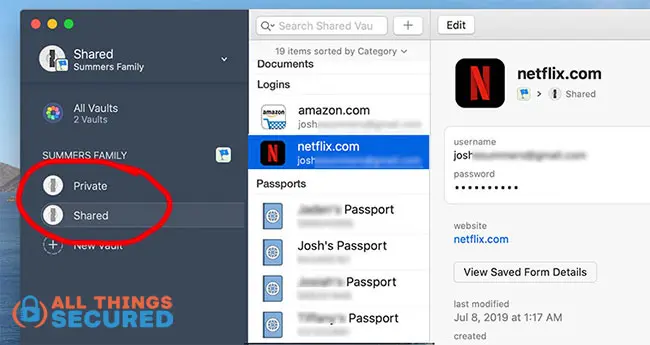 Standalone Company: This is an interesting feature that not everybody will agree with me on. You see, most internet browsers offer to store your passwords for free, such as the Google Chrome password manager. In addition to the fact that these only work within one specific browser only, I'm also not a big fan of trusting my password data with a company like Google whose primary source of income is building a user profile for the sake of advertising (the opposite of "privacy and security"!). I'm willing to pay a few extra dollars to pay a company whose sole purpose is to do one job: secure my passwords.
Seamlessly Integrates into Chrome, Firefox and Others: Because I don't recommend using native browser password managers, it's important that 1Password works well with each of these internet browsers you might use. As you'll see in the next section about browser extensions, that is certainly true.
14-Day Free Trial: While 1Password doesn't offer a limited free version that many other apps like Dashlane do, they still provide a 14-day trial period (down from 30 that you might see published on other reviews) where you can see if you like using the software.
These are the primary features for 1Password, but I want to highlight a few features which are unique to this particular password manager.
Unique Features of 1Password
There are three unique features of 1Password that really set it apart from the competitors. As you'll see below, it's these kinds of innovations that show how forward-thinking this company is.
Here are the three unique features:
Travel Mode: Prior to Covid, I used to travel internationally quite a bit, particularly into countries where data privacy isn't, well…frankly it's non-existent. Travel mode allows me to mark specific vaults as "safe for travel". It then removes those vaults from my devices that might be extra-sensitive while I'm traveling. When I return, I can re-install the missing vaults. This gives me confidence that my data can't be compromised even if I'm required to unlock my device.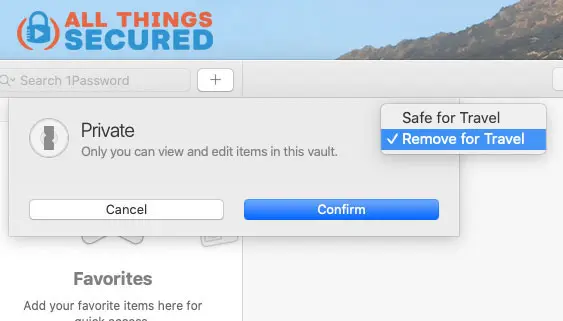 Native 2-Factor Authentication: 1Password allows you to store your 2FA codes (time-based one time passcodes or TOTP) and sync them between your devices. There are some risks to keeping your passwords and 2FA codes in the same place, but it's extremely convenient. That, and it's better than using Google Authenticator.
Privacy.com Integration: Have you ever heard of virtual credit cards? If not, you're in for a treat! 1Password has partnered with Privacy.com to give you the ability to easily create new virtual credit card numbers and determine exactly how they can or can't be used. This is such a cool feature and you won't find it with any other password manager.
Are you ready to give 1Password a try? Signing up and downloading the software takes less than 10 minutes.
Speaking of software, let's take a few minutes in this 1Password review to show the app working on both my desktop and mobile device.
1Password Desktop App & Browser Extension
If you're this far in the review of 1Password, you've already seen a couple screenshots of the 1Password desktop app.
Instead of reviewing the entire app, I want to point your attention to the sidebar. I'm going to explain a major feature of the desktop version of 1Password: Watchtower and Categories.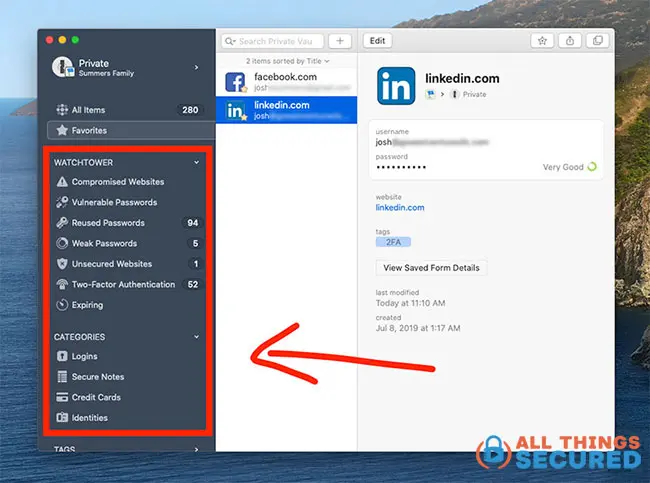 In the above screenshot, you'll see that the categories allows you to store more than just passwords. Personally, I store:
Some passport data (not all);
One credit card that we use for online shopping (not every one I have);
A few secure notes;
Watchtower is a feature that pushes you to be better with your online security.
In the example above, you'll notice that 98 of my passwords are reused and another 5 are considered "weak". This is helpful to know. Over time will be something that I work on to create a more secure online presence.
1Password also alerts me to any websites that offer 2-factor authentication, an added layer of security. Naturally, the software can't manage this 2FA, but it can let you know it's available to use.
As part of my desktop use of 1Password, I've also installed what is known as a browser plugin to use with Firefox, my preferred internet browser.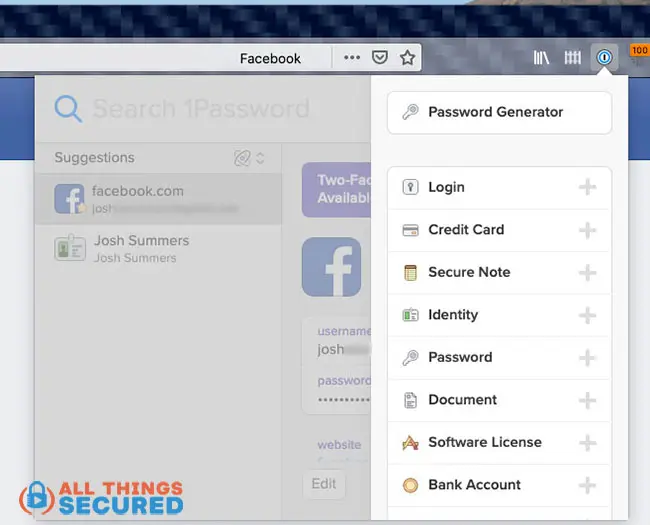 It's through the use of this browser plugin that I can create new passwords and auto-fill login credentials, credit card info and identity info such as my birthday and phone number.
If you decide to use the software as a result of this 1Password review, the browser extension is something I highly recommend.
It eliminates the need to open the software program, find the website, then copy and paste the password. Everything is automatically filled in for you.
1Password Mobile Apps for Phones & Tablets
In daily life, I tend to use the mobile version of 1Password about as often as I do the desktop software and browser extension.
After I've installed the 1Password app and set it up as my default password manager, whenever I reach a login screen anywhere on the phone, I can click the "Passwords" option.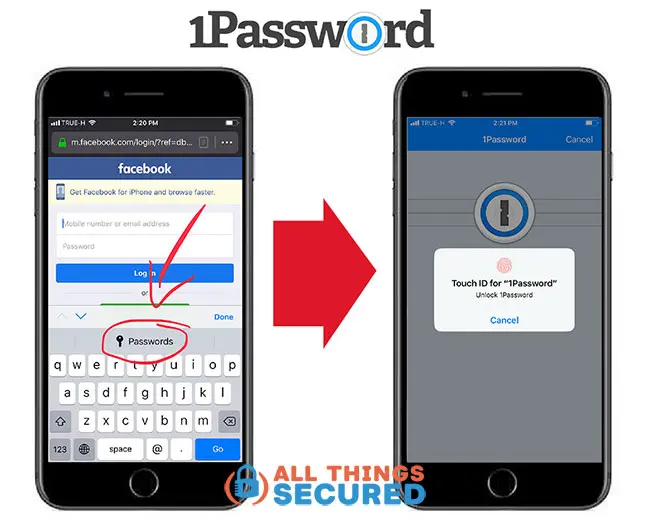 For the iPhone, you are able to take advantage of both Fingerprint ID and Face ID to unlock your vault. However, this is only possible after the master password has been entered once.
At this point, just choose the appropriate login and your username and password will automatically be entered for you.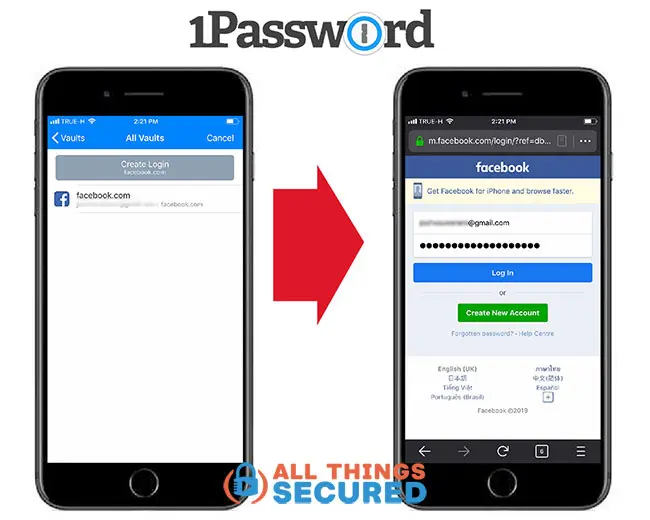 I have access to all data in each of my vaults from within the mobile app, and it comes with the password generator, travel mode, and other great features.
I've used other password manager mobile apps and, frankly, they don't work quite as well as 1Password. I'm not sure what the difference is, but it works better, at least for me.
Frequently Asked Questions About 1Password
Although I've done my best in this 1Password review to cover the most important topics, there are still a number of questions people ask that didn't really fit in any of the sections above.
There's also another article comparing 1Password vs Dashlane that might be helpful.
Here are the most frequently asked questions I receive in regards to this 1Password review.
Where are the 1Password vaults and passwords stored?
An encrypted version of your passwords is stored by 1Password and synced between devices, while a cached version is stored locally on your devices. In both cases, the encrypted vault file can only be decrypted with the master password you enter and the security key supplied by your device.
Can 1Password be hacked?
Yes, any company or software can be hacked (although 1Password claims they have yet to be hacked). This is why it's always best to use a double blind password with any password manager app. The question isn't whether a piece of software can be hacked; rather, it's important to consider what information can be obtained by said hack. In the case of 1Password, even if hackers stole your password vault file, they'd still need to steal your master password (which the company doesn't have on their servers) and the secret key supplied by your device. In other words, a hacker would have to hack both 1Password, your personal device, and crack your password at the same time.
Can I use my 1Password subscription on multiple devices?
Yes, there is no hard limit on the number of devices that can be tied to a single subscription with 1Password. That being said, because all devices will be tied to a single account, each device will have access to all your secure passwords. For the purpose of this 1Password review, I recommend you only download it on your personal devices that you use the most.
What is the 1Password Watchtower feature?
Watchtower is a feature already covered in this 1Password review that monitors local password health as well as external password breaches. Watchtower will inform you if your passwords are weak or repeated, if there's an option for 2-factor authentication, or if a security breach at another company has affected you (i.e. your information with Target was stolen).



What if I lose my device that has 1Password on it?
Unless you have reason to believe that your master password has been compromised in addition to your device being stolen, your password manager app's encrypted data is still safe. You should be more worried about all the other apps to which the thief has access.
What happens to my 1Password vault if I die?
Since the encrypted file that 1Password stores and that is cached locally on your device is only useful when paired with your master password, you need to find a way to securely pass along your master password to your successor. 1Password provides an Emergency Kit that contains all the information needed to sign on to your account. This information should then be placed somewhere secure, such as a safe or in a bank vault.
---
If there's a question you don't see listed above, leave a comment on this page and I'll do my best to answer.
Final Thoughts | 1Password Review and Recommendations
I've already said this before, but I believe it bears repeating: just because you use a password manager app – or any type of security software – doesn't mean that you no longer have to worry about being hacked.
This is true of password manager apps just as it is true of good VPN apps.
That said, I highly recommend 1Password as a piece of your overall online security strategy – specifically the piece that helps you create and store highly-secure passwords.
Whether you're an individual or a family, as I've already shared in this 1Password review, the software offers one of the best tools to digitally secure your data at a price that meets or beats most of their competitors.
It has excellent apps specifically designed for each device you own, an easy-to-use interface and a travel mode for those who travel internationally.
Even if you're not sure, there's no risk in trying the 1Password 14-day free trial to see how you like the service. You don't have much to lose and plenty of opportunity to strengthen your online security.