Free VPNs are risky business. Normally, I tell people to run as far away from them as possible. But for those who absolutely refuse to pay for a virtual private network, here's what you need to know about free VPNs before you use them…and which ones I recommend.
Be sure to subscribe to the All Things Secured YouTube channel!
So, you've heard of all the benefits that come with using a VPN and you've finally decided that you need one.
Good for you.
However, a quick search for the best VPNs only returns premium solutions that you may not be ready to purchase just yet. And that is what led you here.
You want to know whether you can still enjoy all the benefits of a VPN without having to pay.
It's possible, but it's not always the best idea. We're going to cover what you need to watch out for as well as the very few free VPNs I would consider downloading.
First, let's start with the one question you need to ask before you download any kind of free VPN software off the internet or even on the app store.
Note: Some of the links in this article may be affiliate links, which means that at no extra cost to you, I may be compensated if you choose to use one of the services listed. I only recommend what I personally have used, and I appreciate your support!
One Question to Ask about Free VPNs
Nothing is really free.
It's a well-known saying for a reason. Because it's TRUE.
You see, to run a successful VPN service you need servers. These servers cost money to buy and they need constant maintenance of their software and hardware parts. You also need to invest in encryption technology and the human resources to make all this work.
So how does a free VPN make money?
How then will a VPN company raise this cost if they are giving you the service for free? That's the million-dollar question you need to answer.
There are a few ways that free VPNs make money:
Collecting your private data and selling it to advertisers, corporate marketing departments and other interested parties;
Spamming you with constant ads;
Installing malware on your device;
To top it all off, most free VPNs offer extremely low speeds due to congestion on their servers and may even refuse to connect sometimes.
That's the bad news.
The good news is that there are some reputable companies that offer a free VPN, but they all follow the same model:
They're "freemium".
Benefits of the "Freemium" Model
The freemium model is a simple pricing strategy that allows for the basic product to be offered for free with money charged for additional features or premium access.
In terms of free VPNs, this often means that the basic version is limited by:
Speed caps (how fast your connection will be);
Data caps (how much you can use the free service);
Limited servers (how many available servers you can use);
Limited features
Under this model, you can confidently take advantage of the free VPN because you know how they make money. They are trying to get you to upgrade to their premium service and use the free VPN as a marketing tool.
Take note that the limitations imposed by free VPNs often make them unattractive for long-term use. But if you just need to use a VPN for a short period of time, freemium is the way to go.
So which services offer a quality freemium product?
Recommended Free VPNs in 2023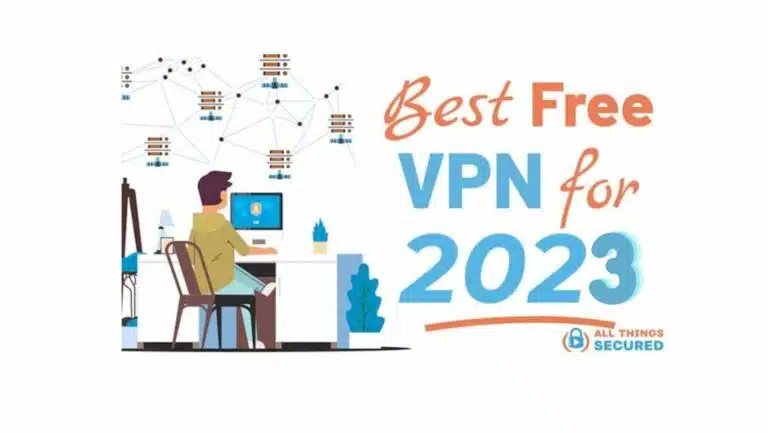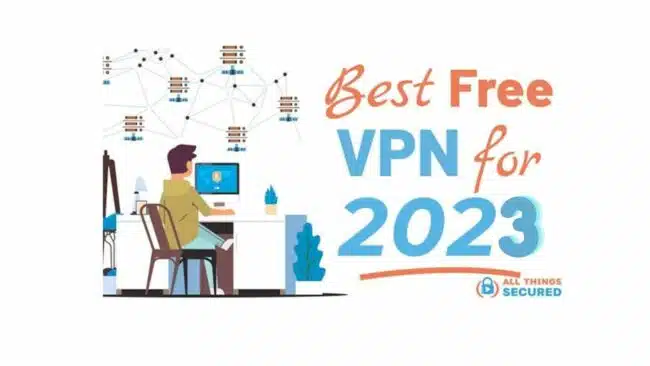 With all of the above in mind, there are only a select few virtual private network companies whose free product I would even consider downloading on my own devices…
…much less recommending them to you.
There are still going to be risks involved in using these free services, but in the end, here is what you can try.
Atlas VPN | Recommended Free VPN (no signup!)
Atlas VPN is, without a doubt, my top recommended free VPN. And, simplicity is my favorite thing about it.
The service does not even require that you open an account with them. Just download the app for your specific device, connect to the server, and you are good to go.
The VPN is available for Windows, macOS, Android, and iOS. A Chrome extension is also underway.
Atlas VPN is among the few free VPNs that can unblock geo-restricted content on Netflix. This will be especially useful if you are traveling outside the US.
And since it does not limit your monthly data spend, you can use it for unlimited browsing and streaming.
The only downside is that the speeds are not optimum which may lead to poor quality streams.
The VPN also allows access to just three servers for their free users. Two of them are in the US and one is in the Netherlands.
Atlas VPN comes with a VPN kill switch which will prevent unencrypted data from leaking in case you get disconnected unexpectedly. The feature is not enabled by default so you will have to do so manually.
ProtonVPN | Best VPN & Secure Email Combo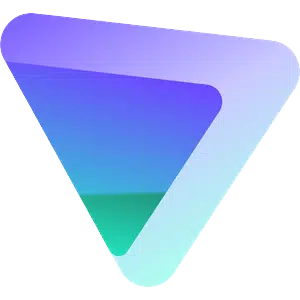 Limited free service (limited to 3 servers)
Reputable security company that also offers secure email;
Stronger encryption protocol than Atlas VPN;
From the same company that gave us ProtonMail, one of the best secure email alternatives to Gmail, we also get ProtonVPN.
Similar to Atlas, Proton does not impose a monthly data limit for its users. However, to ensure that you have an incentive to purchase their paid plan, they do throttle speeds, which may result in buffering issues.
The free version also gives you access to just three servers:
United States (1)
Japan (1) and,
Netherlands (1)
The VPN uses the OpenVPN connection protocol, which is stronger than the IKEv2 used by Atlas and also comes with a kill switch and DNS leak protection.
A distinguishing feature about ProtonVPN is that it gives you access to their premium plan for 7-days after installation.
This will afford you extra features such as access to their torrenting servers, additional security through Tor over VPN connections, and protection of up to 10 devices at the same time.
For more about the differences between the free and premium versions, read my review of ProtonVPN.
TunnelBear Free VPN Option (Limited)
Tunnelbear is one of the fastest free VPNs you will use. But it has one major shortcoming.
They only allow you 500MB of data per month.
That's not enough to even get you through 10 minutes of a movie that you stream on Netflix with a VPN.
To be fair, they clearly state that their free offering is for testing and limited usage. Then they give you a chance to earn an additional 1GB by tweeting about them.
The free plan allows you access to servers in 23 locations which is among the highest you will find for free VPNs. All the servers also support torrenting.
I particularly liked the GhostBear feature that disguises VPN traffic as normal traffic allowing you to use the VPN on sites and networks that block VPN connections.
Free VPN vs Premium VPN
The fact that you don't pay anything is obviously a huge draw for free VPNs. But, we have already established that there is a price to pay, even if it's not an up-front subscription fee. I mean, can you really trust VPN companies with your data?
The freemium solutions are a better alternative but they also come with their own limitations that don't make them a good long-term option.
Ultimately, you will have to upgrade to a premium plan to really enjoy what VPNs have to offer.
I'm talking about top-notch security, complete anonymity, and the ability to bypass any geographical restrictions imposed by websites or countries.