What are the best password manager apps for iPhone iOS? While most password software works across multiple devices and platforms, the fact is that we most often use our phones or tablets when we login. For this reason, it's worth taking a closer look at the apps that have been developed with the iPhone iOS first in mind.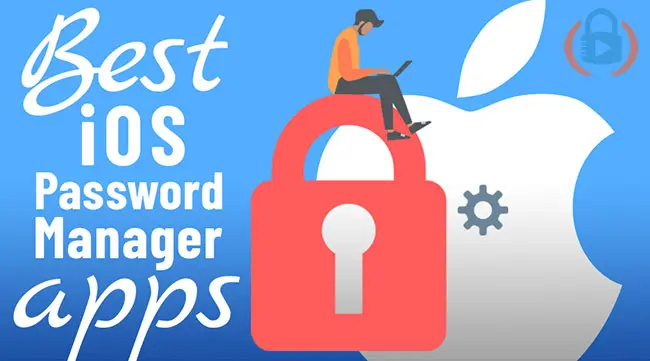 Most of us don't do a good job creating passwords.
If you're like most people, you might even use the same password for all your secure logins (which, if you're wondering, is a bad idea).
Or perhaps your passwords just suck in general (you can check your password strength here).
There are others who use their internet browser to remember things, such as using Google Chrome as a password manager. This is slightly better…but it's still not the best option.
And this is why many, such as myself, have started using password managers apps for iPhone and iPad.
Below you'll learn why a password manager is so important for your Apple iOS device as well as which are the best iPhone password managers. Use this table of contents to skip ahead:
Let's start by diving into the "why" it's important to secure your login information for your mobile device.
Note: Some of the links in this article are affiliate links, which means that at no extra cost to you, I may be compensated if you choose to use one of the services listed. I only recommend what I have personally used, however, and welcome any questions you might have.
Why Use a Password Manager for iPhone?
If you use your iPhone to check your Facebook, Instagram, Twitter, Snapchat, and email (of course you do!), simple password software is an easy and important security step. It's one of 9 critical security changes for your iPhone that I recommend.
The good news is that some of the best iPhone password manager apps require very little investment.
Some of these apps even offer a free version!
You have no excuse!
While no single piece of software can guarantee your security and privacy online, why wouldn't you want to take the very simple step of adding stronger passwords on your Apple iOS device?
The truth is (spoiler alert!)…
…all of the options I'm going to share below are pretty good and there's not a whole lot that separates the top iOS password managers.
All that to say, while I recommend (and use) this first one, choosing any one of the below options will leave you satisfied.
Oh, and one more thing: no matter what you choose, make sure you utilize a double blind password strategy so you're not putting all your eggs in one company basket.
Best iPhone Password Manager Apps for iOS in 2023
The 5 best iPhone password manager apps for 2023 are:
1Password (best overall)
Bitwarden (best free)
Dashlane (best enterprise)
LastPass (best Apple Watch app)
Keeper (best for students)
When ranking the best iPhone password manager apps, a number of factors must be taken into account. These include:
Do they offer a free version?
Are they easy to use?
Do they have a great set of features?
How much doe they cost?
While my rankings are admittedly subjective, I have used each of these services personally. I can confidently say that no matter which you choose…
…it's better than not using a password manager for iOS at all.
1Password (Best Overall Manager App)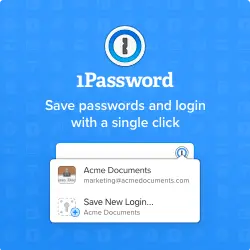 Website: 1Password.com
Free Version: N/A
Ease of Use: 4/5
Features: 5/5
Cost: 4/5
I've used quite a few of the best iPhone password manager apps, but 1Password is hands-down my favorite of them all and the one I personally use on my Apple devices.
The only downside to using 1Password is that they don't offer a free trial, only a money-back guarantee.
If you're looking for a free app, check Bitwarden (below).
If you want the best overall password manager for iOS, then 1Password is worth the subscription fee.
Let me explain why.

I'm a big fan of the 1Password iOS app for a number of reasons, which you can read in detail in my 1Password manager review.
The most important of these features is one simple thing: ease of use. It's hard to explain…it just works better than the other apps I've used.
Simple iOS Integrations: Yes, it uses Fingerprint ID and Face ID, but more than that it somehow seems to integrate better with all the different apps I use on my iPhone, including Chrome, Firefox and Safari.
Password Recovery: Worrying about deleted records? You're safe with 1Password. If you accidentally delete a password or document, you can recover it within 365 days in the item history.
Simple Family Sharing: I have some password I only use and others I share with my family (Netflix, for example). With my family plan, I can share these passwords with my wife and kids without having to type in a long password or save it separately for them.
Secure Storage for Notes, Documents & Passports: I keep copies of my families passports in the app as well as a few important notes. I like not having them on my computer hard drive for anybody to find.
Security Warnings: 1Password informs you about the websites where you haven't used two-factor authentication or the websites that use unsecured http instead of https. This is helpful if you want to maintain higher levels of security online.
Travel Mode (Awesome!!): A unique feature of 1Password is something they call travel mode. When you travel to another country, you can remove the vault from your iPhone memory. When you return, you can get them all back. That way, if your phone gets confiscated or stolen, you don't lose everything.
The reason I consider 1Password to be the best iPhone password manager app is because of the pricing as well as the fact that I really like their family plan option.
Using the family plan works well so that I can have my wife secured on her devices as well as my kids for theirs (plus, I have control).
If you have a family, I highly recommend you consider 1Password.
Bitwarden (Best Free Password Manager)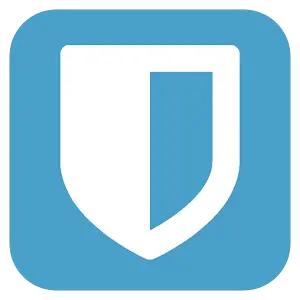 Website: BitWarden.com
Free Version: 5/5 stars
Ease of Use: 4/5 stars
Features: 3/5 stars
Cost: 5/5 stars
While it lacks a number of features you'll find in the rest of these best password manager apps for iPhone, Bitwarden excels in one big area:
It's FREE.
Yes, it's a freemium app (meaning there is a paid upgrade option), but unlike other freemium options here, you can easily get by without paying for an upgrade.
The iOS app is simple to install and easy to use on your iPhone, and it will sync your password vault between all your devices.

It should come as no surprise that a free app doesn't come packed with features. Still, with Bitwarden you'll get:
Free Device Syncing: Most iPhone password manager apps require payment before you can sync across devices. For Bitwarden, it's free.
2-Factor Authentication: To ensure maxiumum security, Biwarden allows you to use 2-factor authentication to verify your identity before unlocking the vault.
Self-Hosting Options: Bitwarden gives you the option to host your password vault on your own servers instead of syncing through their servers, which is a huge bonus for those who don't trust another company to manage their secure vault.
As I briefly mentioned before, many of the premium features you'll find with other iPhone password manager apps (password health check, secure document storage, customer support, etc.) are only available if you eventually upgrade to a paid account.
If you're not willing to spend a few dollars for a premium app, do yourself a favor and at least use something.
And since it's free, Bitwarden isn't a bad option.
Dashlane (Best for Business / Enterprise)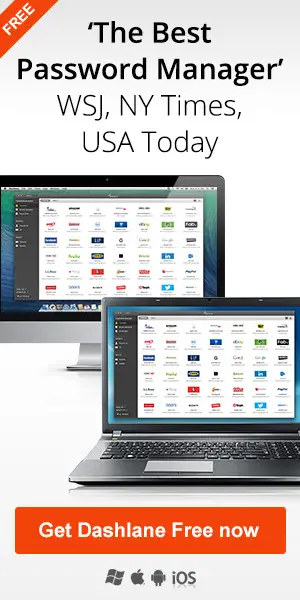 Website: Dashlane.com
Free Version: 4/5 stars
Ease of Use: 5/5 stars
Features: 5/5 stars
Cost: 4/5 stars
Dashlane is an iOS password manager app that offers many great features and excellent app design. It has both free as well as paid services.
Dashlane takes advantage of your iOS device security, which means that instead of just a master password (which you'll still have), you can also "unlock" your passwords using either your fingerprint or face ID, whichever you have set up.
Using the free version of this password manager app for iPhone works well, but it limits you to only one device and only 50 passwords. A premium account lets you store and sync all your passwords across unlimited devices.

There are a number of helpful features that you'll find on the Dashlane iOS app. Many of these are standard across most iPhone password manager apps, but I want to highlight them here anyway:
Secure Document Storage: One feature I've enjoyed using with Dashlane on my iPhone is the ability to securely store documents or notes on my device. I store a copy of my passport (I travel a lot) as well as bank account numbers that I want to have handy.
Emergency Lockout Protection: Don't worry about getting locked out, either. Dashlane lets you add emergency contacts so if you get accidentally locked out of your account, you can regain access to your vault through your contacts.
Included VPN: Dashlane also offers a VPN bundled with the package (click here to learn what a VPN is). Not all iPhone password manager apps this, so this is a benefit of Dashlane. While the passwords stay secure on your device, your data stays safe even as it travels on the internet.
Dark Web Monitoring: Dashlane offers dark web monitoring abilities that scan the deep internet for your personal data. If it finds anything, it will alert you.
While Dashlane works well as a personal iPhone password manager, it really shines for use in a small business setting.
They offer unique dashboard control over all your employees and the ability to not only view the health of their passwords, but also separate their work and personal vaults.
Try Dashlane for free and then upgrade after you've determined it works for you. I've already compared Dashlane vs 1Password that you can click and read if you want more details.
Keeper (Best for Students)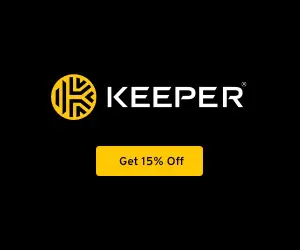 Keeper is the last (but not least!) on this list of the best iPhone password manager apps.
It has a free version that lets you store unlimited passwords and autocompletes web forms but doesn't provide syncing options across different devices.
The Keeper premium prices are cheaper than other top companies and the services are good. You can start with a free account and then upgrade to a premium one if you're happy with the services.
The prices that you'll see on their website are for the basic password management services.
If you want secure file storage space and BreachWatch, you'll need to pay extra (these things come standard with other iPhone password manager apps).

Keeper offers similar features to other iOS password manager apps, but the reason I don't rate them very high is because some of them are paid add-ons.
BreachWatch Monitoring: Breachwatch is a service where Keeper will check the dark web for your details. If they find any leaked information, you'll be notified. So if there's a data breach and your credit card information gets stolen, you can notify your bank before you face a financial loss. This is an add-on.
File Storage: You can securely store your files using Keeper…but this is also an add-on service.
Best of all, Keeper offers a 50% discount for students, so you can get a great deal on this password manager app for iPhone.
Apart from the free and personal plans, Keeper also offers special plans for families and enterprises.
When you buy a subscription, you can sync your passwords across several devices as they support all major platforms.
DON'T USE LastPass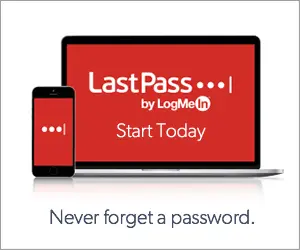 It used to be that LastPass was a recommended password manager for both iOS and Android…
…but not anymore.
In 2022, LastPass admitted to a massive breach of their system that resulted in all their customer's data being taken.
This wasn't the first time they had been hacked, but this time it was revealed that they never fully encrypted all customer data.
If you're a customer of LastPass, it is recommended that you migrate to a better password manager and delete your account. We've created a special tutorial to walk you through this entire process here:
Be sure to subscribe to the All Things Secured YouTube channel!
Honorable Mention iOS Apps for 2023
If you search for "password manager" on any Apple iOS device, you'll find quite a few options for download.
Most of them haven't been listed here but that doesn't mean they aren't good options.
However, none of them will surpass the top 4 iOS password manager apps mentioned here. If they did, they'd be on the list then, wouldn't they?
A few others worth mentioning include:
Whatever you do, make sure you don't try any password managers that have never been heard of.
Since these apps store all your passwords, you should rely on only the companies you trust.
Final Thoughts | Best Password Manager for iPhone
If you spend most of your time on an iOS device like an iPad or iPhone, it's worth it to consider the best iPhone password manager apps. You could use Apple's Keychain feature, but like Samsung Pass on Galaxy phones, it offers limited functionality.
I recommend 1Password as the best overall option for your iPhone, or Bitwarden if you simply must have a free option.
Whichever you choose, make sure you download and try the app with a few of your passwords (not all of them) to make sure you like the look and feel. You can also add even greater security by taking advantage of these password manager advanced tips.
Once you've had a chance to play around with the iOS password manager apps, if you like it, upgrade to the premium version. You'll have to do it eventually…you might as well do it now.
And one more thing…
…now that you have a password manager on your phone, why not take the next step in your privacy and make your personal phone number private so you don't get anymore robocalls and spam texts?