How do you stream content from Netflix, Hulu, Disney+, HBO now and others, if they aren't available in your location? This is a practice known as geoblocking, and thankfully there are a number of software tools that can help you bypass these restrictions. One of the most popular, which we'll dive into here, is SmartDNS.
Be sure to subscribe to the All Things Secured YouTube channel!
SmartDNS was first developed in 2012 and continues to be used by millions of people to watch their favorite movies and shows.
In this explanation of Smart DNS, we're going to cover the following topics:
Let's start by answering the basic question: What is Smart DNS?
Note: Some of the links in this article are affiliate links, which means that at no extra cost to you, I may be compensated if you choose to use one of the recommended services.
What is SmartDNS?
SmartDNS is a technology that masks your actual location by routing your Domain Name Server requests (DNS) to a server in an entirely different country. This allows you to gain access to georestricted content on services such as Netflix, Hulu, BBC and more.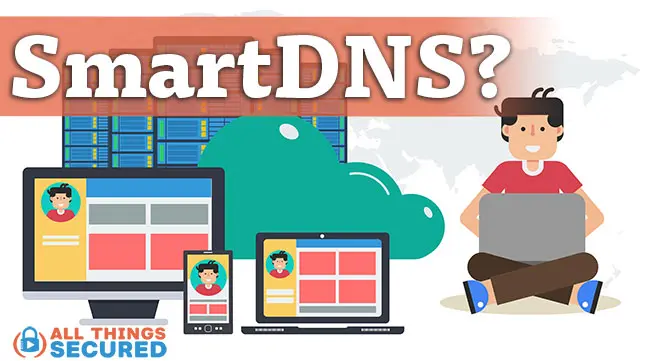 This SmartDNS can be set up on your TV, computer or mobile device to allow you immediate access to your favorite movies and TV shows.
For a more visual explanation, you can watch this video:
When you to listen to Spotify or stream Pandora internationally, for example, the company first reads your IP address. This IP address has been assigned to your device, whether you realize it or not, and serves a number of different purposes.
Unfortunately, your IP address also gives away your geographic location.
Streaming services license their content for specific regions of the world, so they only serve specific content to specific IP address locations. And if you happen to live in a location where they don't have the authority to stream content, you get this fun message:
This service is not available in your region.
So how does SmartDNS help with this?
I like to use the car license plate as an easy example.
SmartDNS License Plate Explanation
I like to think of SmartDNS like the license plate on a car. Imagine driving up to the Netflix website in a car whose license plate says "China". Unfortunately, Netflix doesn't stream content in China yet.
So Netflix looks at you with sad eyes and says, "Sorry, we can't serve content to China-based viewers".
Bummer.
So you drive away and with the help of a good SmartDNS service, you change your license plate to say "USA" instead of "China".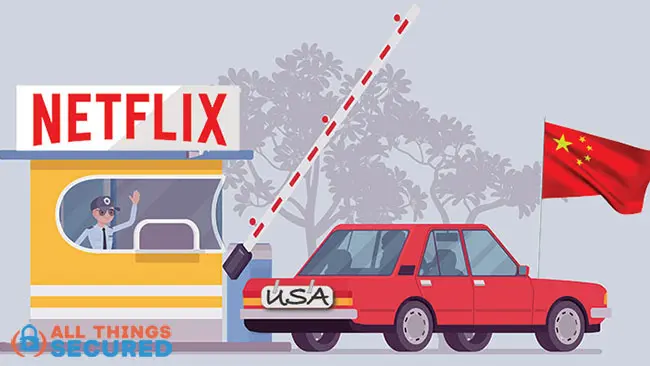 Your car never crossed the ocean, but the license plate tricks Netflix into allowing you to view their content.
In the same way, with SmartDNS your physical location remains the same but the internet reads your "address location" as being in another place.
Thankfully you don't have to understand SmartDNS in order to use it…
…you just connect and stream!
SmartDNS vs VPN vs Proxy | Differences
There's a lot of confusion around the difference between Smart DNS vs VPN or even SmartDNS vs proxy.
In some ways, all three technologies accomplish the same goal of granting you access to previously blocked or restricted content. The methods, however, are entirely different.
Here's a basic breakdown of the three methods:
SmartDNS: Redirects your DNS queries when you access a website. All other traffic directly accesses the internet and does not receive extra encryption, but the DNS request makes it look like you're in a different location.
Proxy: An intermediary computer or server through which your device accesses the internet. There usually isn't any extra encryption, but your internet traffic will appear to come from the proxy device instead of your own.
Virtual Private Network (VPN): Encrypts all internet traffic between your device and the VPN server. This slightly more secure connection allows you to view the internet as if you were in the country or city where the VPN server is located.
The most important feature to note in the above explanations is that they've been listed from fastest to slowest.
When you compare Smart DNS vs VPN, you'll notice immediately that SmartDNS is much faster because your internet traffic isn't being encrypted like it is with a VPN.
While there are certain VPN services that are optimized for streaming online content, the primary purpose of a VPN is to create a secure connection and unblock content.
The primary purpose of a VPN is to secure your connection and unblock content.
SmartDNS doesn't do this and a proxy only partially does this.
However, because SmartDNS is significantly faster, it's the recommended option if your primary goal is to stream restricted content.
How to Set Up & Use SmartDNS
SmartDNS is a service that requires a subscription from a SmartDNS provider. It is not something that you can simply set up on your own.
I've listed my recommended SmartDNS services below, but let's assume for a moment that you've already purchased a subscription.
You can set up SmartDNS on your Playstation, Xbox and even configure an Apple TV with Smart DNS.
Time needed: 5 minutes
While every service and every device is a bit different, I'll show you the basic SmartDNS setup process using Surfshark as an example:
Register Your Current IP Address

In order to use most SmartDNS services, you will first need to activate it by registering your current IP address. This allows the service to know that any DNS requests coming from this IP address are legitimate.

Retrieve Your New DNS Addresses

Your SmartDNS service will then provide you with one (or more) DNS addresses that you can use to manually configure the DNS settings on your device.

Manually Enter the New DNS on Your Device

Whether it's your Apple TV, your Smart TV, your Xbox or your Playstation, in the network settings you'll find the DNS settings. DNS is set to automatic by default. When you select "Manual", you'll be prompted to enter the numeric address you received from your SmartDNS provider.
Once you've manually entered the DNS, you might want to restart your device to make sure the settings take effect.
Now, when you access a website or streaming service, your DNS request will be routed through the SmartDNS service, allowing you to unblock restricted or blocked content. Keep in mind that sometimes this works well and sometimes it doesn't. In the cases where it doesn't, it works better to use a VPN on a WiFi router.
Recommended SmartDNS Services
It is possible to purchase SmartDNS as a stand-alone service and there are plenty of companies that offer this.
I prefer to take a different route.
Did you know that a few of the high-quality VPN services also offer SmartDNS? It's not the case for all of them, and often they don't heavily advertise the SmartDNS service (since it tends to confuse customers), but it's a wonderful bonus.
Below are three my favorite VPNs that also include SmartDNS:
StrongVPN with StrongDNS – Recommended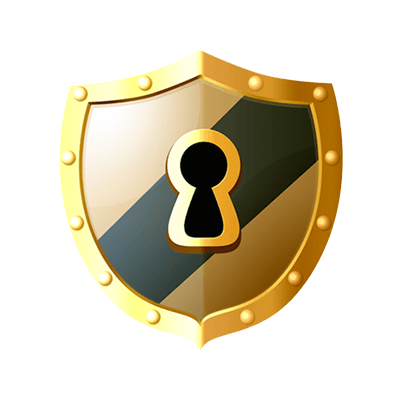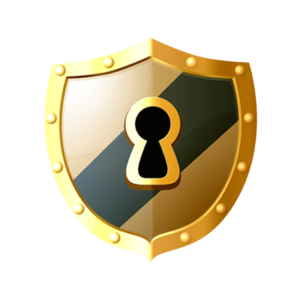 StrongDNS, which is included with every StrongVPN account, offers an excellent SmartDNS service because they give you the ability to change countries.
StrongVPN/StrongDNS has a comprehensive library of setup tutorials for each device you might want to connect.
The DNS service is simple with no frills, but even if you wanted to use the VPN, they now use the new WireGuard protocol, which is one of the fastest ways to encrypt your data.
Give it a try and take advantage of the 30-day money back guarantee if you're not satisfied.
Surfshark with SmartDNS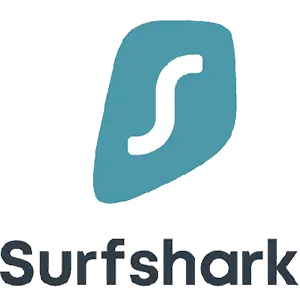 Surshark is only a few years old, but they've quickly become a popular option as a VPN and SmartDNS service for two reasons:
They're one of the cheapest on the market and it's super-easy to set up.
As you could see in the SmartDNS set up tutorial above, the button to activate SmartDNS and then copy the new DNS addresses is incredibly simple.
Go read my Surfshark review and give them a try to see for yourself.
ExpressVPN with Mediastreamer (SmartDNS)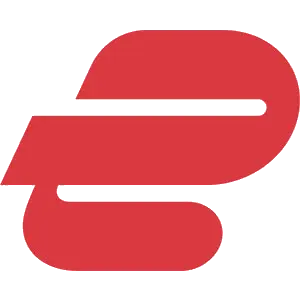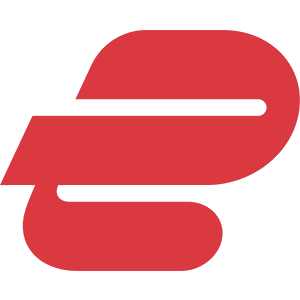 In addition to being one of the most popular VPNs in the market today, ExpressVPN also quietly offers SmartDNS to all of its subscribers.
I say "quietly" because it's not something that is advertised much, even within the user dashboard.
The only downside to using the ExpressVPN SmartDNS is that it doesn't allow you to choose your location.
You are given a single DNS address from the USA that you can use to set up your device. Thankfully, it works.
Bonus: Get 3 months of free service with an annual plan when you click on the button above.
SmartDNS Frequently Asked Questions
Over the past few years that I've been writing about personal online security, these are the most common questions that I get about using and setting up SmartDNS.
Is SmartDNS Legal?
Yes, using SmartDNS is completely legal. The technology is meant to protect your DNS requests, but since all other internet traffic remains open on the network, there is nothing illegal about what you're doing. In fact, it's considered a security best practice.
Is SmartDNS better than a VPN?
SmartDNS is usually faster than a virtual private network, but a VPN does a better job of protecting your data. Neither option is better than the other, but they offer different benefits based on your needs.
Does SmartDNS slow down your internet connection?
In most cases, SmartDNS will not slow down your internet at all. It is configured to redirect your initial DNS requests only, so the rest of your internet data travels through the internet like it normally would.
How is SmartDNS different than Tor?
There are a number of differences, but the biggest thing you need to know is that Tor was built to protect your privacy. SmartDNS is simply meant to mask your IP address. To learn more, read through this explanation of Tor vs VPN.
Final Thoughts | What is Smart DNS
If you are someone who often travels internationally or currently live abroad, SmartDNS is a great option to help you access geo-restricted content.
Even if you are not one of these types, this technology can still be beneficial to you in giving you access to a much wider variety of content available for streaming around the globe, such as streaming all seasons of The Big Bang Theory on Netflix from within the United States (it's possible!).
Enjoy your new streaming options!