If you're doing a search for the "best VPN 2023″…I have a bit of a surprise for you. Believe it or not, there is no such thing as a best VPN! Different VPNs are designed for different use cases and anybody who tells you "This is the BEST VPN!" is probably just looking to make some quick money.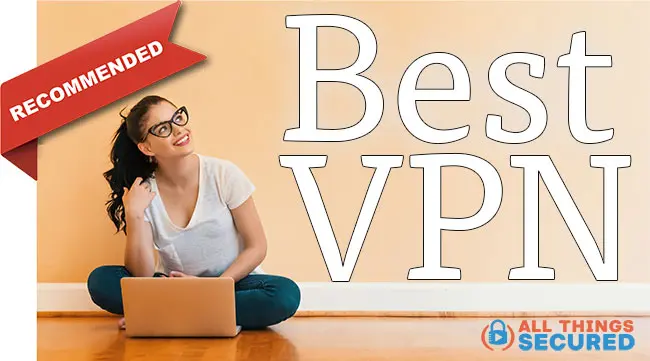 Now, I'm not going to try to deceive you here – the links in this best VPN article are affiliate links, which means that at no extra cost to you, I will be paid a small commission if you decide to use one of the services below.
However, I don't recommend anything that I haven't personally tried, and that includes each of these VPN.
Over the past decade (that's right, over 10 years!), I have downloaded, installed and used at least 40 different VPNs.
The following recommendations are based on my experience using each of these services. With all this experience, I have a good grasp of the difference between what makes a VPN "good" versus what makes it "great".
I'm assuming at this point that you already know what a VPN is (if not, learn more about VPNs here) and the difference between a VPN and SmartDNS (if not, learn more about SmartDNS here).
Here's what we're going to cover:
So with all of that out of the way, let's dive in!
What Makes a VPN "Good" vs "Great"
What are the differences between a "good" VPN and a "great" VPN? That's an excellent question! Over the years, I've come to understand the features that really make the difference in determining the best VPN. Surprisingly, it's rarely the features that get marketed on VPN websites.
As I rate each of the best VPN services below, I will be looking at a number of important VPN features you should consider such as:
Ease of Installation: How easy is the software to purchase and install? Does it take an IT professional to do it or can my mom do it?
User Interface: Essentially, this is a rating of how easy the VPN is to use once it's been installed.
Company Transparency: The world of VPNs is frankly a bit shady. With a little know-how and some good design, any yahoo can start a VPN from their basement and use it to steal people's information. If you look on the About page of a VPN, what do you see? This is what I call "company transparency."
Customer Service: Do they respond quickly and efficiently with me when I run into problems?
Service Strength: Not every VPN is good for everything. Do you value security or speed? Are you in a closed country like China or an open country like the USA? Are you interested in streaming services?
Now if you've been doing any research on VPNs at all, you've probably read a lot of fluff about other features that everybody tries to convince you is SO IMPORTANT. You'll notice that some of these things don't factor into my rating system above. These include:
VPN Speeds: Oh man, I get tired of hearing about VPN speeds! I really don't care. Why? Because there are too many factors that affect your internet speed. It could be your browser, your wifi network, your ISP (Internet Service Provider), etc. With every VPN I've tested, the difference in speeds is so insignificant that it's not worth talking about. Perhaps we can discuss server loads, but even then I just tell people to move to another server. Ugh.
Logging Policies: "We don't log your information!" they all say. Maybe. Maybe not. The truth is that every VPN service logs some information (don't believe me? Just read the fine print), so the question is what kind of information do they log and how long do they keep it? The VPN company is the only one who knows this for sure and you'll have to take their word for it. And wouldn't you know it…they ALL say that they don't log!? It's unbelievable. (no really, I don't believe it).
What is the Best VPN for 2023?
So without further ado, here's a list of the best VPN in 2023 based on the rating factors I mentioned above.
---
Proton VPN (Best for Privacy)
Proton, a privacy company based out of Geneva, Switzerland, is know not only for their VPN software but also for their ProtonMail alternative to Gmail as well as their new password manager.
With ProtonVPN, they've built a network of 2,656 servers across 69 countries, including 101 Secure Core servers that the company owns and operates themselves. This is important because most VPN companies tend to rent the servers they use, and thus have less control over their security.
A big reason they've been put at the top of this list is their commitment to privacy and transparency – a combination that translates into accountability. For more than a decade, they've put their name behind the software they offer and have a proven track record of respecting user privacy.
---
NordVPN (Best VPN for Streaming)
NordVPN has been a perennial favorite among internet users and you've likely seen a bunch of YouTube influencers sharing about their experience using NordVPN.
Although Nord Security (the parent company) is based out of Lithuania, the VPN is registered in Panama, which means that all of the data that passes through is subject to Panama's strong privacy protection laws.
In addition to this, the benefit of NordVPN lies in both the wide selection of servers to choose from (over 5,000!) as well as their numerous apps built for almost every platform you could possibly use. These apps are so simple to use that even your mother could figure it out.
As with all of these VPNs, they offer a 30 day money back guarantee in case it doesn't fit your style.
---
iVPN (Best for Anonymity)
There's a good chance that you've never heard of iVPN before, and that's probably because they don't pay for advertising. They don't do influencer marketing nor do they offer an affiliate program.
This alone doesn't mean that they're a good VPN, but it's definitely a good indicator.
What makes iVPN our recommended VPN for anonymity is the fact that you can create an anonymous registration without the use of an email address or any other identifiable information. Add to this the fact that you can pay with various cryptocurrencies and you'll see why people who value anonymity choose this VPN.
Other Approved VPN Options
When it comes to recommended options, ProtonVPN, NordVPN and iVPN are the top of our list.
But if you're the kind of person who wants a few more options to choose from, or if you don't trust one of our top three for some reason, here are four other VPN options to consider that meet all of our criteria for a quality virtual private network.
VyprVPN – A Trustworthy Company
Transparent management & ownership (transparentcy = trust)
Offers the new Wireguard protocol;
30 Day Money back guarantee;
If you go to pretty much any VPN's about page and you'll be met with the same thing:
Nothing.
Thankfully, that's not the case with VyprVPN. They have some of the best transparency in the industry. They share with you not only their office location but also the names and pictures of all their leadership.
This is just one part of what makes VyprVPN a great option as a best VPN in 2023, but you can read the rest of my VyprVPN review for more.
---
Surfshark – Best VPN Value
Although Surfshark is the youngest company in this group, it has quickly become a consistent recommendation as the best VPN in 2023. The software is excellent and the pricing makes it a no-brainer.
The big advantage, however, is the fact that they allow for unlimited simultaneous connection, which eliminates the need to purchase multiple accounts for a family.
You can read my full Surfshark review here (which includes a video overview of the software). Or you can just try them for yourself.
---
IPVanish | Best VPN for US Residents
IPVanish offers everything that all of the other services on this best VPN list do, but there's one thing they have that none of the others do:
Customer support via phone.
If you're a US resident, you can literally pick up your phone, call and get a customer service rep located in the US who can help you with your problems.
Get all the rest of the details in my IPVanish VPN review, but that's the big game changer.
---
ExpressVPN | Popular VPN
Generally considered the market leader for the past decade, the company has lost considerable market share after it was acquired by Kape Technologies.
Despite their slight decline, they still offer an amazing service with an app design and user experience that is hard to beat.
I've spent a little bit of time comparing ExpressVPN with NordVPN, and there's really not much that separates the two.
But there are some places in the world where ExpressVPN seems to work better, and thankfully they offer all the features you would need in the best VPN in 2023.
---
Final Thoughts | What is the Best VPN?
There are literally hundreds of VPNs on the market today (trust me, I get emails every day from new VPN companies). I anticipate with the growing global concern for privacy that it will only continue to grow.
When you get a glimpse behind the curtain of how VPN marketing works, you'll see that there's a lot of smoke and mirrors.
The VPNs listed above have been personally tested and are popular among users all over the globe. You can trust the fact that they've been around for a while and they're not some shady startup that will take advantage of you.
And remember, getting set up with a VPN is just one of many steps you should take to secure yourself online.