What is the best VPN to use to use when surfing the internet? Believe it or not, there's no simple answer to this question. Different VPNs are designed for different situations and anybody who tells you "This is the BEST VPN!" is probably just looking to make some quick money.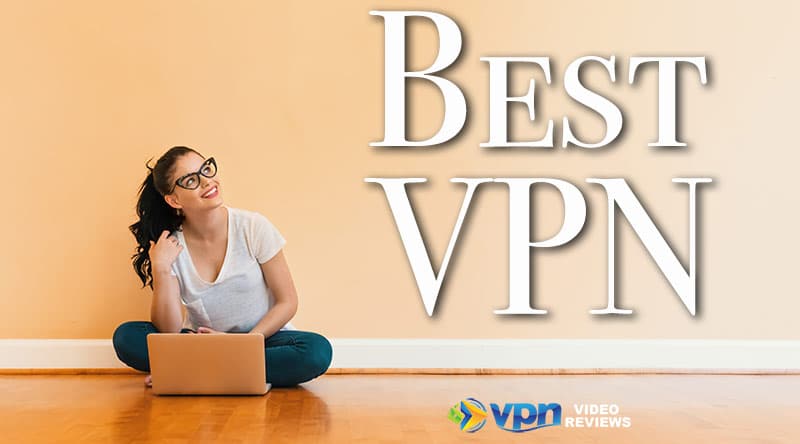 Now, I'm not going to try to deceive you here – the links in this best VPN article are affiliate links, which means that at no extra cost to you, I will be paid a small commission if you decide to use one of the services below. However, I don't recommend anything that I haven't personally tried, and that includes each of these VPN.
Over the past decade (that's right, over 10 years!), I have downloaded, installed and used at least 40 different VPNs. The following recommendations are based on my experience using each of these services. With all this experience, I have a good grasp of the difference between what makes a VPN "good" versus what makes it "great".
I'm assuming at this point that you already know what a VPN is (if not, learn more about VPNs here) and the difference between a VPN and SmartDNS (if not, learn more about SmartDNS here).
So with all of that out of the way, let's dive in!
What Makes a VPN "Good" vs "Great"
What are the differences between a "good" VPN and a "great" VPN? That's an excellent question! Over the years, I've come to understand the features that really make the difference in determining the best VPN. Surprisingly, it's rarely the features that get marketed on VPN websites.
As I rate each of the best VPN services below, I will be looking at a number of different factors that stand out as important:
Ease of Installation: How easy is the software to purchase and install? Does it take an IT professional to do it or can my mom do it?
User Interface: Essentially, this is a rating of how easy the VPN is to use once it's been installed.
Company Transparency: The world of VPNs is frankly a bit shady. With a little know-how and some good design, any yahoo can start a VPN from their basement and use it to steal people's information. If you look on the About page of a VPN, what do you see? This is what I call "company transparency."
Customer Service: Do they respond quickly and efficiently with me when I run into problems?
Service Strength: Not every VPN is good for everything. Do you value security or speed? Are you in a closed country like China or an open country like the USA? Are you interested in streaming services?
Now if you've been doing any research on VPNs at all, you've probably read a lot of fluff about other features that everybody tries to convince you is SO IMPORTANT. You'll notice that some of these things don't factor into my rating system above. These include:
VPN Speeds: Oh man, I get tired of hearing about VPN speeds! I really don't care. Why? Because there are too many factors that affect your internet speed. It could be your browser, your wifi network, your ISP (Internet Service Provider), etc. With every VPN I've tested, the difference in speeds is so insignificant that it's not worth talking about. Perhaps we can discuss server loads, but even then I just tell people to move to another server. Ugh.
Logging Policies: "We don't log your information!" they all say. Maybe. Maybe not. The truth is that every VPN service logs some information (don't believe me? Just read the fine print), so the question is what kind of information do they log and how long do they keep it? The VPN company is the only one who knows this for sure and you'll have to take their word for it. And wouldn't you know it…they ALL say that they don't log!? It's unbelievable. (no really, I don't believe it).
What is the BEST VPN for 2018
So without further ado, here's a list of the best VPN based on the rating factors I mentioned above.
---
1. ExpressVPN – Recommended
---
2. NordVPN
---
3. VyprVPN
---
4. OVPN – Security & Integrity
---
5. StrongVPN
---
Conclusion | What is the Best VPN?
There are literally hundreds of VPNs on the market today (trust me, I get emails every day from new VPN companies). I anticipate with the growing global concern for privacy that it will only continue to grow. The VPNs listed above have been personally tested and are popular among users all over the globe.
In other words, you can trust the fact that they've been around for a while and they're not some shady startup that will take advantage of you.
If you have any questions about the best VPN to use, I reply fastest when you send me a tweet. I'll be happy to help as best I can!