In a market littered with VPNs, what makes Proton VPN better – or more private – than the competition? In this Proton VPN review, we're going to discuss the pros and cons of this Swiss-based VPN, compare the free and premium version and answer probably the most important question you should be asking: can I trust Proton with my data?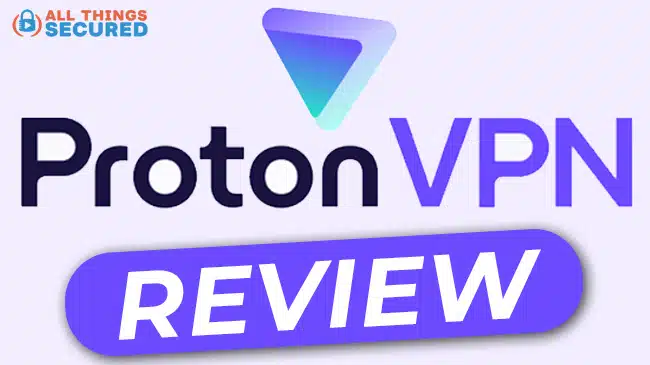 In addition to having used Proton services for years, I've had the privilege of personally visiting the Proton offices in Geneva, Switzerland to meet the team that built this VPN software.
Hopefully this experience can provide a unique perspective and insight that you won't find with other Proton VPN reviews and allow you to make the most informed decision possible.
Key Takeaways
Proton VPN offers reliable privacy & security features like no-logs policy, open source code, and Secure Core servers.
Proton VPN offers one of the only trustworthy free VPN service, but there are legitimate reasons to consider the premium version.
Proton is ideal for those who prioritize privacy over all other features (speed, server choice, etc.).
Let's start with a look at the company itself.
Introduction to Proton
Proton is a Swiss-based company that is more than simply a VPN service. In fact, they started as an encrypted mail provider with ProtonMail and it was only later that they expanded to include a virtual private network to meet the needs of their users.
Today the company is best known for it's private approach to email, calendar and cloud storage, in addition to the popular Proton VPN that we're covering here.
Over time, they've built a network of 2656 servers across 69 countries, including 101 Secure Core servers that the company owns and operates themselves.
The Proton Advantage: Transparency
Most VPN companies like to hide behind a veil of secrecy, claiming that it's for the benefit of the end user. All this really means is that you have to trust an entity that has absolutely no accountability.
A major advantage of Proton VPN lies in its commitment to transparency and accountability.
Transparency is huge. Not only is ProtonVPN one of the only companies I know that posts the code for all of their apps on GitHub for you or any security researcher to audit, they're also extremely transparent about their executive team.
And when you consider that their CEO (Dr. Andy Yen) graduated with a PhD from Harvard University and has given a popular TED talk on internet privacy, it lends a lot of credibility to the company as a whole.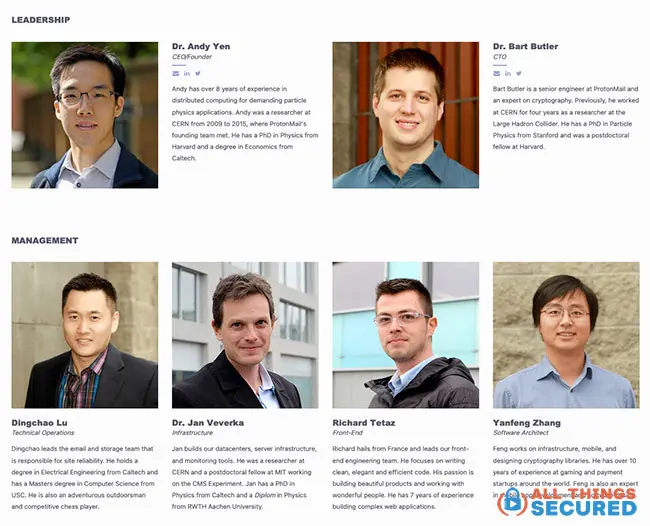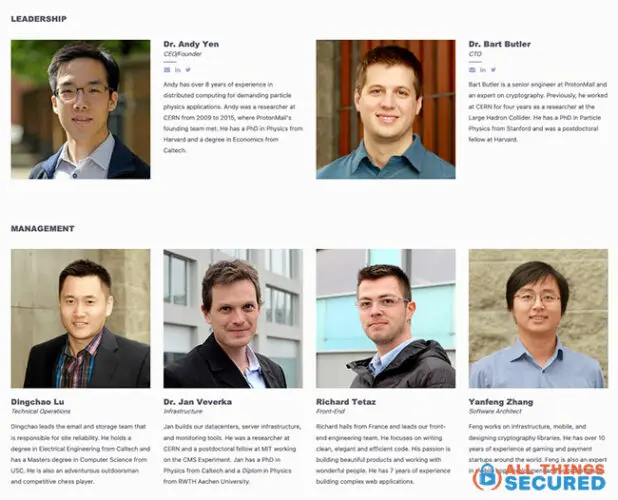 I've met both Andy and Bart in person. They've staked their reputations on the products that Proton offers, including the Proton VPN app, and that's a key differentiator among other VPN competitors.
Proton VPN's Unique Features
In addition to the company transparency previously highlighted, Proton VPN's distinct features differentiate it from other VPN services. These include:
Secure Core servers for added privacy
Tor over VPN connections for accessing the dark web
Open-source code for transparency
Access to other Proton security products like ProtonMail, Proton Calendar and ProtonDrive.
Here's a detailed examination of these features and their potential benefits to you.
Proton "Secure Core" Servers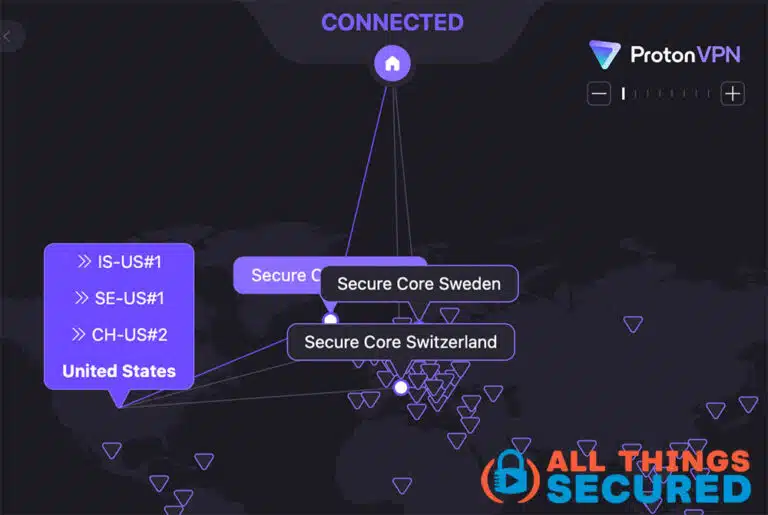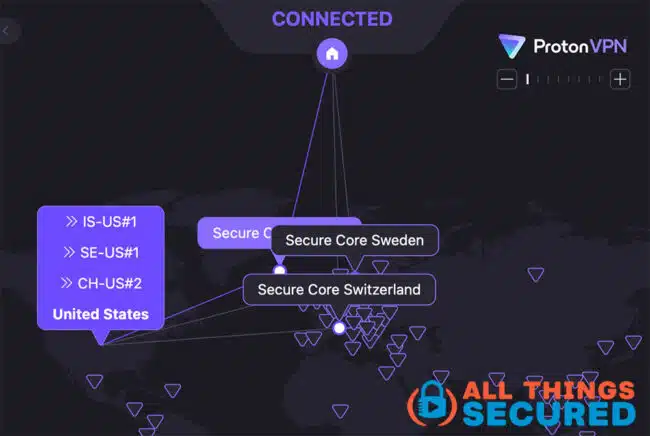 Proton VPN's Secure Core servers are those servers which are owned and operated by Proton and which are located in countries with strong data privacy laws.
All of this is designed to provide an extra layer of privacy and security for users. These servers offer the following benefits:
They are built to protect users from IP address spoofing, man-in-the-middle attacks, and unauthorized access to their ip addresses.
Using these servers provides better DNS leak protection.
By routing your traffic through these secure servers before it reaches the internet, it helps to ensure that your online activities remain private and secure. (it acts very much like a double hop VPN)
While using these servers may result in slightly slower speeds than connecting directly to a regular VPN server, the added security benefits may be worth the trade-off for users who prioritize privacy.
Tor over VPN Connection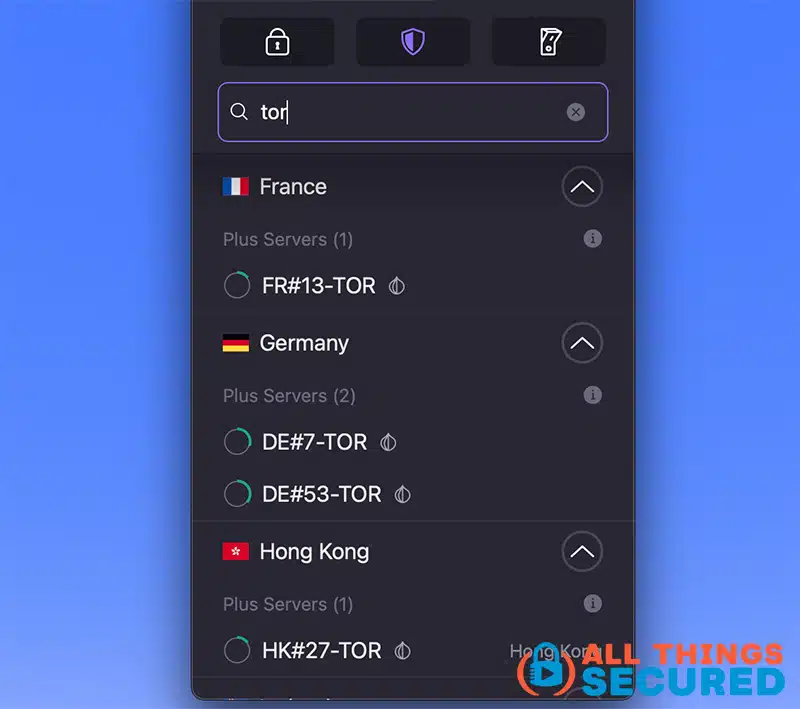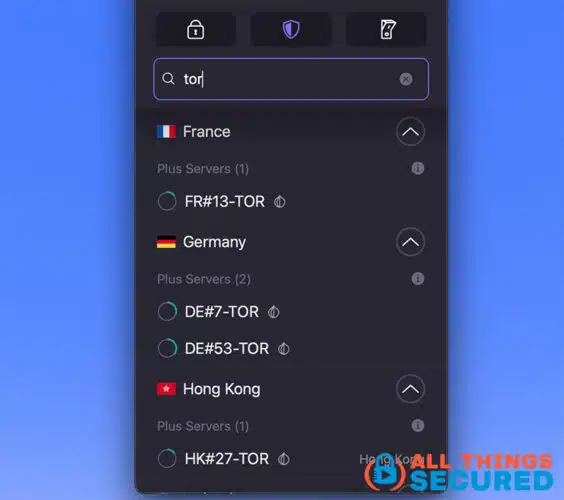 As an addition privacy measure, Proton VPN allows you to create a Tor over VPN connection, which means that you connect to the Tor network through a Proton VPN server.
Not only does this mean that your internet traffic is encrypted twice (first by the VPN and then by the Tor network), you can also access the dark web and .onion website.
To use the Tor over VPN connection feature with Proton VPN, simply connect to one of their Tor servers (indicated by an onion icon) in the server list. You can find these either by searching "Tor" in the search bar or by indicating "P2P" when you create a connection profile.
Once connected, your traffic will be routed through the Tor network, providing enhanced security and privacy.
Open Source Code
Proton VPN's commitment to transparency is evident in its use of open-source code. By making its software code publicly available, Proton VPN allows users and independent security experts to inspect and audit the code to ensure its safety and reliability.
This level of transparency helps to build trust between Proton VPN and its users and demonstrates the company's dedication to protecting user privacy.
The use of open-source code also helps to identify and address any potential vulnerabilities in the software, which according to company representatives has come in the form of a handful of minor bug reports. This means that you can have confidence in the security and privacy of your Proton VPN connection, knowing that the software has been thoroughly examined and tested by experts.
Access to Other Proton Security Products
In addition to its VPN service, Proton also offers a robust suite of security products that could replace your reliance on Google or Microsoft. This includes services like:


Proton Mail: An end-to-end encrypted email service that allows you to send and receive email securely. Check out our Proton Mail review here.
Proton Calendar: A alternative to Google calendar that allows you to keep the events you attend and the people you meet private.
Proton Drive: An encrypted cloud storage option.
Proton Pass: A new password manager service that is set apart by the ability to create unique email aliases in addition to strong passwords.
Again, Proton VPN is a standalone product that with its own subscription, but if you opt for the Proton Unlimited plan instead, you can seriously increase your online privacy and security with Proton's ecosystem.
Setting Up Your Proton VPN
Initiating your journey with Proton VPN is quite straightforward. The service offers straightforward setup guides for both desktop and mobile app installations. Whether you're using a Windows, Mac, or Linux computer, or an Android or iOS device, you'll find the process simple and hassle-free.
Once you've installed the app, you'll be able to connect to any
Desktop App & Browser Extension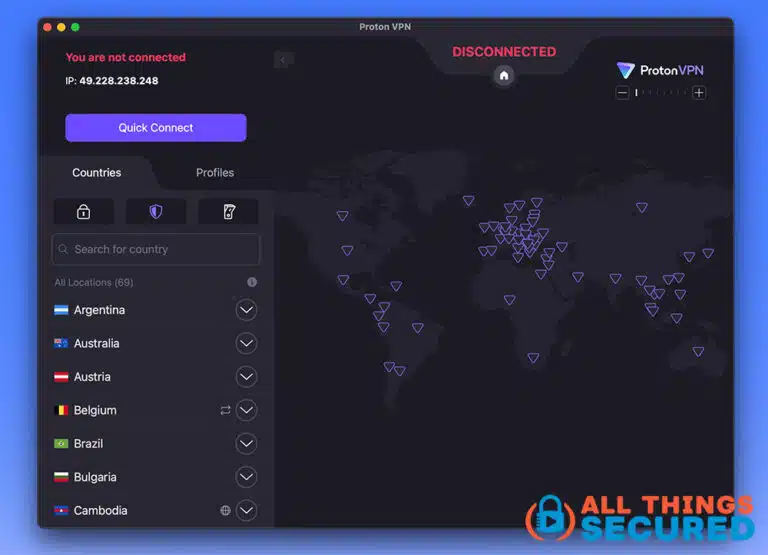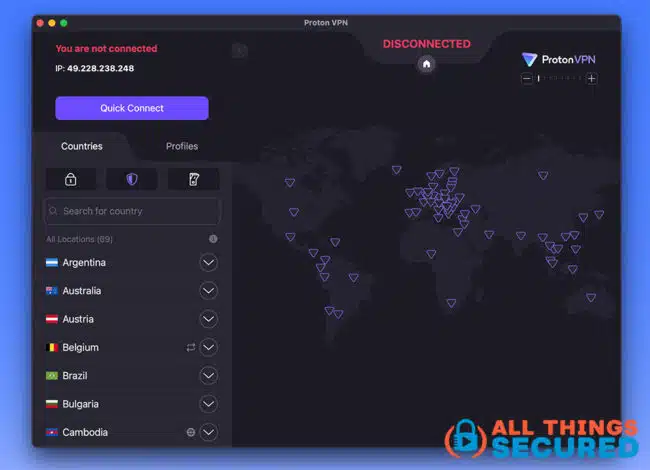 Proton VPN offers custom apps compatible with several platforms such as Windows, Mac, and Linux. The app is loaded with all the features, such as support for multiple VPN protocols, a kill switch, split tunneling and customizable connection profiles.
You can also opt to download the browser extensions that are available for both Chrome-based browsers and Firefox.
Mobile App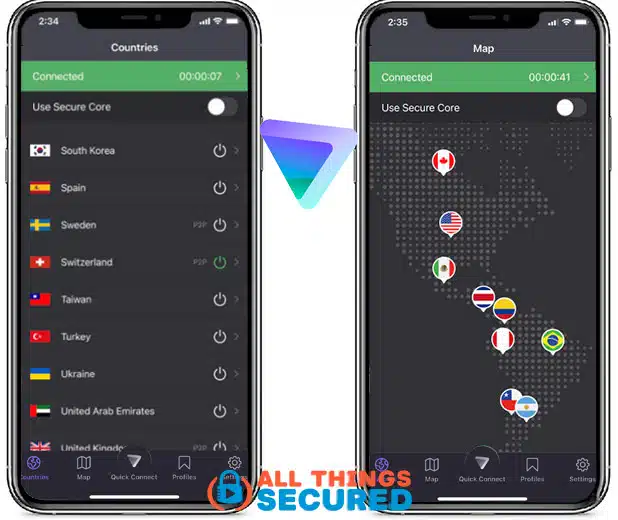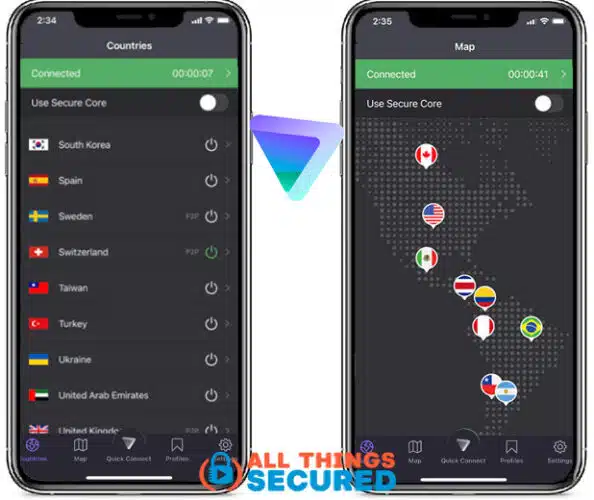 Available for Android and iOS devices, Proton VPN's mobile app offers the following features for users seeking reliable VPN apps:
Secure connections while on the move
User-friendly interface
Support for multiple VPN protocols
Access to Secure Core servers
The app provides the same strong security features as the desktop version.
In addition to its security features, the mobile app also offers a seamless user experience. With its intuitive interface and easy-to-navigate server list, connecting to a Proton VPN server on your mobile device is quick and hassle-free.
Create a Proton VPN Account
(cheaper on the website as opposed to app store)
Navigating Proton VPN's Interface
The design of Proton VPN's interface is pretty straight forward. The main screen features a map view, a server list, and customizable connection profiles, making it easy to find and connect to the server that best suits your needs.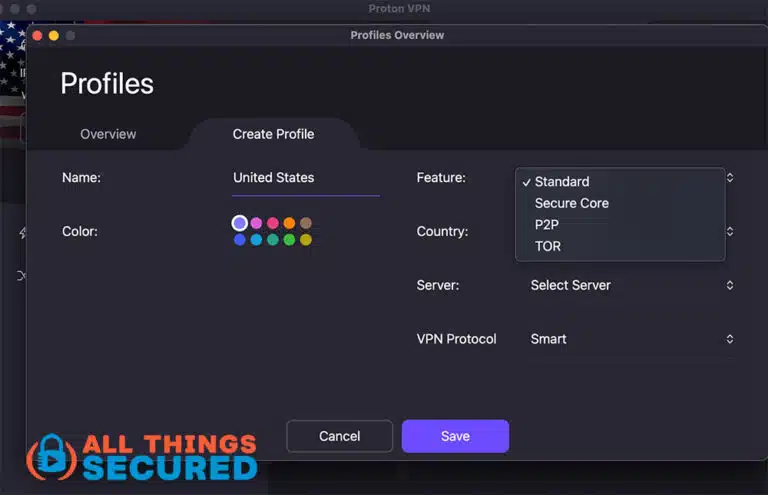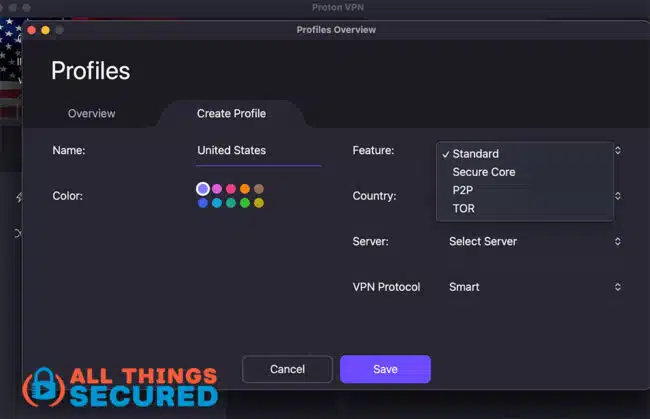 The server list also displays server load metrics and a three-color system (green, amber, and red) to indicate server congestion, allowing you to make informed decisions about which server to connect to.
On the left side of the app (desktop version), you have the option to turn on Secure Core, enable the VPN kill switch or turn on NetShield, a feature which blocks ads, trackers and malware while you're surfing the internet.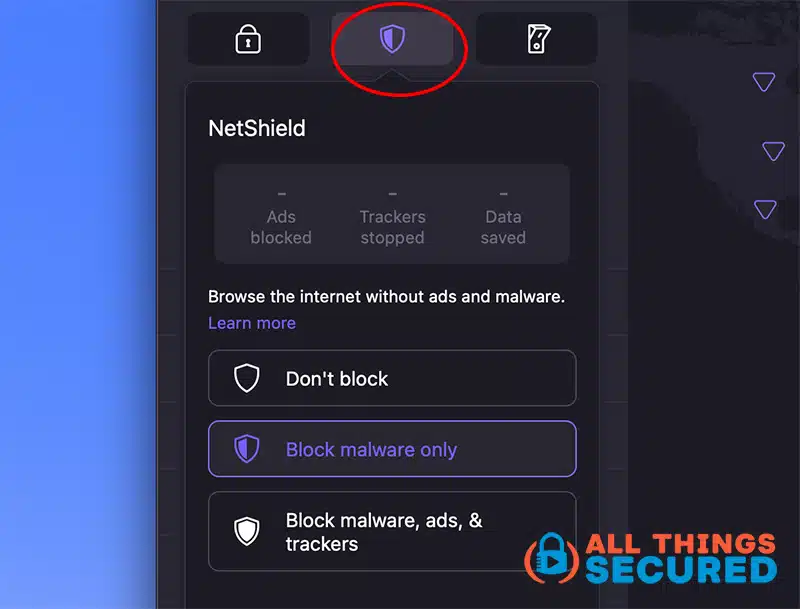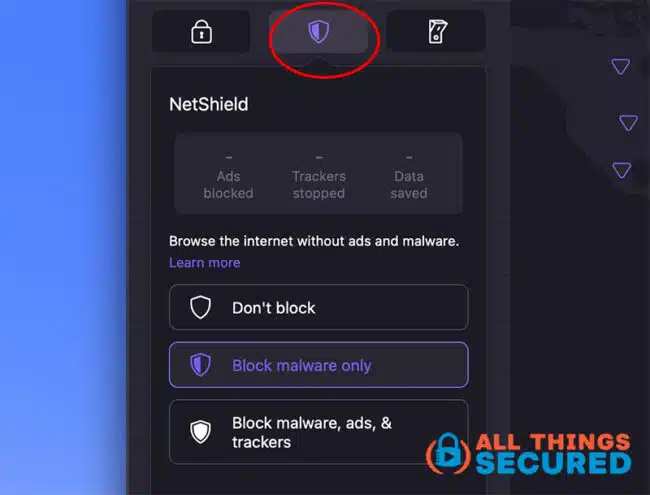 Proton VPN Free vs Premium
Proton VPN does have a free plan that allows for one device connection and access to servers in three countries, but lacks support for streaming and P2P file sharing. It's a basic solution and here's how it compares to the premium:
| | Free Proton VPN | Premium Proton VPN |
| --- | --- | --- |
| Servers | 86 | 2,656 |
| Fast Speeds | ❌ | ✅ |
| P2P | ❌ | ✅ |
| Netflix | ❌ | ✅ |
| Tor | ❌ | ✅ |
| AdBlocker | ❌ | ✅ |
| Pricing | Free! | $5/mo |
While the premium plan comes with a price, it provides a more comprehensive VPN experience for users who need the added security and functionality.
Assessing Proton VPN's Performance
In my experience, Proton VPN has provided exemplary performance with fast connection speeds, minimal latency, and dependable server availability. I've found that Proton VPN was able to maintain a stable connection even when connected to servers in distant locations and the VPN Accelerator feature also helps to improve connection speeds by optimizing the VPN protocols and infrastructure for faster performance.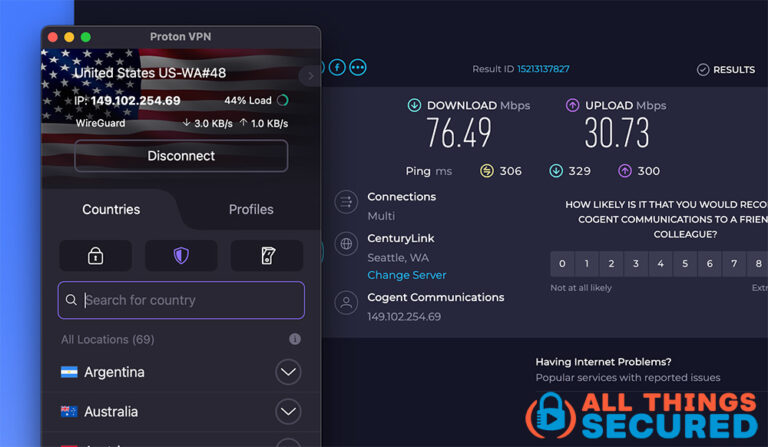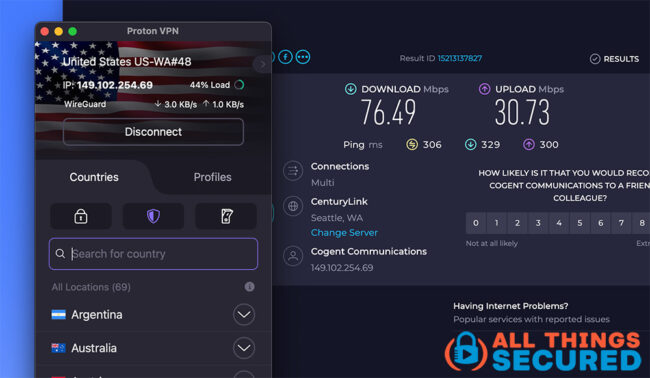 Honestly, I'm not a big fan of publishing speed tests. There are so many factors that influence the speed of an internet connection (device, protocol, server load, etc.), but the important thing to note is that the speeds are more than adequate for streaming, torrenting and gaming.
Streaming and Torrenting with Proton VPN
With support for both streaming and torrenting, Proton VPN serves as a versatile choice for those who love binge-watching and file sharing online. The service offers dedicated servers for P2P file sharing, and it is capable of unblocking popular streaming services such as Netflix and HBO Max.
In my experience, using Proton VPN for streaming and torrenting is a smooth and enjoyable process. I can use the VPN to unblock Netflix without any buffering issues, and the VPN's dedicated P2P servers allows for fast and secure file sharing.
It also helps that that Proton VPN has servers in 69 different countries, which gives you access to numerous streaming libraries across the globe and thousands of more TV and movie titles to choose from.
Proton VPN and Gaming
Proton VPN provides gamers with a stable, secure experience, defending against DDoS attacks and ensuring minimal latency. While hardcore gamers may prefer faster VPN options for the best possible performance, Proton VPN's reliable connection and security features make it a suitable choice for casual gamers and those who prioritize online security during gaming sessions.
Take into account that Proton VPN's gaming performance might not be as swift as some other market alternatives which are better VPNs for gaming. However, for users who value a balance of security and performance, Proton VPN's gaming capabilities should be more than sufficient.
Weighing the Pros and Cons of Proton VPN
Proton VPN comes with multiple benefits including robust security features, a free plan with unlimited bandwidth, and distinctive features such as Secure Core. However, there are also some drawbacks to consider. For example, free users are limited in server options and don't have access to the 24/7 live chat support the premium users do.
AES-256 encryption
No-logs policy
P2P/Torrent/Tor servers
2,665 servers in 69 countries
Dedicated device apps;
Access to "Secure Core" servers
10 device connections
When deciding if Proton VPN is the right choice for you, it's important to weigh these pros and cons against your individual needs and priorities.
If you value privacy and security above all else, Proton VPN's unique features and reliable performance may make it the ideal choice for you.
However, if your biggest concern is more server locations or prefer round-the-clock customer support, you may want to explore other VPN options.
Is Proton VPN Worth It?
To sum up, Proton VPN fits well for users who place a high value on privacy and security in their VPN service. Its unique features, such as Secure Core servers and Tor over VPN connections, provide an added layer of protection for your online activities.
Additionally, the service's reliable performance and free plan with unlimited bandwidth make it an attractive option for users seeking a secure and cost-effective VPN solution.
However, users who require more server locations or are hardcore gamers, they may want to explore other VPN options, such as NordVPN or ExpressVPN, which offer a wider variety of server locations. Ultimately, the decision to use Proton VPN will depend on your individual needs and preferences.
Create a Proton VPN Account
(cheaper on the website as opposed to app store)
In summary, Proton VPN offers a strong security-focused VPN solution with unique features, reliable performance, and a free plan that allows users to test the service before committing to a paid subscription. While it may not be the perfect choice for everyone, its focus on privacy and security make it a solid option for those who value these aspects of a VPN service.
Frequently Asked Questions
Below are succinct answers to some of the most common questions I receive about Proton and the Proton VPN service.
Is Proton VPN trustworthy?
Proton VPN provides strong security features, reliable connection speeds and a network of servers (Secure Core) that are owned and operated by Proton themselves. When you consider that Proton is based in Switzerland, with its strong privacy protection laws, and Proton has a long history of respecting user privacy, it's easy to conclude that Proton is indeed trustworthy.
Which is better NordVPN or Proton VPN?
Both VPNs offer an excellent product. If your focus is security and privacy, Proton VPN offers a more robust feature set. For streaming, torrenting and gaming, NordVPN offers more server options and generally higher speeds.
Is Proton VPN 100% free?
Proton VPN offers both a premium and a limited free version, but this free version is definitely the best on the market. Users are given unlimited data on 86 servers (3 countries) without any restrictions on speed or usage as with most free VPNs. However, it doesn't work with streaming services and users don't get to use the P2P or Tor servers.
Is Proton VPN safe from hackers?
No service can ever guarantee 100% safety, but Proton VPN is known for its proprietary Stealth protocol, Secure Core servers and a VPN kill switch that keep your online activities private and safe from hackers. It's trusted by millions worldwide due to its commitment to privacy and security, making it a great choice for those who require a high level of security.
What are Proton VPN's unique features?
Proton VPN offers a range of security features, such as Secure Core servers, Tor over VPN connections and open-source code, plus access to Proton's other products like ProtonMail and ProtonDrive. These features make Proton VPN a great choice for those looking for a secure and reliable VPN service. It's also easy to set up and use, with apps available on a wide range of devices, including Windows, Mac, iOS, and Android.
Be sure to subscribe to the All Things Secured YouTube channel!