What makes Proton VPN better, or more private, than the hundreds of other VPNs on the market today? In this Proton VPN review, you'll see not only see a comparison of the free and premium version and a comparison of the pros and cons, you're get an answer to the most important question you should be asking: can I trust them?
Be sure to subscribe to the All Things Secured YouTube channel!
Proton is a technology company that offers more than just a virtual private network. They've developed a secure email service (one of the best alternatives to Gmail), a secure calendar integration, and a secure cloud storage service.
With each of these services, the foundation of what they need to provide isn't simply the software (although that's definitely important).
It's trust.
That's why this Proton VPN review isn't going to be like most others you might find on the internet. Yes, I'm going to show you the software and explain what I like and don't like about it.
You'll see how the free version of Proton VPN stacks up against other free VPNs as well as the premium version of the software.
But most importantly, we're going to see how they treat your data and whether or not it's sufficient to be considered "private".
So let's start by looking at the free version of ProtonVPN.
Note: Some of the links in this article may be affiliate links, which means that at no extra cost to you, I may be compensated if you choose to use one of the services listed. I only recommend what I personally have used, and I appreciate your support!
Is Proton VPN Free Any Good?
A lot of people end up researching Proton because they're one of only a few reputable virtual private networks that offer a free version of the software.
I generally don't recommend free VPNs, to be honest, but for those who just can't afford paying for the service, they did make my list of the best free VPN services.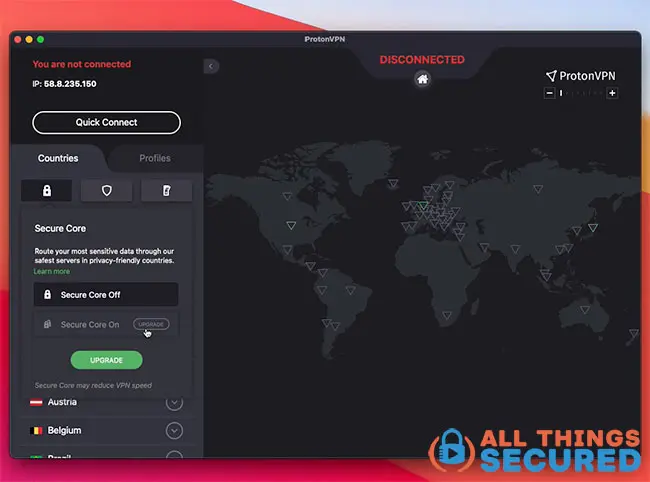 The software you see in the screenshot above is the free version of Proton VPN. It looks pretty much exactly the same as the premium version, minus a handful of features and quite a few server locations.
You see, the free version of Proton VPN only gives you the ability to connect to servers in the United States (5), Netherlands (5) and Japan (3).
And unfortunately, since this is a free service and many people use it, all of those servers are bogged down and pretty slow.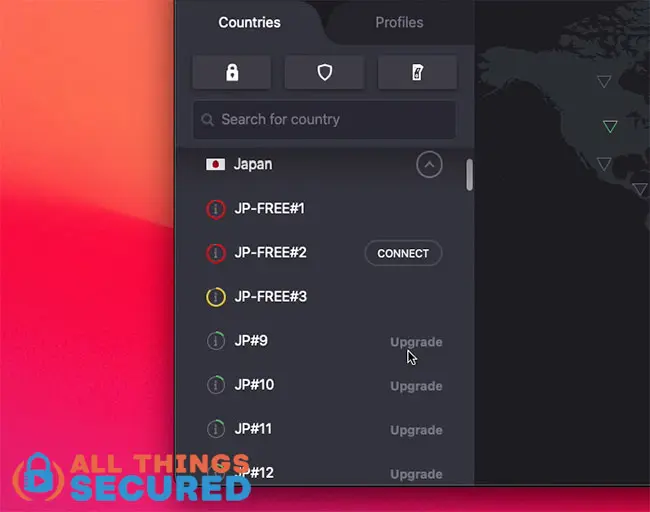 The red and yellow circles next to the free servers above indicate the server load, and you'll notice that you have to upgrade to use the ones that are faster.
That's the way it is with all free VPNs.
I had a hard time streaming geoblocked content using the free version of ProtonVPN and they don't allow for P2P downloading on the free version.
However, if you simply want to evade censorship or hide your IP address, the free version of Proton VPN allows you to do just that.
Free vs Premium Comparison
But how does the free version compare with the paid version of Proton VPN?
There are a number of differences that you'll see below:
| | Free Proton VPN | Premium Proton VPN |
| --- | --- | --- |
| Available Servers? | 17 | 1,238 |
| Fast Speeds? | ❌ | ✅ |
| P2P Downloading? | ❌ | ✅ |
| Access Netflix? | ❌ | ✅ |
| Privacy Features? | ❌ | ✅ |
| AdBlocker? | ❌ | ✅ |
| Pricing? | Free! | $6.63/mo + |
The free version of Proton VPN is a great way to trial the software to see if you like it. It's also valuable if you just want to hide your IP address for a bit of extra privacy.
But ultimately, as with any free VPN, it falls short on the features required to stream content, maintain a fast internet connection, and keep your connection really private.
Proton VPN Review 2023 (Premium)
Ok, now that we've covered the free version of the software, let's transition this Proton VPN review to the premium (paid) software.
| | |
| --- | --- |
| Review | Proton VPN Review 2023 |
| Summary | Proton VPN offers the standard security features you expect with any VPN, but separate themselves with the extra privacy features like Secure Core, Tor over VPN and more. The only downside is the limited dedicated apps available. |
| Author | Josh Summers |
| Rating | 4.8 (out of 5) stars |
The first thing you'll need to decide is whether you're interested in the free version, the Proton "Plus" plan or one of their security bundles.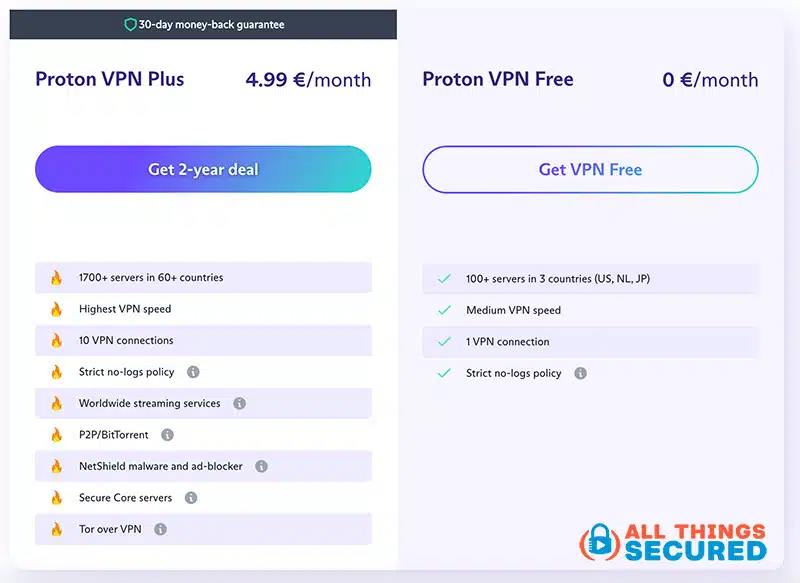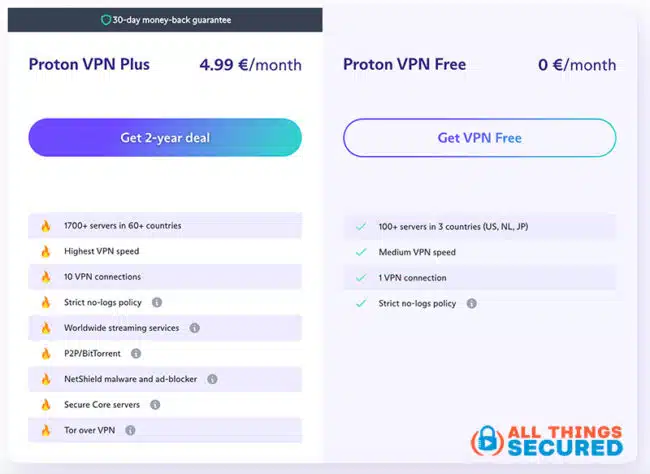 If all you want is a VPN, then it's best to spring for the Proton VPN Plus plan.
But if you're interested in other security apps such as ProtonMail (encrypted email), Proton Drive (encrypted cloud storage) or even the Proton Calendar (encrypted calendar), you'll want to check out their bundle plans. You can read more in my review of ProtonMail.
As you can imagine, the bundle offers the best value, but it's entirely up to you to decide what kind of service you really need.
Premium Features Explained
There are a number of features that practically every virtual private network offers. This includes things like:
AES-256 encryption
No-logs policy
P2P/Torrent servers
1,600+ servers in 60+ countries
Dedicated device apps;
Access to "Secure Core" servers
10 device connections
These have become the "standard" features, though. Every company that provides this service should offer these.
So what kind of features help Proton VPN differentiate themselves from all the other good VPNs on the market?
Here are a few that I really like:
Secure Core: This feature is similar, although not exactly the same, as the "double hop VPN" feature other services offer. The difference is that Proton starts by routing your traffic through one of three secure data centers they run in Switzerland, Iceland or Sweden. This adds a layer of privacy you won't get with a regular VPN connection.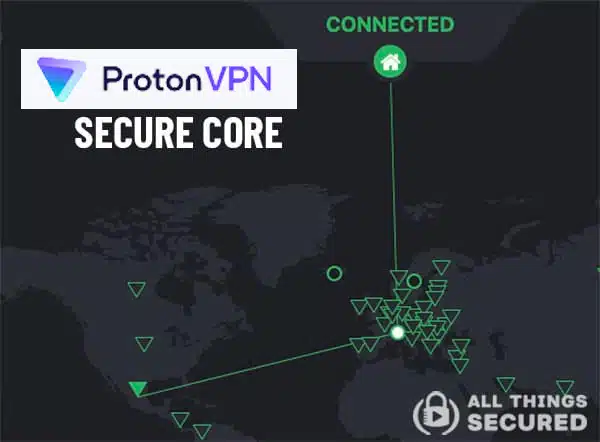 Up to 10 Simultaneous Connections: Whereas some of the more popular commercial VPN providers like ExpressVPN give users five (5) simultaneous connections, ProtonVPN offers an above-standard ten (10). For most users, this is more than enough.
DNS Leak Protection: The software protects not only your browsing traffic, but also your DNS queries. This means that nobody can watch what websites you're accessing.
Tor over VPN Option: For those who don't trust a centralized company to provide privacy, Proton VPN allows you to connect to the private Tor network through a VPN. It's a slower connection, but it sends your data through a random set of nodes that even Proton can't know.
This last feature is more important than you might realize. A VPN wasn't initially designed to be a privacy tool, so this use of Tor allows you to take advantage of privacy not offered by traditional VPNs.
Proton VPN Pros vs Cons
Now that we've laid a foundation in this ProtonVPN review with all of the various features, we can talk a bit about how those translate into pros and cons for us as users.
Because as much as I like Proton VPN, there are a couple things I wish I could change.
Proton Pros
Excellent privacy features (kill switch, Tor over VPN, forward secrecy, etc.);
Open source apps (transparency);
Easy-to-Use software;
Fast connection speeds;
Live chat customer support;
Proton Cons
No ability to change protocols on MacOS;
No dedicated apps for Chromebook, Smart TVs, media streaming devices, etc.
A few things worth mentioning about the above list:
Transparency is huge. Not only is ProtonVPN one of the only companies I know that posts the code for all of their apps on GitHub for you or any security researcher to audit, they're also extremely transparent about their executive team.
And when you consider that their CEO (Dr. Andy Yen) graduated with a PhD from Harvard University and has given a popular TED talk on internet privacy, it lends a lot of credibility to the company as a whole.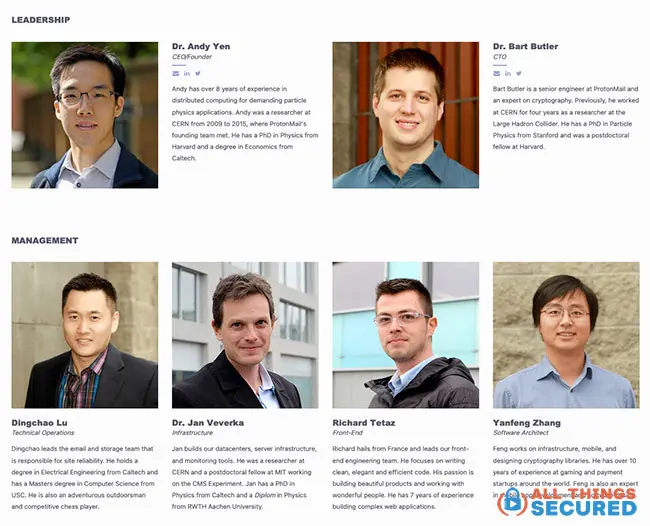 Also, the Proton VPN mobile apps look great.
You'll notice that Proton doesn't offer as many dedicated apps as other commercial VPNs do. They're primarily missing apps for SmartTVs, media streaming devices (think Amazon's Fire TV) or a VPN for Chromebook.
However, the mobile apps that are available for all the major platforms (iOS, Android, Windows, et.c), are sleek and easy to use.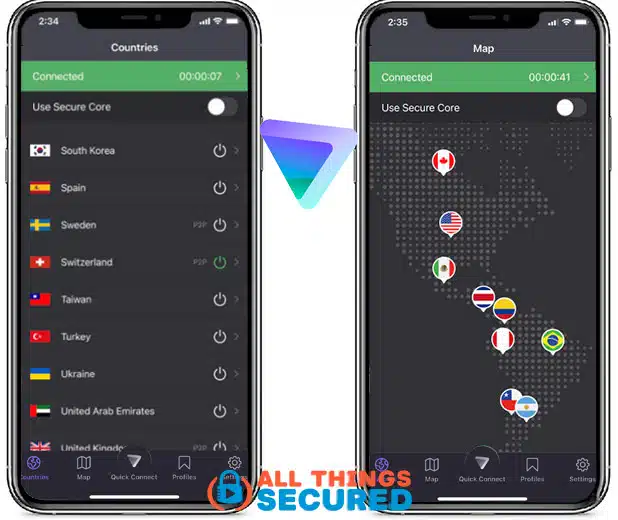 In addition to a simple list of servers to choose from, you can also look at a map with flags (which I like better than the triangles on the desktop version, honestly).
Best of all, the mobile app still offers the great privacy features like Secure Core, Tor over VPN, P2P servers and the option to change connection protocols (OpenVPN vs IKEv2).
Final Verdict on Proton VPN
Overall, – and I don't say this often – if privacy is a concern for you and you have to trust a centralized entity to provide this kind of security and privacy…
I really like Proton, both the company and the product.
And there's no good reason not to try them since they have free versions of both this Proton VPN service and the ProtonMail service.
I personally use both, and you can even sign up for a free, private email address with ProtonMail to use as an anonymous way to create a Proton VPN account.
However you choose to do it, remember that a virtual private network is just a tool. No single piece of software can keep you entirely secure and private online.
But every little step makes a difference.