I'm generally skeptical of all VPNs, which I guess should be considered a good quality when doing critical reviews. So when a VPN homepage boldly proclaims that they are the "fastest VPN ever"…I raise my eyebrow. In this PureVPN review, we're going to put this claim and many others to the test to see how they really do.
Be sure to subscribe to the All Things Secured YouTube channel!
As a service that has been around since 2007, it's possible to read a lot of different PureVPN reviews from the past 10 years.
But things change, and getting up-to-date information can be important.
You're likely doing your research to determine whether or not PureVPN lives up to its claims of privacy, security, and speed.
I get it.
In this review of PureVPN, we're not only going to look at their apps and discuss their features, we're going to take a critical look at their marketing claims and their ownership.
Here's what it will look like:
I'm confident you'll get all your questions answered in this PureVPN review.
Let's dive in!
Note: Some of the links in this article are affiliate links, which means that at no extra cost to you, I may be compensated if you choose to use one of the services listed. I only recommend what I personally have used, and I appreciate your support!
PureVPN Review 2022
| | |
| --- | --- |
| Review | PureVPN 2021 |
| Summary | PureVPN has a history of providing a quality VPN service, but it has also been caught giving away user data. It has started to regain user trust, and the apps are extremely user-friendly, but they still hide behind a corporate veil. |
| Author | Josh Summers |
| Rating | 4.2 (out of 5) stars |
During the time that I've been able to personally use PureVPN, there are a number of questions that I've tried to answer.
Is it easy to install and use?
Does it offer the advertised security, privacy and speed?
What's the difference between PureVPN and every other VPN service out there?
That second question is particularly interesting to me since they claim to be "the fastest VPN service ever" on their homepage.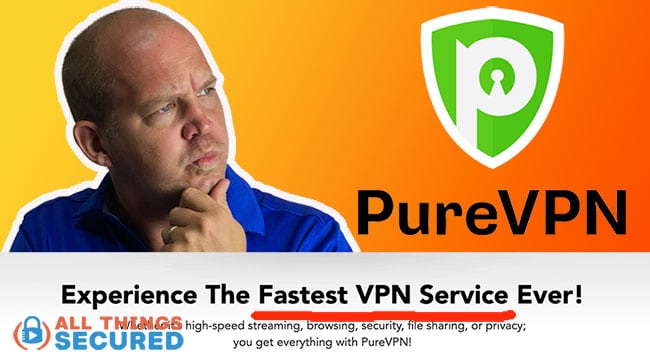 Hmmm…really??
To start this review of PureVPN, let's compare the various pros and cons of the features they offer.
Pros vs Cons | PureVPN Review
Because PureVPN is a company that has been around for more than a decade, they've had plenty of time to adapt to the changing needs of privacy-conscious consumers.
For this reason, a lot of what you'll find on the "pros" side of this list is related to the user experience and available features.
However, there are a few things I don't like about PureVPN that I'll share briefly here and go into more detail below. Much of this is very similar to what I've written in my Ivacy VPN review which, as you'll learn later…might not be a coincidence.
PureVPN Pros
More than a decade of experience (est. 2007);
10 Simultaneous connections;
Well-designed, user-friendly apps;
Budget-friendly pricing (some of the cheapest on the market);
Features like On-Demand VPN and Mode selection;
31-day money back guarantee;
PureVPN Cons
OpenVPN not natively available on all platforms (namely, MacOS & iOS)
Very little company transparency;
No option or expected rollout of the new WireGuard protocol;
So with these pros and cons in mind, I want to continue this PureVPN review by explaining two categories of features:
Those which are "standard" (i.e. every VPN has them) and those that are unique to the service.
Standard Features of PureVPN
As with any VPN review that I do here on All Things Secured, I don't make a big deal out of the features that I think should be standard in any VPN today.
It's like a car salesman saying "this car comes with four wheels!".
Of course it does.
That's what a car is supposed to have.
Here's a list of the features PureVPN offers that are certainly good to have, but don't make them particularly special.
Security & Encryption: PureVPN markets their "iron clad security" on their website, which is basically the standard AES 256-bit encryption. This is certainly the kind of encryption you want to have when you're connecting to a VPN, but it's also the industry standard.
Server Choices: PureVPN boasts a server network that includes 2,000+ servers in 140+ countries. This is unfortunately an error on their website. They only offer servers in 49 countries. It's likely they meant 140 locations (i.e. cities). This is far more than you'll ever need or use, but again, this is standard.
No Log Policy: PureVPN claims a "certified no-log policy" – as does every other VPN on the market. It's worth noting, however, that these zero-log policies are a lie, and even the PureVPN privacy policy says they log a "bare minimum set of data".
VPN Kill Switch: If your server connection ever gets severed, PureVPN will cut your internet connection to make sure you don't send any unencrypted data across the web. This is a VPN kill switch and it's quite common nowadays.
Customer Support: PureVPN offers 24/7 support via live chat and email. With few exceptions, such as the phone support I covered in this IPVanish review, this live chat support is now standard across the Virtual Private Network industry.
Dedicated Platform Apps: When you're using a consumer VPN, the last thing you want is to have to manually set up the connection. PureVPN does a great job of offering beautiful apps for pretty much every platform you can think of using, including Windows, Mac, Linux, Amazon Fire TV and even Kodi.
As I said earlier, these are the features that I expect any VPN I use to offer.
Anything less isn't worth my time or yours.
So if these standard features are, well…standard, then it's important in this PureVPN review to explain what's unique.
Unique Features of PureVPN
Over the time that I've been using the software apps on my laptop and tablet computers, there are only a couple things that really stand out as being "unique".
These unique features for PureVPN include:
Simultaneous Connections: PureVPN offers the ability to connect 10 separate devices to their servers simultaneously. While this is beginning to become standard, there are still quite a few popular VPNs that limit you to between 4-6 simultaneous connections (such as ExpressVPN, NordVPN and VyprVPN).
Port Forwarding and Dedicated IP (Add-ons): For an extra fee, you can purchase these features in addition to your PureVPN subscription. Having something like a dedicated IP VPN has limited uses and aren't something used by the average person, but the fact that they offer the features sets PureVPN apart from others in the market.
On-Demand VPN: PureVPN markets a feature they call "on-demand VPN", which is basically just another way of saying VPN split tunneling. You can tell the app to automatically connect to a VPN anytime you access certain websites that you choose. In this way, you're not encrypting all of your internet traffic and you have control over which websites get the extra security treatment.
PureVPN Speeds | Fastest EVER?
You can't make a bold claim on your homepage like "the fastest VPN service ever!" and not invite a closer look.
Disclaimer on Speed Tests
Generally, I don't like speed tests because there are too many variables (WiFi connection, ISP, time of day, location, etc.) that don't allow for a fair comparison.
PureVPN knows that getting an accurate speed test is virtually impossible, and they also know that they aren't under the jurisdiction of a country that would actually hold it accountable to such bogus advertising claims.
So they're happy to say they're the "fastest VPN ever".
The truth, according to my own tests, is that PureVPN servers run at speeds comparable to the competition. In some cases they were faster, in some cases they were slower.
Are they fast enough for what you need to do?
Probably.
Are they the fastest VPN ever?
No, and I can guarantee you that any VPN review website that disagrees with me here is biased in some way. Speed tests just aren't conclusive like that.
So how do all of these features work on the desktop and mobile apps? Let's take a closer look.
PureVPN Software Overview
A VPN service is only as good as the software that it provides.
Generally speaking, I try to review and recommend only those companies who invest the time and resources that it takes to develop the proper apps for popular platforms.
While they offer apps for all sorts of platforms including smart TVs, Kodi, Linux and others, for the sake of this PureVPN review we're only going to cover the two most important:
Desktop and the mobile apps.
PureVPN Desktop App Review
The desktop app is easily downloaded from the PureVPN website (it's not available on the app store) and it takes no more than a minute or two to install.
After you've logged in, you're met with a home screen that feels very comfortable and familiar for anybody who is used to this type of software: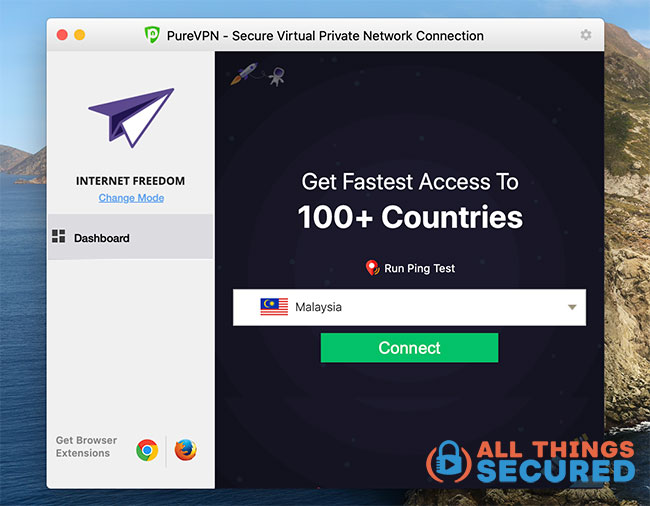 Again, a bit of misleading marketing when they say "100+ countries".
But aside from that, the first thing you'll see is the drop-down menu for country selection and the big "Connect" button.
In the case of the Internet Freedom mode, you even have the ability to run a ping test that will determine the closest VPN servers for you.
Speaking of "modes", by clicking on "Dashboard" you'll be given the ability to choose different usage modes that look like this: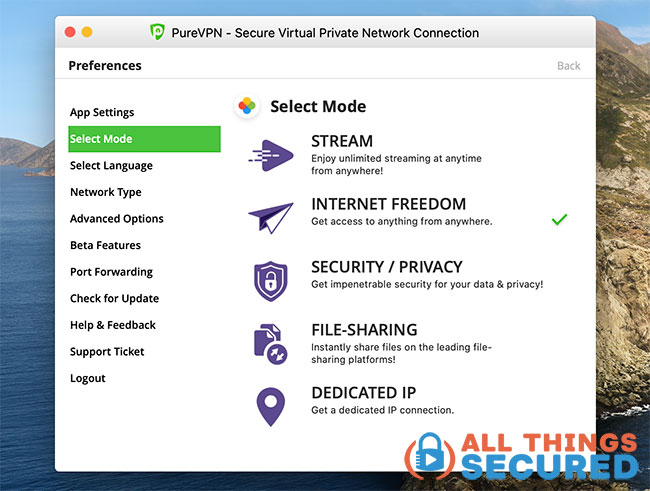 These modes aren't necessarily different services (you're still connecting to the same VPN servers) as much as they are helpful ways to understand and use the software.
For example, you could choose the:
Stream Mode: This mode will choose the fastest available server in a specific country based on the service you're wanting to stream (i.e. it will connect to a fast server in London if you say you want to watch BBC).
Internet Freedom Mode: This mode automatically chooses the closest available server using the best VPN connection protocol to go undetected.
Security/Privacy Mode: This mode focuses on the connection protocol being used, prioritizing high security over speed.
File Sharing Mode: This mode connects you to specific servers that allow for P2P downloading.
Dedicated IP: This mode is a paid add-on only available for those who pay to have it. It assigns you a static IP that will only be used by you.
These connection modes are meant to be a more user-friendly approach to VPN connections, although most of the time I just stick with the simple "Internet Freedom" mode and never change.
Moving over to the settings, you'll find an interesting selection of changes that you can make.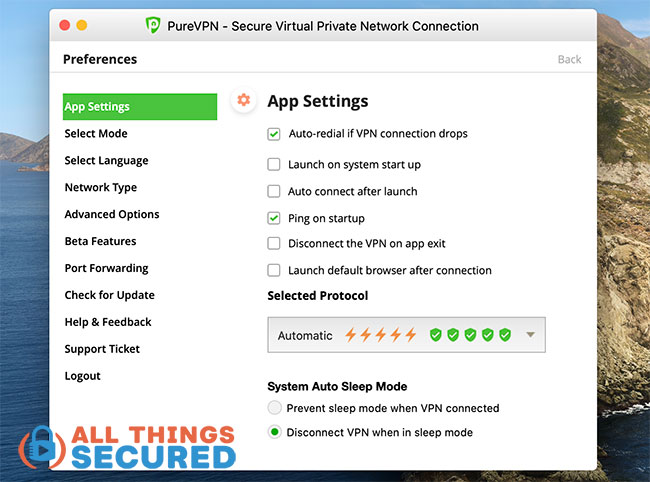 There are plenty of options to choose from for launch and connection, as well as the ability to choose your protocol.
If you look on the left sidebar above, you'll see there are also advanced features for network type, port forwarding (paid add-on), the kill switch and even languages.
These are not settings that I usually change often, and I doubt you will either. However, it's good to know that you have the option to set them how you want.
It's possible to create a support ticket within the app and manage your subscription – although in both cases it often bumps you over to your preferred internet browser to complete the task.
PureVPN Mobile App Review
Interestingly, PureVPN is one of few companies whose mobile app design looks entirely different than the desktop app.
The home screen displays a massive power button to connect to the VPN.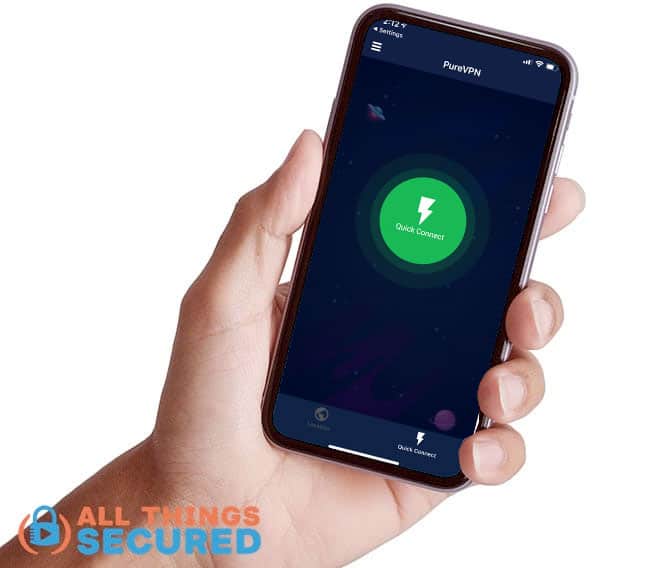 On the bottom bar, you can choose "Locations" to give you various server options based on either a specific country, a specific city, or however you decide to search.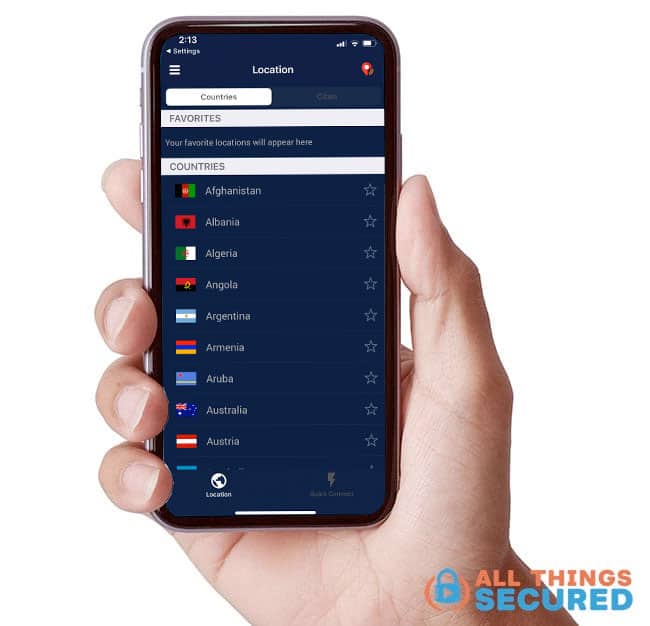 If you navigate to the mobile settings, you'll find that the iOS version of the PureVPN app has significantly fewer settings options than the desktop app.
Other than choosing the protocol you want to use, the app language and the On-Demand VPN setting…
…that's about it.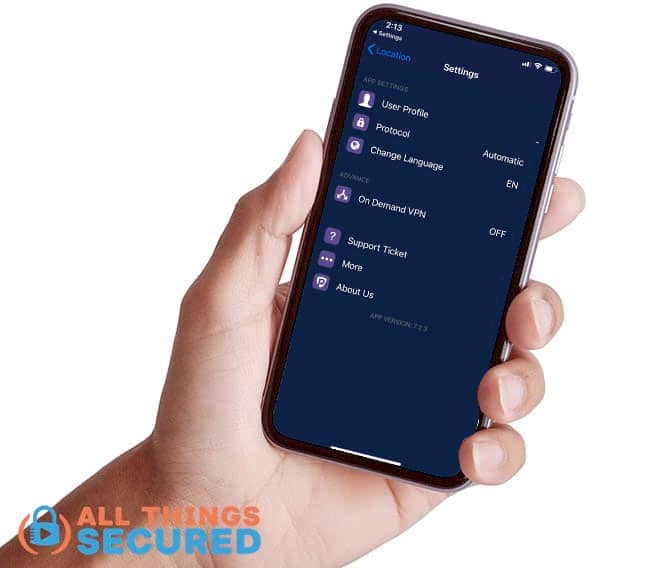 OpenVPN is missing on the iOS version of the app (it's available on Android), as is the kill switch.
Overall, it's a slick mobile app that takes the confusion out of the process of connecting to a VPN server.
Can You Trust PureVPN?
I've said this many times before and I think it always bears repeating, especially when dealing with the shady world of virtual private networks.
The foundation of a good piece of security software is trust. And trust requires accountability.
For most VPNs, accountability isn't even a part of their vocabulary.
Sure, they've had a "one-time audit" of their systems, but there's no accountability that says they've kept it that way.
Remember this when you use any VPN service: you are sending all of your internet traffic through their servers.
Every.
Single.
Bit.
Sure, it may be encrypted from the government or your Internet Service Provider (ISP), but now you're trading your distrust of the government/ISP for trust in some unknown entity.
Speaking of an unknown entity…
…who owns and runs PureVPN anyway?
Who Owns & Runs PureVPN Anyway?
Technically speaking, PureVPN is owned by GZ Systems, a company that is registered in Hong Kong.
I say "technically speaking" because as with most VPN companies, the registered entity is usually nothing more than a shell company. Most of their staff and employees are remote, located all around the world.
And in the case of PureVPN, much of their workforce seems to come from the same place as Ivacy VPN…
…Pakistan.
Now this isn't a particularly bad thing, but it's also not something they advertise. The question is this:
Are you comfortable giving your data to a Hong Kong-based company run in Pakistan?
For some people the simple answer is "yes", and that's great.
For me, though, with the new Hong Kong security laws imposed by China, I've become less comfortable with trusting a Hong Kong entity with my data.
PureVPN has done two things in response to this:
They've shut down all of their Hong Kong servers.
They've told me that they're exploring options to move their company registration.
Moving a company registration and banking is not a simple task, so I doubt they'll do this without considerable pushback from the market and their customer base.
We'll see how long that takes.
Final Verdict | PureVPN Review
So what's my final verdict in this PureVPN review?
They offer a user-friendly suite of apps that work well as a desktop app, browser extension, mobile app and smart TV app.
It's easy to install, easy to use and includes premium, add-on features such as Port Forwarding and Dedicated IP for those that want it.
However…
…they're based in Hong Kong, which at the moment poses a privacy risk with China's new security laws. They're also not very clear about who owns and runs the company.
Hong Kong is a non-starter for me, but I'm also a bit paranoid about China.
But for some people – including maybe you? – the fact that they have great apps and some of the lowest pricing on the market is enough to convince you to give them a try.
They offer a 31-day money back guarantee, so you can try them for a month to see if it works for you.