The Double VPN, also known as multi-hop, cascading, nested or chained VPN, is a method of encrypting and routing your internet traffic through multiple servers across the globe in an effort to increase privacy. But does it really work?
Be sure to subscribe to the All Things Secured YouTube channel!
According to Hollywood, the best way to cover your online tracks is to route your connection through multiple servers across the globe. It's not hard to do, does it really offer as much privacy and security as the movies claim?
The fact that the double hop technique has so many different names goes to show the kind of confusion and misinformation about what it is.
To make things simple, I'm going to cover four questions here:
Any extra security or privacy offered by double VPN is mostly redundant, so unless you're a journalist or political activist who fears harmful internet surveillance, it's probably not necessary for regular internet traffic.
Let's begin by getting a better understanding of how this process. How exactly does routing your internet connection through multiple servers and encryption work?

Note: Some of the links in this article are affiliate links, which means that at no extra cost to you, I may be compensated if you choose to use one of the services listed.
What is the Double VPN Feature?
Double VPN is a process by which an internet connection is routed through more than one VPN server and often through multiple layers of encryption. In this way, the original source of the connection is hidden from the exit server while the final destination is hidden from the initial server.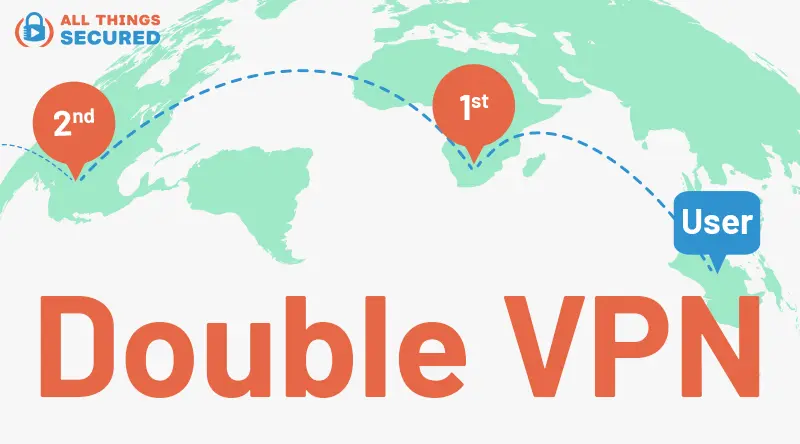 The point here is to add extra layers of privacy and security. In the unlikely even that one of the servers or encryption protocols is compromised, not all is lost.
Although there are many different ways that a multihop VPN could work, let me try to explain one here:
Your device (in the USA, for example) establishes an encrypted connection with a server in France.
While connected to this server, a second encryption occurs between the server in France and a server in Australia.
In the above example, even if the Australia server were somehow compromised, the encryption between your device and France still exists to shield you.
The multihop process is a redundant security measure that, quite frankly, the average internet user does not need.
How to Set Up Double VPN
In practice, double VPN could be set up in a number of different ways.
Native Method: For some VPN services, I'll use Surfshark as an example here, they have what they call a multihop feature, where you can choose a preset series of servers through which your traffic will be encrypted and routed.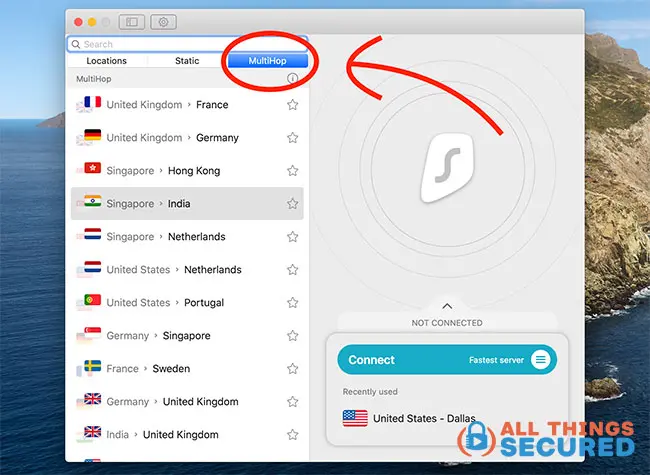 As you can see in the screenshot above, they don't give you the option switch which server is part of the multihop, you just have to accept the options they give you.
Multiple VPNs Method: Another option would be to connect to a server using one virtual private network and then, while remaining connected, use a different VPN software to connect to yet another server elsewhere. This requires a subscription to two different services and usually isn't as easy to do as you would hope.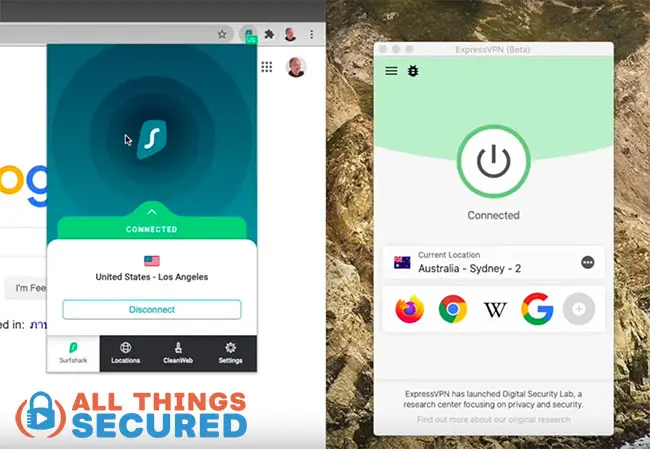 Router/Computer Method: The final method to set up double VPN is to set up a VPN on your Wifi router, connect to the internet through that router and then connect to a separate VPN from the device.
Which VPNs Offer Double VPN?
Unless you want to purchase subscriptions to multiple services, the best way to take advantage of the double VPN feature is by using a software that natively offers it.
Since this isn't a high-demand feature, there are only a handful of companies that have it as an option. These include:
To make things more confusing, each service has a different name for the feature.
Despite the differences in naming, the process is still the same. You're routing your traffic through multiple servers across the globe.
Double VPN | Advantages vs Disadvantages
Before you put yourself through the trouble of setting up multihop, though, it's worth asking what kind of advantages and disadvantages this feature offers.
You might be surprised at what you learn.
Disadvantages of Using Double VPN
It should be obvious that adding extra encryption and additional routing will slow down your internet connection.
Like…a lot.
It's also resource intensive, which means that devices engaging in a multihop encryption will likely drain battery faster and run slower.
Using a virtual private network already slows down internet speeds. When you stacks layers of security and encryption on top of each other, the drop in speeds is very noticeable.
Advantages of MultiHop VPN
As far as advantages go, there really aren't many outside of a few, very specific use cases.
Double VPN a redundant layer of security and if you're using a virtual private network to do anything illegal, I'd like to also point out that no single piece of software or encryption, even if it's doubled or tripled up, can guarantee 100% protection.
Period.
More than anything, double hop VPN provides peace of mind to those who are extra paranoid or worried about their online privacy.
Use Cases & Privacy Alternatives
The only place where Double VPN might be useful is for those that have a strong reason to believe that they're being surveilled.
This includes those that are engaging in high-stakes journalism or activism in a hostile country.
But for the average internet user (which more than likely includes you), it's probably a bit over the top. It's a common misconception that a virtual private network is a necessary and foolproof piece of security.
The reality is that if you're connecting to a secured website (see the difference between https and http), you're getting the same level of encryption as you do when you connect to a VPN.
There are much more effective ways to increase your privacy and security online that don't carry the same disadvantages. These include things like:
Stronger Password Protection: Passwords are the keys to the front door of your online identity. Sadly, most people have terrible password habits. If you're not using a good password software to create and store better passwords, this is the best first step you can take.
Use 2-Factor Authentication: Beyond passwords, the use of two-factor authentication (2FA) is the best protection you have as an online consumer. Whether it's your bank, your email, your social media…whatever. If it allows for using an authenticator app for 2FA or even a 2FA security key, DO IT!
Be More Careful: Of course, one of the best things you can do is be more careful about the personal information you share publicly online. Perhaps you need to lock down your Facebook privacy settings or remove information that is publicly available.