For those addicted to the excitement of chatting with complete strangers around the world, getting banned from Omegle can be devastating. Bans can last up to 120 days and many people are often banned without cause. So is it possible to get unbanned on Omegle immediately? Thankfully, there are ways, and it can be done in less than 5 minutes.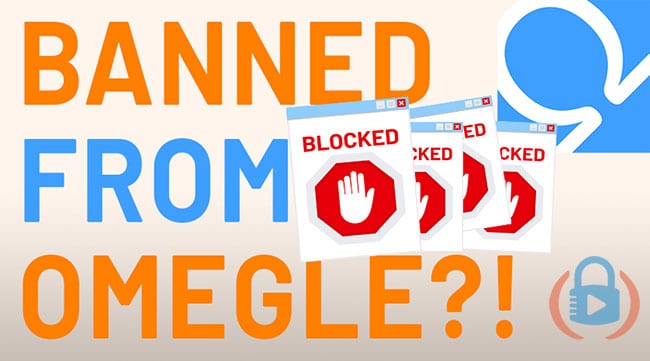 As you probably know, Omegle has become a popular platform for interest-based networking with complete strangers.
For better or worse, Omegle has some very strict policies in place in order to keep it a safe and user-friendly environment.
Most of the time, these policies work.
Sometimes, however, their automated blocking software gets its wrong, resulting in users being unexpectedly banned from Omegle.
The Solution, in Short: Omegle bans users based on their IP address. The easiest way to get unbanned from Omegle, then, is to change your IP address using a software like ExpressVPN, a Virtual Private Network that hides your location and provides you with a new IP address. Just download ExpressVPN, connect, and you'll be able to access Omegle again immediately.
That's the short answer.
If you'd like to understand more about how Omegle bans users, how a VPN works to fix this, and other related questions, I encourage you to continue reading!
Note: Some of the links in this article are affiliate links, which means that at no extra charge to you, I may be compensated if you choose to use the services listed. Rest assured I only recommend what I personally use and appreciate your support of this free information!
Getting Unbanned from Omegle | 4 Steps
Time needed: 10 minutes.
To make things as simple as possible, I'd like to walk you step-by-step through the process of getting unbanned from Omegle. In the end, the entire process should take you no longer than 10 minutes.
Sign up for a Virtual Private Network (VPN)

Because Omegle bans users based on their IP address, the easiest way to get unbanned from Omegle is to change your IP address. A Virtual Private Network (VPN) such as ExpressVPN or NordVPN not only encrypts your internet traffic as you connect to one of their servers, it also changes your devices' IP address.

Simply download the software and install it on your computer or mobile device.

And don't worry, they offer a 30 day money-back guarantee, so if the service doesn't work, you can always get a refund.

Connect to a VPN Server (to change your IP Address)

Once ExpressVPN or NordVPN (or any VPN for that matter) has been installed and activated on your device, you need to connect to a VPN server to change your IP address. It doesn't matter which server you choose, just keep in mind that the closer the physical location, the faster the connection speeds.

Log on to Omegle and Start Chatting Again!

Omegle doesn't require user registration, so once you're connected to the VPN server, simply log onto the Omegle website and start a new text or video chat. Even if your new IP address gets blocked again, switching VPN servers ensures that you receive a new IP address again.

Troubleshoot Your Connection

If, for some reason, using a VPN doesn't work to reverse an Omegle ban, there are ways to troubleshoot the problem. First, try opening Omegle in a incognito browser, then change your VPN connection protocol. Finally, switch between different VPN servers to see if you can find one that works.
Like I said before, it really is a simple process. Getting connected will allow you to jump back into fun conversations with strangers very quickly.
Trouble Shooting Your VPN Connection
I've received plenty of feedback from people who use a VPN and still have trouble reconnecting to Omegle. Don't worry…
…you're not alone!
There are couple things you might need to do to troubleshoot your connection and make sure that you're able to reconnect to Omegle after being blocked.
Here are a few things to try:
Clear Your Browser Cookie History: Omegle leaves a cookie on your browser when you visit. Even if you have a new IP address via a VPN, they still know it's you. You should start by clearing out all your cookies and browsing history.
Use a Different Browser / Incognito Mode: Again, anything that Omegle can use to identify you will allow them to block you. This could mean trying to use a different internet browser or connecting with Incognito mode while you're connected to the virtual private network.
Use a Static IP Address: Many online services have a list of known VPN-related IP addresses and they actively block them. The solution here is to either use a static IP address or a dedicated IP address that you might need to pay extra for.
Make sure you close out your current Omegle session before you go through these trouble shooting steps.
Why Pay for a VPN to Unblock Omegle?
It's worth noting that there are hundreds of VPNs on the market to choose from. Some part free and some are paid premium services.
So why pay for a VPN?
The truth is that most of the free VPNs share similar IP addresses that most services, including Omegle, Netflix, and others, have identified as being "VPN" or "proxy" addresses.
It's much harder to find a good IP address with a free VPN. Even if you find one, it probably won't last for long. Services like ExpressVPN, on the other hand, provide dynamic IP addresses that continuously change with each connection and help you remain anonymous.
If you're serious about your privacy and internet security, having a VPN is more than just a way to get unbanned from Omegle. It's also a means of securing yourself online.
Thankfully, ExpressVPN offers a 30-day money back guarantee. So if it doesn't work to help you get unbanned from Omegle, you can easily get your money back.
Omegle Ban | Frequently Asked Questions
Now that we've walked through the step-by-step process to get unbanned from Omegle, I'd also like to address a number of the most frequently asked questions about Omegle and their bans.
Why did Omegle ban me?
Omegle uses a combination of human moderators and automated blocking software to ban those who break the website policies. These policies include having other users report you, using profane language, nudity, dropping conversations too often, or even playing music in the background. Not every ban is deserved, though, which is why it's common for users to find ways to get unbanned from Omegle.
How long does an Omegle ban last?
Omegle bans can last anywhere from a week to more than 4 months, depending on the violation. In some cases where nudity or racism are involved, Omegle can issue a lifetime ban from the platform.
Why won't Omegle open on my computer or mobile device?
Omegle might not open on your computer for one of two reasons: either you've been banned or the website has been geo-blocked. If you live in Saudi Arabia, China, or any other country that bans Omegle, you will be unable to access the website without a VPN like ExpressVPN. This is also true for private networks (schools, universities, etc.) that have banned Omegle.
I didn't register with Omegle, so how did they ban me?
Omegle bans based on a users IP address, which is a unique number assigned to each device that connects to the internet. One of the only ways to change your IP address is to connect through a virtual private network software like ExpressVPN.
Why does Omegle ban users?
Omegle wants its platform to be a safe and clean environment for users. An investigation by the BBC revealed that open, anonymous platforms like Omegle are a breeding ground for predators and sociopaths. Although imperfect, Omegle's efforts to ban unwanted users is aimed at keeping the platform safe.
How does a VPN get me unbanned from Omegle?
Because Omegle bans users based on their IP address, a virtual private network (VPN) such as ExpressVPN unbans you by changing your IP address, thereby making you look like a new users to the Omegle servers.
Final Thoughts | Banned from Omegle
If your IP was blocked, a VPN is the best and fastest way to get unbanned from Omegle. The service will change your IP address as you access a new VPN server.
And a VPN doesn't just unblock Omegle. It also encrypts your internet traffic so your activities cannot be monitored by your ISP or hackers over an unsecured network.
It may sound complicated, but hopefully the step-by-step process showed that it isn't. I recommend ExpressVPN, which is a simple app to download on your phone, computer or tablet. Once you connect, it runs seamlessly in the background.
Getting unbanned from Omegle is pretty easy. Just try not to break the website policies this time around, ok?!