Whether you're an individual or a business, it's critical to answer the simple question: are virtual mailboxes safe? The truth is that not all of these online mailboxes are created equal, and the more you understand how a virtual address works, the easier it is to make a good decision on which to use.
Be sure to subscribe to the All Things Secured YouTube channel!
I've used a virtual address for my business (and personally) for over 5 years now, and I spent a lot of time researching the best services available. But in order to really answer these questions, I decided to find things out for myself. So…
I sent three packages to three different virtual mailbox addresses, tracking them with an Apple AirTag device so I would know where they are and when they would arrive.
I visited each of these addresses to see exactly what happens when mail arrives. How does it get sorted? Stored? Secured?
I'm operating under a simple theory that I would like to prove:
Based on what I find, we'll be able to confirm if there are indeed differences so that we can make more informed decisions regarding virtual addresses. This is true for businesses or if you want to hide your home address online.
But before we dive into these differences, let's first define the basics of virtual addresses.
How a Virtual Address Works (versus a PO Box)
A lot of people compare a virtual mailbox to a glorified PO Box at the post office. And in many ways, this is true – both offer anonymous addresses and will scan any incoming mail.
However, when you compare a virtual mailbox vs a PO box, there are also a number of differences.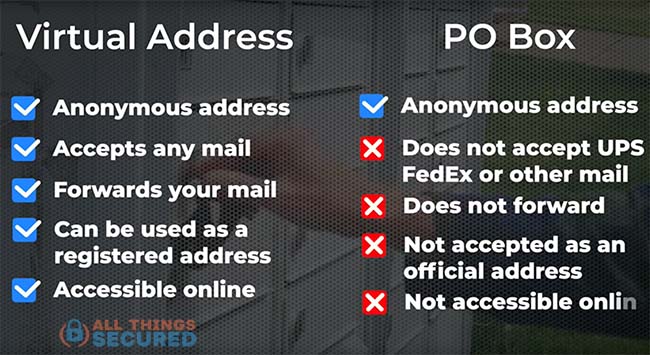 As you can see in the table above, a virtual mailbox allows you to:
Accept mail from any carrier (UPS, DHL, FedEx, etc.);
Forwards your mail to anywhere in the world;
Can be used as a registered address
Accessible online
How does a virtual address work exactly?
If the concept of virtual addresses is new to you, then it can be a little confusing. But to put it simply, it works like this:
Mail gets sent to your virtual address (FYI: despite the word "virtual", this is a REAL street address)
Depending on the location, your mail either gets sorted on site, or forwarded to a sorting center.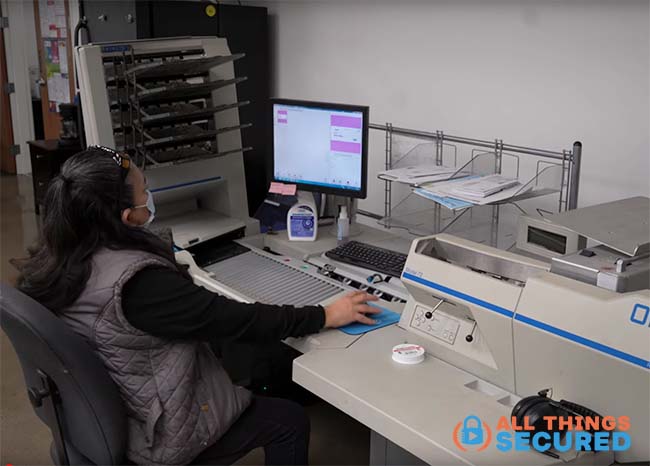 Once received, the mail is scanned, and you're sent an alert either via email or on your phone that your account has new mail. You can then instruct the company to either scan, deposit (if it's a check), or forward it to whatever location you want.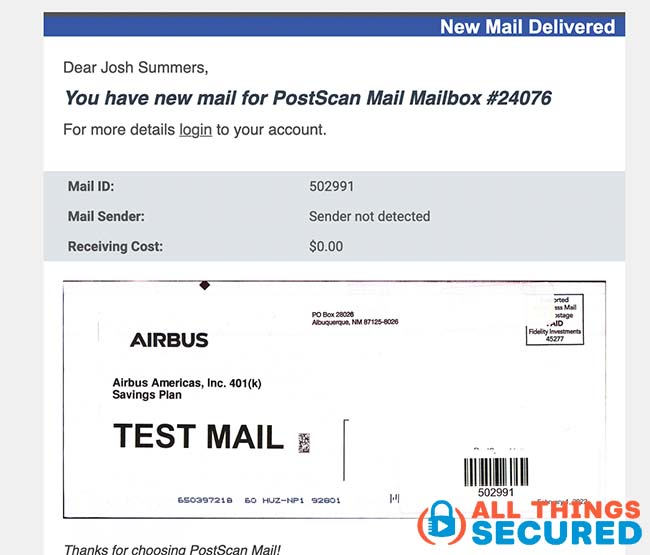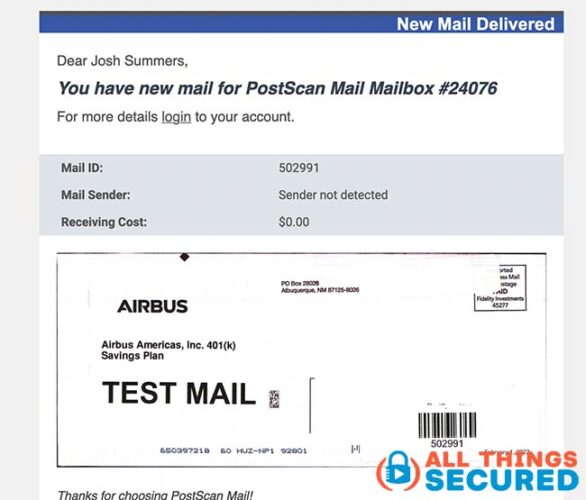 Now that we've covered the basics, let's start tracking the packages!
Three Primary Kinds of Virtual Mailboxes
After tracking all three packages across the country – from California to Texas to North Carolina – it's become clear that there are three very distinct kinds of virtual addresses that you can choose from:
The Forwarding Address
The 3rd-Party Mail Center
The Company Sorting Hub
The one you choose depends on what you're hoping to accomplish with your virtual mailbox. Let's look at each of them individually.
The Forwarding Address (Virtual Mailbox Option #1)
My first Dallas address, the which is the virtual address for my business from Traveling Mailbox, turned out to be a UPS store.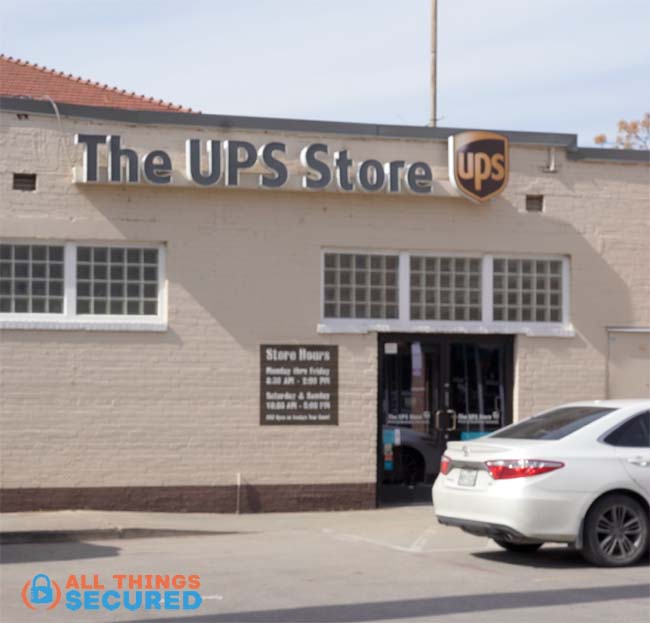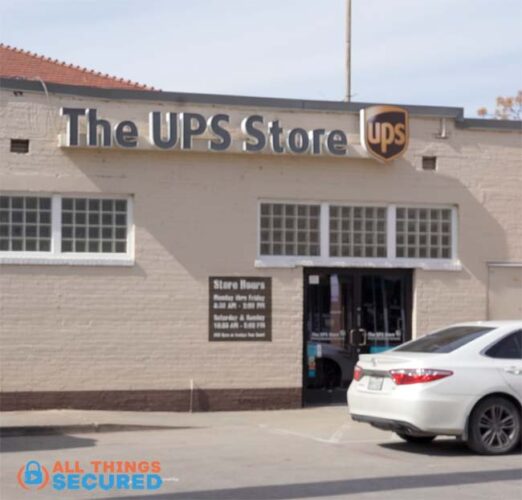 Even though the mail was addressed to this UPS store, this isn't the final destination. It is simply a forwarding address. Any mail sent here isn't scanned and it can't be picked up.
From here, the mail was sent off to North Carolina, which is where all mail for this company is processed (read my full Traveling Mailbox review for more details or this in-depth Traveling Mailbox review). Because of this extra trip, all mail to forwarding addresses generally take 3-5 extra business days.
Many virtual mailbox services market forwarding addresses as "premium addresses". The advantage is that you have more locations to choose from. The downside is that mail generally takes longer to arrive (3-5 business days).
Personally, I don't receive time-sensitive mail, and it was important for me to have a Dallas address, so this was not a problem for me.
3rd-Party Mail Center (Virtual Address Option #2)
My second package was also sent to a Dallas address, but unlike the forwarding address above, this address turned out to be the final destination for my mail. It was also a small mom-and-pop mail center.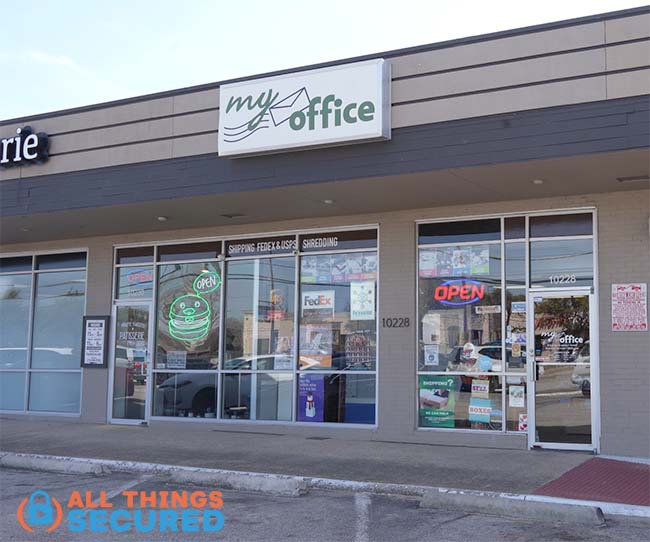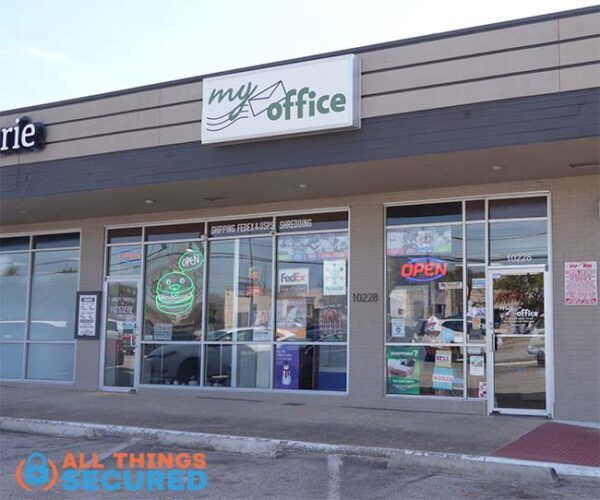 This particular address was from Post Scan Mail, and the biggest advantage of using this kind of address is the ability to walk in and pick up my mail, similar to a PO Box.
It still acts like a virtual address since I can log into my dashboard online and request them to open, scan, forward or shred the mail. But if you choose an address near your residence, you can save a lot of money by picking up your mail instead of having it forwarded.
There are two disadvantages of this kind of virtual address:
Appearance: If you're using this kind of address as a virtual address for your business, it may not have that level of professionalism that you're looking for when people look up your address online.
Security: Yes, these shops have locks on their doors, but the mail is kept out in the open and it probably wouldn't be hard to con the employees to give you mail that wasn't yours.
If you want to save some extra money, make sure to choose a virtual address that allows you to pick up your mail in person (some services charge fees for this, though).
Virtual mailbox websites aren't always clear about the actual location where your address is located, so make sure to look it up on Google Street View before you commit.
Virtual Address Company Sorting Center
Every virtual mailbox company has one, if not a few, primary sorting centers. Usually, they are located in business districts in a non-descript building similar to what you see here from Post Scan Mail's Anaheim sorting center.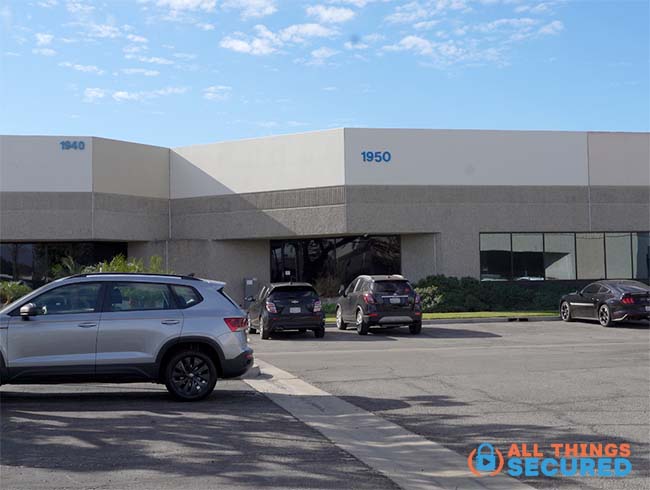 These addresses look more professional and since it is owned and controlled by the virtual address company, they sort and scan your mail much faster.
The biggest advantage of this kind of virtual address, however, is SECURITY.
If security and privacy are your highest priority with your virtual address, you'll want to make sure you choose a primary sorting center as your address.
The Anaheim address from Post Scan Mail was locked, unmarked and covered by security cameras.
Even law enforcement are not allowed inside without a proper warrant from a judge, and the employees here told me they've had a number of visits from police in the past.
The biggest challenge with these sorting hubs is that you don't have a lot of options. Traveling Mailbox has theirs in North Carolina. Post Scan Mail thankfully has at least 12 (read more about the PostScan Mail primary hub strategy here).
If I need a Dallas address, that doesn't help me much.
How to Choose the Best Virtual Address for YOU
How that you've seen the three kinds of virtual addresses, you should have a better understanding of the pros and cons of each. Before you subscribe to any virtual address services, here are some things you need to consider:
What level of security do you want? If you're sending a sensitive mail, make sure you choose a primary mail hub. Here are the primary hub addresses of Post Scan Mail and Traveling Mailbox.
Do you want to pick up your mail in person? Some companies charge you extra to pick up mails in person while others don't.
Do you receive time-sensitive mail? If so, you need to double check to make sure that the address you choose is not a forwarding address. Some of them market these as "premium addresses" which sounds good but just means slower mail time.
Do you care what your address looks like? For some business people, this might be important and they might be willing to pay extra for those office addresses. But for those who are just looking for more privacy, it doesn't matter if it's just a UPS store or any other small mailing centers.