A virtual credit card is a temporary credit card number that can be used while shopping online. These disposable card numbers are designed to protect your actual account number from falling into the wrong hands.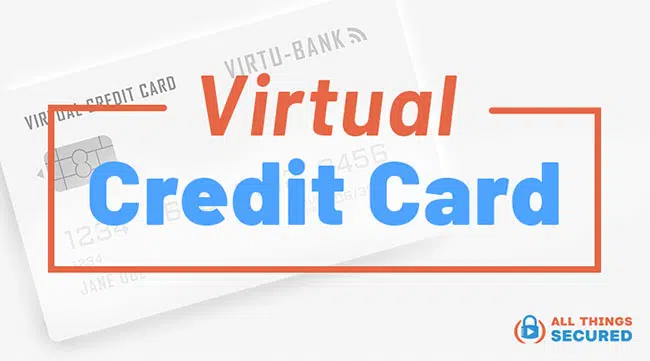 Virtual credit cards can protect you from having your credit card information stolen in a data breach or through an unsecured connection. But there's a lot that people don't understand about this new(ish) technology.
Here's what you need to know about virtual credit cards, also known as one-time use credit cards, and how to use them.
Why Use a Virtual Card?
While having a physical card is still important (at least for now), more and more of our purchases nowadays happen online. This also means that more and more websites such as Amazon, Netflix, Target and more have your credit card stored on their database.
Using a virtual payment card can not only make your life much easier, it also allows you to keep your personal information much more secure. Here's a breakdown of the benefits of a virtual card.
Security for Online Financial Transactions
When shopping online, it's smart to consider using a virtual payment card for your purchases. A virtual card protects your information online. Even if you are spending on well-known, secure sites, data breaches still happen. With a virtual card, you limit your exposure across the internet.
With a virtual card, you limit your exposure across the internet.
Virtual card numbers are managed by the card issuer such as a bank or fintech company, so you can easily create new virtual card numbers with any expiration date or spending limit suitable for its use.
While there are a few extra steps to generate a virtual card number, your real account number is protected and gives additional peace of mind, as a bank or card issuer may also provide additional fraud protections to protect consumers from fraudulent purchases.
One Time Purchases
There are often times when we need to make a one-time purchase with a merchant we'll likely never visit again. This could be a major furniture purchase, home/car repair or a vacation rental.
Once the purchase has been complete, you may be done, but the information you gave the company remains.
Virtual cards allow for one-time purchases that approve the initial payment and then automatically close the account so that the information is now useless.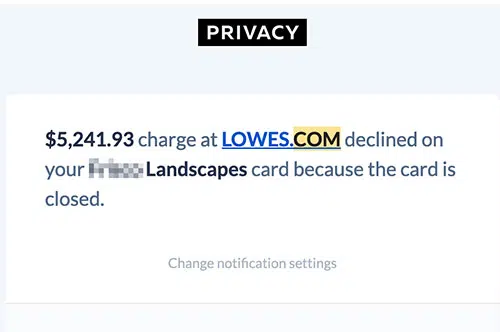 In the above example, a virtual card that was created for a one-time landscaping payment was stolen and used for a purchase at Lowes. Thankfully, because it was a one-time use credit card, the purchase was declined and no harm was done.
Manage Subscriptions for Online Services
You can manage online subscriptions with virtual cards by using a new virtual number for each of your subscriptions. This helps track all your subscriptions while keeping you protected if the card information is compromised.
Virtual cards also make it easy to see if you're being overcharged. If you need to cancel a card, you won't need to change your payment information with every single vendor, and if there's a breach, you can easily identify where it originated.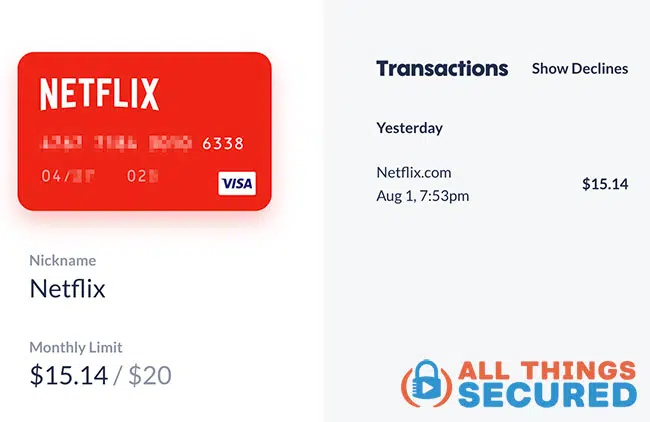 With the additional controls that many virtual cards offer, like spending limits, card freezes, deleting cards, setting up a recurring payment, etc., you are in control anytime something with the subscription needs to change.
If a certain vendor is trying to sneak in extra charges or make it difficult to cancel their service, you simply delete the card. No more painful cancellation processes.
Fraud Protection
Most virtual credit cards allow you to freeze – or "pause" – your cards at any time. This means if you fear your data has been compromised, or you want to make sure you are not being double charged, you can simply freeze the card, or easily cancel it altogether. Virtual card numbers give you the power to freeze your card and keep your funds safe.
If your physical credit card is lost, stolen, or otherwise compromised, you'll still need to go through the dispute process, cancel your card and have a new one sent to you. With a virtual credit card, you can avoid that whole process.
Control Spending with a Virtual Card
Many virtual cards give you more control than you see with regular credit cards. In addition to being able to freeze your card whenever you need to, you can set up a spending limit, a date for the card to close, or have it automatically close after one charge.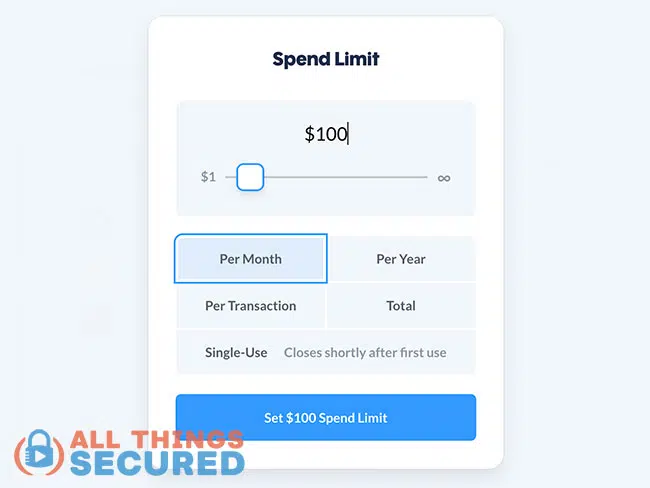 Most give you the option to keep a virtual card open or closed for however long it suits your business. This allows you to protect your information from hackers and dishonest sellers.
It can even help streamline your processes and keep your real card information private even from employees if need be.
Risks With Virtual Credit Cards
Because virtual credit cards are designed for online and other card-not-present transactions, there are some situations in which using a virtual number could present some drawbacks.
Returns on a Closed Card
Retailers often require the refund to be placed on the same account number that was used to make the purchase. If your disposable card number has already expired, you may be forced to get store credit instead. Depending on the service you use, it can be difficult to return a purchase to the vendor.
Thankfully, popular services like Privacy.com allow returns even on closed accounts, so this shouldn't be a problem.
Reservations and Rentals
Online reservations for rental cars or hotel rooms often require a deposit and charge the remainder to your card number at the end of your stay or return of the rental. A virtual card can be used to make these reservations, but problems can arise later down the road.
For example, when you show up, the company may require you to pay with the same card used to make the reservation. But since the virtual number is different from an actual card number, you could have trouble verifying they're tied to the same account.
Letting Your Guard Down on Security
The sense of security that virtual cards offer can make it easy to become complacent or even absent when it comes to checking your account for verified purchases.
Be sure to regularly check financial accounts online. Regardless of the lower chance of data breaches possible, it's important not to get lulled into a false sense of security because you're using virtual credit card numbers.
What Does a Virtual Credit Card Look Like?
Unlike a physical credit card, virtual cards can only be accessed online or through an app. Think of virtual card numbers as substitutes for your actual credit card number.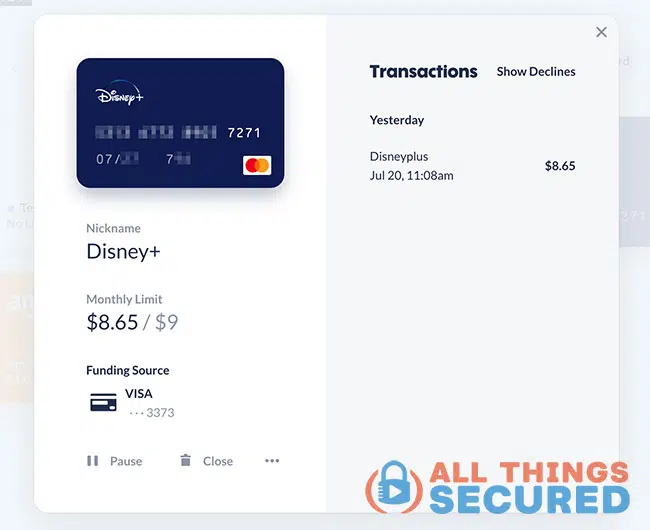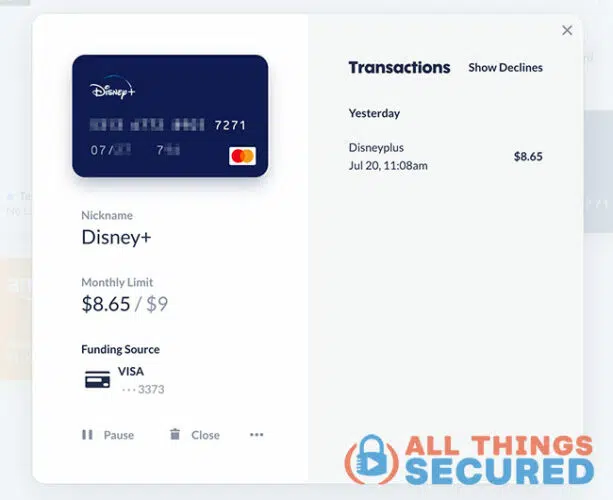 The virtual numbers are still linked to a funding account (usually a debit card or checking account), but they allow you to use a different number to fill out payment information when you shop online.
Some credit card companies give you a unique virtual card number for every website where you shop. Those virtual card numbers can't be used anywhere else. So if a merchant site is compromised, there's no way your virtual card number can be used to make purchases elsewhere. And your virtual card number can't be used to access your account data on your card issuer's app or website either.
Purchases Look the Same on your Statement
When you get your statement for your card or debit account, purchases made with virtual card numbers will look the same as any other purchases you have made with that account.
Best Virtual Credit Card Options
Many banks and credit card companies now offer a virtual card number option, but you don't necessarily have to go that route to protect your money. The options available to you often depend on your country of residence.
Banks that Offer Virtual Cards
Capital One calls its feature an "intelligent assistant." You can use virtual credit cards via Eno. Cardholders must install the Eno browser extension. Eno will pop up when you are ready to check out on a website. You get a virtual number via Eno, and the website involved never gets your actual number. But again, it's all connected to your credit card account.
Citi offers virtual credit card numbers but only on a select number of credit cards.
FinTech Companies that Offer Virtual Cards
Startup companies Privacy.com allow you to create virtual cards for different online payments (there are other alternatives to Privacy.com). You can close cards that you create at any time and also create single-use cards that will close automatically.
However, Abine Blur masked cards can only be created and used by residents in the United States; the same goes for Privacy.com. Consequently, as a US-only virtual card service, the platform also supports only the USD.
Also, these masked cards mainly work for purchases from US merchants, payment is blocked for most non-US merchants due to fraud.
Nevertheless, both options will store and protect your credit card information locally. For more security, you can authorize Backup and Synchronization as well.
How Do I Get a Virtual Card?
If you already have a credit or debit card, check with your bank to see if they offer a virtual card option. As virtual credit cards are becoming more common, the vast majority of financial institutions are offering them.
However, there are ways to get a virtual credit card that's not associated with a traditional financial institution. If you don't already have an established account or would like your purchases to remain even more ambiguous, US residents can sign up for Privacy or Abine to issue you single-use cards.