In an age where our personal information is increasingly at risk of exposure, it's no wonder that data protection tools have become an essential part of safeguarding our online privacy. Two such services, Incogni and DeleteMe, have emerged as frontrunners in the quest for data removal from data brokers. But which of these tools offers the best bang for your buck? Which one provides the most comprehensive coverage and user-friendly experience? In this comparison, we will discuss "Incogni vs DeleteMe" in detail.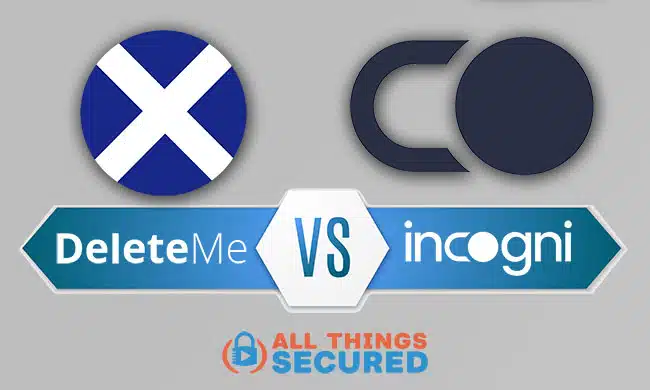 Having used both services personally, I want to provide my own experience using Incogni vs DeleteMe, comparing their key differences and similarities, and exploring aspects such as data broker coverage, automation, pricing, and more, ultimately helping you make an informed decision on which data deletion tool is the right choice for you.
Key Takeaways
DeleteMe and Incogni offer comprehensive data removal services, with Incogni covering more data brokers while DeleteMe offering a more tailored approach.
Both have automated and manual processes to guarantee successful removal of personal information from people search sites, as well as progress tracking features for users.
They prioritize user privacy compliance through secure deletion measures and customer support options are available for assistance.
Incogni vs DeleteMe: Key Differences and Similarities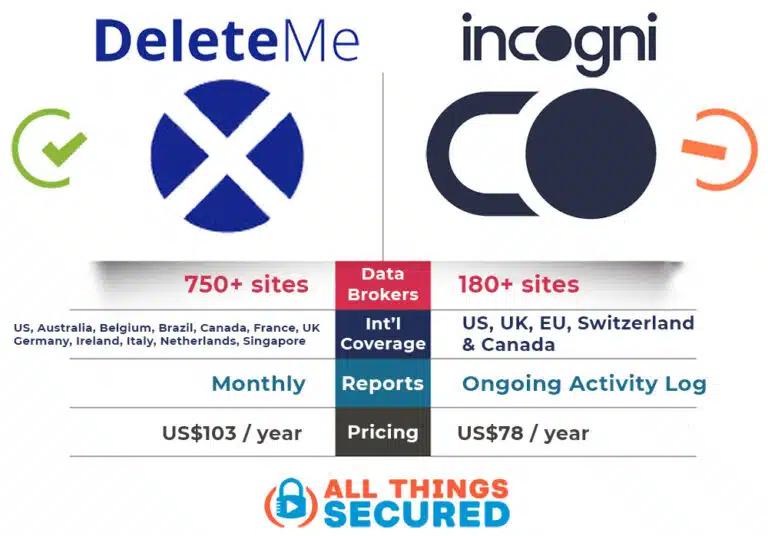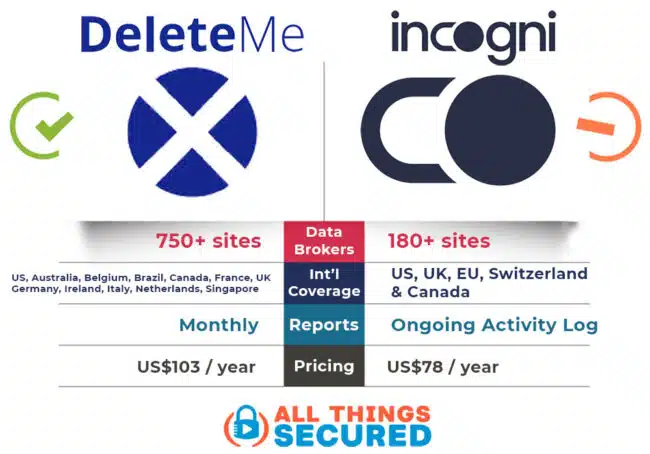 *pricing for DeleteMe reflects the 20% discount using code "AllThingsSecured"
Both DeleteMe and Incogni are data privacy management services designed to send data removal requests to data brokers, who collect, analyze, and package personal data to be sold to third parties. The ultimate goal is to prevent identity theft, phishing, and fraud by minimizing the online visibility of sensitive information.
On the surface they may look the same – and in some ways they are – but there are also several key differences that we're going to explore as well. Specifically we're going to examine:
Data broker coverage (databases, people search sites, marketing data brokers, etc.)
Automation and Manual processes
Pricing and subscription options
This should provide a clearer understanding of their relative strengths and weaknesses.
Data Broker Coverage
Incogni, owned by the popular Surfshark VPN, boasts coverage of over 180 data brokers, ensuring that your personal information is removed from as many sources as possible. They are continually seeking out new data broker websites to integrate into their system, but the reality is that many of these are small and somewhat inconsequential websites that all copy each other.
DeleteMe has a list of over 750+ data brokers that they cover, but they're also quick to note that the number of sites fluctuates with the constant changes in the industry.
While it seems like DeleteMe "wins" in this comparison, the truth is that the number brokers covered is a misleading metric that doesn't tell the whole story. More isn't always better, which is why it's important to take a closer look at their data request process.
Automation and Manual Efforts
Both Incogni and DeleteMe employ a combination of automated and manual techniques to guarantee comprehensive data removal from data brokers. Automation helps streamline the process of contacting data brokers to send removal requests, reducing user time and effort.
The approach to these processes is an important distinction, however. Consider that:
DeleteMe uses the data you provide to search online databases for your personal information. If found, they send out data removal requests.
Incogni uses the data you provide and sends this data to brokers along with a request for removal.
Again, you'll notice that Incogni is trying to cast more of a wide net, but in the process they are actually providing the brokers with your data. It works, and the companies can't legally take that data and add it to their databases, but this approach is uncomfortable to me personally.
In addition to their automated data removal solutions, manual efforts are necessary to ensure the accuracy and completeness of official data removal requests. Incogni and DeleteMe both utilize manual efforts, including verifying the accuracy of a data removal request and tracking the progress of the requests.
Although differing in method, in the end, both services effectively remove personal information from people search sites through automated data discovery searches.
Pricing and Subscription Plans
When it comes to pricing and subscription plans, Incogni and DeleteMe cater to different user preferences and budget constraints. Incogni offers a monthly plan for $12.99 per month, as well as an annual plan for $77.88 per year (billed annually). This flexibility allows users to choose the plan that best suits their needs and budget.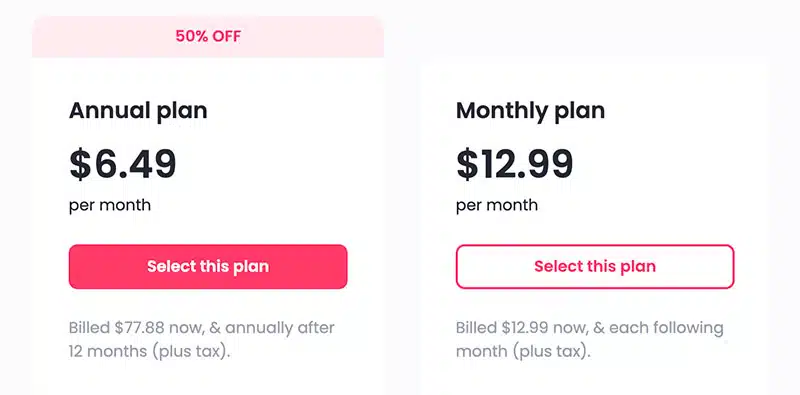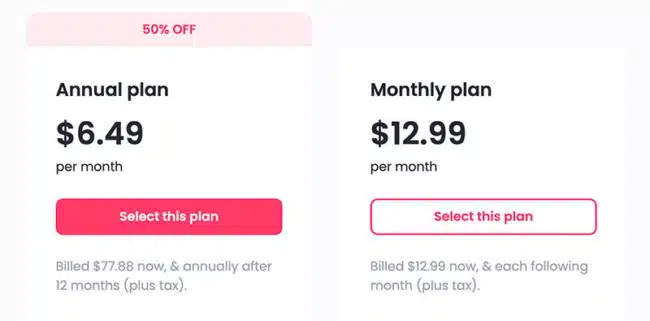 DeleteMe, on the other hand, only offers yearly plans due to the nature of data removal and the need to constantly follow up on these requests. Their subscription options include annual plans for individuals ($129), couples ($229), and families ($329).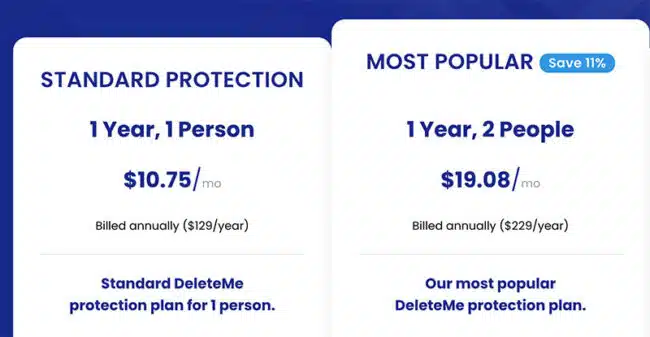 *Note: This is standard pricing, but if you use code ATS at checkout, you get 20% off.
DeleteMe might be pricier, but it's worth looking at how they work and track their progress before making any kind of decision.
Comprehensive Data Removal: How They Work
Having examined the key differences and similarities between Incogni and DeleteMe, it's necessary to delve into their operational methods for removing data from broker sites. Both services follow a similar process, which involves verifying user information, sending requests to data brokers, and tracking the progress of these requests to ensure data privacy.
For a more detailed understanding, we will explore the verification and request sending procedures, along with the progress tracking and reporting features offered by both Incogni and DeleteMe.
Verification and Request Sending
Both Incogni and DeleteMe prioritize the accurate verification of user information before sending removal requests to data brokers. This step is critical to ensure that the correct data is targeted for removal, protecting users' privacy and preventing any potential mishaps.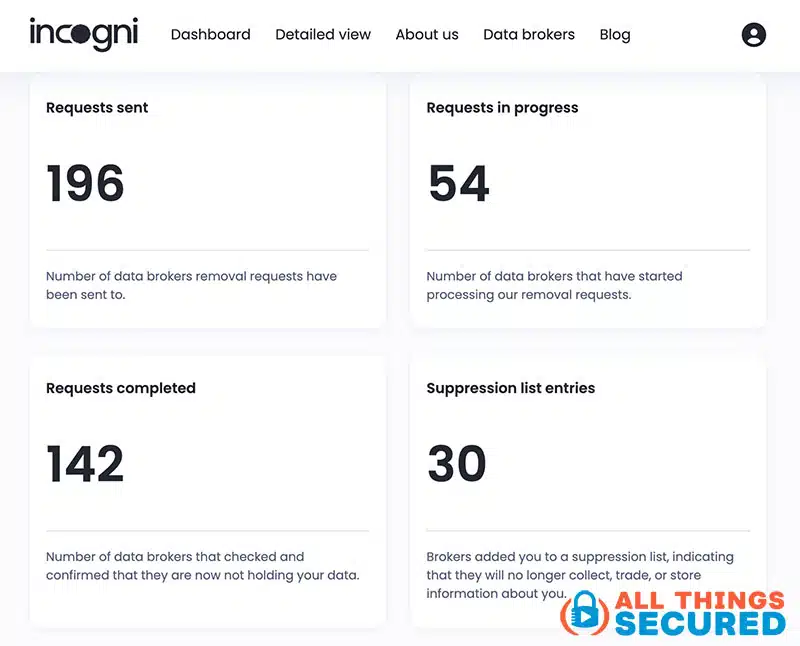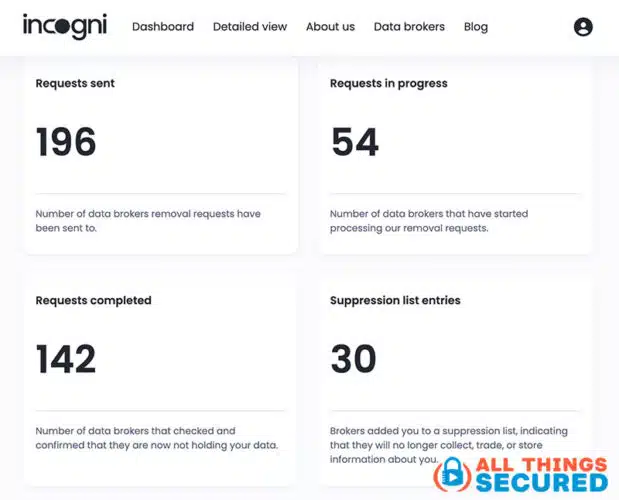 Once the verification process is complete, Incogni and DeleteMe send removal requests to any data broker that may possess information about the user. The difference, as mentioned earlier, is that DeleteMe finds the data first while Incogni takes a more "spray and pray" approach to their official requests.
Progress Tracking and Reporting
Incogni and DeleteMe understand the importance of keeping users informed about the progress of their data removal efforts. Both services offer progress tracking and reporting features to ensure that users are always up-to-date with the status of their removal requests.
DeleteMe sends a monthly report to their users that details which brokers had your data, which personal pieces of information were found, and which removal requests are still in process. You can learn more about this monthly report in our comprehensive DeleteMe review here.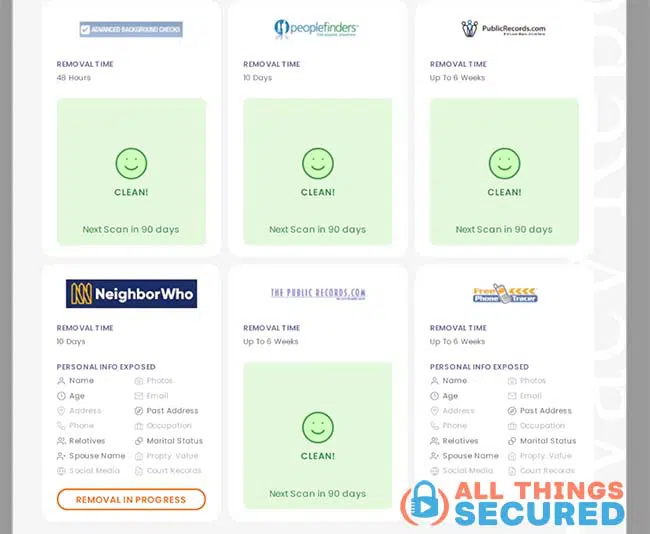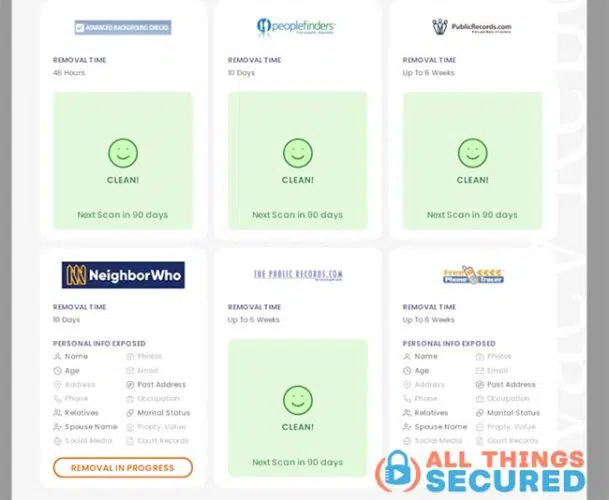 Incogni provides a dashboard that displays an activity log showing the most recent removal requests. They also have a "Detailed View" where you can filter based on request status, compliance score, and the kind of database.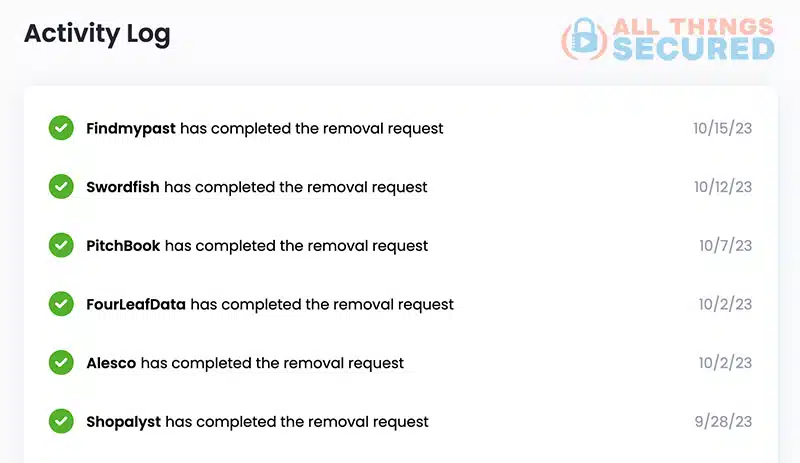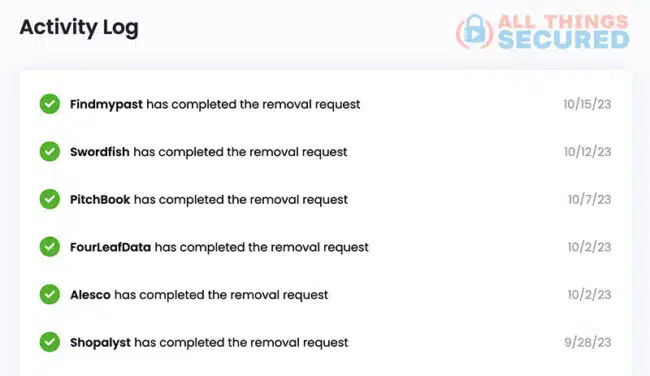 These tracking and reporting features enable users to stay informed of their data removal efforts and ensure the successful removal of their personal information from data broker sites. You can learn more about their dashboard in our comprehensive Incogni review.
User Experience and Interface
The user experience and interface significantly influence the overall satisfaction of users with a data protection service. Honestly, both Incogni and DeleteMe have designed their interfaces to be user-friendly. They also offer privacy dashboards which helps in monitoring and managing data removal activities.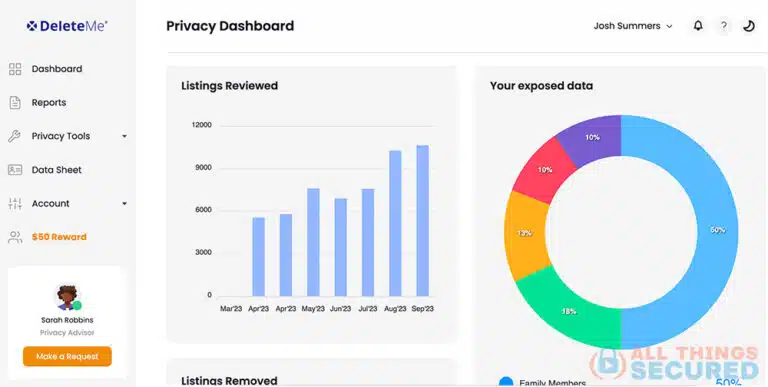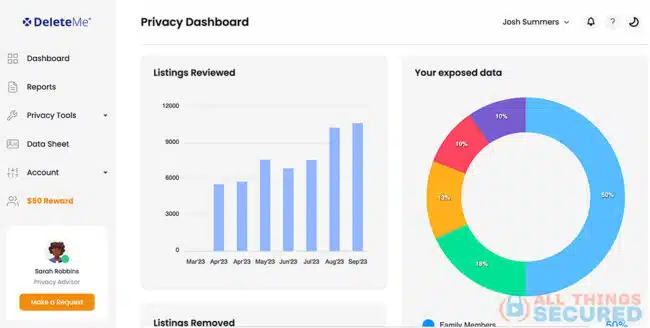 Incogni is designed to be simple and straightforward, with most of the data removal service operating without the user having to take any action. DeleteMe, on the other hand, is known for its visually appealing dashboard and easily navigable user experience.
Regardless of which service you choose, you can expect a smooth and user-friendly experience as you work towards protecting your online privacy.
Geographical Availability and Accessibility
When selecting a data protection tool, geographical availability and accessibility is important. It doesn't help to get excited about one of these services if they don't serve your country of residence.
Here's a closer look at the geographic availability of both companies:
Incogni covers data brokers for users in the US, UK, EU, Switzerland and Canada.
DeleteMe has two different websites to serve two audiences. Their primary website is limited to US residents only, but the DeleteMe international website covers Australia, Belgium, Brazil, Canada, France, Germany, Ireland, Italy, Singapore, Netherlands and the United Kingdom.
As long as your country is covered, the data removal process is the same.
Privacy Compliance and Regulations
Any data protection service must strictly adhere to privacy compliance and regulations. Both Incogni and DeleteMe are committed to complying with the California Consumer Privacy Act (CCPA) and the General Data Protection Regulation (GDPR), which are crucial data protection laws that govern the handling of personal information.
Understanding the importance of CCPA and GDPR compliance in the context of data removal services can provide valuable insight into how these services operate to safeguard personal data. By adhering to these regulations, Incogni and DeleteMe demonstrate their commitment to protecting users' privacy and ensuring the secure deletion of personal information.
Security Measures and Risk Management
"But isn't it risky to be giving all my personal information to these companies?!"
This is a question I get all the time and before we get into risk management, it's important to note that you are not giving these companies any information that isn't already floating around the internet. You never give your ID number or financial information.
Even with the data you do provide, protecting it from potential threats such as identity theft, phishing, and fraud is of paramount importance for data protection services. Unfortunately, neither company is very clear about how they prioritize user data security.
Preventing data breaches and protecting sensitive data are essential aspects of any effective data protection service, and both Incogni and DeleteMe claim to achieve this goal.
Customer Support and Assistance
When evaluating data protection services, the quality of customer support and assistance is a significant consideration. Both Incogni and DeleteMe offer a range of customer support options, ensuring that users have access to the help they need when they need it.
Incogni provides customer support via email, with a commitment to respond within 24 hours.
DeleteMe offers a more comprehensive range of support options, including live chat, email, and help ticket options. If you find your data with data brokers, you can even make a special request for them to send a removal request.
The truth is that I've never had to use customer support with either company. Data removal is a pretty "set it and forget it" kind of service.
Real-World Effectiveness: User Testimonials and Reviews
User testimonials and reviews can provide valuable insight into the real-world effectiveness of data protection services like Incogni and DeleteMe. Both services have received positive feedback from users, demonstrating their efficacy in data removal and privacy protection.


Both Incogni and DeleteMe have a 4.4 rating on Trustpilot, which is considered "Excellent" on the site. Users have praised the simplicity and effectiveness of both services in eliminating personal data from data brokers and people search sites.
These testimonials and reviews underscore the value of Incogni and DeleteMe as reliable and effective tools for improving online privacy.
---
Summary
In conclusion, both Incogni and DeleteMe offer valuable data protection services, each with their unique strengths and weaknesses. Incogni provides broader data broker coverage and flexible pricing options, while DeleteMe takes a more laser-focused approach to major data brokers and offers better reporting.
Both services utilize a combination of automation and manual efforts to ensure comprehensive data removal and adhere to privacy compliance and regulations to protect user data.
Ultimately, the choice between Incogni and DeleteMe will depend on your individual needs and preferences. I use and recommend DeleteMe, but either option is a good one.
---
Frequently Asked Questions
Does Incogni actually work?
Yes, Incogni works. It is an effective way to reduce your visibility online, making it more difficult for identity thieves and scammers to access your information. It's possible to do this manually, but Incogni and other such data deletion services save hundreds of hours of time.
Is DeleteMe worth the money?
DeleteMe is definitely worth the money, given its ability to easily find and remove hundreds of instances of personally identifiable information such as your address, phone number and financial information.
What is the best data removal service?
DeleteMe is the data removal service that is considered top in the industry, but it's also the most expensive. Incogni and Privacy Bee are also great options for comprehensive data removal and cover a larger list of data brokers.
How many data brokers does Incogni cover compared to DeleteMe?
Incogni covers over 180 data brokers and DeleteMe claims 750+ on their list. However, the number of data brokers isn't as important as how they go about requesting data removal.
Do both Incogni and DeleteMe offer progress tracking and reporting features?
Yes, both Incogni and DeleteMe offer progress tracking and reporting features to keep users informed of their data removal efforts.