For the past 3 years, I've been using DeleteMe to remove my personal information online. It frustrates me that my data continues to show up on data broker websites without my consent and this is a problem that continues to grow each year. Chances are your data is floating around on the internet as well. In this DeleteMe review, we're going to discuss how these data brokers work, whether or not DeleteMe has been effective in removing my information, and if they're a legit data removal service.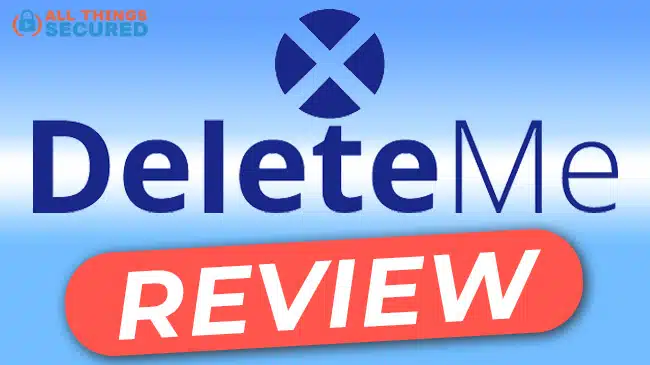 If you're on the fence about data removal services, I understand where you're coming from. It feels weird to hand over all of your personal information to one company in the hope that they only use it to match up with data broker sites. Are they trustworthy?
And since this is a growing problem, there are countless other companies jumping in to offer a solution.
So what makes DeleteMe stand out?
DeleteMe – as with any data removal service – requires a certain level of trust from its user.
DeleteMe has been effective in removing hundreds of my listings of my personal data on the internet and will likely do the same for you.
There are things that data removal services CANNOT do (remove social media data or search results)
If you find your personal information online, DeleteMe offers a Privacy Advisor who will add the site to your list and make a removal request.
I encourage you to read through this Deleteme review, or you can skip to a particular section here:
Alright…let's dive in!
The Problem with Data Brokers
Data brokers, also known as "information brokers," are companies that scrape personal information from public databases and sell user information for profit.
They use sources such as public social media accounts, government records, court records, public census data and more to collect this personal data and it can be purchased by anyone who is willing to pay for it.
You might have heard of websites like Whitepages, Spokeo or BeenVerified, but new data broker sites are popping up every single day. Even as I've been using DeleteMe these past two years, I've noticed that some of these data broker sites where opt out requests have already been made will scrape my data again.
Opt Out Requests
Any data broker site doing business in the US or EU is required to honor opt-out requests.
An opt out request is exactly what it sounds like – you send a request to the people search sites and ask them to take down your information, which could include things like your name, home address, birthday, phone number, family members, court records and property ownership data.
You can manually go through and request the removal of your data from these broker sites but it is a tedious process.
The main selling point for a service like DeleteMe is that it is all done for you. But is it effective in removing your data?
Before we answer that question in this DeleteMe review, let's take a closer look at what kind of information you have to hand over in order for them to do their job.
What Data Does DeleteMe Collect?
A service like DeleteMe works by scouring the internet to find all the people search websites and online data brokers that currently have your personal data, and then submitting an opt out request on your behalf.
In order to effectively erase you from these data broker websites, DeleteMe requires you to provide them with quite a few pieces of information. This includes:
Your full name
Your date of birth
Your family members
Your phone number
Your address
It's important to note that you're never required to give over any financial information (bank account numbers) or ID numbers (social security numbers).
So at the end of the day, you're not giving DeleteMe any data that isn't already floating around on these data broker sites. The only difference is that you are confirming that what you are giving them is your correct personal information.
So what can they do with all of this?
Privacy Policy: How does DeleteMe Handle Your Data?
According to the DeleteMe privacy policy, your "DeleteMe data sheet" (which is what they call all the information you give them to be removed from data brokers online) is only stored in the United States and never transferred internationally.
Since DeleteMe is headquartered in the United States, the same goes for any international customers.
The privacy policy also states that DeleteMe will retain your information for 6 months after you cancel your membership unless you make a direct request to have it deleted.
Can DeleteMe Sell Your Data?
Here's what it says in the privacy policy on the DeleteMe website:
"You retain ownership over all the personal information that you submit to the DeleteMe service, and Abine will never sell it."
Honestly, it doesn't make sense that they would risk their entire business model to make a few extra bucks selling the data they have. I recognize that this is a legitimate concern, but they would get in big trouble if they were ever caught selling your data.
DeleteMe Review | Pros vs Cons
Over the past few years of using and evaluating the service that DeleteMe provides, I've learned what I like about it and what I wish was different.
I've also had to answer enough questions to know what DeleteMe (or any data removal company) simply can't do.
So let's move this DeleteMe review into an analysis of the pros and cons.
Why I Like Using DeleteMe
I've tried removing my own data online, and it's a pain in the butt. That's just the truth.
It's not that it's hard, but how many data brokers are you aware of and do you fully understand th data removal process? I know I don't, so at the end of the day, I like using DeleteMe because:
Saves hours of time: Manually making removal requests for your personal information is time-consuming. DeleteMe does a good job of making the whole process easier and showing you which records reviewed have been removed. It's a true hands free subscription service.
Intuitive Dashboard: I rarely log into my DeleteMe dashboard now, but it does a great job of showing everything I need to know and giving me access to the privacy reports I might want to see. This is one reason I prefer this when comparing Incogni vs DeleteMe.
Data removal works: Over the past three years, I've seen a decline in the number of leading data brokers who have my personal information. The service works, even when these broker sites continually try to re-list your personal information.
Privacy advisor: For those who have a DeleteMe account and still find a website where you require data removal, you can simply submit your find to the privacy advisor who can add this to your list. This allows you to create custom requests from the DeleteMe team when you find other data brokers who they somehow missed.
Take Back Your Privacy on the Internet!
Get 20% off using promo code ATS
What I Wish Was Different
Of course, there are a few critiques that I have for a service like DeleteMe. This applies to most data deletion services, to be fair, but I'll still mention it here.
Pricing & Structure: A DeleteMe subscription requires a bit of an investment up front. You can't just pay for a month or two – it has to be an annual subscription.
Requires trust: In order for them to find and remove your information, you have to give them your data sheet. As mentioned above, based on the privacy policy on the DeleteMe website, they handle your data properly, but that still requires trust.
More transparency: It's not clearly stated how DeleteMe goes about searching for your data online.
What DeleteMe CAN'T Do
Of course, when some people hear that it's possible to erase your personal data from the internet, they sometimes hope for a miracle that simply isn't possible. With DeleteMe, there are:
Social Media Limitations: DeleteMe can't log into your private accounts to remove information (i.e. Facebook or other online entities). This is on you! It's one reason why I recommend using some kind of virtual credit card for payments online to protect your financial data, using email aliases, and other ideas.
Google Search Limitations: DeleteMe can't magically remove listings in Google search results or other search engines. These kind of search engine results require a more expensive service known as reputation management.
No "quick fixes": Although they offer a free scan that scans online spaces for your data, it took seven days just to receive my first report. So, if you are in an urgent situation, don't expect DeleteMe services to provide immediate results.
Can't delete internet history: While you can control your digital footprint in the present (what is being scraped and sold), you can't erase the history of the internet. At least not easily.
Overall, the pros outweigh the cons – at least for me – and I'm satisfied with my experience. I value my time as much as I value my privacy so for me, it was worth the expense.
DeleteMe Plans and Pricing
As with any online service, DeleteMe offers a few different plans to choose from, mostly based on whether you're covering one person or two.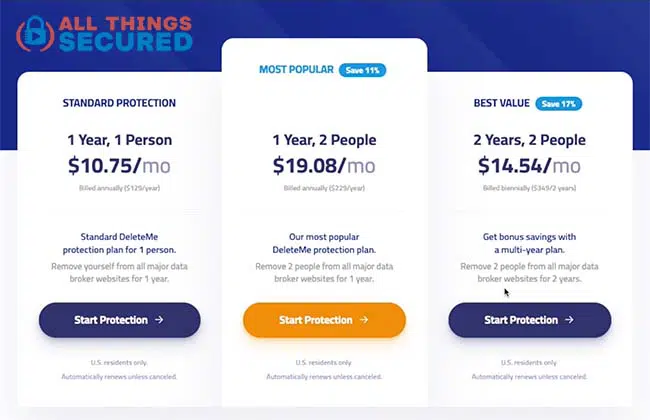 Whichever you choose, don't be fooled by how they market the monthly pricing on this sales page. You cannot pay by the month – you must pay annually.
If you're married, it makes sense to cover both you and your spouse, and you can save a bit of money by buying two years up front instead of one. This is an advantage over competitors like Incogni, who only offer single subscriptions.
Other than that, there's no difference in the actual service offered with each plan.
Getting Started with Data Removal | DeleteMe Review
Now that we've covered the pros and cons of using DeleteMe and the plans they offer, let's assume that you're ready to give them a try. You go onto their website and create a DeleteMe account.
What happens next?
Once your payment is successful, you will be forwarded to the DeleteMe dashboard that asks for you to add your personal information split out into these four categories:
Personal information: You are required to add your name, alternate names, or any names that you have went by before. You will also be asked to input your birthday, gender, emails, and phone numbers.
Addresses: Add as many of your addresses as you can, even if you have to go back to a couple of decades.
Contact: You don't need to provide them a copy of any of your documents. Instead, you can just opt to have requests for verification sent to your email.
Improve Deletions: You can add any relatives to make sure that they can find that as well.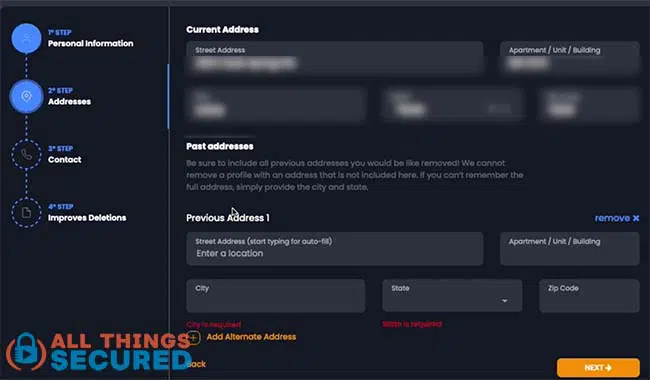 Again, DeleteMe does not ask for an ID number (social security number) or financial information, and you should not use a service that does.
Receiving the DeleteMe Privacy Report
Once you finish your data sheet, it takes another 7 days before you receive any additional communication from DeleteMe. The reason for this, I came to find out, is simple:
DeleteMe is manually searching for and requesting removal of my data.
That takes time, both for them as well as the data brokers. But in the end, they were able to find a scary amount of my personal information online and saved me close to 10 hours of work getting it removed.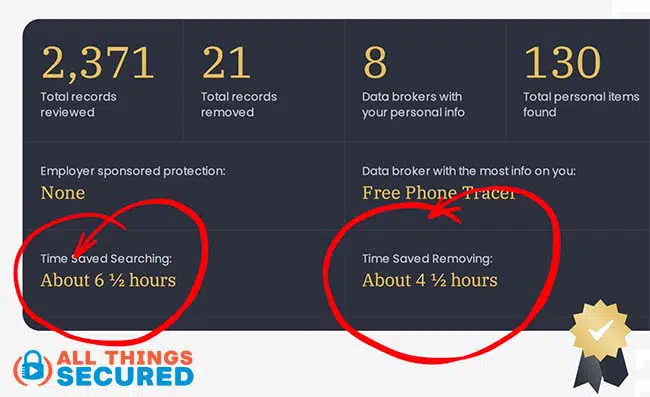 Inside this report, DeleteMe shows you exactly which data brokers they have searched.
For those data broker sites who don't have your personal information, they show a green smiley face. For what has been found, they submit an opt out request and share the kind of data and how long the removal process is expected to take.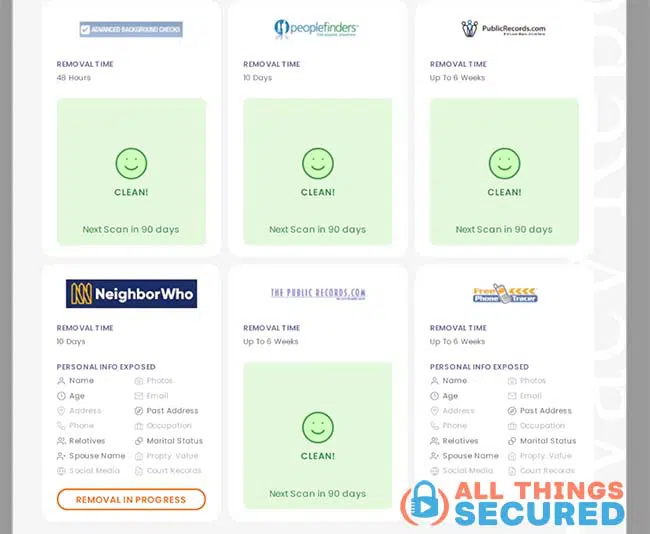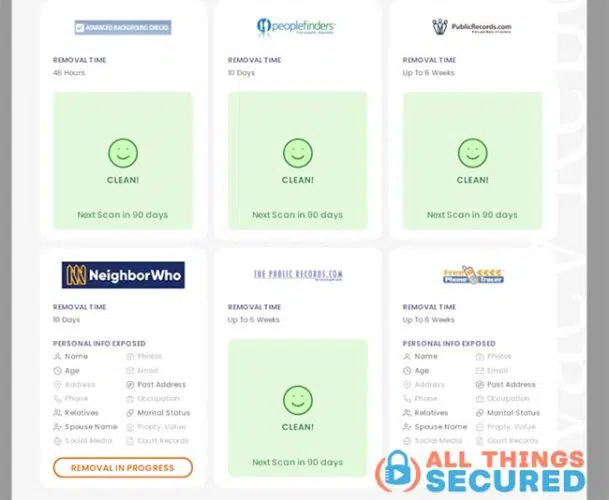 Each data broker has their own process of removing the data. Some remove it instantaneously and other say it will take 6-10 weeks. And this is the perfect example of why data brokers are shady businesses. It should never take that long to remove data.
Finally, if I do happen to find my data elsewhere on the internet that isn't on the privacy report, you can either contact DeleteMe customer support or visit the custom requests tab to share with your Privacy Advisor.
Maintaining a Clean Data Sheet
A removal request should be a permanent, right? Unfortunately…
…it's not.
These broker sites are insatiable data monsters that will gladly post your phone number yet again, even if you've already made a specific request that they not sell your phone number! To get your data removed, it requires constantly re-checking the broker sites for new data.
I have noticed a difference in the number of data broker sites found with my data in year two versus my first report, but the fact that new places are still popping up is the reason I maintain my subscription to DeleteMe.
Remove Your Personal Info
Get 20% off using promo code ATS
Other Ways to Build Personal Privacy
While using a service like DeleteMe to remove your personal information from the internet is a good idea, it's worth noting that there are other ways to build better privacy online as well.
Mask Your Email: Don't use your primary email address for everything online! There are ways to generate random email addresses that will give you control over the communications you receive.
Mask Your Financial Data: There are some great virtual credit card options that allow you to create and control the card information you use to purchase items online (or even in person).
Mask Your Phone Numbers: In the same way you can mask email and financial data, you can also create disposable phone numbers.
Use a Private Internet Browser: If you're still using Google Chrome…stop it. There are much better alternatives to Chrome including Firefox and Brave.
Frequently Asked Questions
Does DeleteMe actually work?
Yes, DeleteMe is effective at submitting data removal requests on your behalf and tracking whether or not those requests have been honored. Users receive a quarterly report with an update on data broker scans and what pieces of information they've found online.
Is DeleteMe reputable?
Yes, DeleteMe is a reputable company that has been serving customers since 2010. During that time, there have been no cases of misusing or selling customer data in keeping with their privacy policy.
How long does it take for DeleteMe to work?
It usually takes 5-7 days for users to receive their first detailed report from DeleteMe. From here, the timing depends on how fast each data broker responds to the data removal requests. DeleteMe provides quarterly reports to update users on which personal information has been removed and what new data has been found.
Is OneRep better than DeleteMe?
Both services are similarly priced and submit opt out requests on your behalf. OneRep claims to cover more data broker sites, but their process is automated while DeleteMe is more manual.
How much does DeleteMe cost?
Pricing plans for DeleteMe are billed on an annual basis for either one or two people. You can expect to pay approximately US$100 for one person or US$183 for two people to have their information removed online.
Is DeleteMe worth the money?
Yes, although your desired level of online privacy will determine whether or not you believe DeleteMe to be worth the money. Considering the amount of time it takes to manually remove your own data (40-80 hours across multiple data brokers), spending $100 to buy back that time is a great deal.
Watch the Full Video Review
If you want to take extra steps to further protect your online privacy, learn how to search anonymously online.
Be sure to subscribe to the All Things Secured YouTube channel!