For years, I've been using Google Calendar to arrange my life, send meeting requests and tell me where I need to be. Chances are you have too. For the longest time it wasn't just the best calendar app, it was also the only good one. Thankfully, there are now Google Calendar alternatives like Proton Calendar that not only work just as well…they also respect your privacy.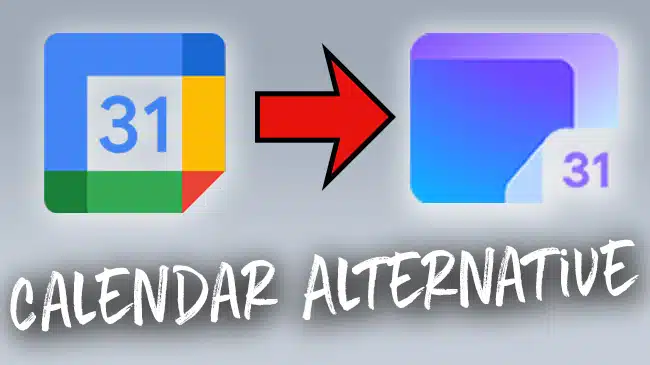 Google isn't shy about how it collects, scans and uses your data. They know exactly what you're searching for online and they scan your email and calendar in order to show you ads. How else would they be able to offer such a service for free?
While there are many alternatives to Google Calendar, most of them suffer from the same problem – they collect and possibly sell your data. That's why for the sake of this article, I'm focusing exclusively on Proton Calendar, a unique calendar app that is end-to-end encrypted.
I'll explain more as we go along, but you can skip ahead using these links or check out the Proton website:
Create a Free Proton Account
Own your Calendar Data
Privacy Concerns of Traditional Calendar Apps
If you're reading this, my guess is I don't need to convince you that privacy is a significant concern when it comes to using Google products. Or even something like the Apple Calendar or other calendar apps.
But why should you even care about privacy when it comes to your calendar? Here are the biggest concerns of the traditional calendar app.
Data Collection and Profiling: Apps like Google Calendar collect extensive data about your schedule, appointments, and events. As with your Google searches and use of their other products, this data is used to build a detailed profile of your interests, habits, and relationships, which can be used for targeted advertising.
Data Sharing with 3rd Parties: It is within Google's Terms of Service (TOS) to share your calendar data with third-party developers who create apps and extensions for Google Calendar. These developers may have access to your events and related information, which is a problem considering Google doesn't vet these developers.
Location Tracking: When you set an appointment, you usually note exactly where you're going to meet. When you use these location-based services, Google can obviously track your location, which can further build the profile that they have on you.
Network Tracking: In addition to location, we also tend to tell Google exactly who we're meeting with, including their name and email address. Again, all of this data is recorded and used to understand exactly who you are and how they can advertise to you.
NOT End-to-End Encrypted: While Google services are encrypted, they're not end-to-end encrypted, which basically means that Google holds on to a master key of your data.
Syncing with Other Google Services: Part of why they don't add end-to-end encryption is so that Google Calendar can work seamlessly with other services like Gmail, Google Drive, Google Photos and more. But this also opens users up to a greater risk vector.
These are just a handful of the privacy concerns that underline the need for users who prioritize data privacy to consider alternatives like Proton Calendar, which offers end-to-end encryption and a stronger focus on user data privacy and security.
Why Proton Calendar?

Proton Calendar is part of the suite of security apps developed by Switzerland-based company Proton. Other apps include Proton Mail (see our Proton Mail review), Proton Drive, and Proton Pass.
In fact, because your calendar is so closely linked to your email, you can't simply purchase the calendar app by itself – you'll have to create an account that links all of these services together. Thankfully, there's a free version for you to try (more on that later).
So why Proton Calendar?
I've personally visited the Proton offices in Geneva and met with the Proton team.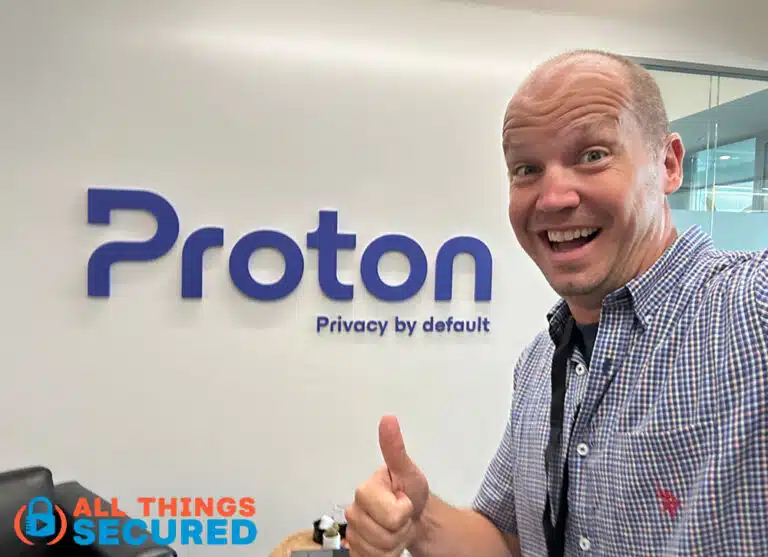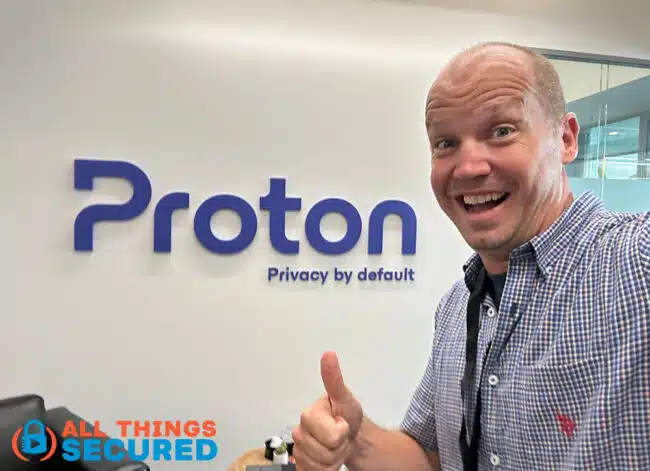 There's a lot that I like about how they have created their products, but it all boils down to three things:
End-to-End Encryption
Unlike Google Calendar, the Proton Calendar app encrypts your data in such a way that not even Proton can see what you're doing, where you're going to be or who you're meeting with.
That's the foundation of end-to-end encryption: you – and only you – have the keys to your data.
This works hand in hand with the Proton Mail app that is also end-to-end encrypted. All of the data is stored on Proton-owned servers in Switzerland, a country known for its data privacy protections.
Open Source Code Base
Of course, saying that it's a secure calendar app is one thing – proving it is a bit more difficult.
That's why Proton has published its products as an open-source project that can be audited by security professionals to find any vulnerabilities. Because of this, you no longer have to simply trust what Proton says about its own security, you rely on the fact that others have "peer reviewed" the work and given it the stamp of approval.
Long History of Trust
All of this is meaningless without a proven track record. Proton has shown over the past decade that it protects its users data.
They say that they're "Privacy First" and they've built an architecture to back that up. Everything about your calendar – from the event, time, location and participants – is secured.
Using Proton Calendar (Features)
Now that we've taken an important look at the privacy implications of Google Calendar versus Proton Calendar, let's shift our focus to features.
Having the best privacy in the world doesn't matter if the user experience isn't good. And honestly, I've been testing different Google calendar alternatives for years and it's only recently that they've gotten to a point where they could replace Google.
Easy Migration Tools
Moving away from Google Calendar can be daunting, but thankfully Proton built a cool called Easy Switch to make it, well…easy.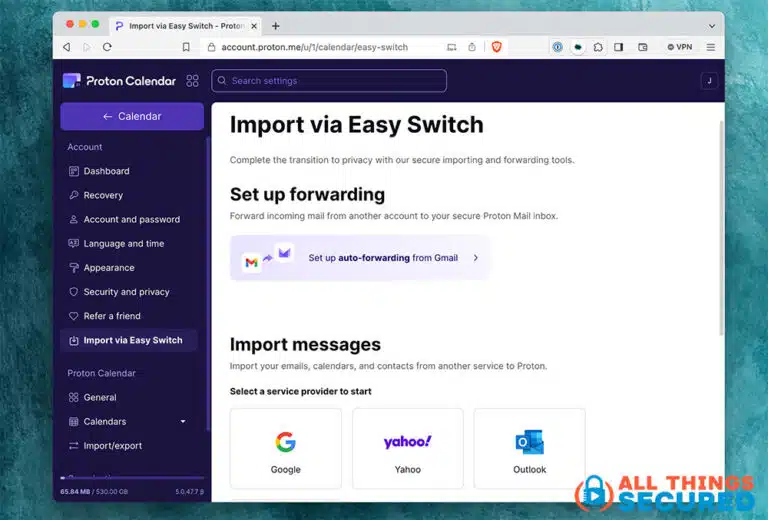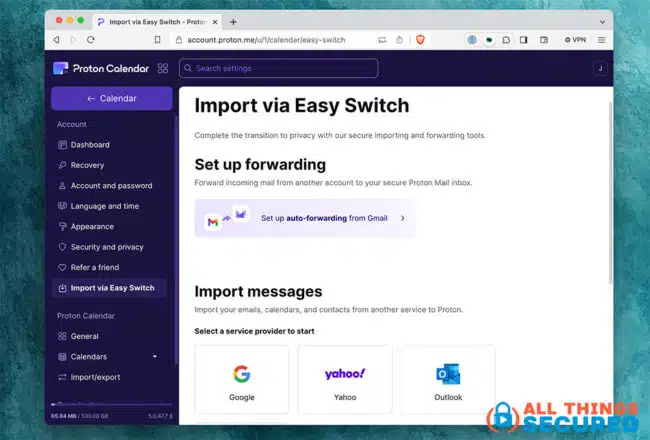 This tool gives you the ability to import from Google Calendar, Microsoft Outlook Calendar, Yahoo calendar and others. The tool is designed to import everything (mail, calendar, contacts, etc.), but you are given the option to migrate only what you want.
In the case of the calendar, you can migrate past and future events as well as multiple calendars.
Intuitive User Interface (familiar)
The beauty of using something like Proton Calendar is that it's sleek but familiar.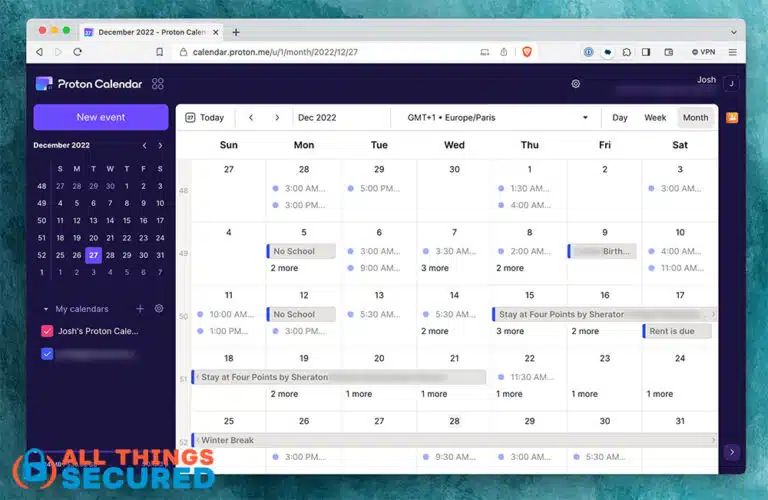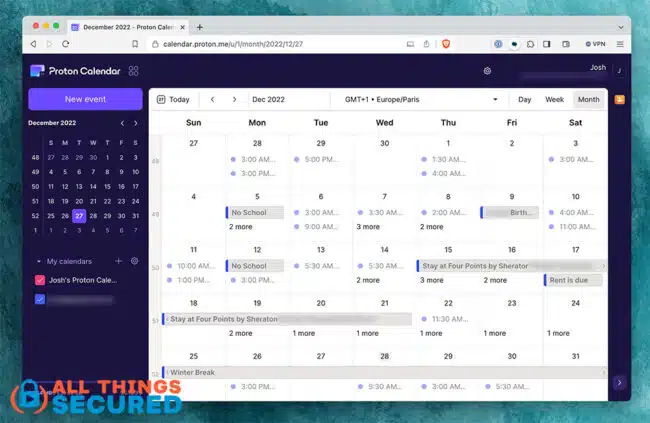 There's no "learning curve" to the software since it feels almost exactly the same as what you've been using all along. You can change the appearance in the Settings, but the main dashboard shows both the month calendar on the left and your choice of a day, week or month calendar in the same page.
Creating a new event won't be confusing either.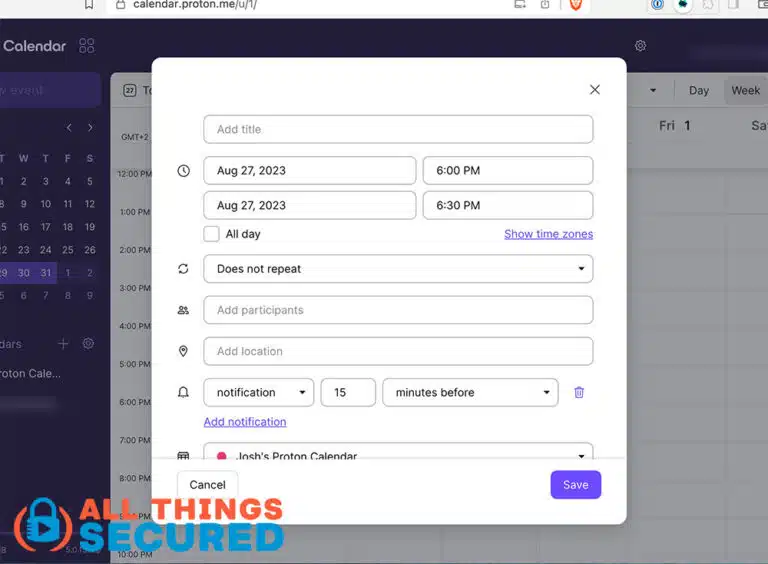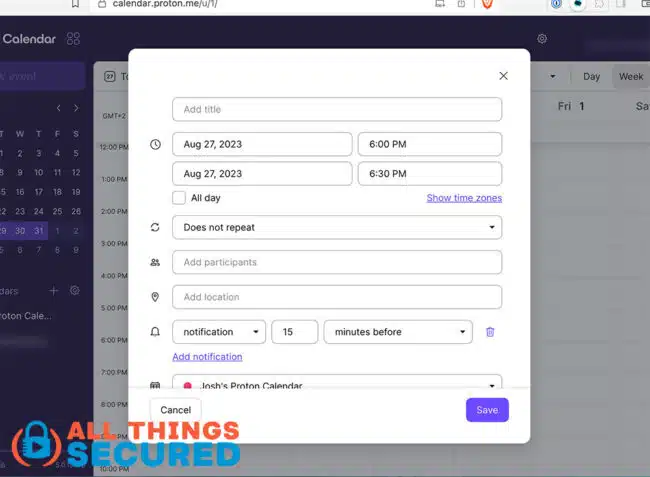 Simply click on "New Event" or on a particular time space in the calendar and provide the appropriate names, times, set reminders, participants and so forth.
Mail Integration with Proton Mail
There's something nice about creating new Google calendar events from your mail, and Proton borrows that feature for their Mail to Calendar integration.
You can manage invitations from within your inbox, which includes regular event requests as well as automated events based off of flight confirmations, hotel confirmations and the like.
Custom Domains
While it's perfectly fine to use a "proton.me" email domain – and you'll be assigned one when you create an account – it's entirely possible to configure your custom domain to be used with any Proton Calendar requests.
This means that any time an event participant receives a calendar invitation from you, it will come from an email address that has your domain name, not that of Proton. For individuals this might be a luxury, but for businesses this is an absolutely necessary calendar feature.
Calendar Sharing Capabilities
When using a calendar app as a family or within a business unit, it's often important to be able to share your calendar with others so that they can sync calendars and see when you're available or busy.
Proton Calendar makes this simple just like Google Calendar does. You can share with other Proton users or you can create a link to your calendar to share with anyone.
Create Separate Calendars
As with most any good calendar app, the ability to create multiple calendars is what keeps us sane. This calendar feature allows you to keep work separate from personal events while seeing everything on the same screen.
Within the calendar settings, you can create new calendars, add public holiday calendars, or add the calendar of somebody who has shared theirs with you (i.e. your spouse or a co-worker).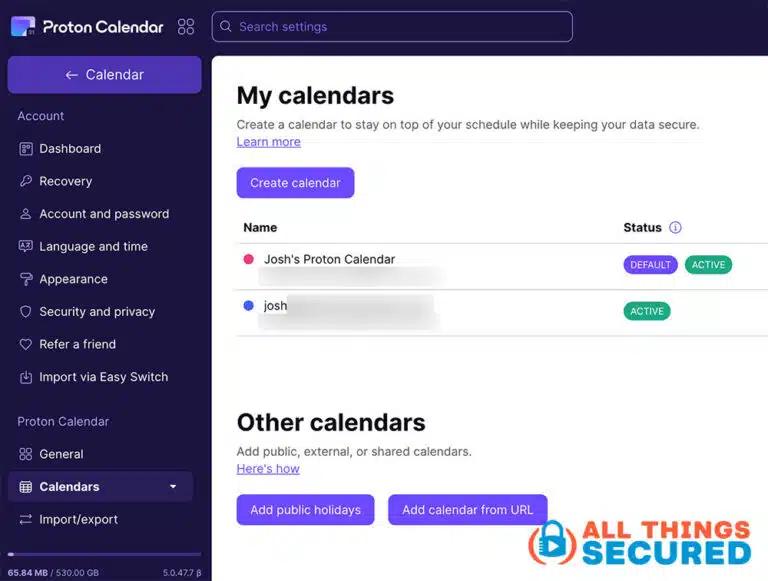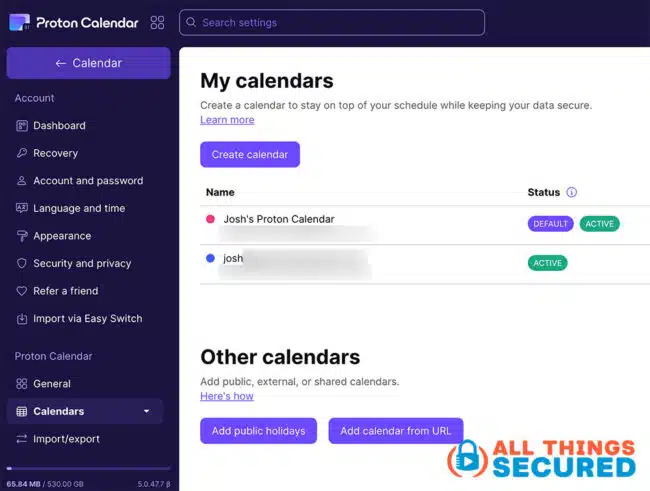 Proton Unlimited users have the option to create up to 25 different calendars…although I'm not sure who would need that many!
Enhanced Security
Proton gives you the option to secure your account with an authenticator app, a security key or even a new passkey.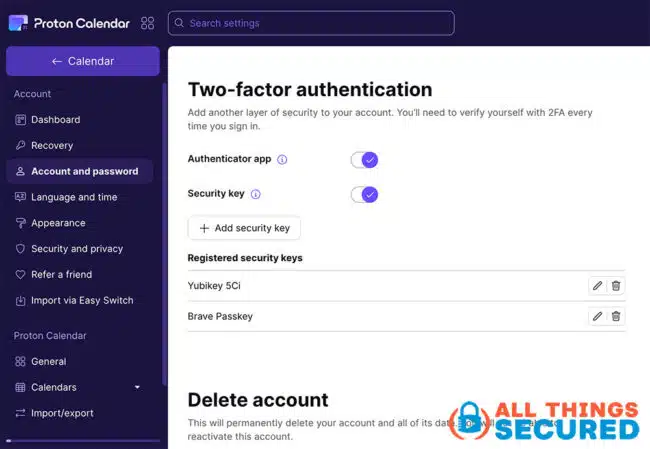 This isn't unique – you can do the same thing with your Google account as well – but it's important to note that you can, and should, secure your account with some form of 2-factor authentication. My preferred method is a Yubikey, and you can see my 2FA tutorial here.
What makes Proton Calendar a better alternative to Google calendar in terms of security, though, is the ability to set a recovery method. This isn't necessary with Google because it's not end-to-end encrypted.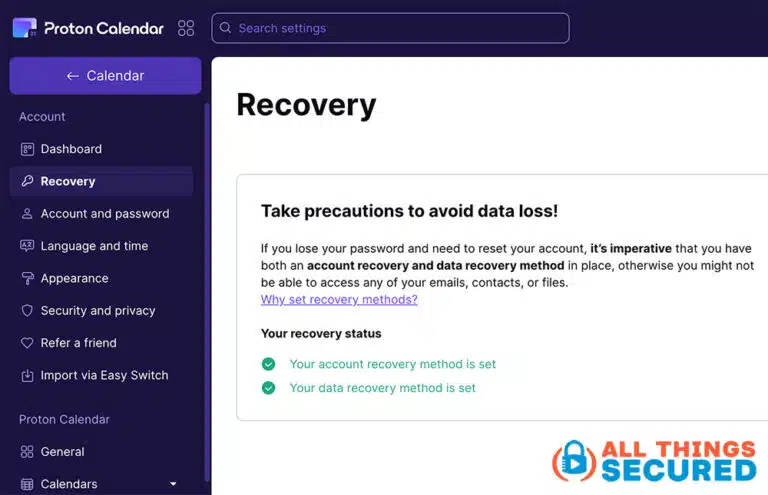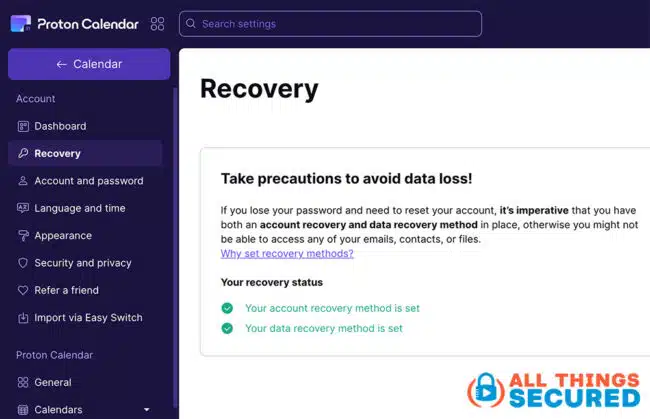 But with Proton, if you lose access to your account, since it's fully encrypted, they can't help you log back in (Google can). So it's important that you set some kind recovery method, and they give you a few options to choose from.
Mobile App
Finally, a good Google calendar alternative is only as good as the mobile app. If there isn't a good mobile app, you might as well not even start.
Thankfully, Proton has a sleek set of mobile apps for all of their products, including their multi platform calendar app Proton Calendar.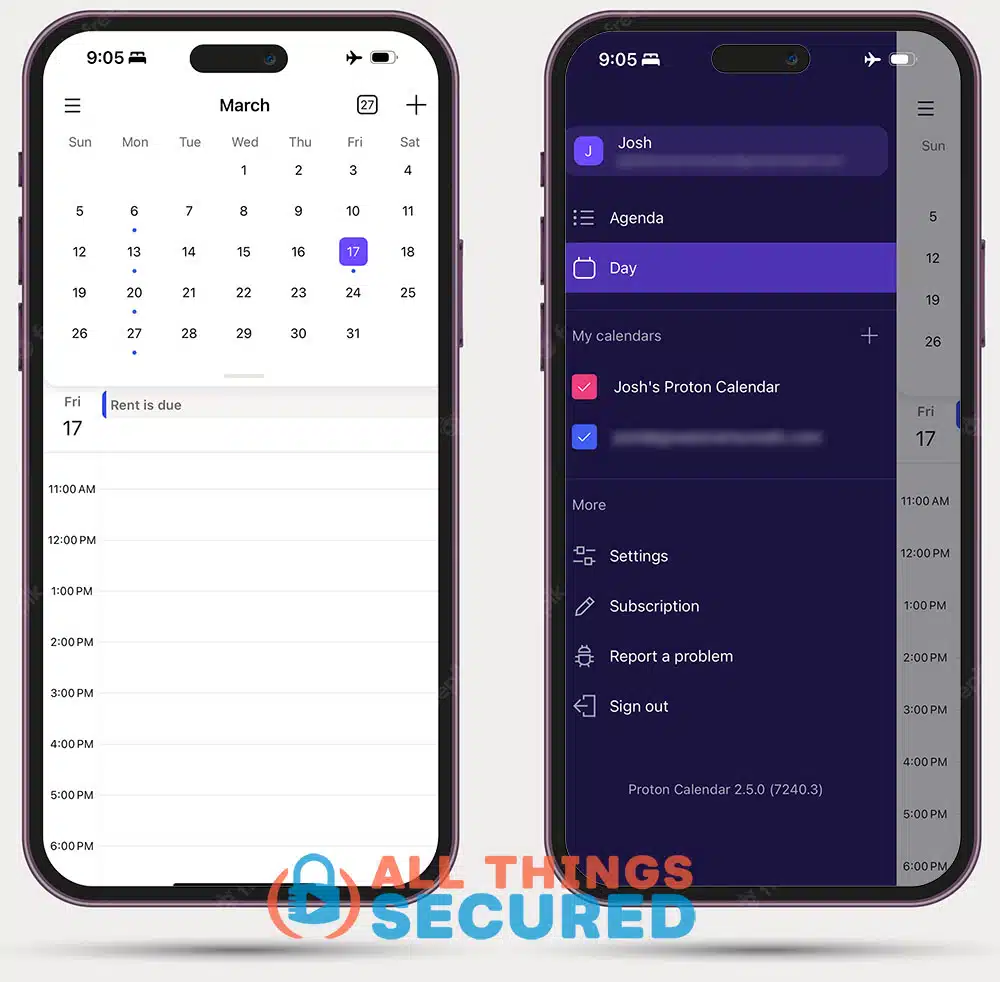 You can do almost everything the desktop app can do on the mobile app, with the exception of a few settings changes. You can create new events (or recurring events), respond to requests, add calendars and more.
The ONE Downside of Proton Calendar
Obviously, I'm a big fan of Proton Calendar as an alternative to Google calendar and love the privacy it offers, but I wouldn't be doing you any favors if I didn't explain the one feature it lacks.
You see, the integration that Google Calendar has with Google Meet is something that isn't replicated by Proton. They don't have a VoiP product and as far as I know, they're not developing one.
So when you're creating a virtual meeting, instead of having a Google Meet link automatically populate, you'll have to copy/paste your own meeting link into the calendar event.
For some, this may not be a big deal, but I know that it has taken me a bit of getting used to and frankly, I miss being able to automatically have my meeting link populate a new event.
Power of the Proton Ecosystem
Similar to the Google ecosystem of products, there's power in the Proton ecosystem. They call it the "Proton Unlimited Plan". This includes all of the apps such as:


Proton Mail
Proton Drive
Proton Pass
A move away from Google Calendar and the Google ecosystem is usually difficult because of how dependent we are on each product. Apple Calendar and Microsoft Calendar offer a similar ecosystem, but each come with the same privacy concerns.
With Proton Calendar, there's a built in alternative to this ecosystem that actually works, and that makes the migration actually possible. Your inbox plays nice with your calendar and your cloud storage, but all of the communication between the services is end-to-end encrypted.
That means that the calendar appointment you receive in via email is fully encrypted, and the communication between the Mail and Calendar to create the calendar appointment is also fully encrypted.
Proton will never know what you received, and they will have no way of knowing that you schedule meetings at a certain date or time.
You can say the same for Google Calendar, Apple Calendar or Microsoft Calendar. And THAT is what makes Proton the Best Google Calendar alternative.
Final Thoughts – Just Get Started
The hardest part about making the switch to an alternative to google calendar is just…getting started.
It feels like it's going to take forever and be a difficult switch, but once you do it you'll realize that it really isn't. The process of migration is mostly automated and because the apps themselves are very similar to Google Calendar, you'll barely notice the switch.
And thankfully it's not cost-prohibitive either. You can create a free Proton account to give the apps a try, and then the monthly subscription is the small price you pay to own your own data, mail and calendar events.
Create a Free Proton Account
and make your calendar private again!
In our modern world, it's unfortunate that privacy isn't the default. Data hungry companies have led us to believe that "free" is the best, but all that really means is that the cost is hidden. And the cost is your personal data.
You have the ability to take back control of your data, to schedule meetings that Google doesn't know about, manage tasks and share group calendars. It's up to you. And that's why I'm a big fan of the best Google Calendar alternatives such as Proton Calendar.