If you own a Samsung phone, you're already aware of the Samsung Pass feature. However, just because a feature exists doesn't mean you should use it. Here's what you need to know about the pros and cons in this Samsung Pass review.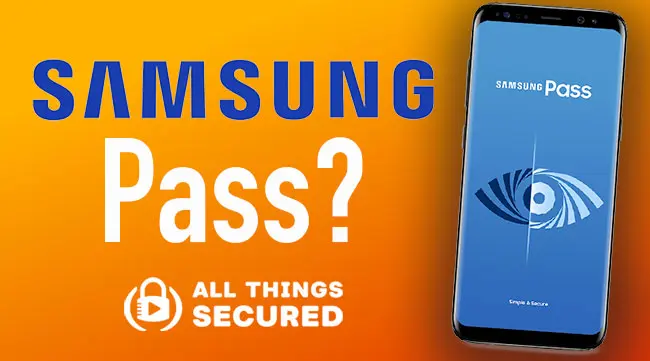 While it's not fair to call Samsung Pass a password manager per se, it works in pretty much the same way.
Samsung Pass makes it easy for Galaxy device users to quickly and securely log into your online accounts and pay for things using a fingerprint or iris scan.
No more passwords!
Or is that really the case?
Let's dive into some of the pros and cons in this Samsung Pass review so that you can be well-informed before you start integrating it into your daily use.
My hope is that by the end of this review, you'll have all the facts you need to make an informed decision either way.
Samsung Pass Pros & Benefits
The beauty of Samsung Pass is the seamless integration between hardware and software. The feature was designed for Samsung phones, and that is obvious from the get-go.
So what does that mean for you, the consumer?
Let's start by looking at some of the benefits you'll see from using Samsung Pass.
Benefit #1: It's Free to Use
It's hard to beat free! Am I right?
If you've purchased a Samsung phone, you automatically get access to use Samsung Pass as long as you have an account.
If you haven't already done this, go to your settings and look for "Samsung Pass" under the Biometrics and Security menu. It should look something like this: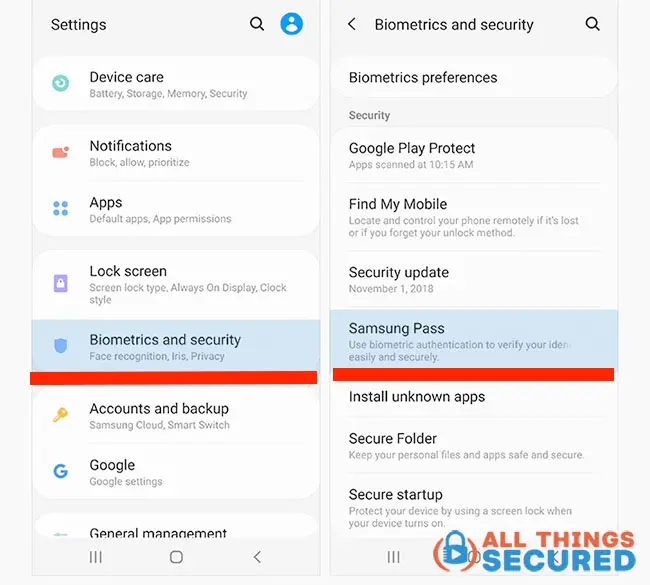 To enable the feature, click "Start" to set up all the biometrics supported by your phone, including fingerprint ID, Face ID or iris scan.
There's no hidden fees or extra costs. It's free, and that's a huge benefit.
Benefit #2: It's Fast & Password-free!
Again, because the software has been developed specifically for the hardware, it's naturally the fastest and most secure password management option for Galaxy users.
Unlike the iOS password manager apps, you don't have to download a separate app and try to set it up on your device.
The biggest differentiator, though, is that you won't need to remember a complicated master password. Once you log in to an account, Samsung Pass will ask if you want to save the password.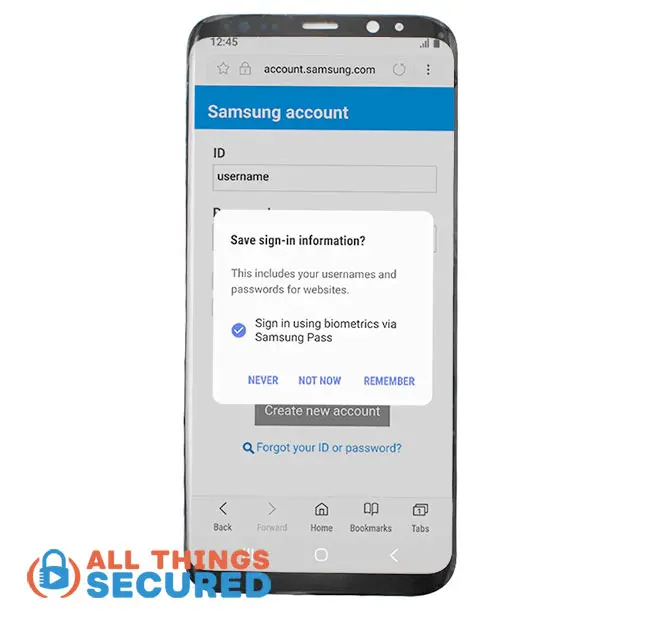 Once the password has been saved, from this point forward you can use your biometric data to log into the account and have Samsung Pass autofill your username and password.
Benefit #3: More Than a Password Manager
The final benefit I'll mention here is that Samsung Pass offers more than a traditional password manager can.
When Samsung first introduced Samsung Pass back in 2016, it was marketed as a solution that could "replace IDs and passwords altogether". They even believe it could replace physical keys to your house or car.
While that is (hopefully) years away, it does highlight another benefit of an integrated password solution.
Samsung Pass can be used to purchase items by just looking at your phone (iris scan) or even acting as another form of 2-factor authentication.
There are so many ways that this could be used both now and in the future.
Samsung Pass Cons and Disadvantages
Of course, as I've alluded to earlier, not everything about Samsung Pass is wonderful. There are some major disadvantages that I need to point out.
Now to be clear: if you're a Samsung Galaxy user, it's going to be hard not to use Samsung Pass. But I think what I'm about to share with you might give you enough of a reason to consider other options.
Let's list these out by order of importance.
Disadvantage #1: It Only Works on Samsung Devices
The most important disadvantage of using something like Samsung Pass is that unlike traditional password manager apps, it only works on Samsung Devices.
This is the same primary reason why I don't recommend using the Chrome password manager.
If you're on your computer, your smart TV, or any other non-Samsung device, you'll still need to type out your passwords.
This may not seem like a big deal at first, but consider this:
The primary purpose of a password manager app is to create and store super-strong passwords. If you create a super-strong password for Samsung Pass to remember, you'll have to find a way to retrieve that password and type it in on your computer.
That can become extremely cumbersome and not worth the effort.
Disadvantage #2: No Password Generator
Along those same lines, Samsung Pass also fails to help you create strong passwords.
Eventually, passwords will go away and using your biometric data will be the only way you can log into your accounts.
But for now…
…you still need passwords.
In essence, unless you take steps to create stronger passwords, the only thing that Samsung Pass is helping you do is remember your bad passwords. You're not creating a stronger password profile, you're just making it more convenient to log in.
More than likely, your current passwords aren't that great (you can check your passwords here if you like)
What good is that for your online security?
Disadvantage #3: Vague Security Process
Finally, let's say that you do go through and create really strong passwords for all your online logins and you have Samsung Pass remember and store those passwords.
There are a couple of security concerns that come up:
How is that password vault being secured?
Where is that password vault being stored?
Samsung doesn't go into detail about the kind of encryption that it uses for Samsung Pass, other than to note that it's integrated with the Knox platform.
Remember, you're going to be keeping all of your most secure passwords with this tool. If this gets stolen or hacked, you're in a bit of trouble!
Chances are, your data is secure with Samsung, but I wish they were more transparent about this process instead of forcing users to blindly trust the software.
So are there any good Samsung Pass alternatives that can help with all of this?
Samsung Pass Alternatives (Password Managers)
There are plenty of good Samsung Pass alternatives to choose from. Some of them are free, some require a small annual fee.
But each of the ones I'm going to share below offer a few advantages over Samsung Pass, including:
Cross-Platform Use: They can be downloaded and used on any device, not just Samsung devices.
Strong Password Generator: They all help you generate extremely strong passwords.
Transparent Encryption & Storage: They all give you 256-bit encryption and options to store locally or on the cloud.
Here are the alternatives that I have personally used and suggest:
1Password | Best for Individuals & Families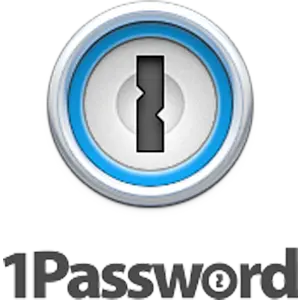 Read my 1Password review!
Private and shared vaults for families to use;
Uses biometric logins where available;
Watchtower feature to monitor password health;
30 Day Money back guarantee;
Bitwarden | Best Free Password Manager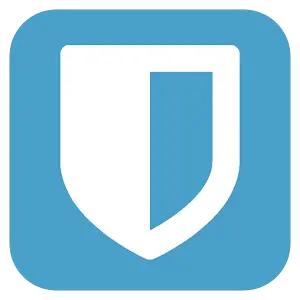 Free to use for individuals (premium option upgrades)
Works on all major platforms, including Samsung;
Unlimited password storage locally or on the cloud;
Dashlane for Small Businesses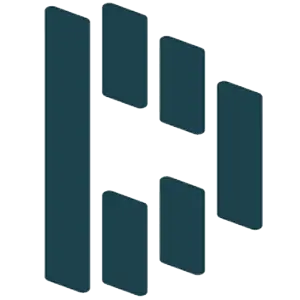 Read my Dashlane review!
Excellent dashboard for business enterprise users;
Separate vaults for personal and business use;
Patented security protocols;
Simple to install and use;
There are plenty of other great password manager apps, but these are the three that I recommend most often.
Samsung Pass Review & Recommendation
So do I recommend Samsung Pass as a good option in 2023?
If you're a Samsung Galaxy user, it's definitely an attractive option and one that I would continue to use.
However…
It's not a great replacement for a password manager app. It doesn't help you create strong passwords and it doesn't give you with cross-platform integration.
So while you can still use Samsung Pass on your phone if you must, I recommend you still use a good password manager to help you generate better passwords and understand how good your password profile is.
And if you need more help beyond this Samsung Pass review, here's a simple guide to understanding what a password manager is.