ExpressVPN and NordVPN are two of the largest consumer VPN providers, so it's common for people to want to compare the two to see which one comes out on top. I've used both VPN services for over four years now and when it comes to comparing NordVPN vs ExpressVPN, I know exactly how they stack up again each other. If you've been doing your research online, you might find my conclusion to be a bit…different.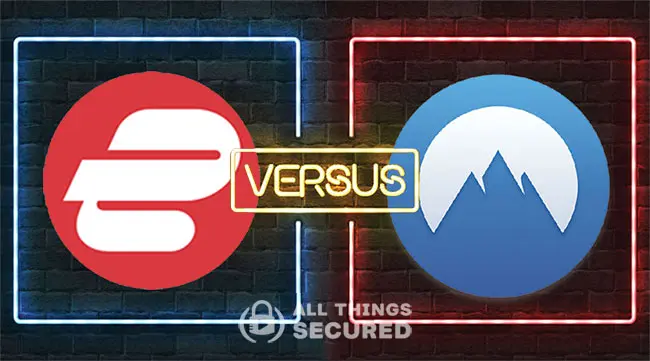 Here's the honest truth when comparing ExpressVPN vs NordVPN: both services offer very similar services and either one you choose will be a good choice.
Seriously.
Sure, there are a few differences between the two services that I'll detail below, but they are so small so as to be insignificant. To declare one service the "winner!" would just be ridiculous and, frankly, plain biased.
In this NordVPN vs ExpressVPN comparison, we're going to stack the two against each other in the following ways:
You can use the links above to jump to a specific section in this ExpressVPN vs NordVPN guide, or you can continue to scroll down.
Without further ado, let's dive into the results of this in-depth comparison of these two major VPN services.
Note: Some of the links in this article are affiliate links, which means at no extra cost to you, I may be compensated if you choose to use one of the services listed. I only recommend what I personally use, though, and I've made these reviews as unbiased as I possibly can.
Pricing Comparison: ExpressVPN vs NordVPN
One of the most obvious differences between ExpressVPN and NordVPN is the pricing. Although it's not much, a difference does exist.
NordVPN is priced slightly lower than ExpressVPN, but to take advantage of any of these low rates you'll need to sign up for a multi-year subscription (2- and 3-year plans).
| ExpressVPN Pricing | NordVPN Pricing |
| --- | --- |
| Monthly: $12.95 | Monthly: $11.95 |
| 6 Months: $9.99/mo | 1 Year: $6.99/mo |
| 15 Months: $6.67/mo | 2 Years: $4.99/mo |
| | 3 Years: $3.49/mo |
While it's possible to lock in better pricing with 2- and 3-year plans using NordVPN, I generally recommend people stick with an annual plan when purchasing a VPN.
Less risk; more accountabiity.
So when you take away the multi-year plans, you see that on a monthly and annual basis, the comparison between ExpressVPN vs NordVPN pricing is pretty much identical.
Free Trials? Both VPNs offer a 7-day free trial with their mobile apps, but no such trial exists if you subscribe on their website.
Money Back Guarantee? Both VPNs offer a 30-day money back guarantee, which means that if you purchase the service and don't find that it meets your needs or expectations, you can get a full refund no-questions-asked.
---
Features Comparison: NordVPN vs ExpressVPN
Unlike pricing, comparing NordVPN vs ExpressVPN through the lens of their features is a bit more complicated. It's a bit like apples to oranges.
While there are a few very important features of every VPN, there are others that cater to certain needs that you may or may not have.
For the sake of clarity, we're going to start by covering those features that allow for direct comparison between the two VPNs, followed by specific features for the individual company.
| Feature | ExpressVPN | NordVPN |
| --- | --- | --- |
| Simultaneous Connections | 5 | 6 |
| P2P Allowed | Yes | Yes |
| Major Platform Apps | Yes | Yes |
| Kill Switch | Yes | Yes |
| Unlock Streaming Services | Yes | Yes |
| Protocol Selection | Yes | Yes |
| Thousands of Servers | Yes | Yes |
As you can see, with the exception of one extra simultaneous connection offered by NordVPN, these two are practically identical. They both offer a VPN kill switch, they're both great VPNs for torrenting and they both have thousands of servers to choose from.
There are, however, a few features unique to each service that I'd like to highlight.
Unique Features of ExpressVPN
In addition to the features listed above, ExpressVPN has tried to differentiate their product with a few unique features that aren't found with NordVPN. I've detailed this more in my ExpressVPN review, but these include:
Self-Hosted DNS: This feature won't matter to you unless you care about DNS leaks. Still, if you turn on the advanced feature that connects to the ExpressVPN DNS servers, these DNS leak risks are minimized.
Split Tunneling: Although other VPNs feature split-tunneling, ExpressVPN is the only one between these two that does. The split-tunneling feature for VPNs allows you to choose which internet traffic gets routed through the VPN and which traffic bypasses it.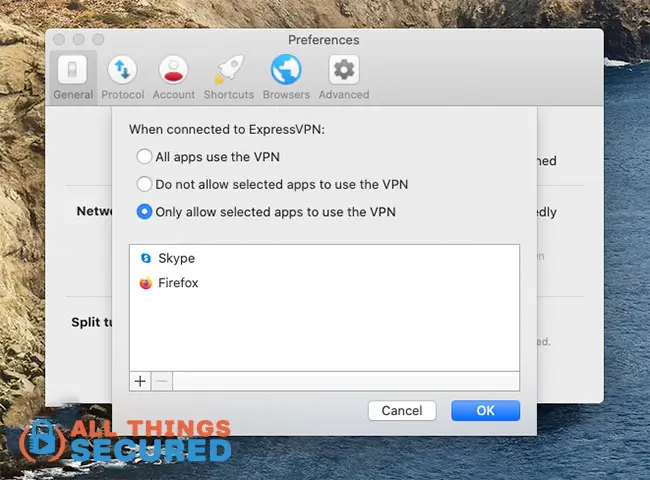 Speed Test: ExpressVPN gives you the ability to speed test the available servers to see which one is performing the best. This is a feature you won't find within the NordVPN app.
New Lightway Protocol: ExpressVPN has developed a new connection protocol known as "Lightway". For more details on what this is and why it might be a benefit, check out my explanation of the difference between Lightway, WireGuard and OpenVPN protocols.
For those who want to do even further research on ExpressVPN vs NordVPN, I've gone into more detail in my ExpressVPN review.
Unique Features of NordVPN
Similarly, NordVPN has its own short list of unique features that are worth pointing out.
Double VPN: If you're paranoid about security, the option to double up your VPN connections through NordVPN is a benefit. It slows down your speeds but gives you an extra layer of protection.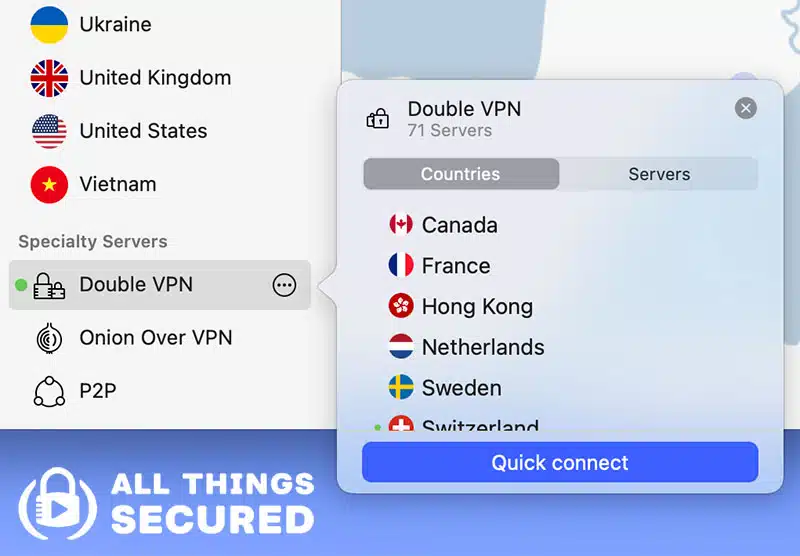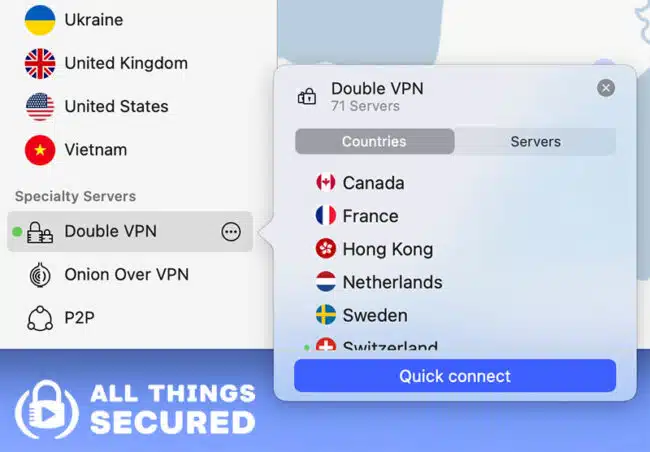 Onion over VPN: In addition to the privacy protections of Double VPN, NordVPN also gives you the option to route your connection through the Tor network. It may slow down your connection, but it adds significantly more privacy.
CyberSec: The name is confusing, but the premise is easy to understand. This feature helps you to block unwanted ads and prevents you from visiting websites that infect you with malware while connected to NordVPN.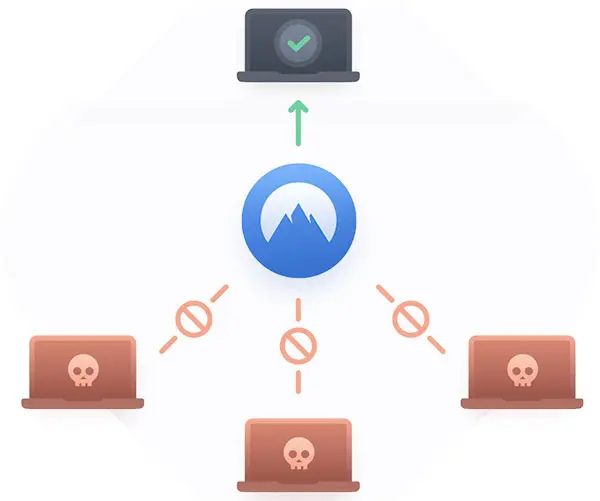 For those who want to continue to learn more about the service, check out my in-depth NordVPN review here.
---
ExpressVPN Apps vs NordVPN Apps
The most evident difference when you're comparing ExpressVPN vs NordVPN is the design of their apps. I won't say that one is better than the other, though…
…it's really all just preference.
To start, both companies offer dedicated apps for every major platform: Mac OS, iOS, Windows, Android, Linux, Fire TV, etc. They're also both considered top VPNs for WiFi routers because of their ease of installation.
For ExpressVPN, the app is extremely simple and based on a list of available servers to choose from.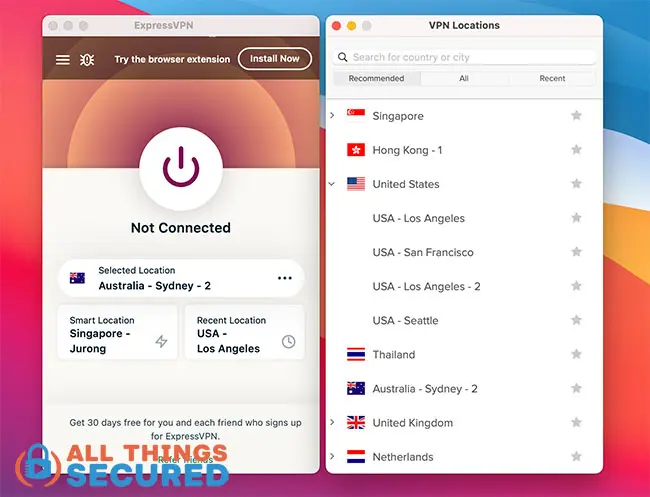 As you can see above, the primary ExpressVPN app screen (left) is a simple on/off button. When choosing a VPN server, however, it jumps to a list.
NordVPN, on the other hand, has designed almost all of its apps to be oriented around a map, such as you see below.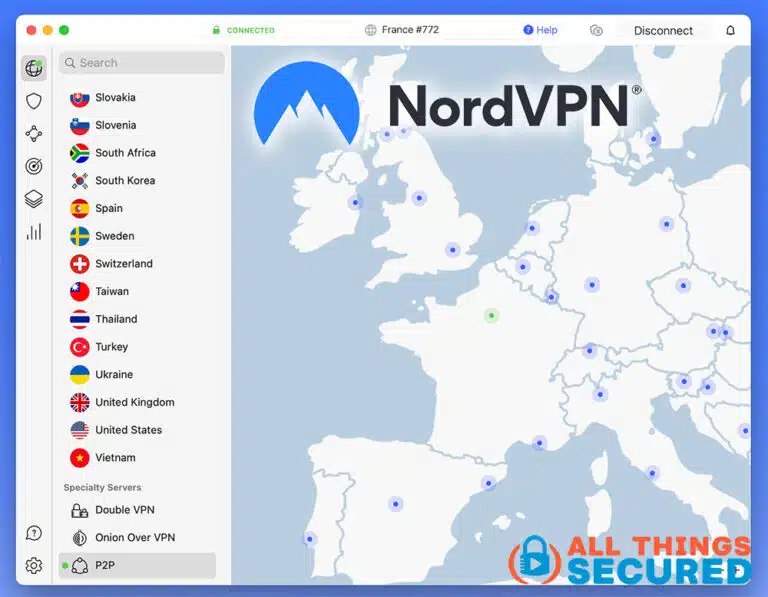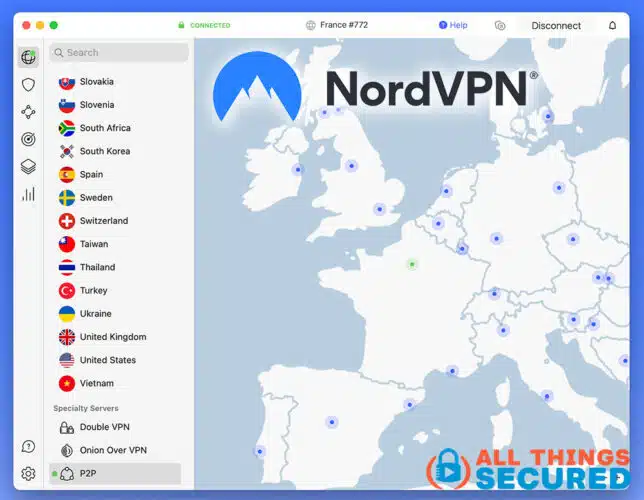 NordVPN still offers a list of servers on the sidebar, but the primary interface is a map that you can drag, zoom and click on.
These screenshots are comparing the ExpressVPN vs NordVPN desktop apps, and for the most part these design elements are consistent across the different platforms, including mobile.
I'd say the only exception is something like the VPN apps on Amazon Fire TV. Because you're dealing with a larger screen and a remote control, pretty much every VPN app I've used on the platform has been clunky.
Aside from the visual differences, both the NordVPN and ExpressVPN apps offer:
Advanced Settings: Both apps have quick access to advanced features that we've already covered above, including the kill switch, changing the VPN connection protocol, and auto-launch.
Quick Connect: Both apps allow for a "quick connect" that finds the fastest, often closest server to your location to connect with.
Search: Both apps allow you to search for the server you want instead of using the list/map interface that are native to the software.
---
Security Comparison: ExpressVPN vs NordVPN
I'm going to be honest with you: comparing the security of two VPNs is a big challenge. The reason isn't because it's too technical or difficult.
The reason comparing the security of NordVPN vs ExpressVPN is a challenge is because there's no way to independently audit their encryption, their logging policies and other security features.
We just have to take their word for it. And frankly, that's a bit scary.
Based on what their websites say, both companies utilize:
AES-256 encryption, which is the best available option;
Multiple well-known connection protocols including OpenVPN (the best), L2TP and PPTP;
Offshore headquarters, which means they are both outside the legal jurisdiction of prying governments;
User-friendly data logging policies: Both VPN services claim to not log your data, although this can't be independently verified and in my experience, most VPNs are lying about their logging.
In layman's terms: The connection is secure.
We could dive into the weeds about the ciphers and encryption standards being used, but that's really beyond the scope of this comparison.
The final thing I'll say about this is that if you're putting your entire online security strategy in the hands of a single VPN, you're putting yourself at unnecessary risk. No one piece of software is foolproof, no matter what their marketing tells you.
Security isn't a software, it's a mindset.
You still need to make sure that you check your password strength for your online accounts and maybe use a good password manager. Take advantage of 2-factor authentication where possible and try to limit what you do on unsecured networks.
---
Payment Options: NordVPN Compared to ExpressVPN
If anonymity is your priority, payment options are important to compare.
The good news is that both ExpressVPN and NordVPN go above and beyond in offering all sorts of payment options. This includes the typical credit cards and Paypal alongside the more obscure cryptocurrencies.
At this point, NordVPN accepts the following forms of payment:

In addition to traditional methods of payment, NordVPN also accepts Amazon Pay, Alipay, UnionPay and a number of crypto currencies.
As for ExpressVPN, they accept the following payment methods: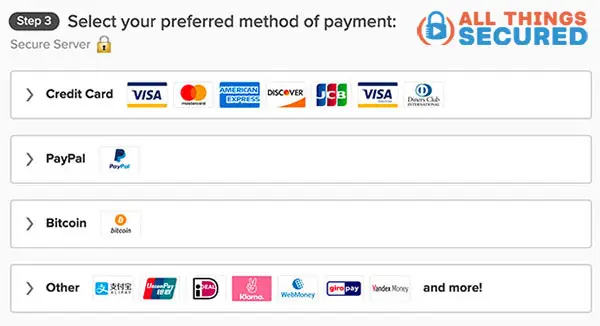 While they accept of number of obscure forms of payment that you see under the "other" category, ExpressVPN only accepts one form of crypto currency: Bitcoin.
It's not a big deal because Bitcoin is the most widely-used crypto currency, but if you need more options to pay anonymously, you might want to consider NordVPN.
---
Customer Support: Comparing ExpressVPN and NordVPN
Good customer support is a critical feature of a great VPN, because it always happens that you need help at the worst moments.
If you consider yourself tech-savvy and feel like you know how to troubleshoot a problem better than a customer support specialists, then maybe this isn't something you're worried about.

When comparing ExpressVPN vs NordVPN in the area of customer support, it's another case of "they're pretty much the same".
Both companies offer:
24/7 Live Chat: Simple questions can often be answered in 15 minutes on their website;
Email Support: Although the replies take a bit longer (1-2 hours), both companies often give better information over email than over chat.
Detailed Instruction Guides: Both VPN websites offer in-depth guides walking you through how to set up and troubleshoot your connections to their servers.
In my experience, both NordVPN and ExpressVPN keep their apps consistently updated to account for any bugs in the software, security patches and server updates.
---
Note About VPN Speed Comparisons
You might have noticed that there are no NordVPN vs ExpressVPN speed comparisons. That wasn't a mistake. There's a reason for that.
VPN speed comparisons are useless.
I know, I know. Every other VPN comparison website does it, but it's really just an excuse to show fancy looking graphs or a collection of numbers (ping/download/upload) that are hard to translate to real-life usage.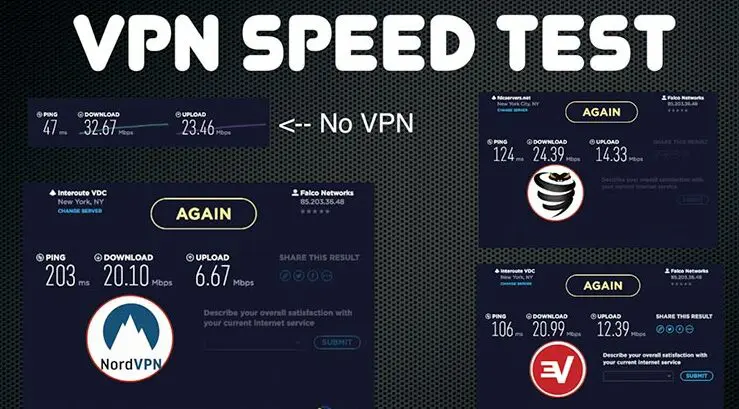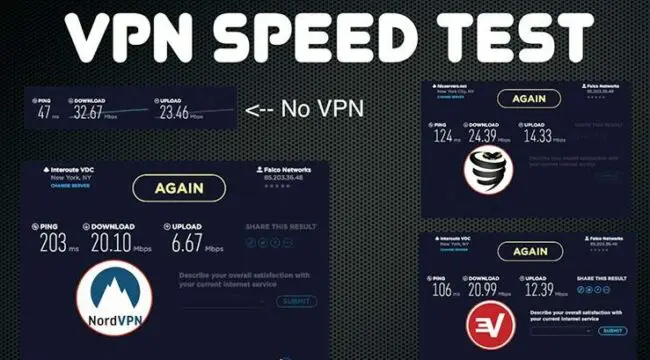 Why am I against speed tests?
The reason is that there are too many variables at play. Speed can be influenced by:
WiFI signal strength,
Your computer's CPU load,
VPN server load during that specific hour,
Your location in the world,
Your ISP (Internet Service Provider),
etc., etc., etc.
Since you have little control over any of these factors, a speed test is just a bunch of useless numbers that don't tell you much.
If you insist on looking at speed, I can tell you with confidence that when comparing NordVPN vs ExpressVPN, there is negligible difference.
Both VPNs offer high speed connections on their servers.
Conclusion: And the Best VPN Is…
And the winner of this competition between ExpressVPN and NordVPN is (drumroll please)…
…it's a stinkin' VPN people! Just pick one and don't be so anal about all the details here.
Do you like the user interface for NordVPN? Then download that app. Do you prefer the simplicity of ExpressVPN? Then go for that app instead.
Or better yet, get both of them and test them out on your own. They both offer a 30-day money back guarantee, which means that you have a few weeks to give them both a test run and get a refund on the one you don't enjoy using as much.
But the bottom line is that both ExpressVPN and NordVPN are excellent services. They're comparable, which means that whichever you choose is going to be a good choice.
So stop fretting about it and just pick one already.
---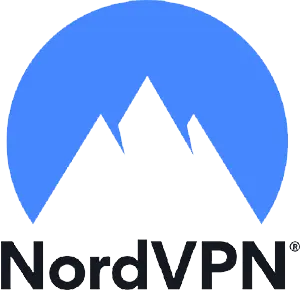 Get amazing discounts if you're willing to subscribe for multiple years, and you'll still get the 30 day guarantee.