What is the best VPN for torrenting in 2023? Not every virtual private network allows for P2P torrenting and even those that do often restrict you to specific servers on their network. Having multiple options and a safe, private connection are vital, which is why I'm highlighting these features here.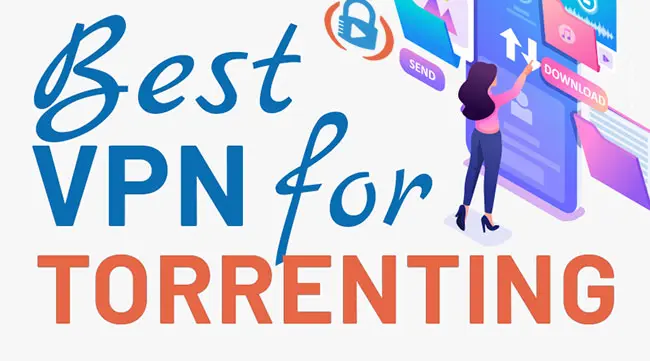 A lot of people wonder if torrenting is illegal. Any good BitTorrent site will tell you that torrenting without a VPN is risky.
But before we discuss why it's risky, it's important to understand that torrenting itself isn't unlawful. It's only when you use torrenting as a means to download copyrighted content that it becomes illegal.
How you use BitTorrent is up to you, and I don't condone illegal actions performed using torrenting.
A virtual private network isn't a fool-proof way to protect yourself from prosecution, no matter what they tell you. However, any form of encryption and internet security is a good thing, so here's a quick breakdown of the best VPNs for torrenting:
Best VPN for Torrenting in 2023
Of course, the list above doesn't really explain what makes these virtual private networks good, so we're going to dive into more detail.
Use these links below to jump to a specific section or keep scrolling for more.
Now let's jump in and look at the best VPNs for torrenting.
Note: Some of the links in this article are affiliate links, which means that at no extra cost to you, I may be compensated if you choose to use one of the services listed here.
Features: Not All VPNs Allow for P2P Downloading
Let's face it, while all virtual private networks claim to be the best, many of them have some flaws that make them unsuitable for P2P downloading. Here are few features you need to consider:
You don't want your VPN to leak IP addresses or DNS requests.
The reason for this is that such leaks could expose your real identity. There are a number of reasons why you wouldn't want your identity exposed online, but suffice to say you want one that locks this down.
You want a VPN that is fast.
This is the same feature you're looking for when you're dealing with the best VPNs for streaming. Torrenting will take a big chunk of your bandwidth, so if your virtual private network slows down your connection, your files will not be downloaded on time.
There are plenty of other VPN features worth considering, but these two are the most important when it comes to BitTorrent. And not every service does this well.
Let's discuss the worst offenders.
There are several VPNs that leak IP addresses but the worst offenders are those services that are "free".
Why NOT to Use a Free VPN for BitTorrent
Setting up and running a virtual private network takes a lot of resources. Why would someone just set up a company and give it services to you for free?
Answer: they won't.
There's no incentive for these free VPNs to keep your data secured and anonymous (they make money by selling this data!). And that's if the protocols are actually secure.
These free services also put lots of people on limited servers, thus slowing down the speeds to hardly anything at all.
And what about the leaks?
A free VPN provider won't provide customer service to you so you can report the issues and get them fixed. If your IP is leaking, you are taking a huge risk when downloading P2P.
Even if you're making that comparison between a free VPN vs a paid VPN, know that some paid services still don't allow for P2P downloading. Make sure you check if a VPN allows for P2P torrenting before you subscribe to its services.
Key Features of the Best Torrent VPNs
When it comes to features of the best torrent VPNs, there are a few key ones to look for:
Check the privacy policy: Every company claims to be zero-log, but they're lying. It's not about if they keep data, it's about what kind of data they keep and how long they keep it for. They are required to put all this in writing in their privacy policy.
VPN Kill Switch: The kill switch feature is there to protect you if the encryption drops. It happens, even to the best of services, so it's nice to have this feature.
Ease of Use: One final feature to consider is the ease of use of the software. Does it have a native app for each of the platforms you use or do you have to configure it manually?
Best VPNs for Torrenting and P2P
Let's discuss some VPNs that are good for torrenting. All these services state explicitly that they allow P2P downloading.
Some of them even have specific P2P-friendly servers you can connect to.
ExpressVPN – Best Overall VPN for BitTorrent
With high speeds and AES-256 bit encryption for complete security, ExpressVPN makes sure your torrenting experience both safe and smooth.
They have a kill switch (they call it a "Network Lock") so if your connection goes down, your internet is instantly shut off so no data is leaked online. And they have apps for all major platforms.
The biggest downside to this service is their premium pricing, but as you can read in my in-depth review of ExpressVPN, it's a worthwhile premium service.
Surfshark VPN – Best Value Torrent VPN
Surfshark is a P2P friendly service that works with all torrenting clients.
With its superfast speeds, it has everything that a torrent freak would want. Plus, it comes with a kill switch to ensure that your IP is never leaked online, even if the connection fails.
It offers 256-bit encryption for best security and comes with whitelisting so you can encrypt specific apps (such as the BitTorrent client) while other apps connect to the internet normally. Read more about these features in this in-depth Surfshark review.
If you're on a tight budget but still want a quality software for P2P downloading, Surfshark is an excellent place to start. They even provide a 30 day money back guarantee.
NordVPN – Best User Experience Software
NordVPN is another company offering 256-bit encryption and fast speeds. They have additional features like a double server that makes your connection super secure.
However, with double encryption, your connection will be very slow, which won't be good for P2P torrenting. So it's best to use single encryption.
If you don't want to mess with another piece of software, NordVPN offers best-in-class apps across all different platforms. And like all the other companies listed here, it comes with a 30-day money back policy.
Read my own review of NordVPN's service and apps, then give them a try for yourself.
Avast Secureline VPN
Avast Secureline VPN allows torrenting and even provides specific servers that support P2P connections. Secureline offers 256-bit encryption and the OpenVPN protocol which makes your traffic more secure..
Avast has fast speeds which are very important for downloading torrents. As with all the others here, Avast offers a kill switch too.
What's interesting about Avast is that you can purchase a full security package or you could pay much less for a single type of device (Mac, Windows, mobile device, etc.).
Read more in my review of Avast Secureline VPN.
Frequently Asked Questions: Torrent VPNs
Let's discuss some frequently asked questions about P2P and VPNs for torrenting.
Is torrenting safe with a VPN?
Mostly yes, but only if you use a good VPN. Don't buy into the marketing, though. If you're doing illegal activity, even with the best service, there's still significant risk.
Is using a VPN legal?
VPNs are legal in most parts of the world, although there are some exceptions. In some countries, such as China and North Korea, using a virtual private network isn't allowed. It's not a simple answer, so you'll want to understand more about whether using a VPN is illegal.
What is uTorrent?
uTorrent is a P2P client software that you can use for torrenting. The software itself is legal to use and can be used in conjunction with a virtual private network for security. However, when you use it to download copyrighted things, the act becomes illegal.
What are copyright trolls?
Copyright trolls are small businesses that target people who torrent. They approach copyright holders and sign agreements that they can send legal notices on their behalf. Then they monitor torrenting websites and track IP addresses. From that, they get a list of names and addresses, and send notices to torrent users. They often scare users by saying that if they take the matters to the court, they might have to pay $10,000 but then will later settle for $3000. 
What if my ISP knows I'm torrenting?
Your ISP can take action on it. For starters, they will throttle your bandwidth and make your connection slow. They can share your details with copyright trolls. And if they notice multiple torrenting incidents, they can also give your details to the government. Your ISP does this because torrenting uses a lot of bandwidth and your ISP doesn't like that, and they don't want to land on the wrong side of the law because YOU did something wrong.
Final Thoughts | Choosing the Best VPN for Torrents
Let's sum up the factors you need to consider before choosing the best VPN for torrents in 2023:
Torrent friendliness: Ask the provider if they're okay with torrenting. If they refuse to allow torrenting because they think it's illegal, there's no point getting a subscription.
Safety: You're using a virtual private network because you want to stay safe when torrenting, so safety should be your next concern. A number of VPNs offer OpenVPN and AES 256-bit encryption so don't settle for anything less than that.
Speeds: Once the safety part is covered, compare the speeds. A software might offer high speeds on some servers and the others might be slow. Since they might be offering some special P2P friendly servers, these are the servers that should have high speeds. There's no point in getting high speeds on their US servers if they allow torrenting on only the Swiss servers.
Privacy policy: If a service keeps logs, it can provide your details to the government whenever a warrant is issued. On the other hand, if a VPN doesn't log anything, it won't be able to give anything to the government because it doesn't have any data in the first place.
Kill switch: When your data travels over another server in between, there can be delays and this can lead to a temporary disconnection. During that period, your data will travel on an unencrypted channel, exposing your IP. Make sure that doesn't happen by getting this feature and making sure its active.
Ease of use: Some software needs to be manually configured. There's no point in learning the configuration process and manually entering the VPN numbers in the settings when you can simply install an app. Manual configuration also means that tweaking the settings will be a difficult job. Try to get one that's easy to use.