There are times when sending sensitive information over email requires the ability to set that email to expire or to limit who can open that email. While there are pros and cons to using Gmail's Confidential Mode, which I'll explain here, this tutorial will show you exactly how to set it up and use it.
Be sure to subscribe to the All Things Secured YouTube channel!
In the summer of 2019, Google officially launched a feature for its Gmail users known as Confidential Mode.
Unfortunately, most Gmail users don't know that it exists and many don't even know what it is. Here's a quick definition.
What is Confidential Mode?
Gmail Confidential Mode is a way to manage information sent via email either by setting an expiration date for the message or requiring that the recipient authenticate their identity before opening.
IMPORTANT: This feature does not necessarily add a higher degree of security or privacy to your emails, which I'll explain more below. If you're looking for better security, check out our tutorial on how to secure your Gmail account from hackers.
Confidential Mode is "on" by default if you're a Gmail user, so it's beneficial to understand how you can use it. Similar to the unlimited email addresses you can get with Gmail, it's a feature most people don't take advantage of.
How to Use Confidential Mode
To make things as easy as possible, you can either watch the video explanation of the Gmail Confidential Mode above or continue reading for a step-by-step written tutorial.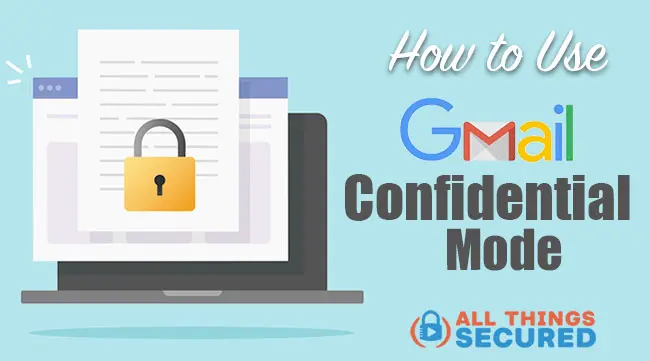 Step-by-Step Gmail Confidential Mode Tutorial
Time needed: 5 minutes
Sending an email using Gmail's Confidential Mode is easier than you think and can be broken down into four (4) basic steps.
Click the Confidential Mode Icon when Composing an Email

While writing any email, you should see a small icon that resembles a lock with a clock super-imposed on it. Clicking here will bring up a prompt for more information.


Set an Expiration Time Period for the Email

When prompted, you must select an expiry period for the email. This could be 1 day, 1 week, 1 month, 3 months, or 5 years. Don't worry, you can go back and revoke access to this email at any time after you've sent it.


Choose SMS Passcode Authentication (Optional)

If you'd like, you can enter the phone number of the email recipient and require that they submit an SMS passcode for authentication before they can open and read the email.


Revoke Access at Any Time

Using Confidential Mode, you have the ability to go back into your sent folder and choose to revoke access to the email at any time.

Obviously you don't want to use the Gmail Confidential Mode feature for every email you send, but it may be useful when you're sending more sensitive information.
Why to NOT Use This Gmail Feature?
There are legitimate concerns about the Gmail Confidential Mode that you need to know before you use this feature.
The most common concern has to do with Google's unclear explanation about how these emails are stored.
Google doesn't tell us how long it keeps confidential emails on its servers.
For example, let's say you're sending an email that you want to have expire in a week. Confidential Mode makes it very easy to set that up for your recipient, but…
…when does it expire from Google's servers?
The answer, unfortunately, is unknown. Google doesn't tell us how long they keep this sensitive email on their servers, even if it isn't accessible to the original recipient.
So if you're hoping for an email that self-destructs, this may not be the solution. It expires for the recipient, sure. But it may still live on somewhere in Google's data centers.
Gmail Confidential Mode FAQ
There are a number of common questions I hear about using Confidential Mode that I'd like to address here. Hopefully this will cover any concerns you might also have.
Can I send a confidential email to a non-Gmail user?
Yes, you can! The difference when sending an email using Confidential mode to a non-Gmail user is that instead of receiving the full email, they will receive a link to the email hosted on a separate Google webpage.
Can a Confidential Mode email be printed, forwarded or copied?
Technically no…but practically yes. Google claims that emails sent via Confidential Mode cannot be printed, forwarded or copied, but this doesn't mean that a user can't just screenshot the email and copy/forward/print that screenshot. There are ways around this feature.
Can I send an email attachment in Confidential Mode?
Yes, you can. Attachments can be sent and access revoked using Gmail's Confidential Mode controls.
What happens after an email has expired?
Once the email has expired, or at which point you revoke access, the recipient will receive a message that simply says "Email has expired".


Is Gmail confidential mode encrypted?
Using Confidential Mode does not apply any additional encryption or higher level of privacy beyond regular Gmail encryption. The feature is meant as an extra means of control for email, not as a serious privacy or security solution.
Should I Use Confidential Mode?
The answer to this question is quite subjective, honestly.
There are legitimate uses for the Gmail Confidential Mode feature and it can be helpful in many ways.
However, it is not an added layer of email security like it might sound. For this, you'll probably want to look at other secure email options.
In the meantime, it's fun to image that you're Ethan Hunt, sending and receiving self-destructing emails 🙂