If you receive an email from Facebook requiring you to enable Facebook Protect or else lose access to your account…you're not the only one who thought it was a big scam. Facebook is apparently rolling out this new security feature that is meant to protect accounts that have "the potential to reach a large audience". Here's what Facebook Protect is, how to set it up, and what you need to know.
Be sure to subscribe to the All Things Secured YouTube channel!
If you've never heard of Facebook Protect before, don't worry – you're not alone. Facebook quietly started sending out these emails in early 2022 without any kind of real public announcement. The result was a bunch of people searching around trying to figure out "Is this Facebook Protect email legit?"
So…is it?
Is the Facebook Protect Email Legit?
If you follow our S.T.O.P Method to avoid phishing scams, you know that this email set off almost every red flag in the scam email playbook: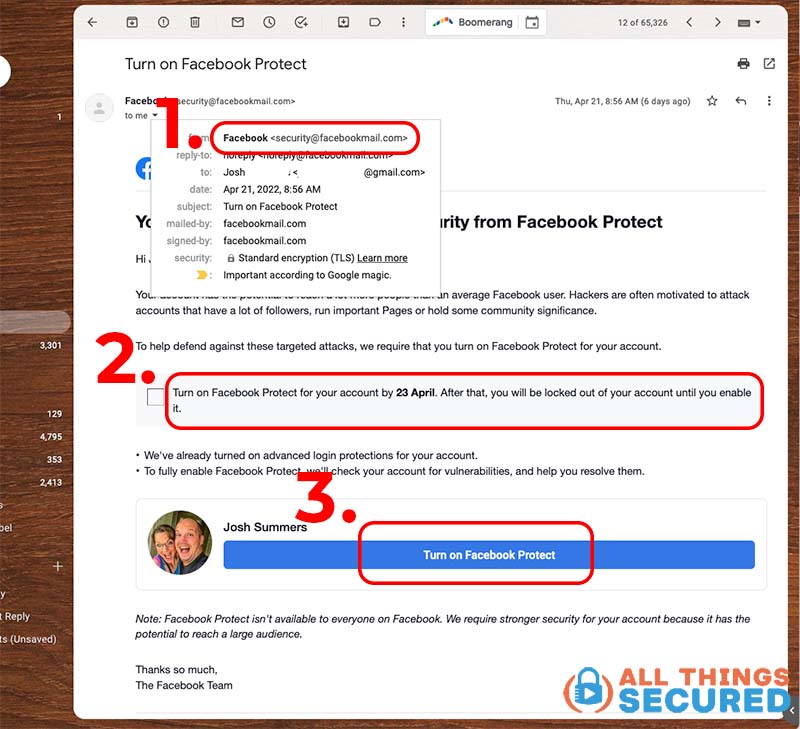 Different Email Address: The sender's email address was not the same as the service, which in this case should have been simply "facebook.com".
Time-Sensitive: Most scam emails urge you to act fast. Unfortunately, so did this Facebook email.
Clicking a Button: Facebook made the mistake of adding a button to the email, which is immediately suspicious. Any kind of security change should happen within the account only.
Despite all of these red flags, Facebook notes on its help page that these emails are, in fact legit.
Emails coming from "[email protected]" are, in fact, legit emails.
It should be possible to access Facebook Protect from within your account's Facebook security settings, but if that's not possible (for example, mine had been disabled), then you have little choice but to click the button in the email.
How to Set Up Facebook Protect
What happens when you go to set up Facebook Protect?
As you'll soon find out, setting up Facebook Protect is so easy, it actually feels unnecessary.
Time needed: 2 minutes.
Here are the four things that happen when you set up Facebook Protect:
First Screen: Here's Why You Need Facebook Protect

The first thing you'll see is a quick recap of why you're being forced to enable Facebook Protect by a particular date. Oh, and they've already turned on "advanced security protections"…but who knows what that actually means.


Second Screen: More Unnecessary Explanations

Again, Facebook is working to reassure you that this is for your benefit. And yes, this means you have to get more "regular security updates" from Facebook. Yay!


Screen Three: Checking for Password & 2FA

Now that we've gone through two pointless screens, we now get to the big security check! But wait…if you already have a strong password and 2-factor authentication (like I do), then this was all a waste of clicks. Of course, if you need a stronger password or you haven't set up 2FA, then I guess this was needed.


Screen Four: You're Finished

Thank goodness they added a fourth screen to let us know that we are done. I'm not sure what we would have done without that.

Why Haven't I Received the Facebook Protect Email?
It seems that Facebook hasn't rolled the Facebook Protect feature out to all of its users. If you haven't received an email notifying you to set it up, then you won't be able to set it up. Yet.
Facebook Protect was designed very similar to Google's Advanced Protection Program, and is meant to protect those accounts that are most at risk of being a target. This includes activists, journalists, politicians and even just regular people who manage large Facebook groups or pages.
So what if you didn't receive the Facebook Protect email?
If you haven't already, make sure you go through and change these Facebook security and privacy settings. This includes adding 2-factor authentication to your account, which anybody should be doing at this point.