Password strength checkers are becoming quite popular as the fight for more secure online logins gets more attention. There are some good ones (and a lot of bad password checkers) out there, but most people don't use them correctly. If password security is a priority for you, you'll want to bookmark these top 4 best password strength checkers and tips on how to use them.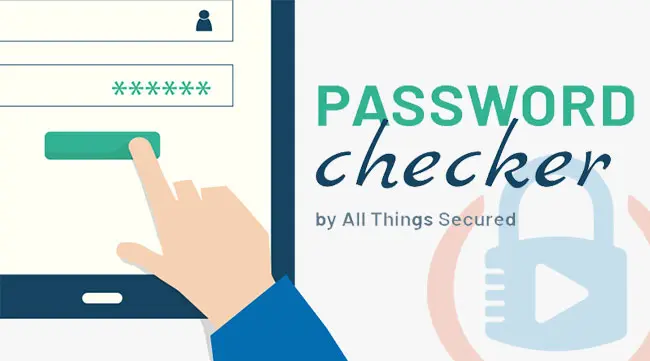 The very fact that you're reading this means you understand the importance of a strong password to keep your internet activity private. Constant data breaches, leaked passwords and even the use of a simple password cracker can render your accounts vulnerable.
Believe it or not, you're already doing better than 90% of the general population.
So you want to know how to test password strength? What are the best password security checkers you can use and how can you make sure to use them right? I encourage you to work through this list…but don't stop there!
Make sure you finish with the tips on how to use these password checkers correctly. There are limitations to these tools and you need to be able to work around them.
4 Best Password Security Checkers
You don't want to trust your password security to just any website on the internet. You'd be surprised at how easy it is to simply set up a website, tell people to "come enter your passwords!" and then make off like a bandit.
These are a quick list of the best password strength checkers that are recommended based on their history and brand recognition.
Here's a detailed look at each password strength tester.
NordPass Password Strength Checker
The Nordpass Password Checker is our first option and was built by the same team that built NordVPN, one of the most popular commercial VPN services on the market.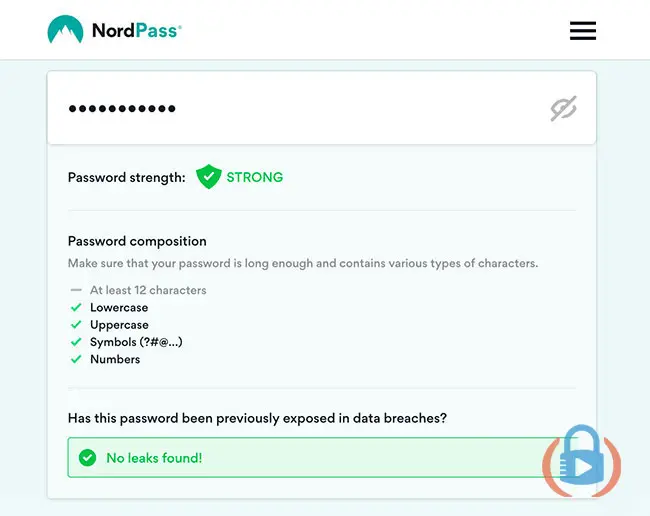 Now, it's important to note that they this free service because they want to up-sell you on the NordPass password manager app to help you create and store unique passwords.
That being said, this tool is great because it not only checks the strength of the password you input, it also checks if the password has been exposed in any data breaches (it checks it against a known database).
While taking advantage of this feature goes against a primary tip I'll share below, it's still a unique aspect of this password checker.
All Things Secure Password Checker
Obviously I'm biased, but I think that the All Things Secured password checker tool is worthy of being called the best password strength test.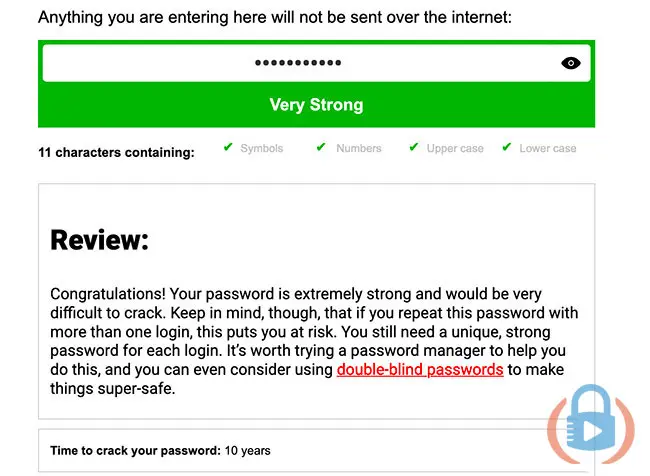 The advantage of this tool is that it not only gives you key stats about the password you input (how long is it? what kind of characters are you using? how long would it take to crack the password?), it also provides feedback.
So, for example, if your password needed a bit more work, the "review" section would provide some pointers on what you could do to make it better.
In other words, we're not going to just tell you "your password sucks" or "your password is great!"…this tool will coach you toward better security.
Kaspersky Password Strength Meter
The Kaspersky password checker is another popular tool built by one of the bigger names in computer security and anti-virus.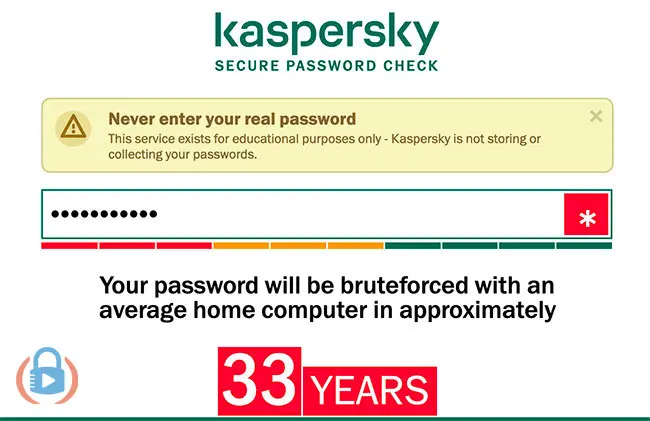 The tool does what it's supposed to do – it checks your common passwords – but that's pretty much it. It's more of a "meter" than it is a password tester.
What you see in the screenshot above is about as detailed of feedback as they're going to give you. There's no feedback on the quality of the password other than a red/yellow/green meter and a "time to crack".
The upside here is that you know Kaspersky is going to be a secure place to check your password. The downside is that they don't give you much here.
The Password Meter Password Checker
The Password Meter is a website that does only one thing: it checks your password. That's it.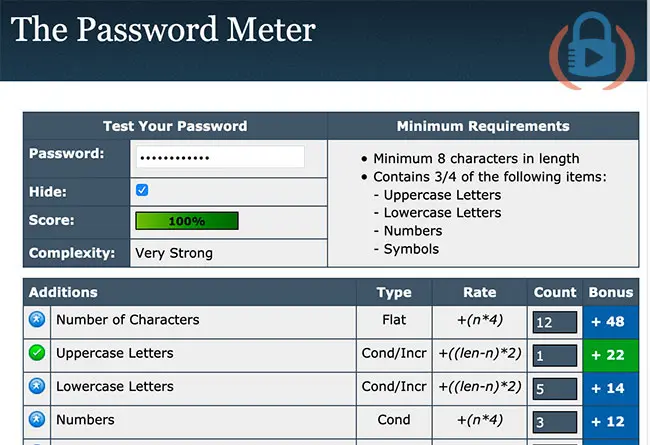 This tools has some pretty cool features that rate each feature of your password and show you exactly how they rated it and how your password fared.
In the end, you're given a score (in the above example, 100%) and a complexity score ("Very Strong").
There's one MAJOR downside to this tool as it stands right now: it's being hosted on an unsecured website. In other words, the website is http instead of https.
Basically, this means that any data you send between your server and that website is exposed. A security tool that's not itself secure can present some problems!
Tips to Use Password Strength Checkers
Now, before you jump onto these best password strength checkers and start testing your security, we need some basic ground rules.
First and foremost, let's get this out of the way…
No single security tool will keep you 100% protected.
This goes for anti-virus software, good VPNs, password manager apps…and pretty much any other online security resources that market themselves as a way to "protect your security and privacy".
Here are a few extra tips to consider as you check your passwords:
Don't Input Your Real Password! Even on the All Things Secured Password Checker, I go to great lengths to make sure the data you type never gets sent over the internet…but there are always risks. You can type characters that are similar to your password, but don't type in your actual password here.
Recognize the Limitations of a Tool: These tools are able to give you feedback based on an algorithm, but they can't check everything. For example, the characteristics of a secure password include the fact that it is unique. It is not a password you repeat on other online accounts you have. A password checker can't check your password creation process.
A Good Password Does not Equal Security: You can have the most secure password in the world, but if you write it down and keep it next to your computer…that defeats the whole purpose. This is one of the reasons I recommend a password manager that stores the passwords in a secure vault, behind a single master password.
Should You Check Your Password?
Ultimately yes, you should check your password, and using one of these best password security checkers isn't a bad idea.
But make sure you understand how to properly use these tools and not put yourself at greater risk. It's a fine line to walk, but it's worth doing so with care.
Whether you end up using a password manager or not, congratulations on prioritizing your online security and committing to not using the same password on all your accounts!