The beauty of Privacy.com is the ability to secure your online purchases through the use of virtual credit cards. As consumers, this not only protects our physical credit card, which is annoying to replace, it also gives us a greater level of control over how these cards are used. But since Privacy.com has shifted its focus to business enterprise customers, what are some alternative virtual credit card services that are worth using?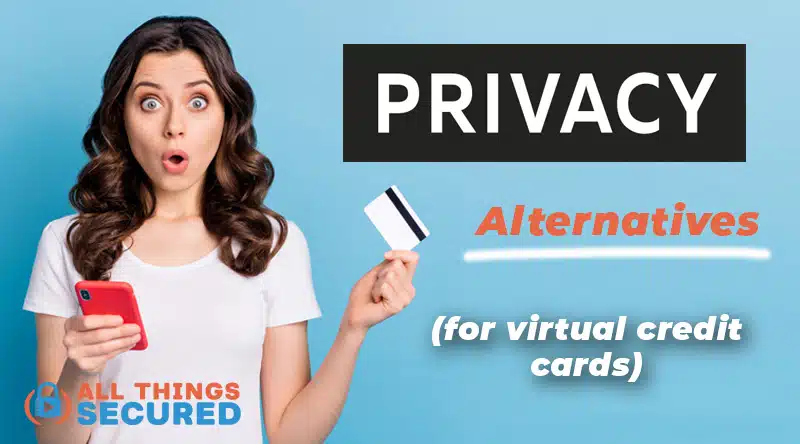 Because Privacy.com serves both consumer and enterprise needs (via Lithic), it's important to note that the alternatives we'll be offering here are specifically for consumers. If you're looking for a better way to make payments online, these are the services to consider.
Towards the end, we'll go into greater detail about how to choose the right virtual card service and the most common questions people have about them.
Note: Some of the links in this article may be affiliate links, which means that at no extra cost to you, I may be compensated if you choose to use one of the services listed. I only recommend what I personally have used, and I appreciate your support!
Best Privacy.com Alternatives for Consumers
The good news is that you have a number of good options to choose from to create a virtual card, both virtual credit cards and virtual debit cards. Some are free while others offer a subscription with other features besides just virtual payment cards.
Here are the best options if you're looking for a company who offers virtual credit cards.
Klutch | Programmable Virtual Credit Card (Only US)
Similar to Privacy.com, Klutch Cards give you the ability to create single-use credit cards, create cards with monthly limits, lock your card and more. The biggest difference is that these are actual credit cards (not debit or prepaid), which makes Klutch one of the best virtual credit card providers overall – and the one I personally use.
There's even an option to create a virtual Klutch card for each member of your family (including kids!) where you can monitor, track spending and control limits.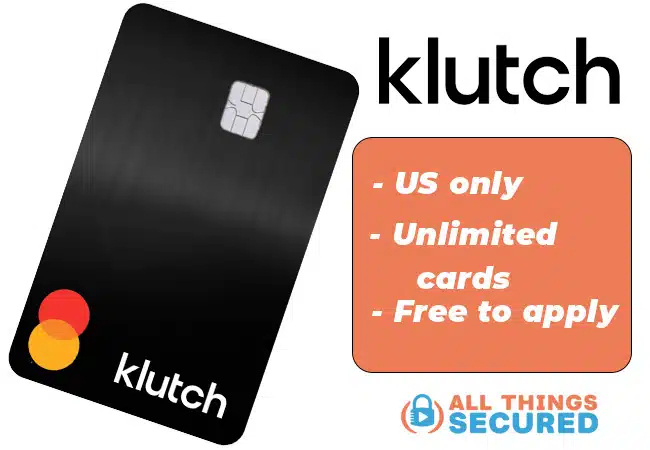 Overall, a Klutch credit card presents the best option as an alternative to Privacy virtual credit cards because they are unlimited, offer excellent control and great reporting. If you're looking for a programmable credit card similar to what you've read about in a Privacy.com review, this is it.
Cost: Free, subject to application approval.
Limits: US only
Klutch Pros: Up to 6% cash back and no foreign transaction fees.
Klutch Cons: Seems to be geared more toward developers than the average consumer right now.
Apply for a Klutch Card
Use referral code "SECURED23" to get $20 credit!*
*$20 credit will be added to your account after your first transaction
IronVest (Formerly Blur) | Masked Credit Cards & Emails
The IronVest suite of services, which used to be known as Blur by Abine, includes more than just a virtual debit card. It also includes email aliases, virtual phone numbers, and a password manager all locked behind secure biometrics.
The difference between IronVest vs Privacy.com is that the masked card you receive from Ironvest acts more like prepaid cards as opposed to a debit card. So essentially I consider this one of the best virtual debit card providers. You purchase the card using your own credit card ($2 fee) or your bank account (no fee) and top it up to make whatever purchases you like.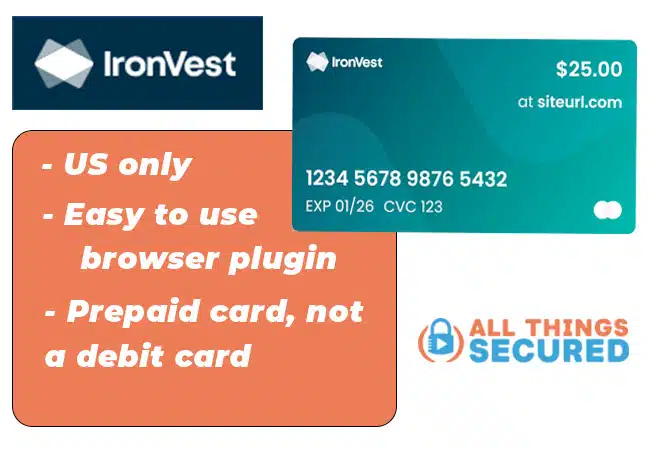 The free version of IronVest allows you to test two virtual cards, which they call "masked cards", after which you'll have to upgrade to their Plus ($6/mo) or Ultimate ($15/mo) plans for more.
Cost: Free basic plan along with paid plans
Limits: US only
IronVest Pros: Create secure virtual cards on-the-fly using their browser plugin;
IronVest Cons: Masked cards are actually pre-paid debit cards, not virtual credit cards; they also charge a $2 fee per card;
You can read more about their other security features in our full IronVest review here.
*Use code ATS2023 for 25% off annual plan!
MySudo | Mobile-Only Privacy App (US only)
"Sudo"…as in "pseudonym". Get it? If the bulk of your online purchases are done via your phone and not your desktop or laptop, MySudo stands as a good option for virtual card providers.
Unlike Privacy.com, MySudo does not allow you to set spending limits or to create merchant-specific cards.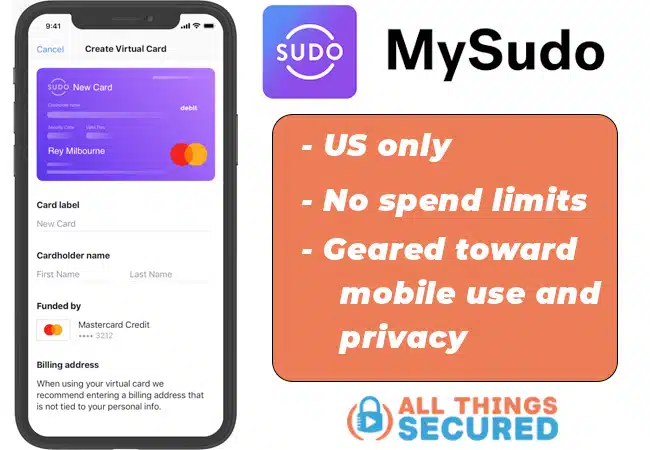 The unique aspect of MySudo is that all charges on the virtual debit card are kept private from your bank (they all appear as "MySudo transaction" on your bank statement) and the card itself is tied to the pseudonym you create, not your real name. This allows you to create a secured virtual credit card that isn't easily tied to your identity.
Cost: Virtual cards only available on paid plans
Limits: Only US (virtual card not available for Canada)
MySudo Pros: You can create multiple "sudos" each with their own unique info (phone, card, email, etc.).
MySudo Cons: No desktop app available to use; fee of 2.99% + $.031 per transaction.
Revolut | Best International Alternative
Unlike most of the virtual card options presented here, Revolut is the only one that supports a variety of countries outside the US, including the EU, Australia, Japan and yes, even the United States. This also makes it a great option for international payments.
Signing up for Revolut, you receive a physical card that can be used in person (or with Apple Pay) and then you have the ability to create unlimited virtual cards.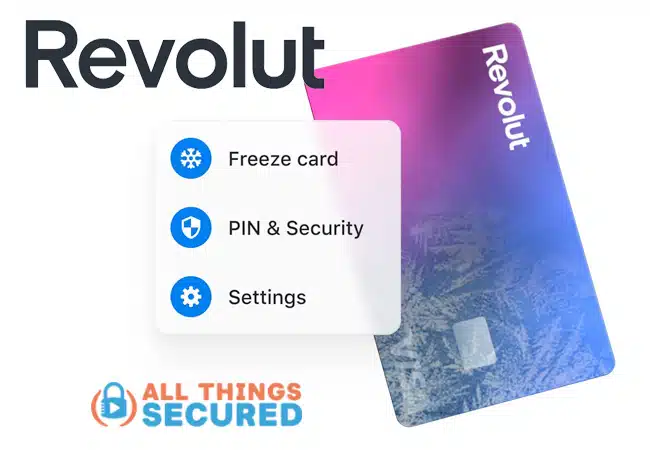 You can set spending limits, freeze the card or even create a one-time use card (it will close automatically after use), which they call "disposable virtual cards."
Cost: First virtual card provided, then $5 thereafter; unlimited for paid plans;
Limits: US, Australia, EU countries, and Japan (more to come)
Revolut Pros: Available internationally; unlimited virtual card services for paid plans;
Revolut Cons: Fee structure for transactions is a bit convoluted and money can only be added to your account via debit card or bank transfer;
Moon | Prepaid Crypto Alternative (free, US only)
Moon presents an interesting twist to the virtual card game by adding cryptocurrencies to the mix. Instead of connecting your debit card or bank account, you use your Coinbase account or Lightning wallet to fund your purchases.
The obvious benefit is the opportunity to use your Bitcoin, Litecoin, Ether or Zcash for online purchases, which are converted to USD at the current rate when you purchase your card.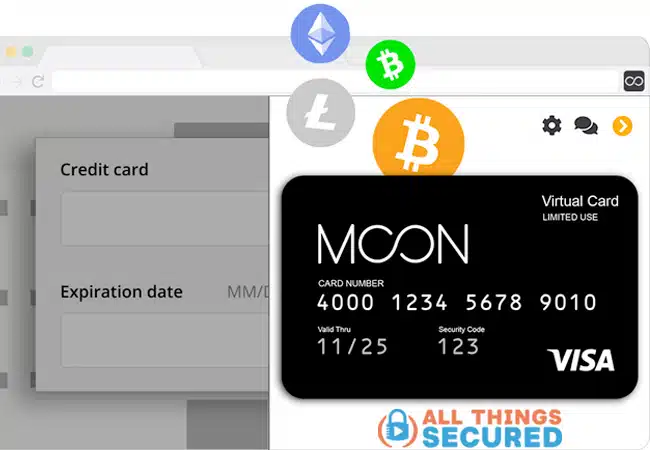 Be aware that there are limits to what you can use your card to purchase, and although you can create unlimited cards, you're essentially purchasing pre-paid cards using your crypto.
Cost: Free to use
Limits: US purchases only
Moon Pros: No transaction fees; an easy way to use your crypto.
Moon Cons: No control over limits or easy way to create new card details on the fly. Essentially provides prepaid cards.
Apple Pay | Mobile Payment Solution

Although some people might not see it as a "virtual card," the benefit of using Apple Pay is that the merchant never receives your actual credit card number. Instead, Apple sends them a temporary authorization code to verify the purchase, keeping your actual credit card number on your Apple account.
This means that you have to trust that Apple is securely holding your financial information. But unlike most of these virtual card options, your use of Apple Pay incurs no additional fees and allows you to take advantage of all the benefits you get from your credit card loyalty program (points, miles, etc.).
Cost: Free to use
Limits: Apple users only, available only where Apple Pay is accepted.
Apple Pay Pros: Use and protect your current credit card with all its benefits.
Apple Pay Cons: No ability to create additional virtual credit cards.
PayPal | Hide Your Online Purchasing

Similar to Apple Pay, PayPal allows you to shop online using your existing bank-issued credit card while affording you the protection of a virtual card. And since PayPal is so widely accepted on the internet, that makes these great virtual credit cards for online shopping.
So, for example, when you make an online payment using your physical card number, the merchant (or payment processor) will store that number. When you choose to check out with PayPal using that same physical credit card, PayPal will never give them your actual credit card number.
Just like Apple Pay, you're trusting a single company (Apple or PayPal) instead of various merchants. However, you have no control over the virtual cards they create.
Cost: Free to use
Limits: Available where PayPal operates
PayPal Pros: Widely accepted online.
PayPal Cons: No ability to create virtual cards outside their payment solution.
Mercury (or others) | Digital Banks w/ Virtual Cards
In the world of FinTech, digital banks are emerging as a competitor to the traditional brick-and-mortar institutions you've used your whole life. In many cases, these banks offer unique features you might not find at your regular bank.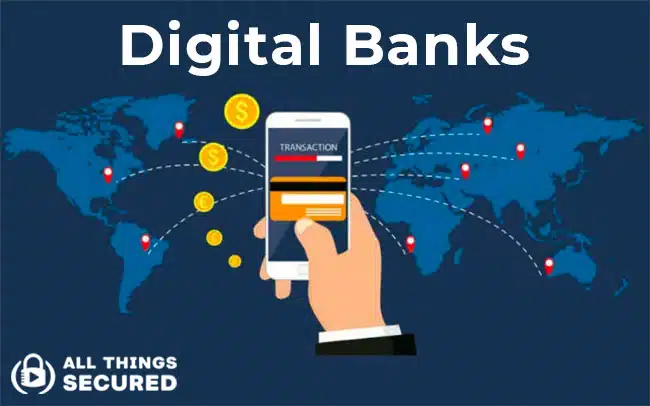 Mercury is one example, although their target market is small businesses and not end consumers. Within a few clicks, it is possible to create a virtual card funded by your existing account that has daily or monthly spend limits.
There are numerous digital bank options that offer virtual credit cards based on your geographic location, so your best bet is to search "best digital bank [country]" or "online banks in [your country]."
Your Current Bank | Some Virtual Options Available
Finally, before you go out and setup a new account with one of these companies, it's worth checking out your current bank to see if they offer virtual credit cards for payment solutions.
Major issuers such as Citi and Capital One (USA) offer complete virtual credit card solutions for its customers, so log in to your online account to see what's available to you.

Why Use Virtual Cards?
As you consider which virtual card service you want to use, it's important to understand how and why you'll be using this kind of financial technology company. Answering these questions will go a long way to narrowing down your choices.
Here's a quick breakdown of how that might look for you.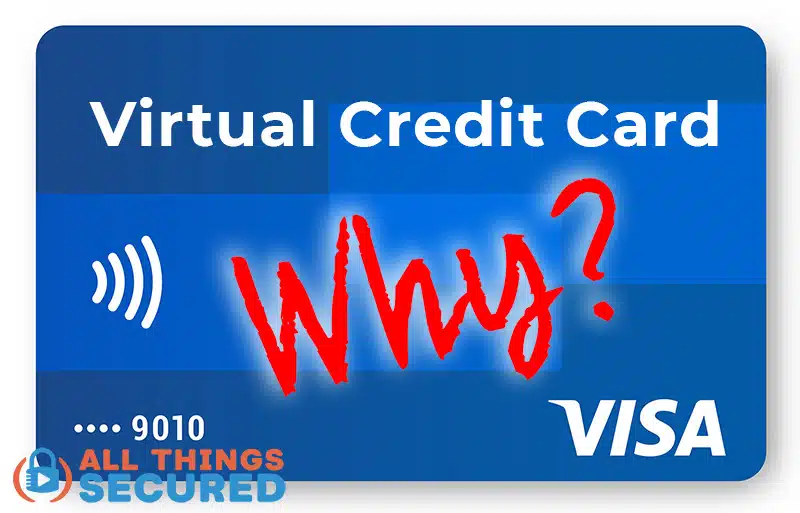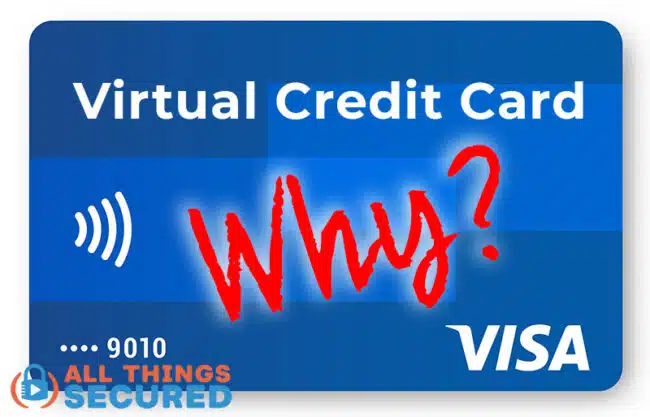 How You Make Payments Matters
How you make payments affects which provider you should choose. It's worth asking yourself the following questions:
Do you make online payments mostly from your mobile device or your desktop computer? If you tend to make purchases on your desktop, you should make sure to use a solution that allows for that. Apps like MySudo and even Apple Pay are often harder to use on a desktop.
Do you want control over your cards? Things like setting limits or creating single-use cards are not available with every provider.
Do you still value loyalty programs? If your goal is to earn points or miles to spend on a flight upgrade or vacation, a lot of these options won't work for you. Most of the above alternatives are essentially a virtual debit card. In this case, options like Apple Pay or PayPal are best.
There's one more question you need to ask when thinking about virtual card services.
Why You Want a Virtual Card
Your "why" also plays a role in which solution is best for you. For example, you might want to have more control over your cards. Or perhaps you want to build more privacy as you spend online.
If you simply want to limit the risk of having your physical cards stolen (and the hassle of getting new ones), that might also direct which online platform you use. In this case, your existing bank might be a good option to create virtual cards.
At the end of the day, it's clear that each of these Privacy.com alternatives was designed for a specific user in mind. It's important to find out
FAQ | Virtual Credit Cards
There are a number of common questions people ask about virtual credit cards that are worth answering here.
Do virtual cards hurt your credit score?
No. In most cases, when you create cards, it works more like a debit card or prepaid card. Because of this, it does not require a credit check, it is not reflected on your credit score and won't show up on your credit report.
Are virtual credit cards free?
Some platforms offer free trials or limits on the number of virtual cards you create. In most cases, there are fees involved in either the creation of a card or the use of the card, so be careful to note where those fees exist and how much they are.
Where can I use my virtual card?
Most virtual cards are actual Visa cards or Mastercards, which means they use these popular payment networks around the world. This means that your virtual debit card can be used pretty much anywhere that credit card payments are accepted.
Are virtual cards safe?
Providing your virtual card information is safer for online payments than using your physical card information because you can control payment limits and who has access to your real card number.
Protecting your account number ensures that if a merchant gets hacked, the card data they have on file is of limited value to the hacker.
Which US banks give you instant virtual cards?
Currently there are only three banks that offer virtual cards: Citibank, Capital One (via Eno) and American Bank.
Others such as Chase, Discover or American express claim to offer virtual solutions, but currently they are very limited.
Can I add virtual cards to my digital wallet?
It depends on the service. Cards issued by Privacy.com, for example, do not support digital wallet usage. Other options like Moon or Revolut do support digital wallets, including Samsung Pay.