What does Google know about you? You probably have a hunch that it's a lot, but you've been too scared to turn over that log and find out. Now, however, I want to arm you with the information you need to delete what Google has on you – and give you the confidence to use the internet moving forward.
No one can deny the convenience that Google has brought into online lives. Their search engine has become so dominant that people will tell you to "google" something when they want you to look it up online.
Then there's YouTube, a platform that has over 2 billion logged-in monthly users with 74% of adults in the US admitting to using it. That's not to mention services like Gmail and Chrome, the most widely used browser worldwide.
Unfortunately, the free, highly-personalized browsing experience that Google offers comes at a cost. Our privacy.
Google is always collecting user information such as sites you visit, search terms, and videos you watch on YouTube.
This information is then compiled to create an online profile of you which can then be sold to advertisers. It's not by chance that Ad revenue is Google's biggest top-line income, it's because the company has an unparalleled ability to point the advertisers towards the perfect targets.
And, that's what this post is about. I will help you determine what Google knows about you and then I will show you how to delete this information and ensure that Google is not collecting it.
What Google Knows About You
There are three categories of information that Google knows about you:
Let's take a look at each of these individually and see not only what information Google is collecting, but also how you can go in and delete – or at least severely restrict – the information they have.
Google Knows Your Internet Browsing Habits
Google has a record of everything you have searched on their browser (if you use Chrome) and your whole YouTube history (as long as you've been logged in or used the same computer).
They claim that this information is meant to help you discover things you have searched, read and watched in the past – and this is true to a degree. Google and YouTube have perfected the art of the "suggest" feature.
But your internet browsing habits are very private, and they could also end up revealing things that you would not want on record.
How to delete your Google browsing information
On your browsers URL bar, type www.google.com/history and press enter. If you're logged into any kind of Google account, even if you're not using the Chrome browser, this will take you to the My Activity tab.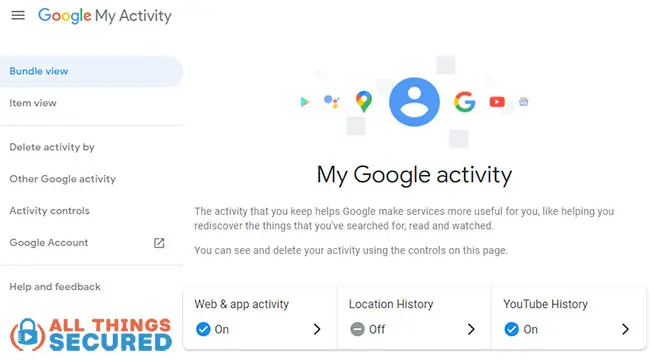 To delete your browsing history and activity from other Google-related sites and apps click on Web & App Activity. Once you are there, you can choose the Auto-delete option or go to Manage activity which will allow you to clear your data systematically.
Proceed to turn off web & app activity so that Google does not store your browsing information going forward.
Repeat the same steps on the YouTube History section to clear your YouTube's activity.
Google Knows Your Location History
Geographic location is another kind of information that Google collects about you.
This could be through your Android phone's GPS, via the Google Maps app or even by leveraging information from nearby Wi-Fi networks, mobile networks, and device sensors.
It's a bit scary to think that a single company has so much information not only on your search and browsing history, but also on your exact location (down to the inch).
Yikes.
How to Delete your Google Location History
The process for deleting your location history is the same as deleting your chrome and YouTube history as mentioned above.
On the Google My Activity page, click on the Location History portion (see screenshot above) and then turn off the location history data as marked below.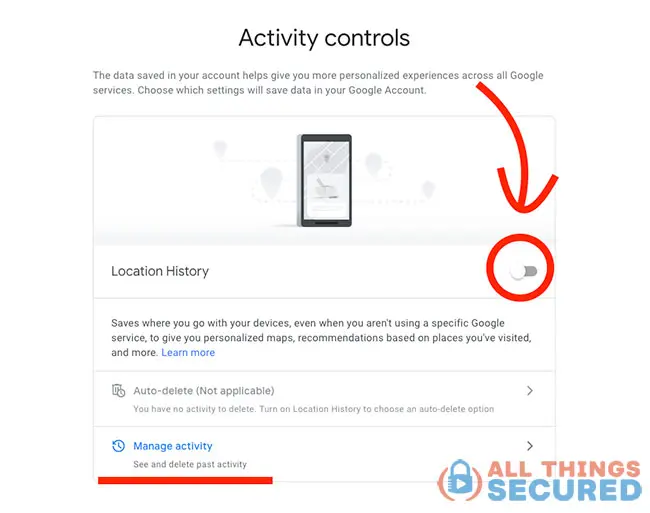 You can now go into Managed Activity underlined above to see what data has already been stored and ask them to delete it.
Again, double-check to make sure that Location History is switched "off" so that Google never saves the information again.
If you are using an android device you will need to perform these additional steps. Go to your phone's settings, click on Google and then on the Location section, turn it off.
In the future, you can use a VPN service like Surfshark (Android) or a software like iMyFone's AnyTo (iOS & Android) to fake your GPS location.
Google Knows Your Personal Ad Profile
Your ad profile is the information that Google has gathered on you based on your browsing habits and location info, and it is meant to serve you with more personalized ads.
Under your ad profile, Google has an estimate of your age, knows your gender and also a list of your various interests.
Click here to access your Ad settings.
How to delete your Ad profile
At the top of the Google Ad Settings page, under Ad Personalization, you will see a slider button indicating that personalization is either on or off. Make sure you turn that off.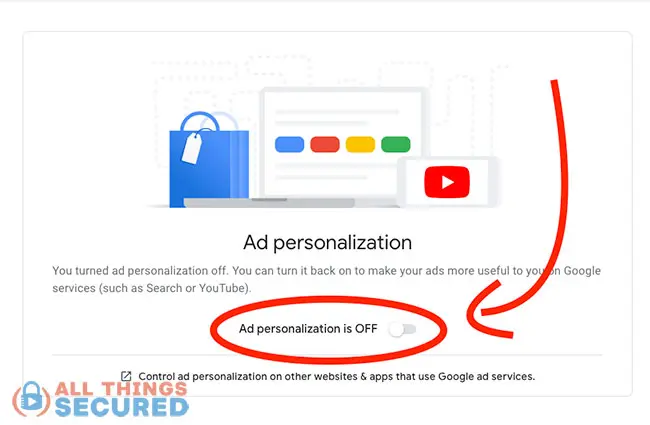 If you click on the link below this that talks about "Control ad personalization on other websites", you can go a step further.
You have the ability, under the Digital Advertising Alliance (DAA), to submit requests to opt out of all websites that use Google data.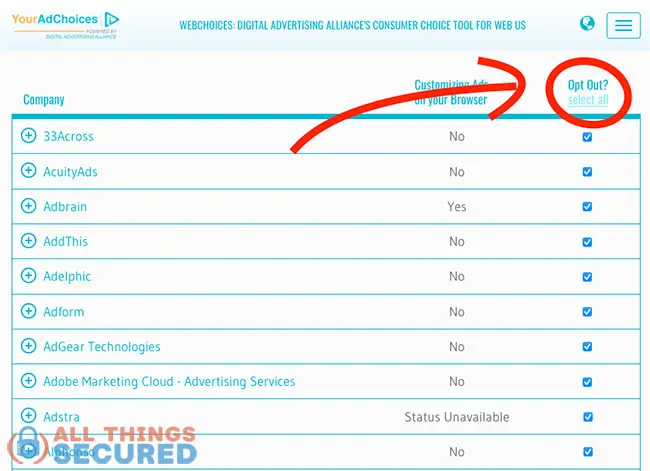 Unfortunately, this is similar to any other "opt out" request in that the companies are not bound to adhere to it. In fact, when I submitted my request to opt out of 127 company ads, only 38 were successfully submitted.
And this needs to be done for each internet browser, it does not work across all your devices.
Other Ways to Protect Your Information with Google
The problem with Google storing your personal information is that while they may not use the data against you, other malicious actors may try to steal this information for their gain.
This is why I recommend that you check for all third-party apps and extensions that may have access to your account.
Make sure you take a few minutes to see which third-party apps have access to your Google account.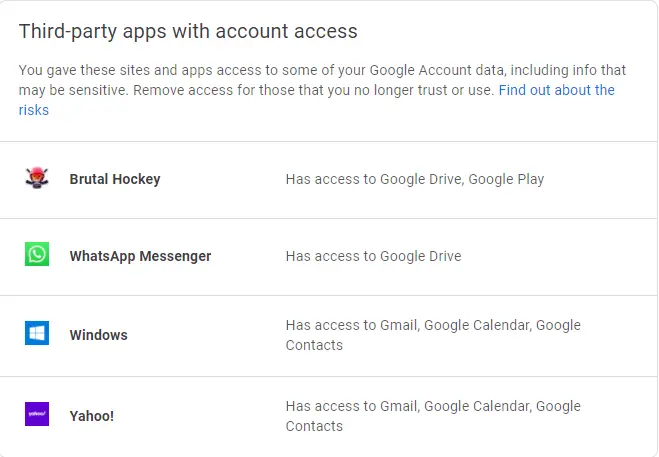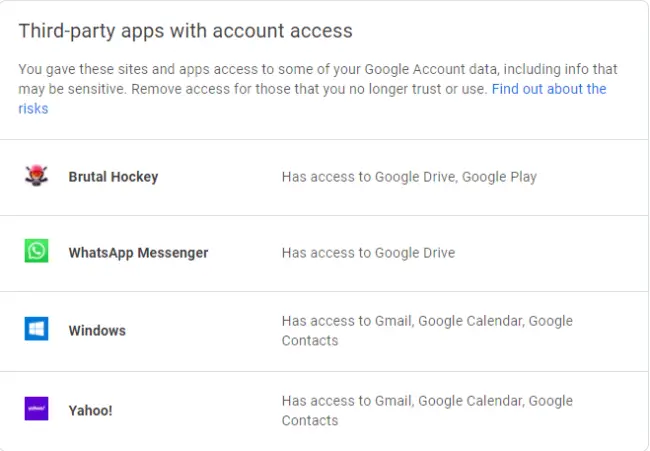 If you detect an app that you don't recognize with access to your Google account then remove it immediately.
Limiting Your Reliance on Google
If you're looking to really limit your reliance on Google products, you can start by watching this video from the All Things Secured YouTube channel:
Google's products may be dominating the market but that does not mean they are the only options.
There are some other great alternatives especially if you are looking for a solution that guarantees privacy.
Best Alternatives to Gmail
If you are looking for a good alternative to Gmail email, it doesn't get better than ProtonMail. And its biggest strength over the Google service is that it offers end to end encryption for your emails.
Despite what you may think, Gmail, Outlook and Yahoo are NOT end-to-end encrypted.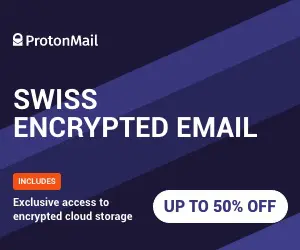 Using ProtonMail, no third-parties can read your emails and, therefore, you don't have to worry about privacy issues like the 2018 case when Google was accused of scanning user emails to facilitate targeted marketing.
Unfortunately, unlike Gmail which offers 10GB of free storage, ProtonMail only offers 500MB. If you need more space then you will need to subscribe to one of their premium plans. ProtonMail can send and receive emails across all email service providers.
Truly Private Email
Private and secure…for free.
I've gone more in depth on the differences between Gmail and Protonmail here if you're interested.
Some other great Gmail alternatives to consider include Tutanota, ZohoMail, GMX, and Posteo.
Best Alternatives to Chrome
Apart from privacy issues – which are a pretty big deal! – Chrome has also been noted to be heavier on RAM usage than most other browsers.
My top recommended Chrome alternative is the Brave browser. It comes with in-built ad blockers and also blocks trackers allowing you to have private browsing sessions.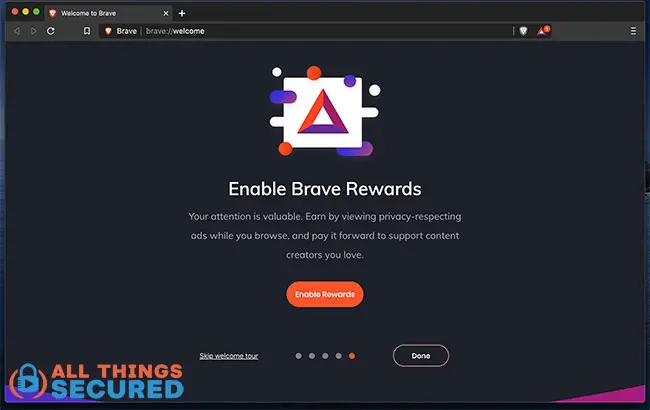 Also, unlike Chrome's incognito mode which only hides your browsing history from other people using your browser, Brave's private mode is integrated with the Tor browser for increased anonymity.
And then to top it off, the browser is compatible with all the Chrome extensions.
Mozilla Firefox, Vivaldi, and Opera are some other great browsers you can use instead of Chrome.
Best Alternative Search Engines
Although there have been a couple different options for private search engines over the past couple years, Startpage has emerged as the top alternative for those looking to replace Google with a solution that values privacy.

The search engine does not track you or your search history and consequently, does not make money by selling you to advertisers.
Interestingly, Startpage has an exclusive agreement with Google that allows them to use Google's search results but does so without any kind of personalization based on your browsing history, geographic location or other personal information.
Startpage also offers an extension for internet browsers that blocks trackers and cookies from other websites you visit and gives you information on exactly what that website is trying to do.
Startpage replaces DuckDuckGo as the best alternative to Google search because it was revealed that DDG has a special agreement with Microsoft to allow their trackers.
Best Alternative to Android
If you're using a phone that runs on Android and uses the Google Play store, and you're not willing to move to the Apple iOS system, thankfully you do have options.
For most Android phones, it is possible to flash your operating system to install what is known as a "de-Googled" operating system. It takes a bit of know-how, but it is possible.
You can also purchase a more secure mobile phone that is pre-installed with one of these operating systems that move you away from relying on Google's Android platform.
Final Thoughts on Big Brother Google
Ultimately, while it may feel like you have some control over your data, the truth is that as long as you use Google products, they will always be collecting data on you.
The same goes for services like Facebook. You can go in and change your Facebook privacy settings all you want, but the only way to truly be private is to simply stop using Facebook.
Period.
That being said, I realize that this isn't a viable option for most people. Companies like Google and Facebook are a part of our lives whether we like it or not.
So the best thing we can do is limit our exposure by not giving them permission to keep our data and then doing our best to diversify the kinds of software and programs we use.