Google tries hard to convince users that their search and internet data is secure; DuckDuckGo proudly points to their privacy policy that says they collect no data. Which is better? And what's the difference when you compare DuckDuckGo vs Google in 2023? This is what we're going to look at today.
Be sure to subscribe to the All Things Secured YouTube channel!
In the war of search engines, Google is the undisputed champion. AT least, if you measure them in terms of popularity.
Google boasts of 90% market share and processes about 5.6 billion searches every day.
DuckDuckGo, on the other hand, averages 50 million searches per month and is not even among the top 5 most popular search engines.
But, there is more to search engines than popularity. Take privacy, as a good example, which is DuckDuckGo's biggest strength and Google's greatest weakness
In this post, we pit DuckDuckGo vs Google as we try to understand which is better and the associated costs of choosing one over the other. We'll be looking at three primary features:
By the end, you'll have enough information to know whether you're going to stick with Google or migrate all of your search over to DuckDuckGo.
Search Results | Google vs DuckDuckGo
Google is the dominant search engine in the market because of its unmatched ability to understand what you are searching for and return the most relevant results. You could misspell a word, and Google will still know what you mean.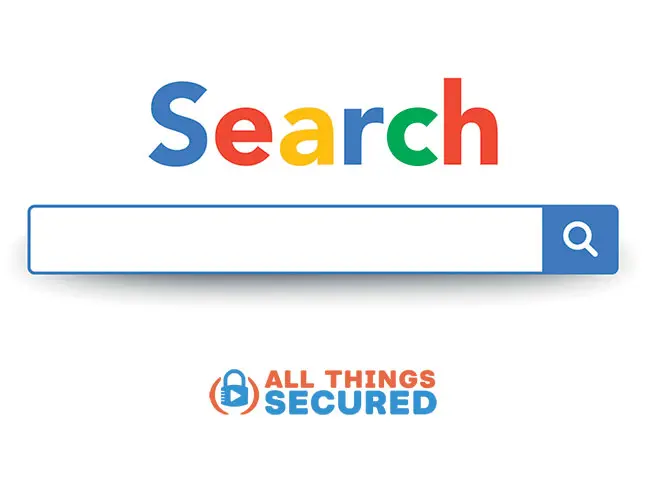 Most impressively, you can enter some random and vague query, and Google will often give you the exact result you are looking for.
The other day I remembered a really great movie I watched once, and I wanted to rewatch it, but I couldn't remember its title. So I went to Google and searched 'movie with talking car.' Knight Rider was the movie I was looking for, and it was the first result I got from Google.
I didn't even need to open any page.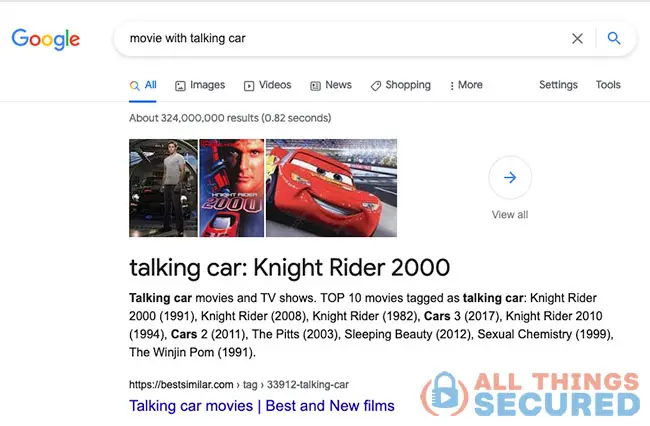 DuckDuckGo, on the other hand, returns an unknown 1969 movie, some random videos, and listicle articles that I have to open and try to find the movie I was looking for.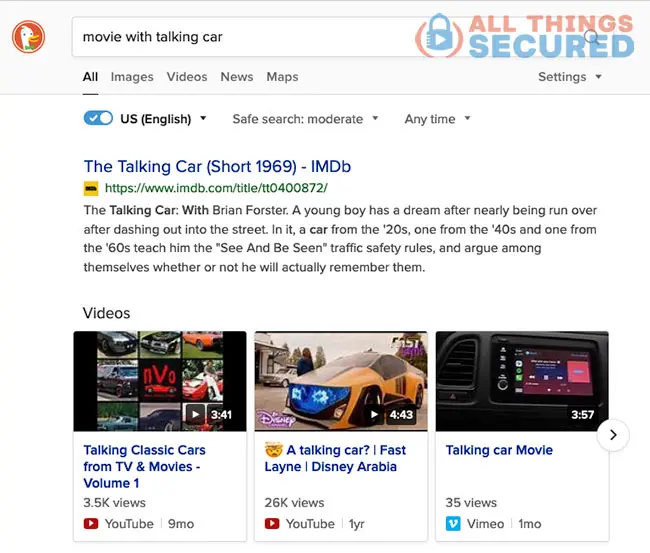 Quality Search…but at What Cost?
Unfortunately, the search efficiency offered by Google comes at the cost of your privacy. It's scary when you start to realize just how much Google knows about you. The search engine knows what you want to find because they have profiled you based on your online activities.
If you search online for hotels near me, recommendations from Google will most certainly be a better fit than those from DuckDuckGo because the former has access to your location info and former searches.
The best DuckDuckGo can do is direct you to popular booking sites where you can book a hotel based on your location.
But overall, the search results returned by Google are not that different from those on DuckDuckGo. The only difference is that Google has some information on you and can put the most relevant results at the top of the search results.
I would still have been able to find the Knight Rider movie with DuckDuckGo. It's just that it would have taken additional steps.
Search Results Winner: Google
Privacy | DuckDuckGo or Google?
Privacy is DuckDuckGo's main selling point. The search engine does not store any personal information, including your search history and IP address. Consequently, it does not have an online profile that it can use to serve you targeted ads.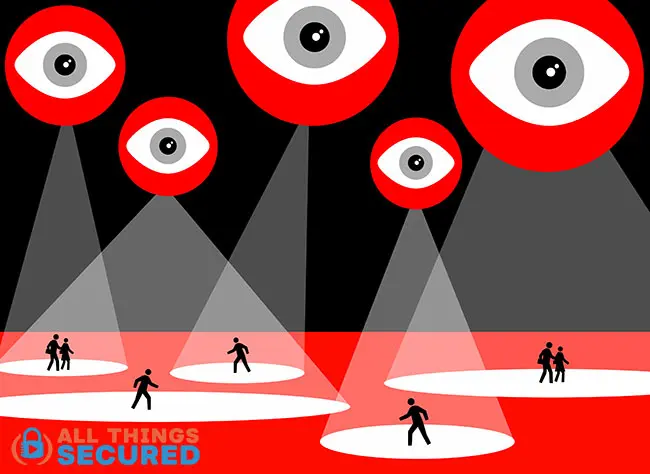 Moreover, DuckDuckGo ensures that other search engines do not track your browsing activities by blocking third-party cookies from loading on your browser.
DuckDuckGo's operation mode is a complete contrast from Google, whose business model is based on collecting as much personal information as they legally can.
Ads are Google's biggest revenue stream, and that's only possible because of Google's unmatched ability to point advertisers to the perfect target audience. The more data Google has on you, the better they can predict your interests which translates to more revenue for them.
Privacy Winner: DuckDuckGo
Usability Comparison | DDG vs Google
Usability for both Google and DuckDuckGo is generally the same. Both search engines have an 'all' section for your search results, a 'video' section, an 'image' section, and a 'news' section to help filter the search results based on the type of content you are looking for.
Both search engines also have a section for related searches, knowledge bars and video carousels.
DuckDuckGo does not have the 'people also ask' section that appears after the first few search results on Google.
Still, on the user interface, both search engines provide a certain number of search results and will prompt you to load more if, in the end, you haven't found what you are looking for. The difference is that Google loads additional results by opening a new page while DuckDuckGo loads more results on the same page, which is quicker and easier to follow.
User Interface Winner: Draw
Advantages & Disadvantages Explained
When you compare DuckDuckGo vs Google, they each have their own advantages and disadvantages.
Generally speaking, DuckDuckGo delivers on privacy while Google delivers on quality search results.
Google Search Engine Pros/Cons
To go more in-depth, however, here are a few other Google advantages:
Speed – It returns search results faster than its peer.
Better query understanding – Google will provide relevant results even for the vaguest search queries.
More accurate image search – You will have better success reverse searching an image on Google than on DuckDuckGO.
Featured snippet – Google's featured snippet provides an answer to your query without requiring that you open the site.
It comes with additional products like the G-suite and services like YouTube
And as we've already covered here, the primary disadvantage of using Google is the fact that their privacy policy is terrible and requires that you trust Google with every aspect of your internet usage. This is one big reason why many people are trying to find ways to stop using all of Google's products.
DuckDuckGo Search Engine Pros/Cons
On the other side of the spectrum, DuckDuckGo's advantages include:
Does not collect personal data – It does not store any information that could tie your browsing session to you or your device.
Blocks third-party cookies – Prevents other search engines from tracking you online by blocking third-party cookies.
Less clutter from ads – With DuckDuckGo, you don't have to worry about the nagging ads that pop up as you browse.
Continuous scrolling – Additional search results load on the same page instead of opening up a new page.
Bangs – This feature allows you to pull results only from a specific platform like Wikipedia instead of crawling the whole web.
Instant answers – This works the same as Google's featured snippet and allows you to get answers for your search queries without opening any page.
As far as disadvantages go, with DuckDuckGo you get…
Less personalized search results – Since DuckDuckGo does not collect personal information, their search results are not targeted.
Which to Use? DuckDuckGo or Google?
The search engine you use is entirely dependent on your needs. But, here is the takeaway.
If you are looking for a search engine that quickly returns accurate and personalized results and has an unbelievable understanding of search intent, then Google is the one for you.
However, if you are looking for a search engine that values your privacy, it does not get better than DuckDuckGo.
If you choose to use DuckDuckGo, I recommend you download their browser extension for your PC and the mobile app for your phone. This ensures that DuckDuckGo remains your default search engine, blocks all third-party trackers, and only loads encrypted versions of websites.