YouTube TV is one of many streaming services that geo-blocks its content; in other words, you can only stream shows while physically in the United States. Most of the time this can be easily fixed with a VPN, but in the case of YouTube, they require you to check in with a GPS-enabled device. How can you bypass YouTube TV location requirements? Here's how.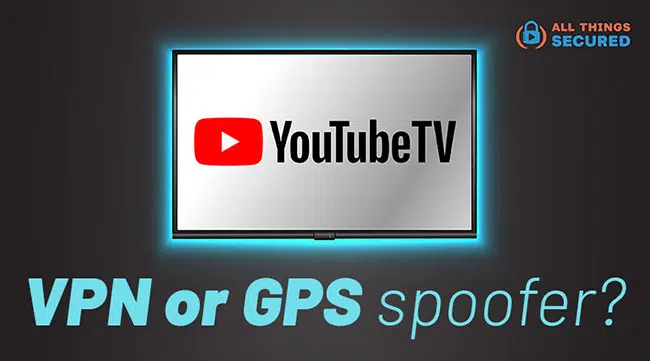 For those of us who live overseas, being able to stream college football or watch the latest episode of our favorite show isn't just a luxury…it is sometimes the only thing keeping us sane!
If you're looking to stream Netflix from anywhere in the world, or perhaps you like Hulu or Disney+, then a VPN is the perfect solution to spoof your location.
But YouTube TV is different.
If you've never used VPN and want to stream YouTube TV from anywhere in the world, then here is how to do just that.
Note: Some of the links in this article may be affiliate links, which means that at no extra cost to you, I may be compensated if you choose to use one of the services listed. I only recommend what I personally have used, and I appreciate your support!
Does a VPN Work with YouTube TV?
The short answer? Yes…and no.
A VPN does work with YouTube TV, but only after you've checked into your account with a GPS-enabled device. If you've already tried setting up your account from outside of the USA, you'll
To watch YouTube TV abroad, you'll need more than just a VPN – at least to start.
A VPN cannot change your GPS coordinates, it merely masks your IP address. When YouTube TV "checks in" to your location every few minutes, it must pick up a GPS location within the United States. There are two ways you can work around this:
Ask a US-based family/friend to help: Some people will have friends or family members back in the U.S. "check-in" while logged into their account. This definitely works, but it requires that you give over login details of your Google account, so make sure you trust the person who is doing this for you!
Change the GPS on your Device: This may sound simple, but your Android and iPhone doesn't have a "change GPS location" setting. You're going to have to find another workaround.
Thankfully, this GPS workaround only takes a few minutes.
How to Bypass YouTube TV Location Requirements
The good news is that spoofing the GPS location on your Android or iOS device doesn't require you to jailbreak or otherwise hack your device. It does, however, require special software.
Trust me, I've looked high and low for any other option, but this has been by far the easiest, most simple method.
Time needed: 10 minutes.
To bypass YouTube TV location on your device, you can follow my tutorial for how to fake your GPS location or follow the abbreviated instructions below:
Download the GPS Spoofing Software

To start, you'll need to download and install the iMyFone AnyTo software on your Mac or Windows computer. It's a paid service, but they offer a free trial so you can test to make sure it works for you.

Connect your phone to your computer

iMyFone AnyTo doesn't work over Wi-Fi, so you should use a charging cable if you want to connect your phone to your computer and use the software.

Select your device from the menu options

Choose your device in the iMyFone AnyTo menu that appears. A prompt to unlock your phone may show up.


Search and select a new desired location

Type in your selected location in the search bar and find it on a GPS map. After that, click "Move" and confirm the warning for the changes to occur on your phone.

Disconnect the phone and use as needed

Even after you disconnect your phone, the new GPS location should remain with the device.
Don't worry, all you have to do to reset your location is to restart your phone.
Which VPN is Best for YouTube TV?
Once the GPS location has been verified, you can now start streaming YouTube TV while connected to a VPN on your device. Or you could even configure a VPN on your WiFi router.
When it comes to the best VPN for YouTube TV, or even the best router VPN, there are two I recommend based on what budget you have:
Can I Stream YouTube TV on Apple TV?
Even though Apple TVs don't support VPN software, you can still use a VPN to unblock geo-locked YouTube TV content on an Apple TV.
What you'll need to do is install the VPN on the Wi-Fi router that the Apple TV is connected to. How you'll do this depends on your router's firmware and knowledge.
Your main two options are:
A Physical Router
Not all physical routers support VPN connections. Opening a web browser and typing 192.168.1.1 or 192.168.0.1 and entering your user credentials allows you to log into your router dashboard. If you're unsure what your credentials are, then you can either consult your internet service provider (ISP) or router manual or look up the default username and password for your router model.
Once you're logged into the dashboard, find a way to set up a VPN connection. If none exists, you can potentially replace the firmware with an open-source alternative that supports VPNs, such as DD-WRT and Tomato. You must use the correct version of firmware that is compatible with your router; if not done properly or with incompatible firmware, you could permanently damage the router.
Another method of connecting a VPN to a physical router is purchasing a pre-flashed router with your favorite VPN service. These routers come pre-configured with all your VPN providers' servers and include service with ExpressVPN, Surfshark or others.
A Virtual Router
Believe it or not, setting up a VPN on a virtual router is not as difficult as setting it up on a physical router.
You will need a spare laptop for this to work because a virtual router uses your laptop's existing hardware to create a Wi-Fi hotspot for other nearby devices. Connecting to a VPN and broadcasting a Wi-Fi signal lets you share your Apple TV with the laptop's VPN-protected internet connection.
Can I Unblock YouTube TV with a Free VPN?
There are a number of good free VPNs on the market, but none of them can unblock YouTube TV servers.
The problem is that free VPNs are not fast enough to work on a streaming service like YouTube TV. Free VPNs have many more users to keep track of yet fewer servers to spread the load. Therefore, using YouTube TV with a free VPN can lead to extremely slow browsing speeds as well as digital videos that stutter, have low resolution, and frequently pause to buffer.
YouTube is also one of the largest TV streaming services in the world, so YouTube can often detect free VPNs.
Bottom Line – Streaming YouTube TV Anywhere
A VPN is necessary for watching YouTube TV content from around the world, but it is not the only tool you need. YouTube geo-locks certain content, and to access this content you'll need to use US-based GPS.
Start streaming movies and TV shows from outside your country as soon as possible using the tips above!