Unless you are using a VPN to unblock geo-restricted content, the only other reason you have a VPN is to secure your online activities and hide your online identity. But can you be tracked with a VPN?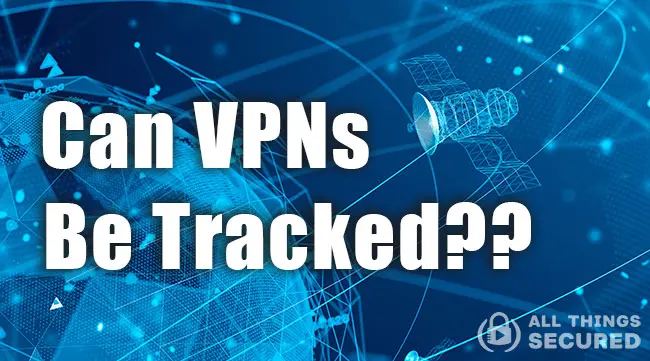 A VPN encrypts your internet traffic and masks your real IP address to protect you from surveillance by the government, ISP, and hackers looking to steal sensitive data.
But do VPNs really offer full proof protection against online surveillance?
Many people wonder things like:
Can VPN be tracked by ISP?
Can VPN traffic be monitored by government entities like the police?
Can your VPN be tracked by your employer?
These are some of the main concerns we will be addressing here specifically.
Can a VPN be tracked by ISP? (Internet Service Provider)
While your ISP will know that you are using a VPN, they won't have access to information such as the websites you visit, your browsing history or the files you download/upload, even if you're on unencrypted websites.
The first thing you need to realize is that anybody with the right tools can determine that you are using a VPN. Most VPN IP addresses are known. There are even online databases that will help you identify the specific VPN company that an IP address belongs to.
It's also possible to determine the type of VPN connection you are using based on the port that the VPN uses to establish a connection. For instance, OpenVPN (UDP) uses port 1194 in most cases.
Interested parties can also use deep packet inspection to determine that you are using a VPN connection.
So yes, your ISP will know that you're connected to a virtual private netowkr. But what's important is that they are not able to determine exactly what you are doing online.
Can VPN Be Tracked by Employers?
Yes, everything you do while connected to the company VPN can be monitored by your employer.
You see, business VPNs are meant to help remote workers connect to the company's internal network as if they were physically on the premises while eliminating the risk of surveillance and data theft by hackers.
Unlike personal VPNs, which focus on the security and anonymity of an individual, business VPNs work towards securing the company's network. When using a company VPN, your browsing activities will be hidden from hackers, ISP, and the government…but not from the company itself.
I would, therefore, not recommend that you carry out any activity that could get you in trouble with your employer while on your work computer.
You could install a personal VPN on your work computer but in most cases, the company's IT department has administrative local access to your computer and all they have to do is log in to find out what you have been up to.
Can a VPN Be Tracked by Police?
Yes, the police can track a VPN user by monitoring their IP address. However, they will only have access to the user's VPN IP address. Whether or not they catch the person behind the VPN connection depends on the VPN provider.
When, a few years back, the department of homeland security approached IPVanish seeking assistance in nabbing a suspected child predator, the company provided them with logs that were key in identifying the VPN user.
A similar case was when PureVPN helped the FBI nab a suspected internet stalker after handing over logs that helped unmask his real IP address.
While the actions of both VPN companies are justifiable because these users were criminals, it goes on to prove that using a VPN does not guarantee complete online anonymity.
Well, unless your VPN provider does not store any information that could compromise your anonymity. This leads us to another very important question.
Do VPN Companies Track Your Data When Using a VPN?
Every VPN out there claims to have a zero-logging policy. Even IPVanish and PureVPN claimed they did not log user data but when put to the test, they failed.
The truth is the issue of whether your VPN collects and stores your data is entirely built on trust. Some VPN companies are stepping up and commissioning a third-party audit of their servers but, I can still see how that could be misleading.
Who is to know they didn't clear the logs on the days leading up to the audit.
On the bright side, other VPNs have been approached by government bodies and they did not have any compromising logs to give. It means that for some VPN companies, the no-logs policy is not just a marketing stunt.
But does this mean that a VPN should never store any user logs? No, that's impractical. Some logs are useful to help the VPN company provide the best services. These are called connection logs.
An example of a connection log is the time you connect to a server. This information can be used to determine the time that a particular server is most busy and consequently help the provider optimize it for better performance.
It's the usage logs that you should fear. These logs contain your real IP address and every online activity associated with it. No solid VPN should have this kind of data on you.
Tips for Choosing a Secure VPN
Avoid Free VPNs: Free VPNs may be attractive because you don't spend any money but ask yourself this: How are the service providers able to meet their operating costs? Probably because they store your connection logs and sell them to interested parties. Premium VPNs don't have a reason to sell your data because you are paying them to keep you secure and anonymous.
Read the VPN's privacy policy: VPN providers are obligated to be transparent with their users so they will always list the kind of logs they keep. But how many people do you think ever read a product's privacy policy or terms of service?
Choose a VPN located in countries with no data retention laws: Go for a VPN that has its headquarters in privacy-conscious countries. Countries where the company is under no legal obligation to collect or share user data with the government. Examples of these kind of countries include the British Virgin Islands, Panama and Switzerland.
Finally, remember that a VPN is just one tool. There are many ways to be invisible online without going off the grid.