Giving out your personal phone number to any person or company that asks for it is risky, yet most people do it. Why? Because they're not aware of all the great virtual phone options that are available to use. Here are the best option whether you want more privacy or just want something for account verification.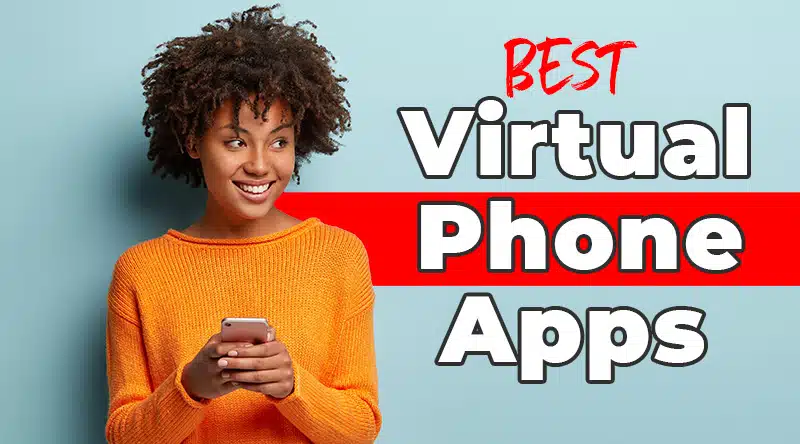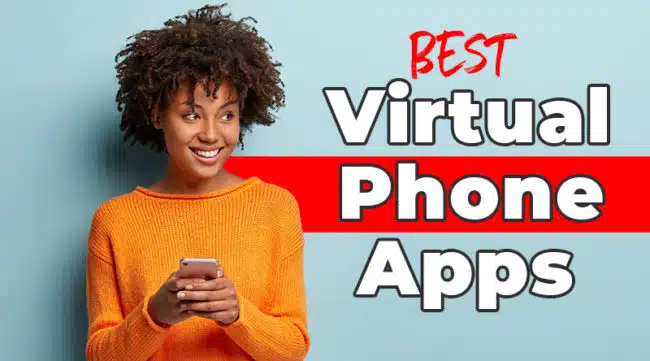 I've put together a list of the best virtual phone number apps you may use to receive verification codes for account authentication to keep things private and minimize annoyance.
I found Hushed to be the best in terms of user experience for phone verification. You can also try Burner for disposable phone numbers or Cloud SIM to get multiple virtual numbers. 
Continue reading my top picks for virtual phone numbers to achieve anonymity while creating online accounts.
Top 3 Virtual Phone Number Apps
| | | |
| --- | --- | --- |
| Intuitive User experience | Seamless Account authentication | Bypass SMS verifications |
| Hushed | Burner | Cloaked |
| Hushed enables you to get a temporary phone number from the US, UK, Canada, and Puerto Rico. It has a dark UI with features like auto-reply messages, multiple device support, etc. | Burner is excellent at verifying accounts on platforms like Bumble and Craigslist. It also features many messaging, calling, and organization tools, along with a seven-day trial period. | Cloaked allows you to create unlimited virtual numbers and email addresses in a few clicks. Available on iOS and Android devices, it even features an extension for chrome and brave browsers. |
| Try Hushed | Get Virtual Number | Try Cloaked |
You'll come across many more useful virtual number apps as you scroll down, including those that can help you receive SMS messages online.
Best Virtual Phone Number Companies Compared and Reviewed
If you've been active online, you're probably aware that most online platforms such as Twitter, Microsoft, Craigslist, Tinder, etc., require phone number verification. Unfortunately, you have to give over your digits in order to use their services.
Thankfully, you don't have to give out your actual mobile number anymore. A virtual number enables users to register on these platforms without disclosing their real number.
Before apps, real-world burner phones used to be disposable prepaid handsets that users would use momentarily before discarding them once their number was discovered.
Fortunately, obtaining a temp phone numbers is now much easier, thanks to the best virtual number apps that I've compared and reviewed below, which include:
Hushed Virtual Phone Number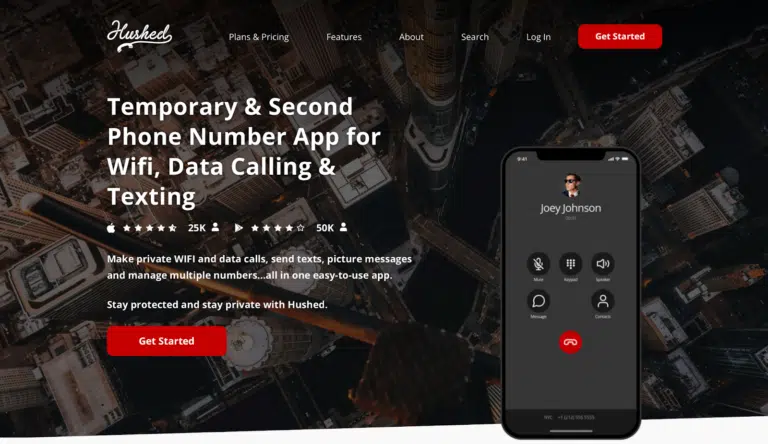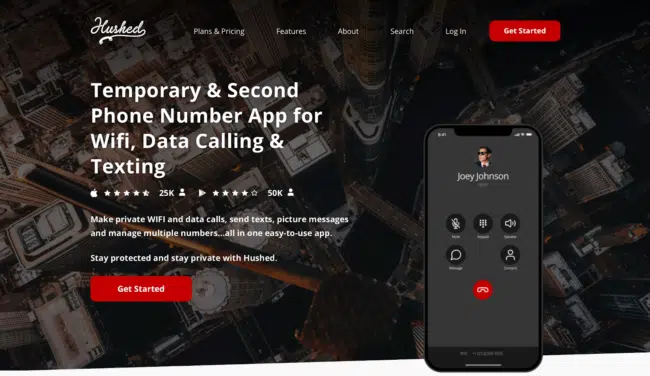 Hushed is paid service that makes it extremely simple for anyone to acquire a virtual phone number from numerous countries, including the US, UK, Canada, and Puerto Rico.
I'm a fan of its app for Android and iOS devices because of its dark and intuitive UI.
Thanks to Hushed, I've been able to receive numerous "verification codes" for US services using a virtual phone number. Once you verify your accounts, you can dispose of the Hushed number in seconds.
Besides an account verification code, Hushed virtual numbers can also make and receive calls/messages like regular phone numbers. None of your virtual number activity interacts with your cellular number, so your conversations remain anonymous.
It also offers multiple numbers and advanced features like call forwarding, call routing, auto-reply messages, dropbox/slack integrations, and various device support.
You can test Hushed risk-free for the first three days since new users can claim a free virtual phone number. The one drawback is that since you can only receive messages from people you've initiated a conversation with, you cannot use this free number for account verification.
So, it's ideal for getting a paid Hushed with a USA number for sms verification.
The best part is that Hushed is the only app that accepts bitcoin as payment for complete anonymity. I also like that it offers subscription plans for 7, 30, 90, and 365 days, starting at just $1.99.
Burner Second Phone Number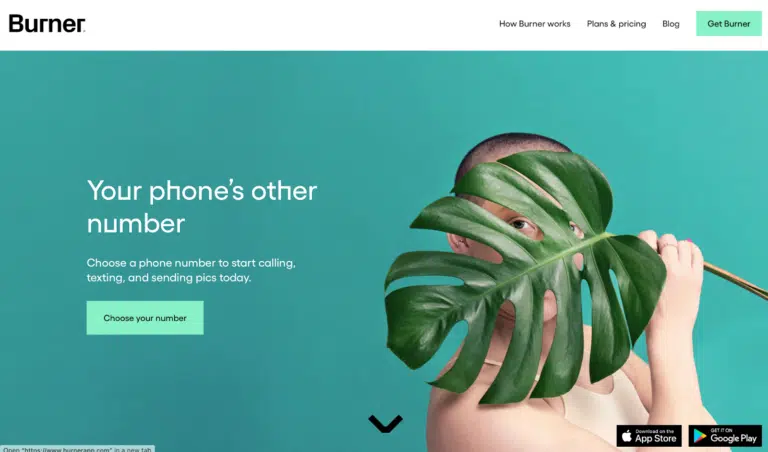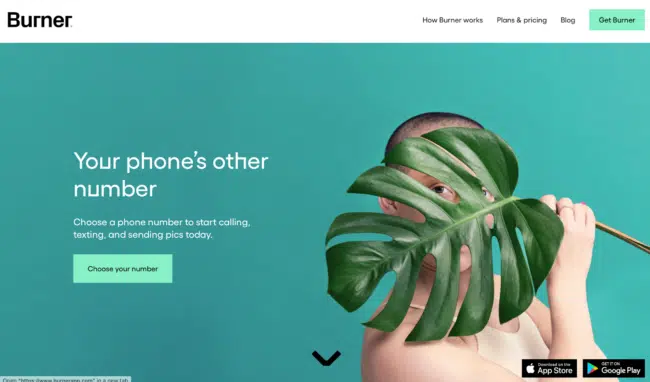 Burner is an apt virtual number service for anyone seeking a separate contact number from their cell phone number. Unlike Hushed, Burner doesn't offer phone numbers in Puerto Rico, so you're limited to regions like the US, UK, and Canada.
Nevertheless, It satisfied my need for a disposable number to verify accounts on multiple platforms. I also use Burner's virtual number when filling-in online forms and listing products on Craigslist.
The Burner app is available on both the Google Play store and the Apple app store and has various messaging, calling, and organizational tools to help you manage your personal life.
Burner asks you for your preferred area code and then lets you select from a list of available phone numbers in that area.
It lets you send unlimited calls and texts; nobody you interact with can ever find out you're using Burner. One feature that has helped me immensely streamline my communications is its auto-reply messaging.
Disposing of the used number is also possible at any time. However, it's worth noting that discarded numbers cannot be used again due to security reasons.
Burner offers a more extended seven-day trial period to test the service. No contracts, no commitments. That said, their subscription prices are similar to that of Hushed
Cloaked: Creating a Virtual Identity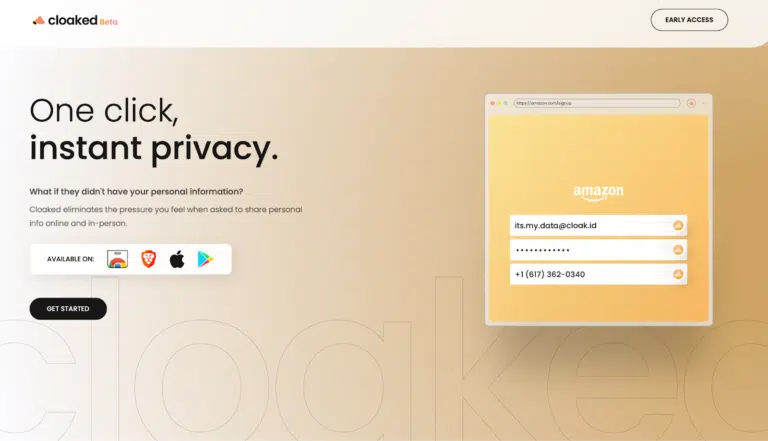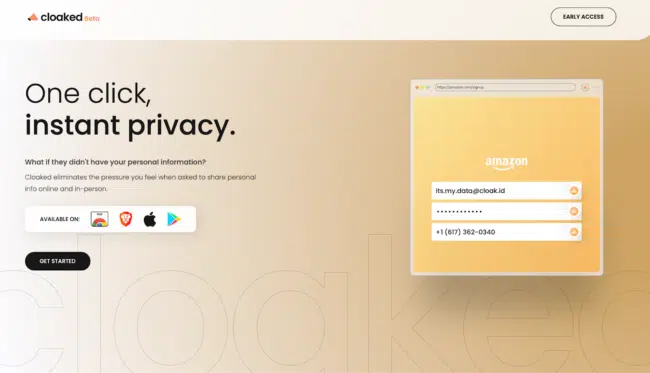 Cloaked is a privacy-centric company that helps users gain control of their data with Cloaked identities. It's not just limited to virtual phone numbers; you can also create unlimited email addresses in a few clicks.
You can request SMS verification on Cloaked's number or email and get your account verified while remaining unknown.
Cloaked also functions in person, so you can immediately share a disposable phone number or email, whether you're meeting someone new or signing up for a rewards program.
The Cloaked app is available for iOS and Android devices. It even has an extension for chrome and brave browser to manage your phone numbers on an online dashboard.
Note that you can't make calls directly through this web dashboard, as it only allows users to view messages and adjust settings.
All your text conversations and call logs remain in the Cloaked app, but you can forward them to your inbox if you wish to. It even lets you auto-mute people and organizations, so you never have to plead with agents to be off their call database.
The only problem is that Cloaked is currently in beta, so you'll need to fill out a form on their website to request early access.
If you're interested in Cloaked, keep an eye out for the launch of their paid membership plans.
Cloud SIM (UK, Poland, Canada, France, US)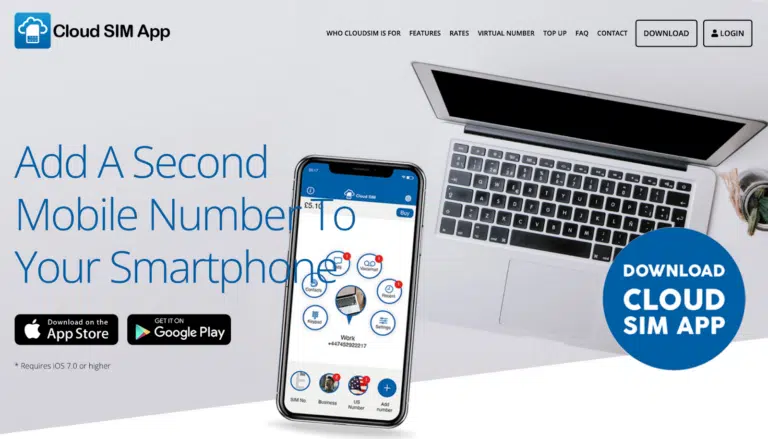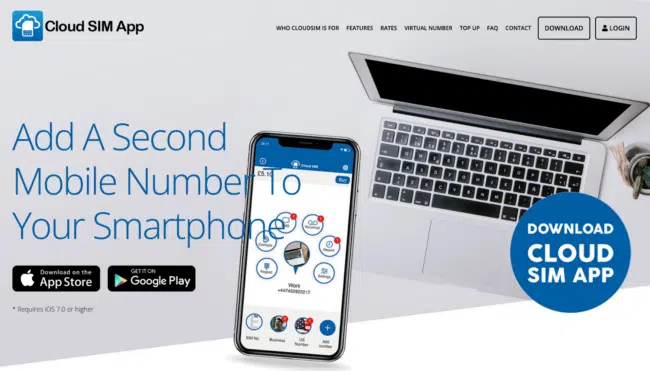 Do you require not one, not two, but four more cell phone numbers for SMS messages and account verification? With the Cloud Sim app, you can get multiple virtual phone numbers based in the US, UK, Poland, Canada, and France.
Cloud SIM has apps for both Android and iOS devices, but I'm not a fan of Cloud SIM's UI with circular icons since they don't feel as intuitive or visually appealing as other apps on this list.
Nevertheless, the UI doesn't matter much if you only want to use the app for account verification. Any verification SMS you request on the Cloud SIM number can be found in the SMS icon on the homepage.
One crucial aspect of Cloud SIM that I don't like is that it charges users by minute or message.
You can only make free calls/texts to other Cloud SIM, so I'd not recommend it if you want a secondary number to make calls or send messages.
Also, unlike Hushed or Burner, it offers no free trial, so you're either all in or all out.
CoverMe: Private Number, Messages & Vault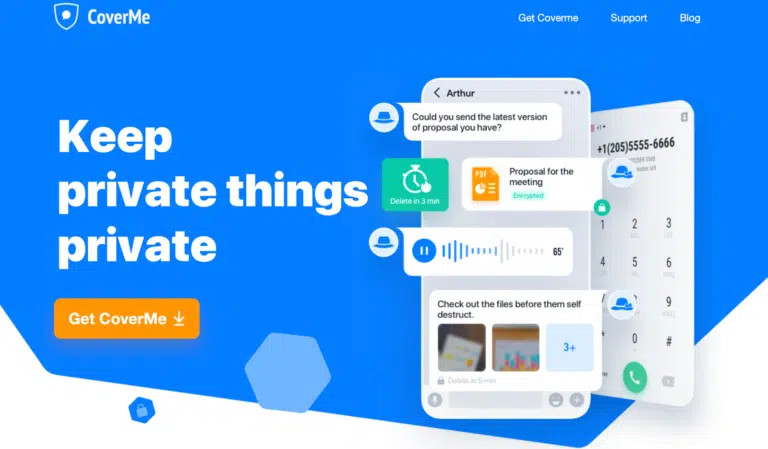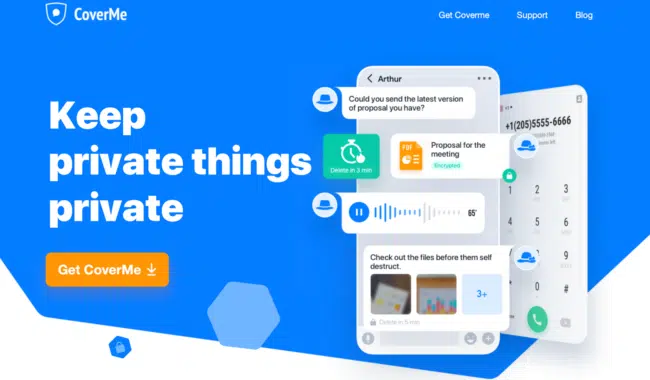 As the name suggests, CoverMe safeguards your privacy by offering disposable phone numbers for text messages and calls.
The app is free to download on iPhone and Android smartphones, but you'll need to purchase a virtual number before you can verify your accounts or receive SMS online.
During my tests, verifying a Microsoft account with a US number took less than a couple of minutes. Similarly, its virtual numbers enable users to verify accounts on numerous platforms like Facebook, Bumble, Twitter, etc.
Also, if you're as paranoid as me, easily program the app to self-destruct the received messages once you have read them
Another bonus feature of CoverMe is its safe vault that locks your private photos, videos, documents, notes and passwords in the cloud.
One major drawback of CoverMe is that it's relatively expensive compared to other services here. So, I'd only recommend it to people who want to use the prestige security and encryption features since there are cheaper alternatives if your only aim is to verify accounts.
The basic plan costs $9.99 monthly with only 300 messages and 150 voice credits. Once these credits expire, it asks you to purchase additional credits
Skype VoIP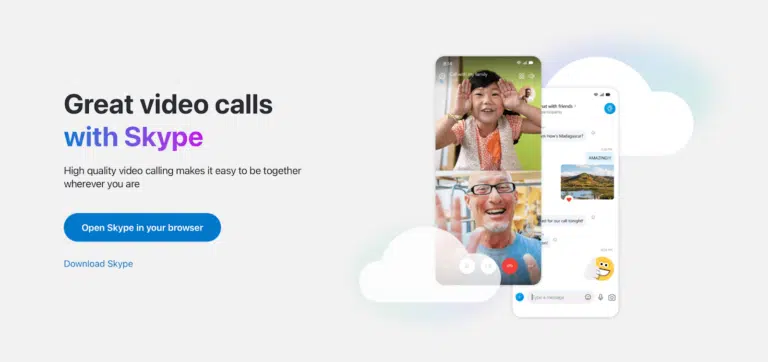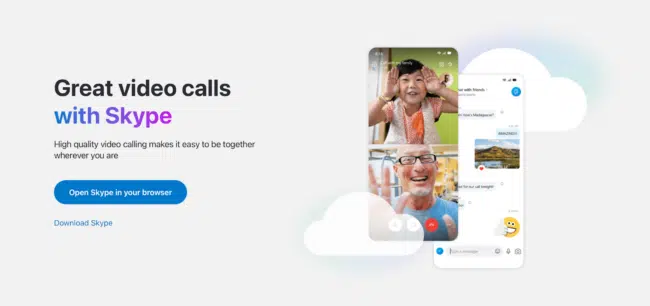 The telecommunications app renowned for its VoIP service can also be used to verify your accounts. Skype features an addon called Skype number that acts like your second phone number linked to your Skype account.
Skype Number allows users to purchase a virtual phone number from 26+ countries, including the US, UK, Australia, Mexico, and Puerto Rico.
You can use these Skype phone numbers to verify your account because they can take incoming calls and texts. Anyone with a mobile or landline can contact your Skype number, and you can answer the call using the Skype app.
Five years back, using a Skype number to authenticate accounts would have been an acceptable alternative. However, Skype seems obsolete nowadays compared to the many other virtual phone number apps with superior capabilities.
Still, if you'd like to stick with Skype, you can pay for their phone number monthly. The pricing of the Skype numbers isn't disclosed on the Skype website.
Google Voice (not recommended)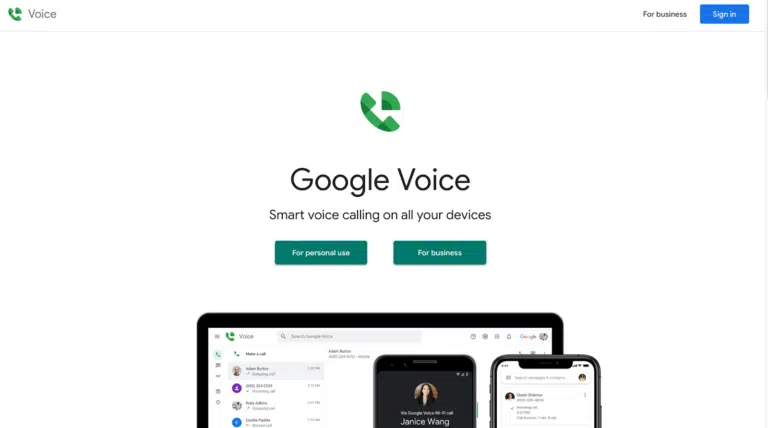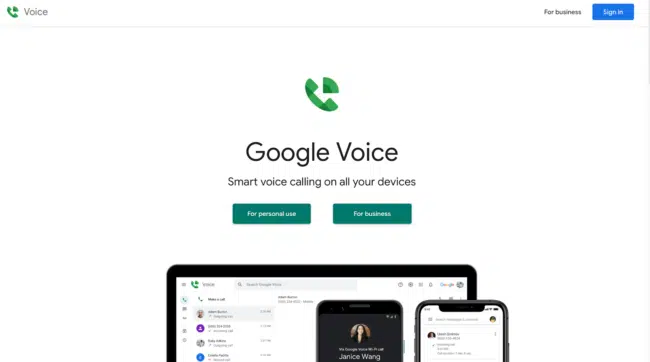 If you're from the US, Google Voice will help you authenticate any account for no cost, but like with most free services, there's a catch.
Google requires you to connect your actual phone number to start using its free Voice services, which ultimately jeopardizes your anonymity.
Also, Google Voice has existed for a long time, but it hasn't received any updates. Take what you will from that, given Google's track record of releasing and eliminating things.
Every temporary phone numbers app here offers better functionality and privacy than Google Voice. That said, it's the only service with no limits, ads, or subscription fees.
Talkatone Calling App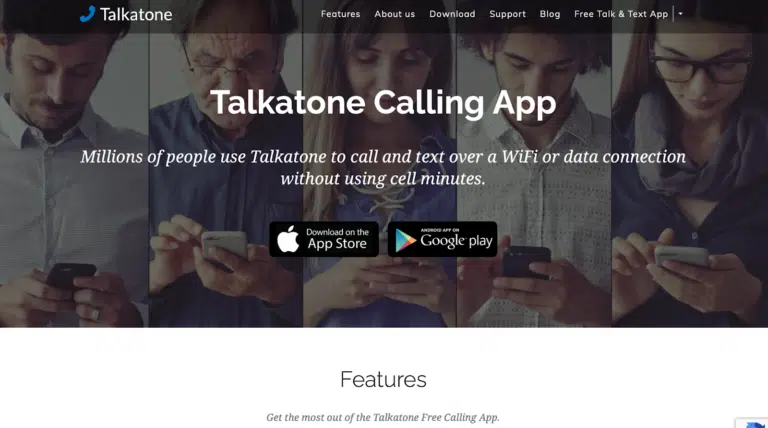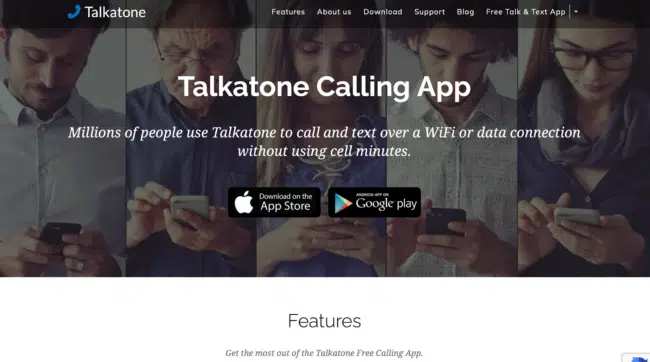 If you're seeking a free virtual local phone number, then Talkatone is a better alternative to Google Voice. Talkatone lets you select your own free US phone number that you can use to authenticate accounts.
With this virtual number, you can call and SMS free from most US lines. This Talkatone number can also serve as your virtual business phone number, or when listing items on websites like Craigslist, signing up for dating services, etc.
Talkatone operates without a hitch on a wide variety of gadgets, including iOS, Android, and even iPod. Its iOS app's simple and clean UI makes for simple navigation, which I like.
Users get 60 minutes of free outgoing calls every month and can purchase additional credits to make more phone calls.
This makes Talkatone a terrific alternative, particularly for people looking to connect with friends and family from abroad, as it's far less expensive than standard or landline calling.
Virtual Phone Number for Business
Most of the options that we discussed above are ideal for individual usage. Anyone can use the mentioned apps to generate a second phone number for account verification, making calls, and sending/receiving texts.
These virtual phone number applications are, therefore, quite useful in situations where you don't want to disclose your actual phone number. Let's say you meet a stranger that persists in taking your number or when you want to connect with buyers on eBay/Craigslist.
That said, if you're a business owner, these services may not be ideal since they lack in departments like IVR integration, CRM, and collaboration tools.
Fortunately, the market is filled with virtual number solutions like Grasshopper and Line2 that come in handy for business phone system. These are some great tools to acquire virtual business phone numbers for managing clients and converting leads into conversions for businesses.
Why Use a Virtual Phone Number?
Here are some notable privacy benefits that you can achieve with a virtual phone number:
Account Verification– Enter your virtual number on websites and platforms that require SMS verification, like Microsoft, Google, Whatsapp, Tinder, Bumble, and many more.
Secondary Phone Number– Establish a barrier between your personal and professional lives by giving your coworkers a virtual number to reach you at.
Control over notifications– Avoid getting bombarded with text notifications on your phone with a virtual phone number app.
Avoid Identity theft– The virtual phone number is not linked to your identity, which makes it a must-have companion for VPN users who value anonymity in cyberspace and real life.
Increased convenience and cost savings– Not to mention, having a virtual number offers significant financial benefits. Traditional phone bills are far more expensive than virtual numbers. Furthermore, calling your loved ones when travelling overseas will save you a tonne on roaming fees. Additionally, it's much simpler to access the settings for your virtual numbers from any location or device
How to Port Your Current Number to a 2nd Line
If your current mobile phone number is flooded with spam calls or texts, but you still want to keep it, you may use the Hushed app to convert it for free to a virtual number.
Please note that this facility is only limited to real mobile numbers from the US, UK, and Canada.
You'll need to contact the support team at [email protected] saying that you require the porting facility, and they will initiate the porting process.
Depending on your current carrier, the number ports might take up to 10 days. You will be given a free 7-day plan once they have migrated your number to the Hushed app.
FAQ: Virtual Phone Numbers
Let's now answer some of the most frequently asked questions about virtual phone numbers.
Do virtual phone numbers work with all phone carriers?
All phone carriers permit users to port their existing physical number to a virtual phone number through a third-party virtual number provider. Similarly, all phone carriers allow users to communicate with these virtual phone numbers via calling or text. 
How do I get a phone number from another country?
You can get a virtual phone number from several countries like the US, UK, Puerto Rico, Canada, France, Poland, and Mexico. Virtual phone number providers like Hushed, Burner and Cloud SIM will ask you for your preferred area code and provide all available virtual numbers in that region.
Can I get a virtual phone number for my mobile phone?
Yes, you can use both your real number and a virtual number on your mobile phone. All the mentioned virtual number apps are available on Android and iOS smartphones. The virtual numbers are independent numbers that can only be accessed through the app because they are not linked to actual phones or SIM cards.
Are virtual phone numbers free?
With services like Google Voice, you can have a virtual phone system without paying a cent. This method, however, has a number of drawbacks. For example, it needs your actual phone number. Instead, I advise using one of the cost-effective virtual number providers that value anonymity, such as Hushed or Burner.
Can I get a toll-free number to use as my virtual phone number?
I couldn't find any virtual number services that offer toll-free numbers. However, depending on your carrier, you may be able to port your current toll-free number to a virtual one. I advise you to get in touch with the virtual number service provider for more information.
Wrapping Up!
There you have it, then—the complete list of excellent applications for Android and iOS that provide virtual phone numbers. Nobody likes to get a barrage of spam calls or messages, but they also don't want to carry a second phone.
All of these applications pass the SMS verification test on any website without jeopardizing your privacy. These applications can also help you avoid creepy dates and potential stalkers.
Please share your own recommendations or experiences with virtual number apps in the comments below.