Is paying for identity theft protection really worth it? Before you add another monthly charge to your credit card bill, learn whether the benefits are worth it, and whether you're the kind of person who needs identity theft protection anyway.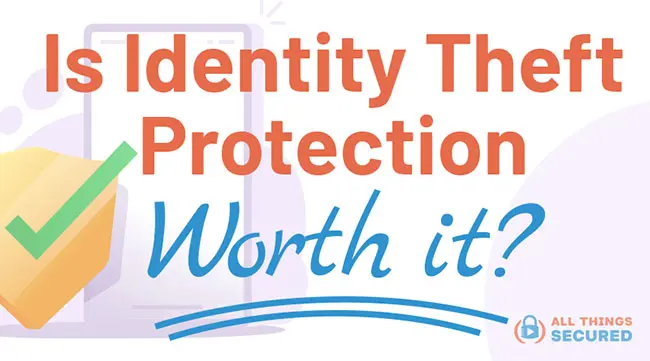 Imagine you are at a gas station. You just tried paying for the gas but your card has been declined due to insufficient funds. Surely there must be an error? The credit account is barely a month old.
But then you call the credit card company and according to them, you have been living lavishly in Florida. That is where your money was spent.
Which is odd because you live in Colorado.
Before you even have time to process that, the police swoop in and whisk you away. Apparently, you missed an assault case hearing.
Again, in Florida.
Is this beginning to sound familiar? It's probably because I'm describing the 2013 comedy film Identity Thief.
Unfortunately, this is also a reality that millions of Americans have lived. In 2019 alone there were 651,000 reported cases of identity theft.
In 2020, there were 1.4 million reported cases of identity theft.
It's not surprising that there has been a surge in identity theft monitoring services. And now, like a lot of other people, you are probably wondering, "Do I really need to pay for identity theft protection?"
Are premium identity theft protection package from companies like Identity Guard worth it?
The truth is that some people need it…and some people don't. And that's why we're here – to help you determine where you belong.
We'll begin with the basics.
Note: Some of the links in this article are affiliate links, which means that at no extra cost to you, I may be compensated if you choose to use one of the services listed.
How Does Identity Theft Protection Work?
All major identity theft protection services work on the same three principles.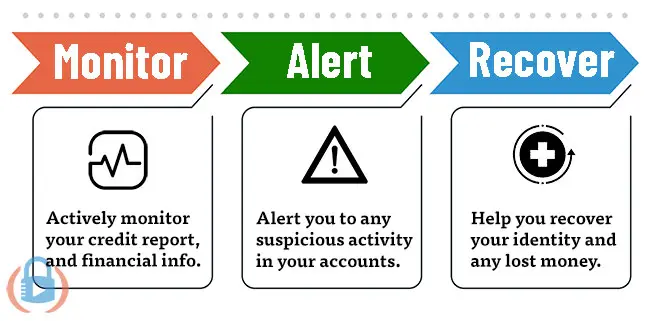 Here's a bit more detail about each of these principles:
Monitoring – Identity theft protection services actively monitor your credit report and financial information, looking for any changes. These services also check to see if your personal information has been leaked or has been used for suspicious activities such as opening unauthorized lines of credit.
Alerting – In the event that they discover suspicious activity, they notify you immediately. Keep in mind: the alerts can only be sent after the threat has been detected. Therefore, identity theft protection services do not necessarily prevent your identity from being stolen, they are an early warning signal so that you can fix it without incurring further losses.
Recovery – Once it has been established that your identity was stolen, identity theft protection solutions can help you recover your identity, any lost money as well as restore your credit score. Most solutions also come with an insurance coverage. And contrary to what some people may think, the insurance does not always cover the money you lost (check the specific plans). Instead, it covers the costs that you will incur in the identity restoration process such as phone bills and legal fees.
But honestly, all this sounds like something you can do yourself, right?
That's because you can.
Which brings us to my next point.
You May NOT Need Identity Theft Protection
Try to think of identity theft protection like an actively monitored home alarm system. The cameras and sensors don't physically stop the burglars, but they do alert you to when your home has been broken into.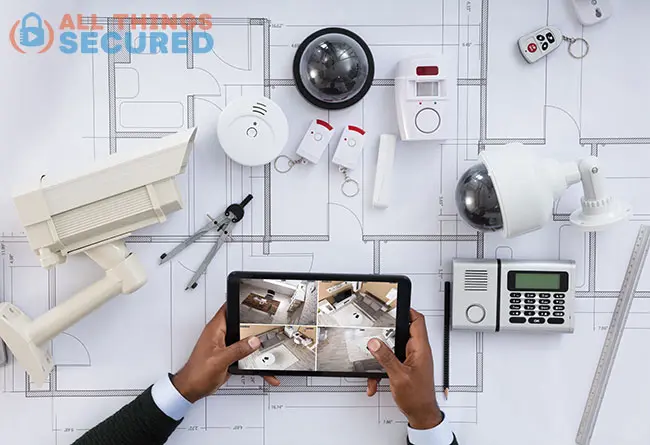 Is a home security system needed in every home? Of course not. But if you live in a higher-risk neighborhood or you've been robbed in the past, it provides good peace of mind.
So how does this apply to identity theft protection?
To execute identity theft, the fraudsters need to have some personal information such as:
Your name;
Your address;
Your date of birth;
Your social security number;
One way to get this information is if it has been exposed in a data breach (although there are ways to hide your actual home address you can learn here).
So if a company that has your data has been hacked before, it means that your data is in the open and you are at a higher risk of having your identity stolen.
In such a case, it's worth having an identity theft protection service.
The same is true if your identity has been stolen before.
Using an identity theft protection service isn't absolutely required unless you feel like you're at higher risk.
But even if you don't think you're at risk and you don't want to pay for these services, there are still a few steps you need to take.
Alternatives to Active Identity Monitoring
Let's say you decide not to pay for active identity theft monitoring – which is not a bad thing.
This also means, though, that you need to be more vigilant about personally monitoring your own credit and finances. I recommend that you:
Check Your Credit Report Regularly: With no active credit monitoring taking place, you won't get any alerts when there is an anomaly. It's up to you to check your free annual credit report and find discrepancies. If you notice anything, immediately report it to your credit card provider so that they can block any further transactions.
Put a Freeze on your Credit: Call one of the credit bureaus and put what's known as a "freeze" on your credit. This makes it much harder to open a line of credit in your name and requires additional verification. Of course, this also means its harder for you to open a new credit card but…maybe it will make you think twice before you do?
Balance Your Bank Account: Most people don't keep receipts anymore and they tend to trust that banks don't make any errors. This is dangerous! Balance your bank account at least once a month to make sure there aren't fraudulent charges or bank errors.
These steps require you to be engaged and alert, and some people just don't have time for that.
So if you'd rather just pay for an identity theft protection service, let's cover what you need to know.
How to Choose an Identity Theft Protection Service in 2023
Not every monitoring company offers the same exact service, but unless you do extensive research on all of them, it's hard to know the differences.
It really boils down to a few key features you should consider:
Identity vs Credit Monitoring: Some solutions are only meant to protect you against identity theft and so they will only notify you when personal data has been compromised. The best solution is one that also offers credit monitoring and consequently protects you from financial fraud.
1 Credit Bureau vs 3 Credit Bureaus: An identity theft protection solution cannot be fully effective if it only monitors reports from a single credit bureau. The bureaus do not update your report at the same time and every minute that passes with your identity stolen is another minute that fraudsters can use to ruin you further. Choose a plan that monitors all three bureaus.
Individual vs Family: Most identity monitoring services cover a single individual, but identity theft can strike any member of your family. Decide whether its worth covering you and your spouse and if you should consider monitoring for your children as well.
Insurance Coverage Limits: You need to know what happens if you get hacked or your identity is stolen. Coverage limits usually vary based on the plan you choose. Having about $1 million in insurance coverage is recommended. That may seem like a lot, but you'd be surprised at how much damage identity theft can cause.
Company Credibility: Keep in mind that in order for a company to monitor your personal information and credit information, you must first give them access to this information! It's important that the company you choose has established credibility in this industry and is worth paying a few more dollars to find.
Pricing for these kinds of services usually comes to about US$100 – $200/year for an individual, but this varies based on features and insurance coverage.
Recommended ID Theft Protection Services
As stated earlier, there are quite a few identity theft protection services that have popped up over the last few years.
But since credibility is important to me, I'm only going to recommend two here that have been around for decades.
LifeLock (w/ added Norton Antivirus Protection)
Plans to check 1 or all 3 credit bureaus;
Free VPN protection included (see what is a VPN);
Alerts on crimes committed in your name;
60 Day Money back guarantee;
Again, if you do your research, you'll find that there are quite a few identity theft protection services on the market today. And many of them are good.
But if you're looking to narrow it down, you can't go wrong with either LifeLock or IdentityForce.
Extra Steps to Prevent Identity Theft
The thing about internet security is that there's always more you can do to secure yourself. Privacy and security is never a "one and done!" process.
There are some great first steps you can take, some of which I'll outline here, but the rest of which you can download in this free security checklist.
You need to take all necessary precautions to give hackers and fraudsters the least chance of getting to you.
So, in addition to answering the question of whether identity theft protection is worth it, I'd also like to cover some additional steps you should take.
Use strong passwords: Do you know what's crazy? That some people are still using passwords such as 'Password', '123456', or even 'Qwerty'. These types of passwords do not even need a sophisticated program to crack. You can easily guess them. Your password is the front door lock to your online identity, so it's important to spend time creating a stronger password.
Consider a password manager: This inexpensive piece of software can help you create, store and retrieve the best possible passwords. And they also monitor your logins for any compromised security. I've used 1Password for years and I love it.
Use Two-Factor Authentication (2FA) if it's an option: 2FA adds an extra layer of protection over your password. Once it is activated, you're required to enter a one time password (OTP) supplied via SMS, through an authenticator app (but I suggest you avoid using Google Authenticator!) or by using a 2FA key like Yubikey that I use.
Use virtual credit cards: A virtual credit card is generated from your physical card, but it features a different credit card number, security code, address, and expiry date. If the card is compromised you can quickly dispose of it and generate a new one without having to cancel your real account.
For this and more great security tips, be sure to check out my online security "start here" page or the All Things Secured YouTube channel!