A credit freeze is a consumer protection that gives you control over how credit bureaus can share your data. By freezing your credit, you not only stop any new credit from being opened in your name, you also limit a credit bureau's right to sell the data they have about you. It's worth taking advantage of this kind of protection, and here's what you need to know to do it.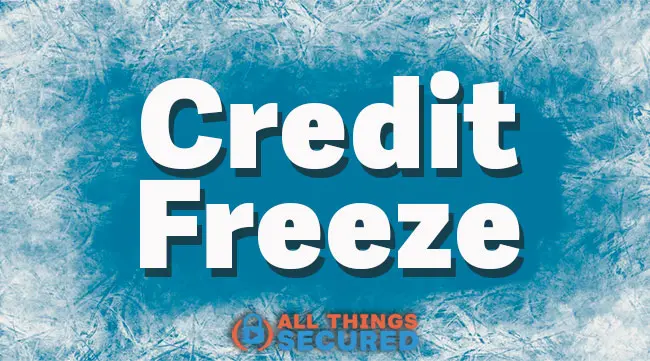 Did you know: 47% of Americans have been victims of financial identity theft in the past two years. If you were one of them, then you know first hand the importance of taking necessary measures to protect yourself from identity fraud.
While there are many types of identity theft, credit card fraud stands as one of the most popular and menacing threats to consumers.
In 2022 alone, there were 365,597 reported cases of scammers using a victim's information to open a new account. Moreover, 37% of American consumers have been victims of application fraud in the past two years.
This is worth taking this seriously.
Here's what we're going to cover:
Most (but not all) cases of credit fraud can be prevented with a credit freeze. But as you'll learn below, since the credit bureaus are hurt by freezes, they prefer to promote a credit lock or fraud alert.
How to Set Up a Credit Freeze [Video]
To start, watch this video tutorial (jump to 4:57 if you only want to see the tutorial part):
Be sure to subscribe to the All Things Secured YouTube channel!
What is a Credit Freeze?
A credit freeze is the act of locking, or "freezing", your credit report, making it inaccessible to any third party.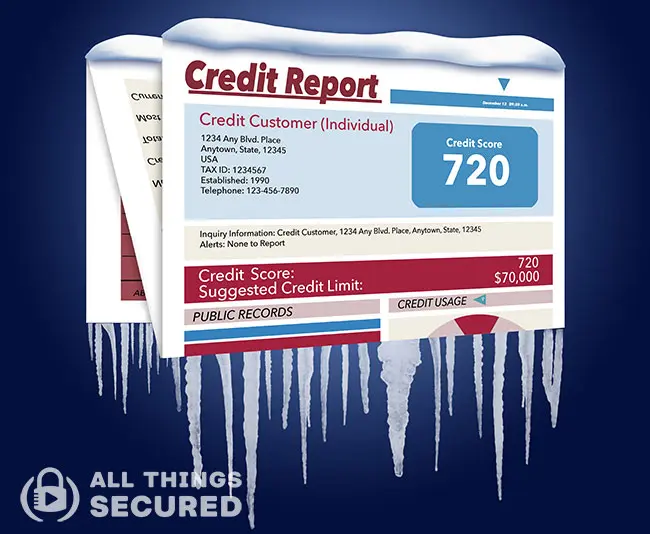 Before any creditor or lender approves a new line of credit (credit card, car loan, etc.), the first thing they do is check with one of the three primary credit bureaus:
TransUnion
Equifax
Experian.
These bureaus keep track of your spending and debt repayment in order to gauge your level of creditworthiness. They grade you on all of this with a score, which you know as your credit score.
Do the Credit Bureaus Have My Information?
When you freeze your credit, the credit bureaus are prohibited from giving out your data and the since the lender won't have access to your credit history, they cannot approve your new account. So, even if criminals have your personal information such as your social security number, they can't use it to open accounts under your name.
How Much Does a Credit Freeze Cost?
Before 2018, credit bureaus used to charge $5-$10 per month to freeze or thaw your credit. However, after Equifax was hacked in 2017, US Congress stepped in and required all credit bureaus to offer a credit freeze or fraud alert for free.
Read this carefully: To set and thaw a credit freeze is completely free. Anybody who tells you otherwise is scamming you.
Will a Credit Freeze Keep Anyone From Seeing My Data?
While this will prevent hackers from opening new lines of credit, it won't protect your current accounts. If a scammer has your credit card information and password they can still make fraudulent purchases since sellers do not look up your credit information before approving purchases.
A better alternative to protect your current accounts would be to use an identity theft monitoring service.
Also worth noting is that this consumer protection does not lock out everybody trying to access your credit report. Some parties will still have access to your information.
Who Can Access a Frozen Credit Report?
The following entities have access to your credit report, even if you have put a credit freeze on your account.
Your current lenders and card issuers;
Parties acting on behalf of your current creditors like debt collection agencies;
Landlords or rental agencies vetting you as a potential tenant;
State and local agencies may also access your credit under a court order or warrant. An example is a child support agency when trying to decide on matters of child support;
Auto insurance companies if your credit score is necessary in their rate-underwriting process;
Should I Do This for my Children?
Putting a credit freeze on your child's account could be a very good way of protecting their identity.
In fact, I highly recommend that you do. Minors have become an appealing target for identity theft because parents have little reason to check whether their kids have a credit record. The criminal can, therefore, use the kid's identity for years before it is detected.
Of course, you will need your child's social security number as well as documents to verify that you are authorized to act on behalf of the child.
When Should I Use a Credit Freeze?
A credit freeze is a precautionary measure to guard you against identity theft. For this reason, anytime is a good time to implement it.
Nevertheless, there are times when you should make it top priority. For example, if your data has been compromised in a data breach, this puts you at a higher risk of having your identity stolen.
Credit Freeze vs Credit Lock vs Fraud Alert
A credit freeze, a credit lock and a fraud alert work in mostly the same way. They lock your credit report so that it's inaccessible to third parties.
The difference, however, is important…and most credit bureaus don't want you to know this!!
The benefit of a credit lock is that is can easily be turned on and off, usually with the tap of a button with your bank app. The benefit of a fraud alert is that you are alerted anytime your credit data is accessed and it makes credit fraud harder by requiring businesses to verify your identity before opening new accounts.
So how is that different from a credit freeze?
It's simple: with a credit lock and a fraud alert, the credit bureaus are still legally allowed to sell your data to third parties. A credit freeze prohibits them from replying to credit checks AND selling your data.
This isn't good for business, which is why credit bureaus tend to push alerts and locks instead.
You'll also notice that a fraud alert and a credit lock are extremely easy to set up: once you set up alerts with one bureau, the information is updated across all bureaus.
The downside to the credit freeze, though, is that you need to set it up with each bureau individually. Similarly, in order to thaw it, you'll have to contact each bureau separately.
How to Set Up a Credit Freeze
To set up a credit freeze, you have the option of calling each bureau, sending them snail mail or activating it online. The easiest method, by far, is to do this online, and thankfully it only takes a few minutes for each site.
You can do that for each bureau using these links:
If you prefer to contact them via mail or phone, I've included the information below. For those that send a request via postal mail, the bureau will send you a reply to confirm the freeze and provide you with a PIN number.
Keep it in a safe place. This is the PIN you will use when you want to unfreeze your credit.
Equifax
Phone: 800-349-9960
Address: Equifax Security Freeze, P.O. Box 105788, Atlanta, GA 30348
Experian
Phone: 888‑397‑3742
Address: Experian Security Freeze, P.O. Box 9554, Allen, TX 75013
TransUnion
Phone: 888-909-8872
Address: TransUnion LLC, P.O. Box 2000, Chester, PA 19016
Each credit bureau has its own unique set of documents that it requires when freezing your credit via mail but generally, you have to include your full legal names, address, social security number, date of birth, as well as documents to prove your identity and address. This could be a copy of a utility bill or a bank statement.
How to Thaw or Remove a Credit Freeze
If you froze your credit online then unfreezing it, otherwise known as "thawing" the credit freeze, is as simple as logging in to your account and following the unfreezing procedure.
If you used telephone or mail then you will need to contact the credit bureaus again. You will be prompted to provide the PIN that was sent to you after which the bureaus will reopen your account.
You have the option to permanently thaw the credit freeze or remove it for a short duration. You can also choose to only allow a specific lender to access your reports.
The change should be made within an hour after your request, unless the thawing request was made via mail in which case you will have to wait three days.