Taking a few minutes to check your free credit report is, well…free. Completely ignoring your credit report and taking a gamble with your online identity could cost you large sums of money and years of your life. This quick tutorial covers the three methods to do a simple credit report check.
Be sure to subscribe to the All Things Secured YouTube channel!
Back in 1970, the Fair Credit Reporting Act (FCRA) was signed as a federal law.
Among many things that the law regulated, it made provisions for consumers to get fair access to their credit reports without having to pay a fee.
What the FCRA Means for Consumers
We are each granted one free credit report each calendar year from all three major credit bureaus: Experian, Trans Union and Equifax.
Here's the problem: these credit reports don't automatically get sent to you and there are a lot of credit report scams that have scared people off.
So how do you check your free credit report?
There are three official ways to check your credit report and only two of them are free. Here's a step-by-step tutorial to guide you through the process.
Note: Some of the links in this article are affiliate links, which means that at no extra cost to you, I may be compensated if you choose to use one of the services listed.
3 Methods to Check Your Credit Report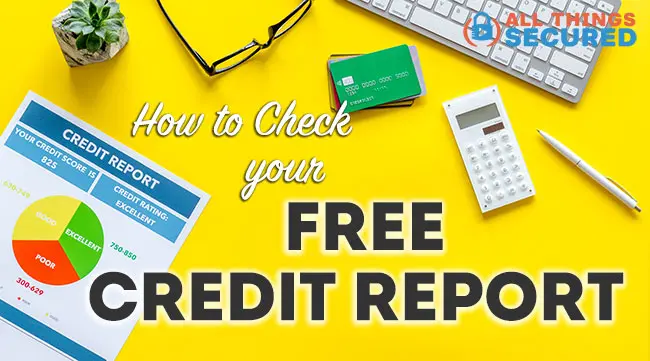 There are three primary ways you can officially check your credit report that I'll cover below:
Use the Mail-In Form (Free, 15+ days)
Sign up with a Credit Bureau (NOT Free)
Click on the method above to jump to a specific section, or you can continue to scroll down to read the details of how to get your free credit report.
Apply at AnnualCreditReport.com
Time needed: 10 minutes.
If you're looking for how to check your free credit report, the only official place to do this is AnnualCreditReport.com. Be careful for any other websites that claim to give you a free report! (more on that below).
Visit AnnualCreditReport.com to Request Your Report

The website can only be accessed from within the United States (unless you use a VPN). Once on the homepage, click "Request Your Credit Reports".

Fill Out the Application Form

Fill out the application with your legal name, social security number, and address. If you find yourself giving your credit card information, STOP! Your credit card should not be required to check your free credit report and if they ask for it, you'll likely be paying for something you didn't want.

Choose the Credit Bureau for Your Credit Report

Choose which credit bureau you would like to receive a report from. You may choose all three or just one if you'd like.

Read and Download Your Free Credit Report!

Once you've chosen the credit bureau, your free credit report will be provided for you to read through and download!
It's that simple!
Considering how little time it takes, there's no good excuse why you don't check your free credit report more often.
Use the Mail-In Form (15+ days)
For those who either don't have access to a computer (how are you reading this?) or you don't trust the internet with your sensitive information (I get it)…
…there is another way.
You can print, fill in and mail a physical application for your free credit report. It will look something like this: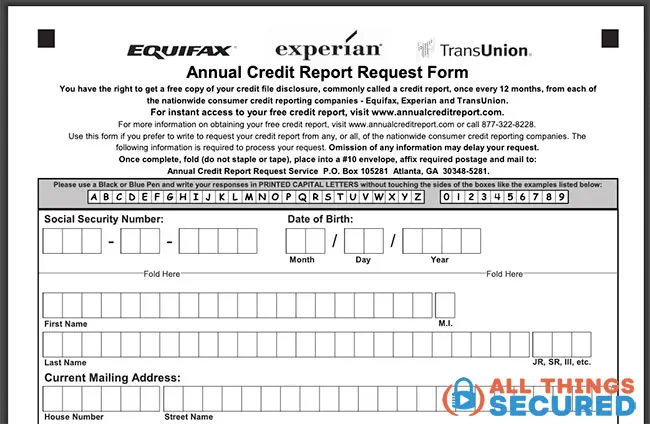 Your credit report request will be processed within 15 days of receipt and will be mailed back to you.
Security Tip: There is an option on the form to request that anything mailed back to you doesn't include your entire social security number. Check this box!
Sign up with a Credit Bureau (NOT Free!)
Not to be outdone, each of the credit bureaus advertises these credit reports, along with your credit score and credit monitoring services…
…for a fee.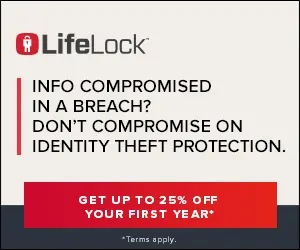 This isn't such a bad thing – heck, I pay for a credit monitoring service.
However, the credit bureaus are very sneaky about how they do it and you could end up requesting a credit report without realizing that you're paying not just a fee, but a monthly subscription!
For this reason, I don't recommend using the credit bureau websites to request a credit report.
And if you want a credit monitoring service, I prefer a service like LifeLock, which offers more protection than the credit bureaus do.
There are a number of excellent identity and credit monitoring services to compare. Each of these will help you stay ahead of any identity theft and save you from devastating credit theft.
Important Tips | Your Credit Report
While checking your free credit report is easy, there are still a few things that you need to remember as you do so.
Here are some common things that people forget as they request their credit report.
Don't Forget Your Spouse! The credit report you check is only for an individual, not for a family. Since you're already checking your own credit report, make sure you do one for your spouse as well. If either of you have your identity stolen, it affects both of you!
You don't have to request all 3 at once. While you're allowed one free credit report per year from each credit bureau, you don't have to get them all at once. If you space them out, you can get a free check once every 4 months. I recommend you set a calendar reminder to check your credit report in January, May and September.
If you see something weird, act quickly. Speed is of the essence whether your identity has been stolen or you have been hacked. If something doesn't look right on your report, make sure you correct it immediately or report it to IdentityTheft.gov to see what you should do next.
Use Credit Monitoring if you're at risk. Has your data been stolen in the past or do you suspect you're at risk? If so, signing up for some sort of credit monitoring like LifeLock will give you the peace of mind knowing that no one can use your data without you knowing about it almost instantly.
Consider a Credit Freeze: One of the best ways to protect yourself from identity theft is setting up a credit freeze. It's free, and if you check the link here, you'll find a step-by-step tutorial for how to do it in 10 minutes or less.
Annual Credit Report FAQ
There are a number of common questions I hear about checking your free credit report. Here are a few simple answers.
Is AnnualCreditReport.com Legit or Safe?
Yes, AnnualCreditReport.com is legally authorized by Federal law as the only place to officially offer your free credit report. You run the risk of a scam by going through other websites.
Which annual credit report is best?
You have the option to choose from the three major credit bureaus (Experian, Trans Union, Equifax), each of which has its own sources. No single report is best, although they might not offer the exact same information.
Does AnnualCreditReport.com do a hard pull?
No, checking your credit report on AnnualCreditReport.com does not qualify as a credit request and will not affect your credit score in any way. It is a free service that is recommended for consumers to help monitor their data.
Can you save your credit report from AnnualCreditReport?
Yes, you will have the option to save and print any credit report that gets generated through AnnualCreditReport.com.
How long does it take to get my free credit report?
Your free credit report can be accessed instantly online through AnnualCreditReport.com. If you choose to mail-in your application, your credit report will be sent back to you no later than 15 days following the receipt of your application.
Beware!! Credit Report Scams
If you do a Google search for "free credit report", you might find a number of different websites that claim to offer this service.
AnnualCreditReport.com is the only site set up by Federal law to do so.
In fact, I would go so far as to recommend that you not click any links to the site – including my own! – and opt to just type the URL into your address bar.
That way, you can be sure that the website you're visiting isn't a scam.
You should also be wary of any email phishing scams that claim to deliver you a free credit report. Neither the FTC nor the AnnualCreditReport website will email you, so don't click these links.
I like to preach the STOP method when it comes to email. It looks like this: