As a Traveling Mailbox customer for more than 8 years now, I've become intimately familiar with how it works and the different features they offer. There are quite a few virtual mailbox services on the market today, so in this Traveling Mailbox review I'm going to explain exactly why I've been using this particular company as a personal and business account.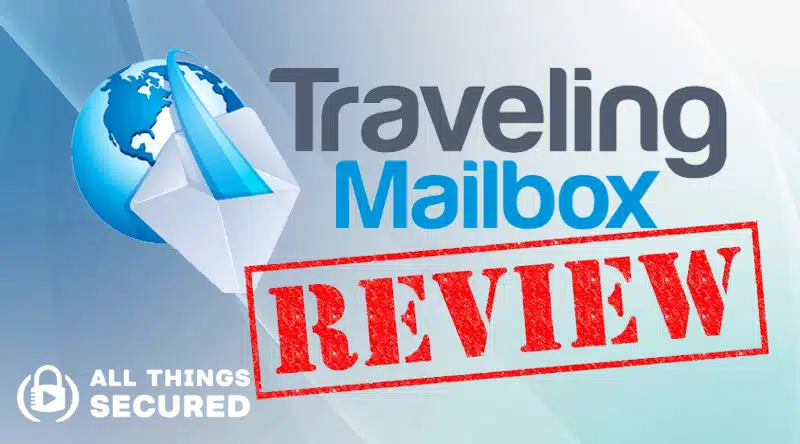 Traveling Mailbox is a North Carolina-based company that started operations in 2011 . As with most virtual mailbox services, the company provides a physical address for secure mail scanning and mail forwarding.
In other words, you can create more privacy for your home address by using a virtual address to receive your mail, have it scanned and then either forward it or have it shredded.
A virtual mailbox makes your physical mail digital.
This kind of service is used by all sorts of people:
People who value privacy;

RVers;

Digital Nomads who travel the world;

A small business owner who needs a registered address;
So what differentiates each virtual mailbox service on the market? I'm going to do my best in this Traveling Mailbox review to explain the features as well as what I've liked and not liked over the past decade of using the service.
Note: Some of the links in this article may be affiliate links, which means that at no extra cost to you, I may be compensated if you choose to use one of the services listed. I only recommend what I personally have used, and I appreciate your support!
Features and Benefits | Traveling Mailbox
While many of the features I'm going to mention here can be found with a number of virtual address providers, I'll do my best to note whenever there's a unique feature you won't find elsewhere.
Virtual Address Options
Traveling Mailbox offers one 1 standard mailing address in North Carolina and 54 premium addresses, all within the continental United States. Each of these addresses is a real street address, not PO boxes.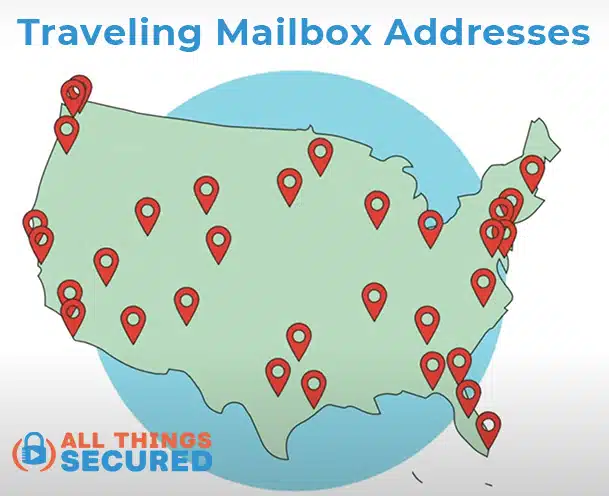 All postal mail, even what gets sent to a premium address, is sent to and processed at the Sanford, NC headquarters. We'll learn more about this in a moment.
The most important thing to note here is that Traveling Mailbox does not offer international virtual addresses at this time.
Traveling Mailbox does not offer international locations at this time.
Mobile App for Virtual Mail
Traveling Mailbox was one of the first digital mailbox services to offer a mobile app, and it's exceptionally easy to navigate and use. You can run your entire digital mailbox directly from the app, including making scan requests, using the check deposit services and viewing your mail.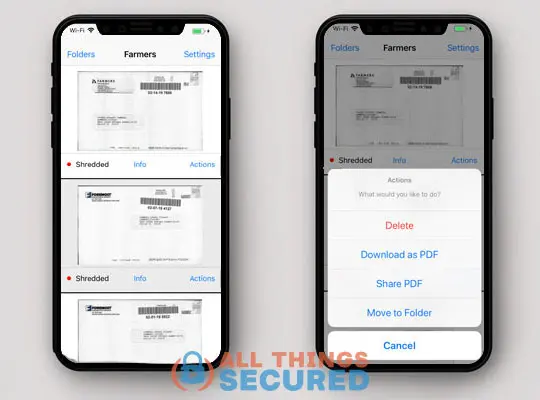 Package Forwarding Services
Once you've scanned the mail, you have the option to have that mail forwarded to any address in the world.
I've used this feature multiple times as I live overseas and it works really well. You have the option to combine multiple letters or packages into one package to be shipped to any address you'd like. If you're waiting for other pieces of mail or to combine into one package, you can even take advantage of their mail storage (free for 30 days).
Check & Fax Services
Not every virtual mailbox service offers check depositing, and even fewer provide fax services.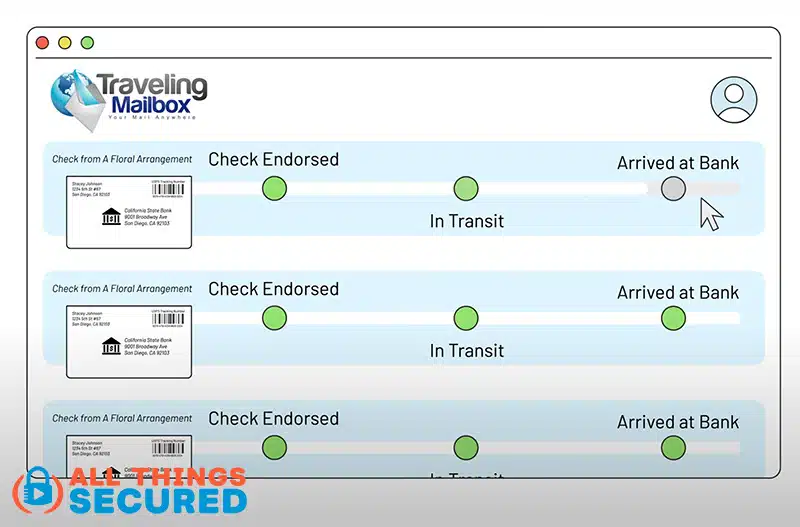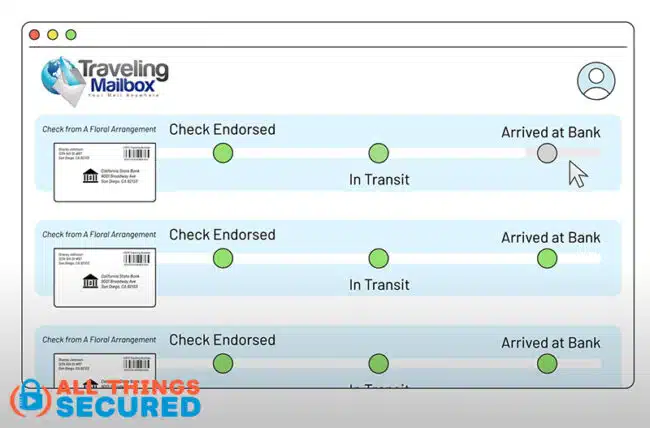 PRO TIP: Using check deposit isn't nearly as important now that most banks allow for mobile check deposits. Instead of paying the extra fee to have a check sent to my bank, I simply scan the check and then deposit is via the camera on my phone.
For those who still require fax services, Traveling Mailbox allows you to send and receive faxes. You can even request a custom fax number for your business if you need it.
Letter Services
If you're located outside the United States and you need to mail a physical letter, Traveling Mailbox offers a unique service on their website where you upload a PDF and they'll print it off and mail it wherever you want. This isn't something you'll find with most services!
Pricing (versus the competition)
The three most popular plans that they offer are the Basic Plan, the Extended Plan and the Small Business Plan.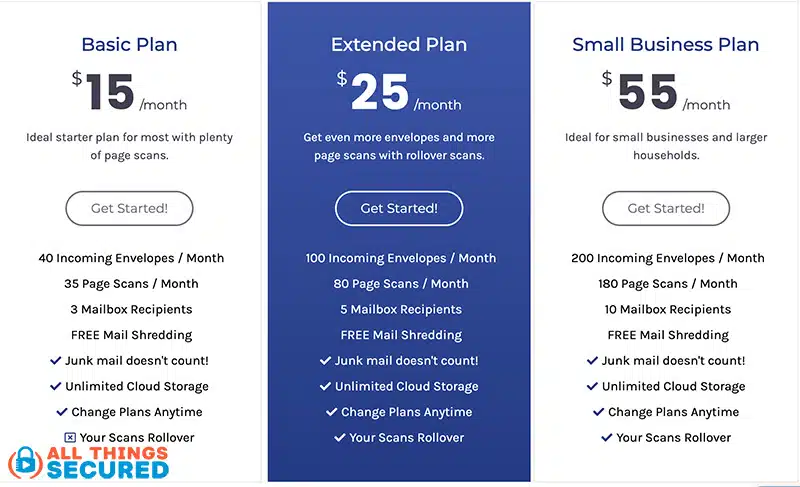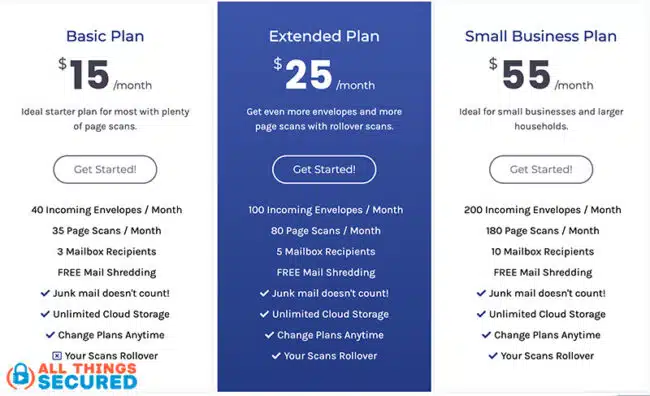 The biggest difference you'll see between each of these plans is the number of incoming envelopes, the number of page scans and the number of recipients that you are allotted. You can always pay for more, but if you're regularly receiving a lot of mail, it ends up being cheaper to upgrade to something like the Extended Plan than to pay for additional scans.
For most individuals (including myself) the Basic Plan offers more than enough, including unlimited cloud storage access for all the digital copies of your mail.
When I compare this to other virtual mailboxes, this pricing is on the lower end. You could find something for a couple dollars cheaper, but most of the other options start at $25-$30/mo.
Pros and Cons: Traveling Mailbox Review
I have absolutely loved creating a permanent address that doesn't change every time I make a move or travel around. I'm able to control all of my mail and packages without the worry of somebody leaving it on a front porch.
Now that I've been using it for almost a decade, the next portion of this Traveling Mailbox review is what I've really liked and not liked about the service.
What I like about Traveling Mailbox
Ever since I started using the app, I've become addicted to managing my physical mail in a digital format as well as hiding my home address for privacy. Every scan I request gets processed in less than 24 hours (except on holidays) and I love that the unlimited cloud storage and integrations with services like Google Drive that allows me to keep a record of my mail similar to my secure email archive.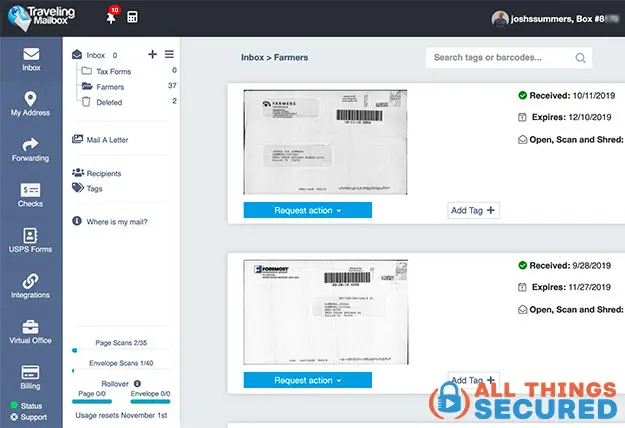 Once people purchase a virtual mailboxes and experience the decrease in junk mail and the increase in control, the costs seem entirely justified and it's very difficult to go back.
I've also really enjoyed their customer support team. The one time I had an issue with receiving my mail, the live customer support was able to find the problem and sent me an email notification when it was resolved.
What I don't like about Traveling Mailbox
Traveling Mailbox works a bit differently from other virtual mailbox services in that they use a central headquarters to process all incoming and outgoing mail.
By contrast, most of their competition tends to rely on small mom-and-pop mail centers to not only receive the mail but also to open, scan and forward it when requested.
While I prefer a process that limits who touches my postal mail, the downside is that if you use a premium address, your mail usually takes an extra few days to get processed. The reason for this is that mail gets delivered to the premium address and is then forwarded to the headquarters in Sanford. That extra forwarding adds a few days and some customers have complained about the time it takes to receive their mail.
Honestly, it hasn't affected me much, but it's worth noting for those who need to have mail efficiently delivered at all times.
Is Traveling Mailbox Safe to Use? (privacy concerns)
The number one question people ask me about any virtual address service is this: is a virtual address safe to use?
In some ways, I would argue that there's a greater risk of your mail being stolen if you have it sitting in a mailbox outside your home for anybody to take. And it's especially true of porch pirates who take packages off your from door.
I've actually had the opportunity to visit a virtual mailbox facility and was pleasantly surprised to see just how serious they take security and privacy. The facility is kept under video surveillance, nobody is allowed in except employees, your online mailbox is encrypted and Traveling Mailbox is even HIPPA complaint to handle any sensitive health data.
Traveling Mailbox Alternatives
There are a number of virtual mailbox alternatives, many of which offer different features that might appeal to your needs. Here are the top three alternatives: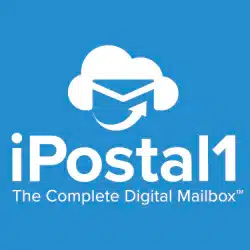 Traveling Mailbox vs iPostal1
iPostal1 is different from Traveling Mailbox in that they have significantly more addresses to choose from, including international addresses in places like Canada, the UK, Singapore and many others.
Pricing for iPostal1 is slightly cheaper, but they also contract most of their addresses through independent mail centers who handle your new mail.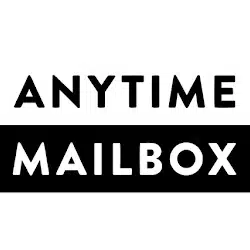 Traveling Mailbox vs Anytime Mailbox
Anytime Mailbox also offer more new address options than Traveling Mailbox, but again, these are all independent 3rd-party postal centers. This also means that they don't offer standard pricing – each location carries a different cost.
The most interesting thing to me is that Anytime Mailbox isn't nearly as focused on the end consumer (you and me) as they are on signing up other companies to use their services as a white label.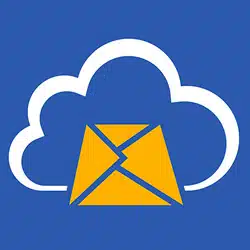 Traveling Mailbox vs PostScan Mail
I really like PostScan Mail and truth be told, I have an account with both companies. PostScan Mail has an advantage over Traveling Mailbox in that they have a number of different "headquarter" locations across the country that process the mail.
They also give you the option to go in-person to pick up your mail if you like, which is helpful if you want to save money on forwarding costs.
Is Traveling Mailbox the Best Option for YOU?
Ultimately the decision is up to you, but I will say that I've been very happy with my purchase of a Traveling Mailbox account. You are welcome to visit their website to get additional information, but hopefully this Traveling Mailbox review was able to provide a good overview of the pros and cons.
The main thing you need to remember is that it is a hassle to change addresses, so you want to make sure you do your homework to choose an address and a service that fits your needs.
FAQ | Traveling Mailbox
Is Traveling Mailbox legit?
Yes, it is. You will be required to fill out a USPS form to legally allow Traveling Mailbox to receive mail on your behalf, and they run all your mail through their secure facility in Sanford, North Carolina.
Who owns Traveling Mailbox?
Traveling Mailbox is owned by Travis Poole, a graduate of East Carolina University in the United States.
Is Traveling Mailbox a PO Box?
No. Traveling Mailbox is better than a PO box from the USPS because it accepts mail from all postal carriers (FedEx, UPS, DHL, etc.).
Can a virtual address be used as a registered business address?
Yes! Virtual addresses are often used as a registered business address for official documentation. You will need to keep that address active for as long as that business is in operation.