Atlas VPN is a relatively new service that has become popular because of the fact that they offer an easy free version of their service. Not only have I been testing out both their free and premium services, I've also been doing a bit of research into the company. The result is this Atlas VPN review…and it's not what you might expect.
Be sure to subscribe to the All Things Secured YouTube channel!
I'm not here to bash Atlas VPN, but if you know the All Things Secured brand at all, you know that we don't give glowing reviews of virtual private networks. Our "no BS" approach is one of the reasons people trust us.
So if Atlas is a service you're seriously looking at, what I want to provide you is an honest look at what they offer, how well it works and who they really are.
There are hundreds, if not thousands of VPN services available today, which makes it important to ask the question:
What does a relatively young company like Atlas VPN offer that is unique or helpful to us, the consumer?
That's what I want to find out, and we'll start by listing out the pros and cons based on my own experience using the apps.
Note: Some of the links in this article may be affiliate links, which means that at no extra cost to you, I may be compensated if you choose to use one of the services listed. I only recommend what I personally have used, and I appreciate your support!
Atlas VPN Benefits (Review)
The first and most obvious benefit that Atlas VPN offers is a legitimate free option.
I normally discourage any "free" security software (and only recommend a select few free VPNs), but for Atlas, the freemium model is their marketing method. They get people using the service by offering it for free and then offset those costs by converting a percentage of those free users to the premium plan.
And honestly, I can get on board with that.
Free users are limited to only three server options, but I was able to stream Netflix when connected to those servers, so I was happy.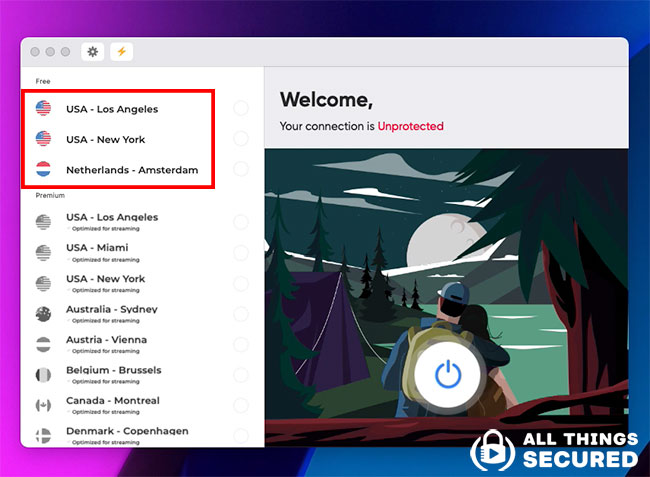 Other benefits of the Atlas VPN software include:
Torrenting: You can use the VPN for torrenting, which is useful for those that use P2P networks;
Simultaneous Connections: They offer unlimited simultaneous connections, which means that you don't have a cap on how many computers or mobile phones you can connect to the servers at the same time.
Kill Switch: Atlas offers a VPN kill switch option, which makes sure that you don't get caught using your internet without encryption, if that's what you want.
Easy to Use: The software is simple and easy to use, with a big fat power button that pretty much anybody can understand.
Pricing: Atlas offers some of the best 1-year pricing on the market, although as I'll explain below, is a fair price based on the limitations of the software.
Let's shift to looking at what I didn't really like about the company and the service.
Atlas VPN Cons and Limitations
Although the simplicity of Atlas VPN is useful for non-tech savvy users, it also creates a few limitations with the software.
These limitations could be seen as either a positive or a negative, so I'll list them here along with an explanation so that you can make the decision for yourself.
Security & Encryption | Is it Enough?
First of all, in terms of security, Atlas currently only offers the IKEv2 protocol. While this is generally considered to be a secure connection protocol, you'll find that most other virtual private networks have adopted other options.
The standard in the VPN industry right now is OpenVPN or Wireguard, both of which are trusted more because they are open source.
IKEv2 is not an open-source encryption protocol.
Atlas Server Network | Is it too Small?
I recognize that Atlas is a new company, but it's worth noting that an available network of only 500 servers in 17 countries is pretty small in comparison to other VPNs on the market.
For example:
ExpressVPN has 3,000 servers in 94 countries;
NordVPN has 5,000 plus servers in 59 countries;
You see what I mean?
The truth, however, is that we don't need thousands of servers as long as the ones they offer work well. Thankfully, I found the Atlas servers to work well and with the premium version, I felt like there were plenty to choose from.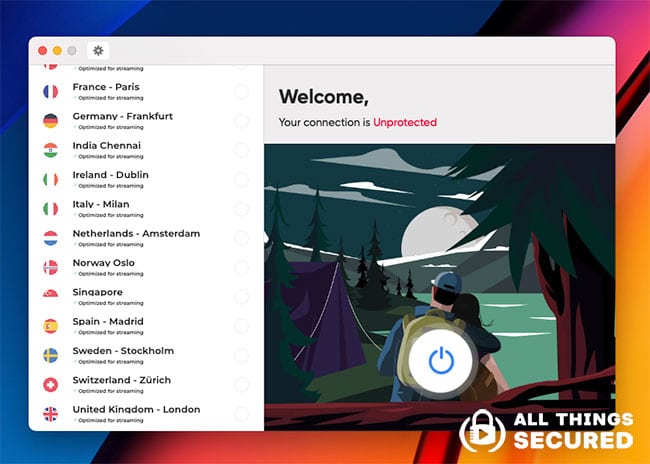 Dedicated VPN Apps for Atlas
In the screenshot above, you can see the screen with the Atlas VPN app on my Mac. It's a clean and simple app that looks pretty much exactly the same on Mac, Windows, iOS and Android.
At this point, though, these are the only available apps.
You'll notice that they're lacking a number of other platforms that many established VPNs support. These include:
Linux;
Media players like the Amazon Fire Stick;
Browser extensions (they say Chrome is coming soon);
Dedicated VPN router apps;
Other Features to Note
The Atlas VPN software protects you from accessing malicious websites and claims to block ads while you're surfing the internet (although it never seemed to work for me).
What you won't find are any advanced security features like split tunneling, a choice of VPN connection protocols (only the IKEv2), or multi-hop server options.
And for me that's ok, because as I mentioned earlier, the software is marketed and priced appropriate to those limitations. And if you're using the free version…then you have nothing to complain about at all.
Who is Atlas VPN? (Transparency Report)
But here's the rub.
Almost every VPN I review is hiding behind some kind of vague explanation of who owns and runs the company.  This is one of the reasons I don't trust VPNs with my most sensitive data. How can we trust a person or company we don't know?
But Atlas is doing something weird.
They're claiming to be transparent when in reality I suspect that it's all a ruse. Let me show you what I mean.
First of all, they don't even have an "About Us" page. When you click on the menu item, it just scrolls you down to a bunch of reviews that honestly look pretty fake.
The company behind Atlas, called Peakstar Technologies, is registered in Delaware but that's about as deep as I could go. There's a reason international companies register in Delaware – privacy.
The "People" Behind Atlas VPN
Who runs the show over at Atlas VPN anyway?
Well, the CEO of Atlas is supposedly a guy named Jim Roberts, but the original mention of this comes from a writer on Medium.com, an open publishing platform that anybody can write on. This guy Simon doesn't exist anywhere else on the internet and only writes about Atlas VPN.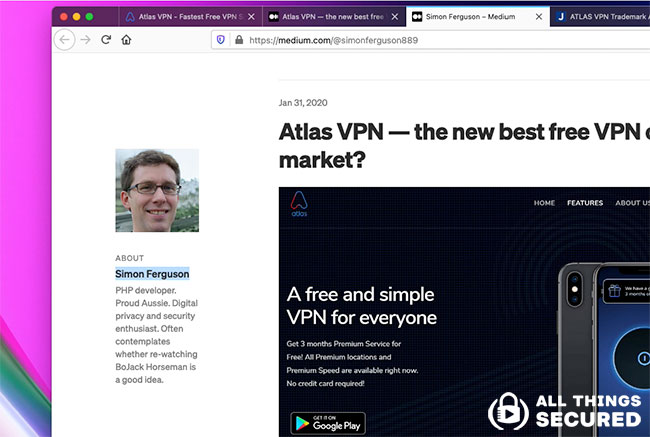 Let me break this down for you. The major players for Atlas VPN are (supposedly):
CEO: Jim Roberts – does not exist anywhere else on the internet
COO: Rachel Welch – has a single LinkedIn profile with no prior work history or other info available online.
Media Contact: Valentina Perez – does not exist anywhere else on the internet and doesn't respond to media inquiries.
I brought these concerns to an Atlas VPN representative and they were completely ignored.
I could be wrong, but I have a strong hunch that all of these people are fictitious personas. That includes the CEO, the COO, the media contact, and even this Medium writer.
If I was a betting man, I'd say that a foreign company or group created a Delaware entity, set up a few online accounts to provide an air of trustworthiness and then hoped that enough people would repeat what was being shared that it would be believed.
Final Review of Atlas VPN
So does all of this disqualify Atlas from being a legitimate VPN option?
That's for you to decide.
In my opinion, if you need a short term VPN connection to send data that you don't think is sensitive, then sure. Go for it.
But I have serious trust issues here and until that can be resolved, I'm going to be careful about what I send through their servers. This is true of every VPN I use, but especially Atlas.