Home network security should be a high priority, but for most of us…it's not. Usually, that's just because we don't know what needs to be done. To help you out, here are 5 simple home WiFi security tips you can start following today to increase your network security in about 15 minutes or less.
Be sure to subscribe to the All Things Secured YouTube channel!
As we continue to add more computers, mobile phones and Internet of Things devices in our home, the way in which we secure our WiFi router is important.
Remember, many of these devices are always listening to what's happening in your home (i.e. Alexa, Google Home, etc.)!
And if you have a camera system connected to your home WiFi network, these devices are even watching everything happening in your home.
That's scary enough on its own.
Imagine if somebody were able to hack your network.
I'm not trying to scare you, I promise! This kind of hacking doesn't happen often (although the popular Ring camera has been hacked before), but the steps that it takes to increase your network security are surprisingly easy.
Here's what we're going to cover:
Let's dive in!
5 Changes to Make on Your WiFi Router
Before I list out all five of the changes I suggest you make on your home router, there are two things you need to do:
Locate your WiFi router and be near it. You'll want to be physically next to your WiFi router to make some of these home network security changes.
Get Your Computer Ready. It's certainly possible to make these changes while on a tablet or mobile phone, but it's much, much easier to do so from a laptop if you have one.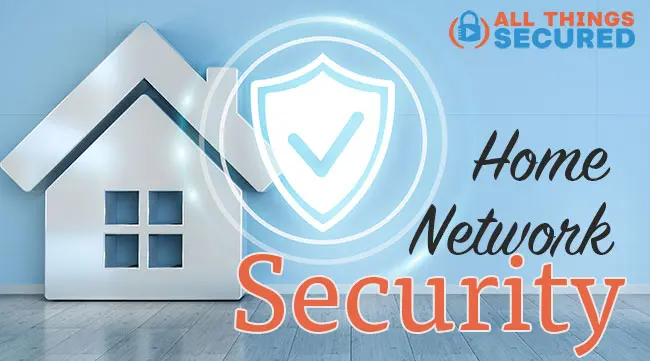 So to sum up, the 5 security changes you need to make on your WiFi router are:
Change your WiFi router SSID Name
Change your WiFi router password
Disable WiFi router remote access
Create a separate guest WiFi network
Turn off your WiFi router while on vacation.
Let's take a closer look at each of these home network security settings individually and how to change them.
Change Your WiFi Router SSID Name
For most people, once their internet provider installs and sets up their home network, they often never think about it again.
What you probably don't realize is that the SSID name (which stands for "Service Set ID") is often traceable to the make and model of the WiFi router.
For any neighborhood hackers, this makes it an easy target since some routers have known vulnerabilities. Your default SSID is basically a huge billboard telling people how they can break into your home network.
So how do you change the SSID on your WiFi router? Thankfully, it's not that hard.
Simply log into your WiFi router (watch the video above to see how this is done) and find either the "SSID Name" or the "Network Name". It might look something like this.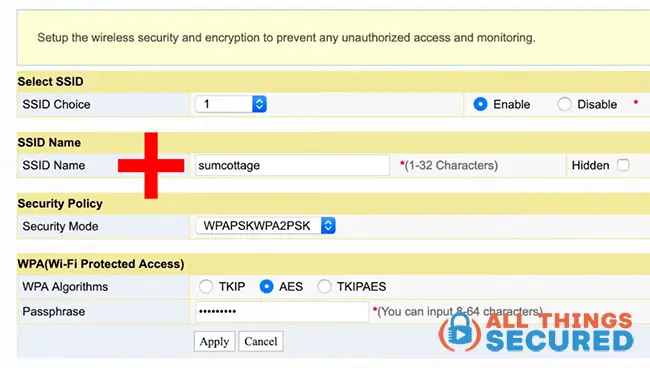 Make sure you change the name to be something you can recognize but doesn't necessarily tell strangers exactly which house the WiFi belongs to (i.e. don't use your address or full name).
Once you've made this change, you'll probably have to reconnect all of your devices to the network, but you'll only have to do this once.
Before you reconnect all your devices, though, make sure you finish the rest of these changes, starting with the password.
Change Your WiFi Router Password
More than likely, the default password for your WiFi router is pretty strong.
But it could be stronger.
Now there are two places that you could change the password settings for your WiFi router security:
Router Password: This is the password to get into the router itself (usually found on the bottom of the router). While it's not imperative that you change this password, it's yet another way that you can fortify your home network security.
WiFi Password: This is the most important password, since this is the front door to your home network.
To change the WiFi password, you'll need to find the password settings in the admin dashboard of your WiFi router.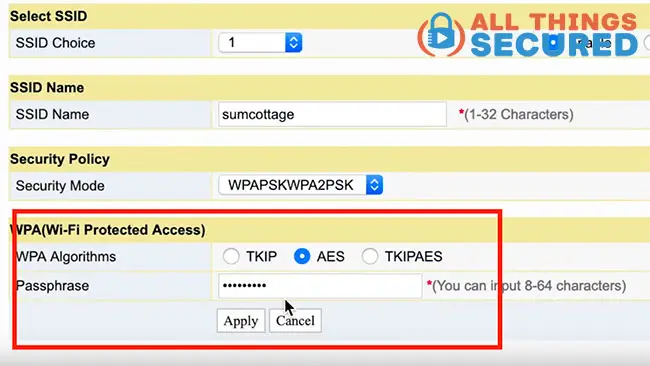 You'll want to make sure that your home WiFi is password protected.
I suggest you create a strong password that you can still remember or consider using a good password manager to create one for you.
Turn Off the Router Remote Access
There's a good chance that your WiFi router is set to allow for remote access by default. This is a big no-no for home network security.
In the event that you need to call customer support with your internet provider, there might be a good use for this feature. Otherwise, it's like a city with a massive wall of defense that has an unlocked back door.
Thankfully, for most routers this is a simple security setting that you can toggle on and off. In the case below, it was found under my router's security tab and listed as "remote control".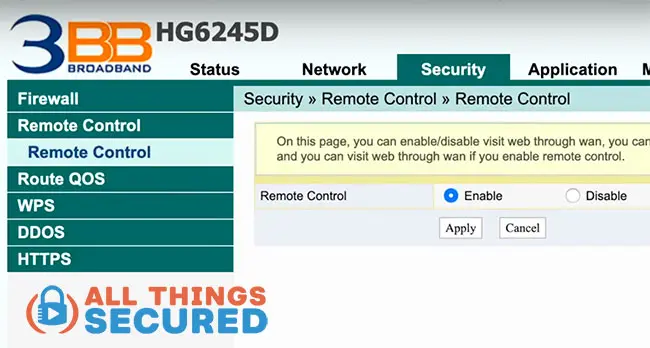 In the example above, I would want to set the Remote Control to "Disable" and then click Apply.
Unless you know what you're doing and why, there is very little reason to keep this security vulnerability enabled.
Create a Separate WiFi Guest Network
You know how it goes: your friends, family or guests come to your house and ask if they can use your WiFi.
You don't want to look like a poor host, but you also don't want to give them your password (which, let's be honest, is probably the same password you use in other places as well!).
So what's the solution?
Thankfully, most routers nowadays allow for the creation of a separate guest WiFi network that is blocked off from the rest of your network.
Setting this up will look different for every router, but in the case of my Apple Airport router, it will look like this: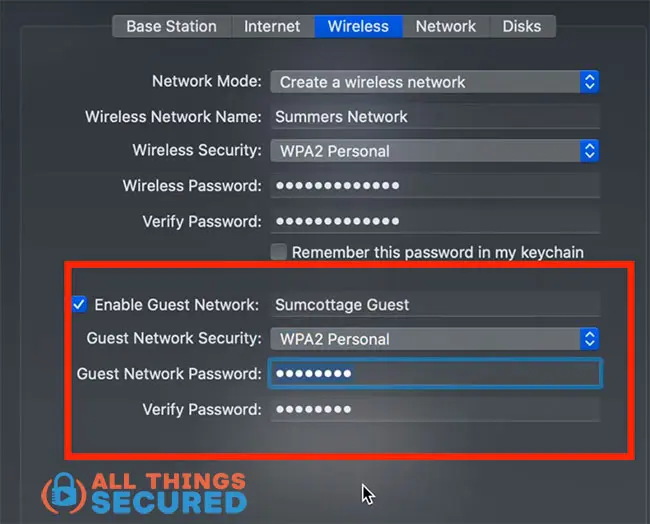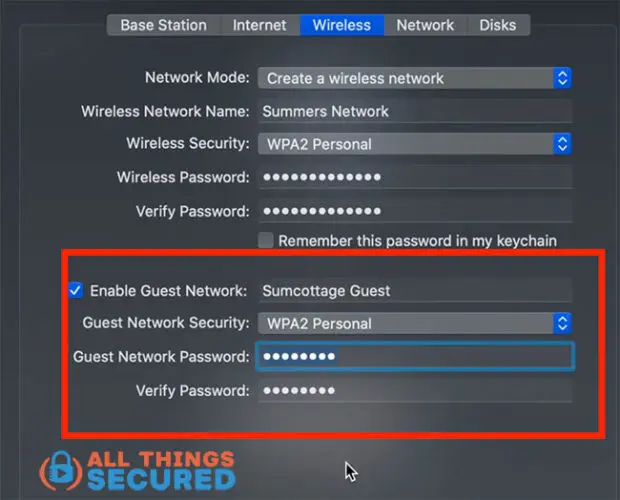 You still want this guest WiFi to have password security, but it doesn't have to be your most unbreakable password.
Create something that is easy to explain to your guests and make sure that the SSID uses the word "guest" somewhere to make it easy to find.
Your guests will thank you and you won't give away access to your entire network.
Turn Off Your Router While on Vacation
We remember to turn off so many things before we go out on vacation, but often our WiFi router isn't one of them.
When it comes to maximizing your home network security, powering down the network when you're not home isn't a bad idea at all.
You have to remember how many devices we usually connect to our home network, which are not only at risk if your network gets hacked, but also each pose their own risk as an entry point for attack.
But what about my home video security?!
This might be one reason why you wouldn't want to power down your WiFi, but even in this case I would advise you to weigh the benefits. If there is any way to hard wire your security directly through your internet router (as opposed to connected via WiFi), that is best.
Additional Home Network Security Tips
There are a number of other ways that you can strengthen your home network security aside from these five tips.
If you're still looking for even more steps that you can take to lock down your home, here are some to consider:
Hide Your Router SSID: In addition to changing your SSID name, you can also go so far as to create a hidden WiFi network that doesn't broadcast the SSID. While this doesn't necessarily make your network more secure (and it is a headache to reconnect all your devices once you make it hidden), it is an option if you're worried that your neighbors are trying to steal your WiFi.
Configure a VPN on your Router: If you want a little extra protection for all of the devices that connect to your network, you can easily configure a VPN to encrypt all of the data that enters and exits your home router. Check out this list of the top VPNs for routers to learn more.
Check for Router Firmware Updates: Higher-end routers will automatically update their firmware, but there are many others that don't. You'll have to log into the router and check for updates to see if the router is up-to-date.
Check IoT Device Security Settings: Remember that each device you connect to your network creates another possible vulnerability. Whether it's your printer, refrigerator, smart speaker or smart TV, make sure you check the security settings on each individual device. You're creating a entry through your security wall with each device, so you want to make sure each door is locked.
Set up 2-Factor Authentication Where Available: The best way to avoid having your video security cameras hacked is to set them up with 2-factor authentication (2FA). With any IoT device connected to your network that allows for 2FA, you should use it.
Improve Your Personal Security Habits: Your network security is only as strong as your personal security. You think your passwords are amazing? Check the strength of your password to find out. Not sure what else you need to do to improve your personal security. You can download a free online security checklist below that will give you easy next steps.
Remember that no single piece of software or security strategy will protect you 100% of the time. You need to be vigilant about your home network security.
Keep learning and keep trying to get better.
Final Thoughts | Security for Home WiFi Routers
Adding layers of protection around your home network security should be a no brainer. That starts with your WiFi router but extends to your personal security habits.
And it doesn't have to cost you anything!
You can even read more about some free online security tools that could help you along the way.
The reality is that we often think that we're more secure than we actually are (click to see the surprising infographic).
There's always more we can – and should – do to protect ourselves online. There are so many benefits to living in such a connected world…
…but there are also a lot of risks.
Many of them, thankfully, can be avoided.