If you've migrated over to the Brave browser and you've come across a "Pardon the interruption" error code while trying to stream Netflix, HBO, Amazon Video or any other content platform, you're not alone. Here is the simple, 30-second change you need to make in the settings to fix the problem.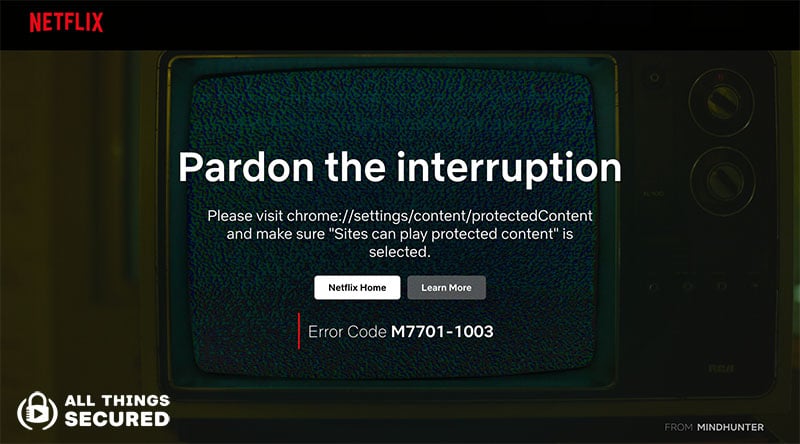 The problem here is that these streaming platforms do a DRM (digital rights management) check before they allow their content to be shown. This is designed to keep the content from being downloaded illegally.
By default, Brave does not offer this kind of DRM decryption.
Unfortunately, what you need to decrypt this DRM protection is an extension owned by Google. If you'd much rather not infect your Brave browser with a Google extension, then I recommend you use a different browser to stream your movies.
Time needed: 1 minute.
For everybody else, the setting to stream Netflix on Brave
Enter into the Settings of your Brave Browser

Click on the three bars on the upper-right hand side of your browser and find "Settings."


Find the "Extensions" Settings in the Brave Browser

This should be halfway down the left sidebar on the settings page.


Turn on the "Widevine" Brave extension

This extension allows you to view DRM protected content. Turning this on will require you to relaunch the Brave browser.


Relaunch Brave and Start Streaming!

Once you've restarted the browser, you will no longer receive the error code when you attempt to stream Netflix on Brave.
That's it! By turning on the Widevine extension, the Brave browser will now be able to decrypt any DRM-protected content that it comes across.
Now that you're able to stream Netflix content, you can even start using a VPN to access different content libraries. When doing this, you gain access to hundreds of additional shows and movies that are licensed to different countries around the world.