For those who want more choices, there are thousands of additional movies and TV shows available on Netflix as long as you're willing to change geographic regions. Let's take a quick look at how to change Netflix regions in less than 5 minutes!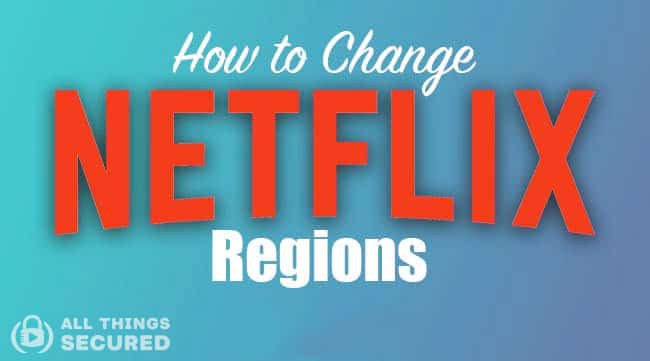 Netflix licenses different movies and TV shows for each individual country. For this reason, you'll find a variety of selection depending on the region from which you're viewing Netflix.
But how do you change Netflix region?
That's where a virtual private network, or VPN, comes in handy. I personally use and recommend Surfshark, and I'll explain how I do that below.
We'll start with the "how to" and then move into an explanation of my process for finding shows to view on Netflix.
How to Change Netflix Region
Time needed: 5 minutes
To change Netflix region, there are four quick steps you need to take.
Download and Install a VPN (or SmartDNS)

If you don't already have a virtual private network, or VPN, you'll need to download and install a VPN such as Surfshark VPN. This VPN software will allow you to connect to a server in a different country and "spoof" your location.

Connect to a Server in the Desired Country

Netflix content libraries differ based on country. To change Netflix region, you'll need to connect to a server in the specific country you want to access. Most VPN services will give you a list of country servers to choose from.

Restart / Reload Your Netflix Connection

Once you've connected to a VPN server, you'll need to reset your Netflix connection to change Netflix region. On a mobile device, this will mean force quitting the app. On desktop, it sometimes requires that you shut down your browser entirely (not just the tab) and reopen it to force the switch.
Watch The Big Bang Theory on Netflix!

Find Your Show and Start Watching!

Netflix won't tell you which country library you're connected to. The only way you'll know is when you search for specific movies or TV shows. As long as you're connected to the VPN server in that specific country, you'll have access to that content library!
You can also watch this video tutorial that shows basically the same process, step by step.
Be sure to subscribe to the All Things Secured YouTube channel!
The most important part of this process is resetting your Netflix connection.
If you're having problems changing the region on Netflix, this is usually the first place to troubleshoot. Make sure you completely shut down your connection to Netflix (in some cases, even logging out of Netflix), and then re-connecting.
How to Find a Netflix Show (in Different Regions)
Of course, before you change Netflix region, it helps to know which country has streaming rights to the show or movie you want to watch.
The outline of this process to find good Netflix shows in different regions is this:
Figure out which show you want to watch: Sure, you could just connect to a different Netflix library and scroll to see what they have, but I find that searching for a specific show or movie works best.
Search a Netflix Global Database: Once you've determined which show/movie you want to watch, search a database such as uNoGS.com (which stands for unofficial Netflix online Global Search). The database isn't always up-to-date, but it's the best I've found. This database will tell you which countries stream specific content.
Connect to the appropriate country server: Now you go through the process I outlined above to change Netflix region and watch the show you want.
Not every movie or TV show streams on Netflix globally, but you may be surprised to find how much is available. Sure, the US has the largest content library, but have you considered Canada, Mexico or Sweden?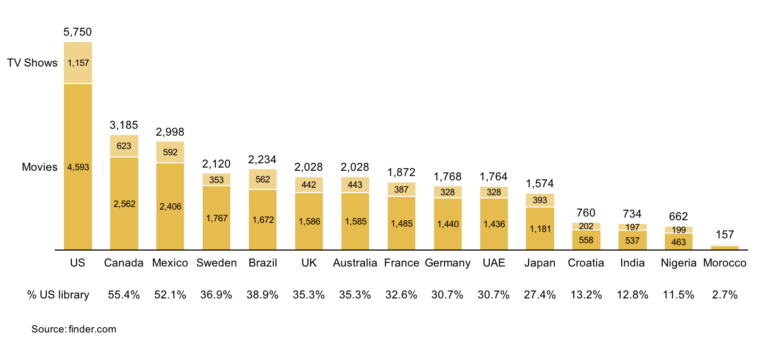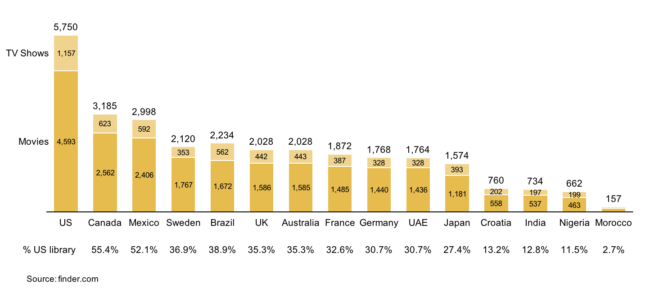 The global Netflix libraries represented above don't always overlap in content. The possibilities for shows expands at least by twofold!
Best VPN to Change Netflix Region
I've already mentioned that I prefer Surfshark to change Netflix region. The reason is that their software is super-easy and super-fast to connect to the various servers.
And in my experience, they also work well to stream Disney+ content around the world.
But…
…I'm fully aware that there's a lot of competition in the VPN world. Plenty to choose from, that's for sure.
But when it comes to the best VPNs for streaming on platforms like Netflix, here's what I recommend:
You'll notice that each of the VPNs I recommend above comes with a 30-day money back guarantee.
In my opinion, this is an important feature as you'll want to test whether or not the VPN works in your specific location, in your specific situation.
Make sure you test it out and if you don't feel like the service works as well as you'd like, take advantage of the refund policy!
Final Thoughts | Watching Netflix Anywhere in 2023
You've paid for your Netflix account…so you should be able to watch what you want! That includes every kind of show they have, including even streaming Harry Potter movies on Netflix.
Don't worry, it's not illegal to change Netflix region.
It's not even technically against the Netflix terms of use, although the language they use is extremely vague. The bottom line is that as of this publication, Netflix hasn't terminated any paying customers for taking advantage of this loophole.
So go download Surfshark VPN or one of the other recommended VPNs and start watching your favorite show no matter which region it's licensed in!