Your iPhone – that tiny, GPS-enabled tracking device that we never keep more than two feet away from our body – is one of the most sensitive vaults of personal data we have. These are the most important iPhone security settings you need to update…and thankfully it only takes a few short minutes!
Be sure to subscribe to the All Things Secured YouTube channel!
Right out of the box, the Apple iPhone is considered one of the most secure and private devices you can own.
Unfortunately, what this means is that most people think they don't need to do anything else to maintain their privacy and security. You're all good to go!
Not quite.
It's worth the effort to dig into your iPhone security settings and monitor what you're doing, and that's what we're going to cover here.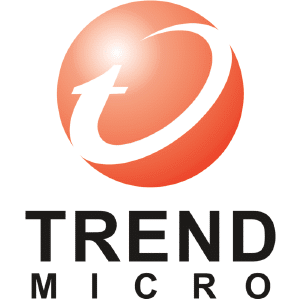 Want More Help?
Download the Trend Micro Premium Security Suite to scan and monitor all the devices in your home.
Use code ATS10 at checkout to get 10% off your order!
You can use a service like Trend Micro, linked above, to scan your device and give you custom recommendations based on your current iPhone settings, or you can scroll through the recommended security changes below.
Create a Stronger iPhone Unlock Code
The first and lowest hanging fruit is your iPhone unlock code. For those of you who, like me, have been wearing masks thanks to Covid, I've been typing in my passcode almost as often as using Face ID.
If you're still using a 4-digit unlock code, you might want to make some changes.
Apple now gives you a lot more flexibility in the length and type of pass code you use. I recommend you set a numeric passcode that's at least 6 digits long, if not longer.
If you really want an inconvenient but secure code, you can do an alphanumeric phrase, which basically means you're not just using numbers, but also letters and symbols.
How to Change Your Passcode in iPhone Security Settings
To change your passcode in your iPhone security settings, follow along with these instructions:
Open your Settings app;
Scroll down to find Face ID & Passcode; you'll be prompted to enter your current passcode)
Click on Change Passcode (you'll be required to enter your passcode again)
Click Passcode Options.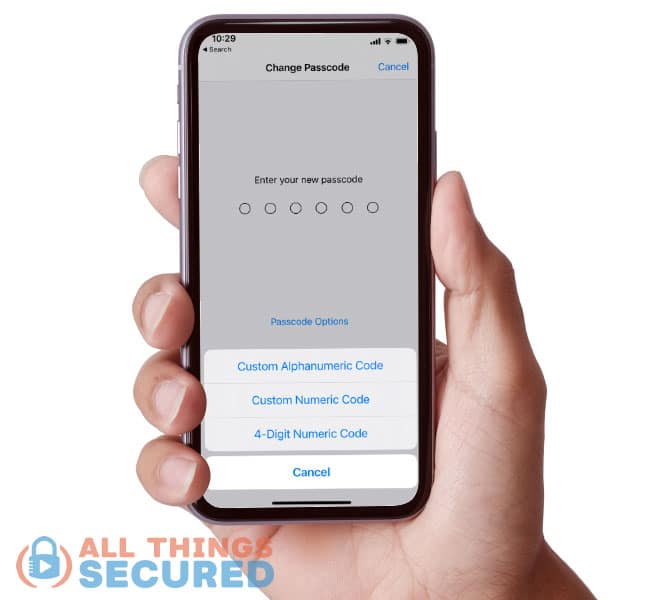 It's the custom codes you see in the screenshot below that you want to choose here in order to secure your iPhone.
Secure Your iPhone Lockscreen
Another critical change in this passcode setting has to do with your lockscreen. For iPhones, your lock screen actually presents more of a security risk than you may realize.
For example, if I steal your phone and you've allowed the Control Center to be accessed while locked, I can easily swipe down and turn on airplane mode.
Now when you try to locate your missing phone, it will no longer show up.
How to Secure Your Lockscreen
Thankfully, this lockscreen is an easy fix.
Open your Settings app;
Scroll down and click on Face ID & Passcode, which will require you to input your current passcode;
Scroll down and determine what you want to "Allow Access When Locked";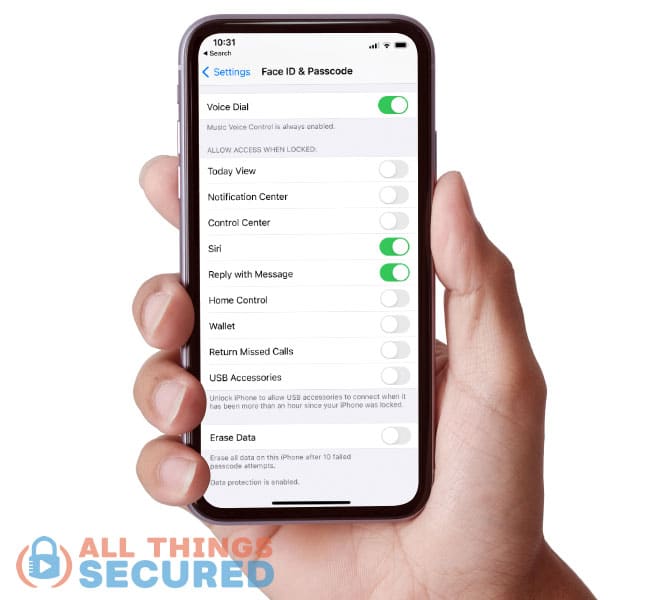 For me, as you can seen in the screenshot above, I've decided that the only things I want to be able to do on lockscreen are access Siri and reply with message.
Everything else requires the phone to be unlocked.
Manage Location & Bluetooth Permissions
Next, we're looking at our location and Bluetooth permissions. I've been surprised by the number of apps that request permission to use these features for no apparent reason.
For example, when I checked my Bluetooth permissions, I saw that the LinkedIn app had somehow requested and been given permission to use my iPhone Bluetooth connection. Apparently LinkedIn uses this for a "find other members nearby" feature, but that's just ridiculous.
That what a quick and easy "opt out".
How to Change Location & Bluetooth Permissions
Both location and Bluetooth settings can be found in your Settings app when you scroll down and click on Privacy.
Click into Bluetooth and audit the permissions. It's a simple "on" or "off" for Bluetooth.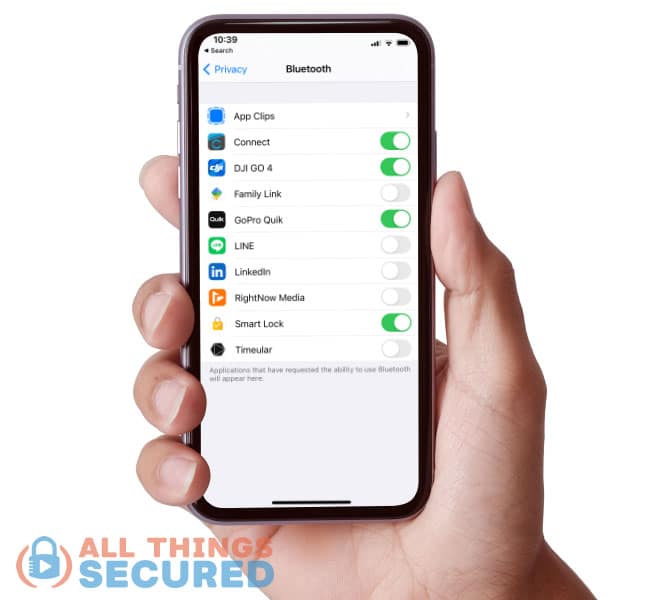 Going back into Privacy, you can find Location Services at the top. Here you'll see that Apple gives you three options to choose from:
Never
Ask Next Time
While Using the App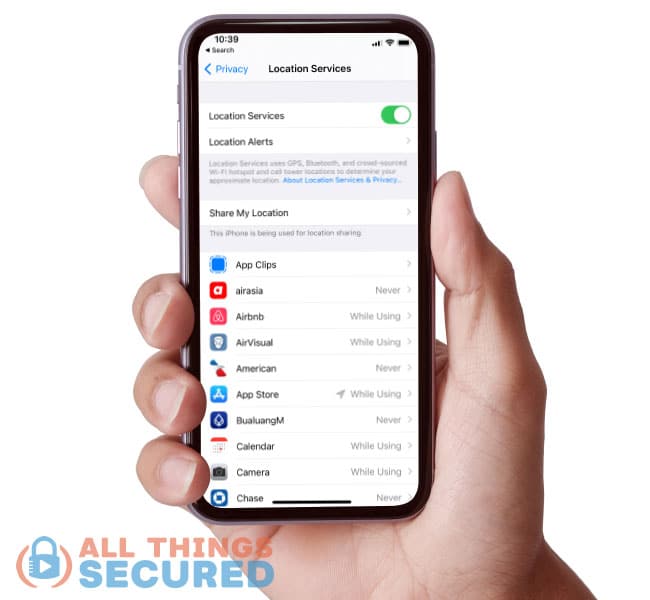 And you see that grey or purple icon next to some of the apps?
This shows you which apps have logged or used your GPS location in the past 24 hours.
Take a couple minutes to look these important iPhone security settings and decide which apps really need access to your Bluetooth and Location settings. There shouldn't be that many.
And if you're really worried about somebody tracking you, you can always look at ways to fake the GPS data on your phone.
Start Using a Password Manager
The next part of your mobile security is something I preach for anybody using any device: a password manager. On average, each of us has more than 150 online accounts for which we have to keep a username and password.
Personally, I have more than 350.
The only way to manage that number of accounts is by reusing the same password in multiple places or by using a good password manager.
While it may seem risky for those who don't know much about it, it's actually a very secure way to create, store and retrieve high-quality passwords. Whenever I log into any app or account on my iPhone, I click on the "Passwords" here and my username and unique password are filled in automatically after Face ID or Touch ID is confirmed.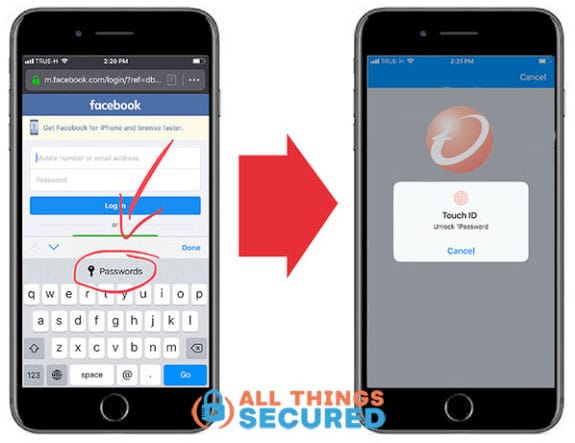 There are plenty of password manager apps on the market, but when you subscribe to the Trend Micro Premium Security Suite, it includes a password manager that is easy to use and syncs between all your devices.
Setting Up Your Password Manager
Once you've chosen the password manager you want to use, you'll want to do the following:
Open the Settings app;
Find and click Passwords;
Click on AutoFill Passwords;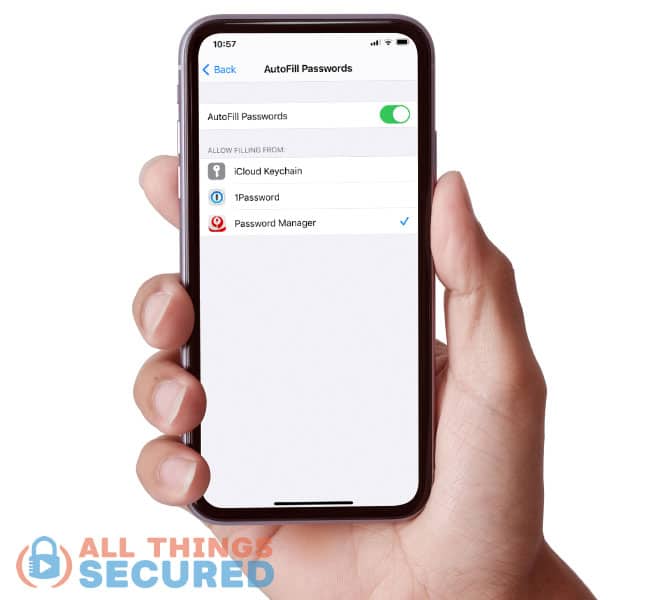 Choose the password manager that will autofill your logins (only password managers you've already downloaded will be available on this list).
Delete Facebook, LinkedIn, etc.
This next tip for securing your iPhone may seem weird, but hear me out.
Go to your homescreen, find the Facebook app and then tap and hold until you get a menu option to pop up. Click "Remove App" and then "Delete App".
I'm kinda joking here, but also kinda not.
There are some apps like Instagram or various messaging apps that are difficult to use without your phone. Others like Facebook, LinkedIn and Twitter, however can honestly be accessed just as easily on your internet browser.
And the Facebook app is notorious for attempting to track everything you do. Now newer versions of iOS are taking a very proactive step against apps that track your data and are forcing them to make a request to do so, but there's a lot we don't even realize that we give over sometimes.
How to Limit Social Platform Tracking
No matter whether you use the app or your browser to access these social media sites, doing a separate audit of your privacy settings is important.
I've already created a Facebook security tutorial, but this requires you to get your hands dirty and dive into your privacy and security settings in Facebook.
Another option is to use the Trend Micro Mobile Security app to scan your social media privacy settings.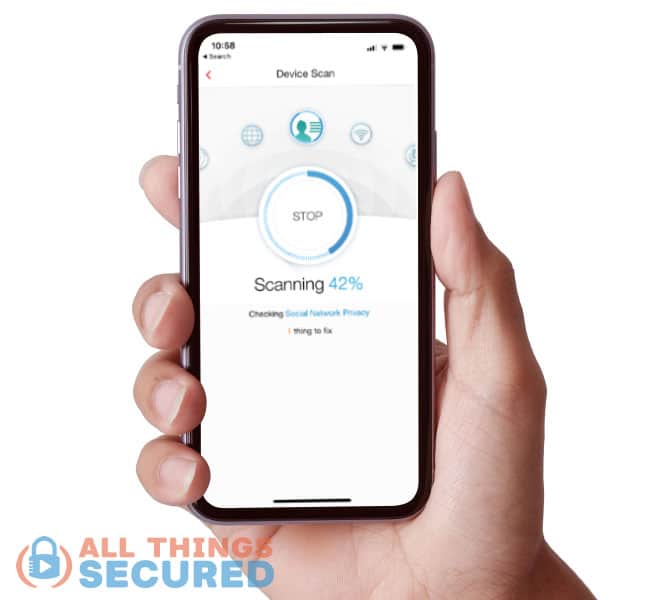 The app will give you feedback on exactly what you need to change for both Facebook and Twitter accounts.
Enable 2-Factor Authentication
If you've never heard of 2-factor authentication, it's basically a second way beyond just your password to verify that you are who you say you are. In the case of your iPhone's iCloud account, this is a way to secure anything that you store in the iCloud including photos, contacts, and messages.
Two-factor authentication is recommended for any app that allows it, but for your iPhone, I'm looking specifically at your iCloud account.
How to Add 2-Factor Authentication to iCloud
There's really no good reason not to turn 2-factor authentication on for your iPhone, so to check to see if it's on for you:
Open your Settings app;
Click on your name at the very top.
Here you'll click on Password and Security;
Find Two-Factor Authentication.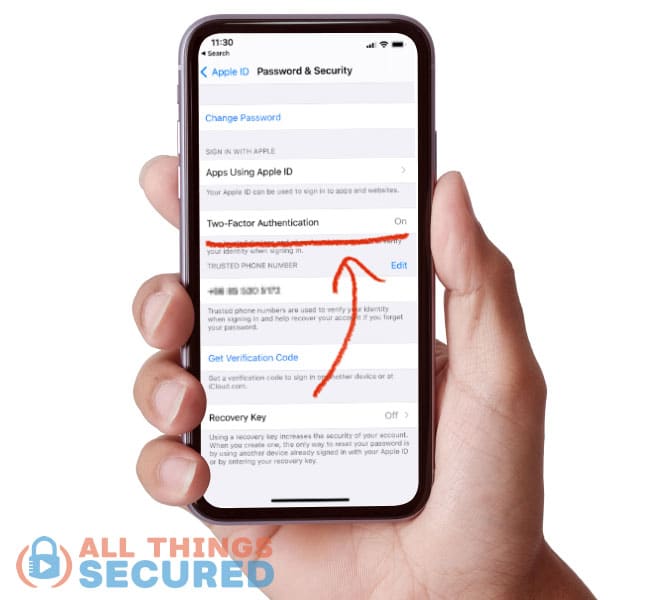 If it says "On", like you see in the screenshot above, you're golden. If it says off, you'll want to go through the process of turning it on. What you're seeing here is specifically for iCloud, but you can add 2FA to your Gmail account if you have that connected as well.
And a little side note: once 2-factor authentication is turned on for iCloud, it can never be turned off. Don't worry – this is a good thing.
Limit Photo GPS Tagging
Did you know that when you share an image with somebody taken by your iPhone camera, it often comes with GPS coordinates of exactly where that photo was taken? As in, down to the just a meter of accuracy.
Thankfully there are many places, such as Facebook, where this photo EXIF data is automatically removed, but in other cases, such as posting it on your own website, where somebody could determine your exact location using this hidden data.
How to Limit Photo GPS on iPhone
There are two different directions you could go here with this setting.
For those who can see no good reason for having GPS data associated with your photos, you can turn it off completely.
Open your Settings app;
Click on Privacy;
Click on Location Services at the top;
Scroll down to find the Camera app.
If you set this to "Never", the GPS data won't be recorded. Or you could just turn off Precise Location so that it's not exact coordinates.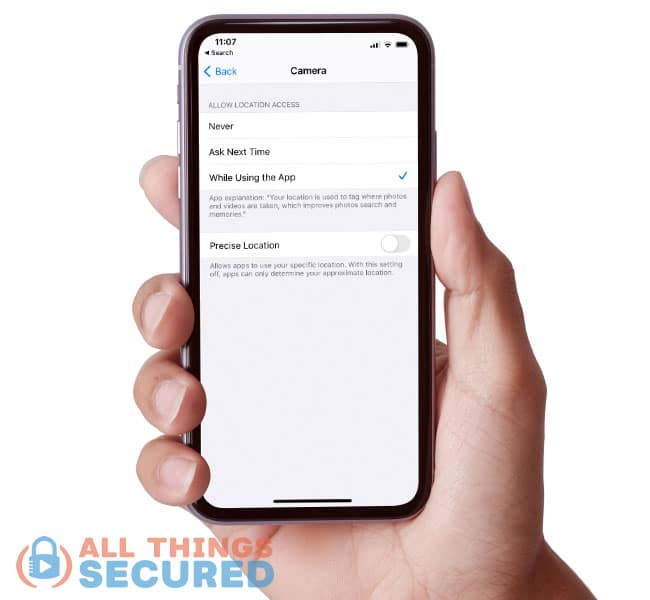 For those of you who like location data for your photos, you can simply remove the data when you share the photo.
For example, when I click to share this photo, I can click Options at the top and then turn off the location data.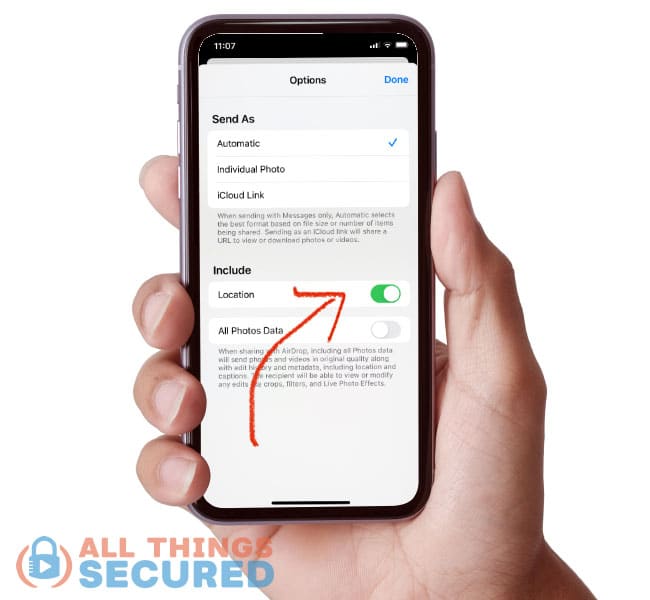 It will now share the photo without any of the GPS data on it.
BONUS: Use a Secure Mobile Provider
It's scary to consider just how much data you send through your mobile phone provider, and how very little security they provide. Consider the fact that the data for more than 37 million T-Mobile was hacked in late 2022.
Thankfully, the iPhone is generally considered a very secure phone, but most people aren't aware that there are options for secure mobile phone services that are available.
Services like Efani (read our full Efani review) run on the same network as many of the major providers, but add significantly greater privacy and security to protect you from some of the most common attacks such as SIM swapping.
Monitor Your Kids' iPhone Security Settings
Finally, while this may not apply to everybody and is worth its own tutorial, I'd like to touch on device security for our kids.
It's important to go through your kids' devices and make these kinds of changes for them, since they won't be doing it themselves. But it's also worth securing the devices of younger children by controlling what they can or can't see.
Some of this can be done via Apple Family, but I have to be honest – setting that up and using Apple Family has been incredibly frustrating for me. Other than limiting what apps my kids can download and keeping them from making unauthorized purchases, it's really been no help at all.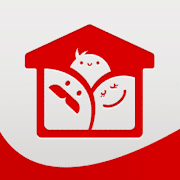 That's where the Trend Micro Family app has given me a lot more control and safeguards for the kinds of YouTube videos they watch, what kind of images they see and even what they search for online.
I can easily access reports of how they're using their devices, change the security settings, and manage the different family devices that we have using one app.
Final Thoughts | iPhone Security Settings
Don't wait to make these kinds of changes to your iPhone security settings!
This is important even for those who don't think they have anything valuable on your phone. You don't realize just how valuable the information on your phone is.
And if you need more help with maintaining your privacy and changing these settings, I recommend you give the Trend Micro Premium Security Suite a try. The whole suite includes helpful apps such as:
A Virutal Private Network (VPN);
A password manager;
A mobile security monitoring app, and
Dark web monitoring.
All of these are bundled together at a price that is certainly cheaper than if you were to get all these apps separately.
Secure Your Mobile Devices
Get 10% off using code ATS10
Trend Micro allows you to secure ten devices to cover your entire family.