When it comes to streaming Anime and Manga online, it does not get better than Crunchyroll. The streaming platform has over 1000 anime titles, 200+ Japanese dramas, and over 80 Manga shows. Unfortunately, most of the content library is restricted for those outside the US, but there is still a way to unblock Crunchyroll in 2023.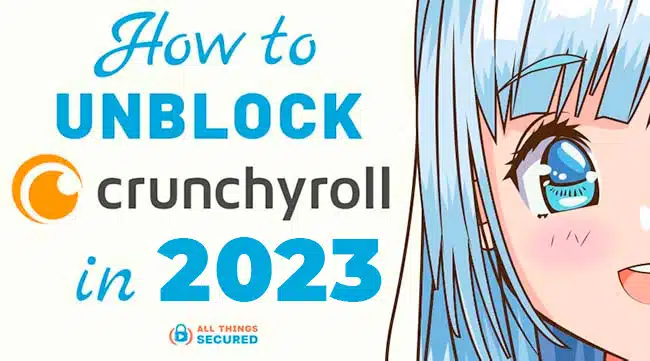 The best part about Crunchyroll is that you don't have to be a paying subscriber to access content on the platform. You don't even need to be signed in!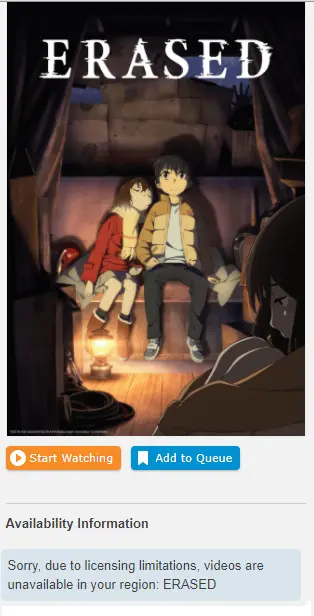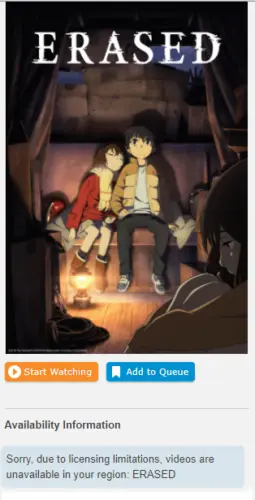 You just open the Crunchyroll website or app and begin streaming.
Unless…
…you're not in the United States.
If you are outside the US, the number of titles you can access on Crunchyroll is very limited. For instance, titles such as Naruto, One Piece, and My Hero Academia- all cult classics -are unavailable outside the US.
The same is true for popular Animes like Erased, Ore Monogatari, Cowboy Bebop, Kill la Kill just to mention a few.
The good news is there is a way to access all geo-blocked titles from anywhere in the world and I'm going to share it with you in this post.
When Crunchyroll receives your connection request, it first checks your IP address to determine your location. That is how they can tell you are not in America and consequently block you from streaming a large chunk of their content.
Solution | Change Your IP Address!
Changing your IP address can be easily done using ExpressVPN, a virtual private network that encrypts your data and assigns you a new IP address. Just download, connect to a server in the US and start streaming Crunchyroll!
That's the short version. Now, let's look at the step by step process to unblock Crunchyroll using a VPN.
Note: Some of the links in this article may be affiliate links, which means that at no extra cost to you, I may be compensated if you choose to use one of the services listed. I only recommend what I personally have used, and I appreciate your support!
Unblocking Crunchyroll in 2023
To access geo-blocked content on Crunchyroll using a VPN, just follow these 3 easy steps.
The process shouldn't take more than 10 minutes.
Step 1: Install a Virtual Private Network (VPN)
There are multiple VPN solutions but not all of them will effectively work with Crunchyroll. The platform has put up measures to detect VPN connections and will block you from accessing the site until you turn off the VPN.
Nevertheless, I've personally used ExpressVPN and Surfshark to access blocked content on the platform, and hence, they are two VPNs I highly recommend.
Both VPNs offer fast streaming speeds, an adequate number of servers in the US, and they have a 30-day money-back guarantee allowing you to get a full refund if they don't meet your expectations.
There are a few free VPN options I've used, but these are usually short-term solutions that won't work if you want to watch Crunchyroll often.
To sign up for a VPN just head over to their website, choose the best plan (longer plans provide the best deals), and create an account with them.
Unblock & Stream Crunchyroll!!
30 day money back guarantee
Now, download an app for your operating system (Windows, Mac, Android, iOS, Linux, etc.) and sign in to your account.
Step 2: Connect to a VPN Server in the Location of your Choice
Once you are logged in to the VPN, go to the server map and choose your preferred country. In this case, I recommend you connect to a US server since the American Crunchyroll Library has the biggest collection of titles.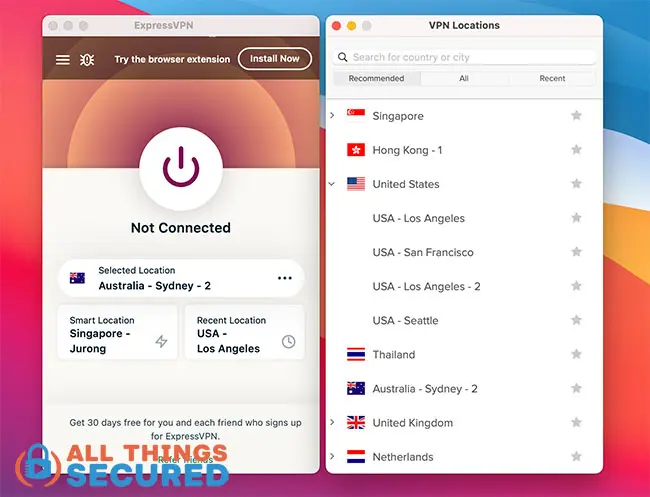 In the above screenshot of the ExpressVPN desktop software, you can see that they have a number of recommended US-based servers to choose from.
However, if your desired anime is not available in the US, switch to a server in a country where it's accessible.
Step 3: Launch Crunchyroll and Stream Away
The final step is to open the Crunchyroll app or website. The streaming service will check your IP address and now, instead of your real address, they will see the VPN IP address and give you access to content based on that IP.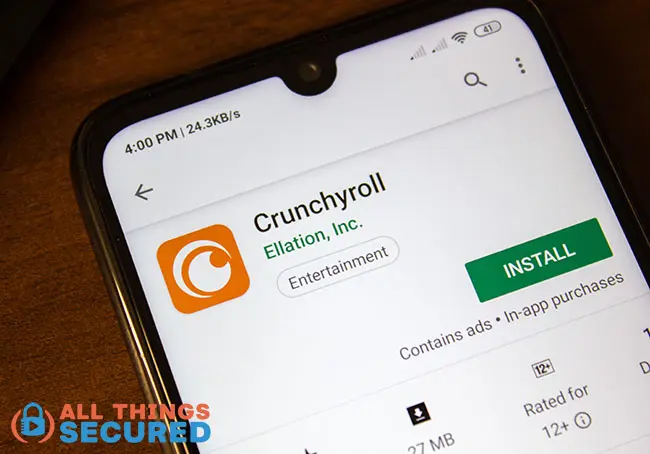 In some cases, you'll find that Crunchyroll is still blocking content, even after connecting to a VPN. In this case, you can easily troubleshoot by:
Deleting all cookies from your browser settings;
Closing down your current Crunchyroll session (browser window);
Try opening in an incognito window;
Usually, at least one of these changes will do the trick.
Free VPNs vs Premium VPNs: Which is Best to Unblock Crunchyroll?
Can you use a free VPN to unblock Crunchyroll? It's possible but presents a serious risk to your privacy.
Free VPNs lack the resources to continuously update their servers and IP addresses when existing ones are identified and blacklisted by Crunchyroll.
Using a free VPN or free browser extensions to unblock Crunchyroll will most definitely return an error.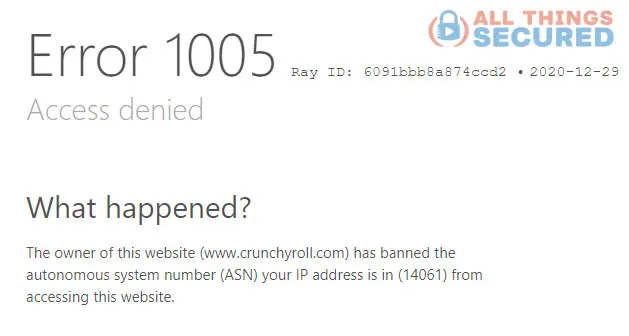 I also don't recommend that you use free VPNs for long-term use because what you don't pay in terms of subscription fees, you will pay in terms of your privacy. Free VPNs still need money to run their servers and as such, they may resort to selling your private data to advertisers and other interested parties.
If you absolutely must use a free VPN, I recommend trying ProtonVPN, a quality service that has servers in the US.
Investing in a premium VPN has it's other benefits apart from unblocking geo-restricted animes on Crunchyroll.
Additional Benefits of Using a VPN
Unblock other streaming services – Just like Crunchyroll, all the other streaming services like Netflix, Prime Video, Hulu, and Disney+ can be unblocked with a VPN. Using a VPN will help you bypass these geo-restrictions and access unlimited content.
Privacy and Security – When connected to a VPN, all your internet traffic is encrypted meaning that no one including your ISP, government, and hackers can see what you are doing online. A VPN helps protect your sensitive data while you are online.
Frequently Asked Questions About Crunchyroll
There are a number of common questions about streaming Crunchyroll while using a virtual private network.
Where is Crunchyroll available?
The streaming service is available in just about every country. It's the number of titles that differ for different regions. In the US, where the platform is based, the widest selection of shows is available, with over 1000 anime, 80+ manga, and 200+ doramas.
How do you get banned from Crunchyroll?
Crunchyroll can only ban IP addresses and member of the Crunchyroll forum. Most "bans" are actually geographic restrictions, which means that the site doesn't stream in your location. In that case, using a VPN like ExpressVPN to stream Crunchyroll is useful.
How do I bypass the region block on Crunchyroll?
You bypass a region block on Crunchyroll by using an unblocker like ExpressVPN that will change your current IP address to that of a different region. This way, when Crunchyroll checks your IP address they will be tricked into thinking you are in the selected region.
Does Crunchyroll block VPNs?
Yes, using a VPN is against Crunchyroll's terms of service and so they have algorithms to identify and block access to their site if you are using a VPN. However, the best VPNs are always a step ahead and will quickly add new servers or new IP addresses if the existing ones have been blacklisted.
Which VPN is best for Crunchyroll?
The best VPN for Crunchyroll is one that offers excellent streaming speeds and has enough servers in the US to avoid congestion on one server. ExpressVPN allows for full HD streaming with no buffering and has almost 2000 servers in the US alone. This is why it is my top recommended solution for Crunchyroll.
Enjoy Streaming Crunchyroll!
It's not fair that Crunchyroll has different titles for different countries but, there is mostly nothing they can do about it. However, there is something YOU can do about it and I've just shown it to you.
Now you can catch all your favorite anime, manga, and dorama titles from anywhere while also enjoying the added benefits of using a VPN.
Get connecting and start enjoying your shows!