The Disney+ streaming service has launched to great fanfare across much of the world…but not everywhere. What if you're not located in one of those countries where it hasn't yet launched? There are ways to stream Disney Plus outside the United States, whether you're traveling or you just want early access. Here's how to do it.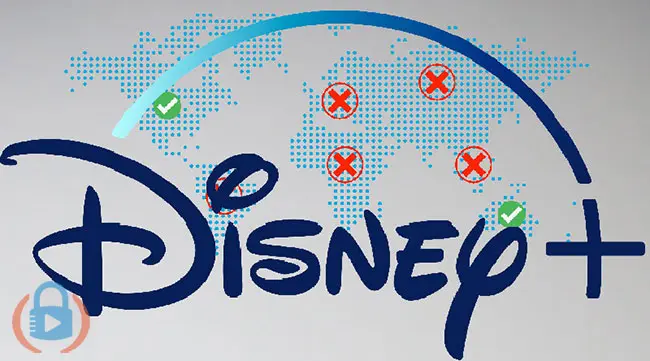 In our shrinking global economy, it's hard to understand why Disney would decide to delay rollout of the Disney+ service to Europe and the rest of the world.
Currently, Disney+ is available to those people currently residing in:
United States
United Kingdom
Argentina
Australia
Austria
Belgium
Bolivia
Canada
Costa Rica
Denmark
Finland
France
Nicaragua
St Lucia
Suriname
Brazil
Columbia
Chile
Germany
Guatamala
Iceland
India
Indonesia
Ireland
Italy
Japan
Sweden
Switzerland
St. Kitts & Nevis
Guyana
Luxembourg
Mauritius
Mexico
Monaco
Netherlands
New Zealand
Norway
Panama
Paraguay
Peru
Portugal
Spain
Venezuela
St. Vincent & the Grenadines
El Salvador
Honduras
Uruguay
Ecuador
Dominican Republic
Antigua & Barbados
Bahamas
Trinidad & Tobago
Belize
Haiti
Jamaica
Barbados
Dominica
Grenada
That's a lot of countries, right?
And more countries are expected to be launched throughout 2023…but when you consider that there are 195 countries in the world, we're still missing quite a few here!
What about the rest of Europe? Asia? Africa?
Right now, Disney is geoblocking their Disney+ content in all these other countries. Even if you're a US or Canadian citizen living abroad, you can't easily access Disney+ anywhere in the world.
So what are your options? Here's what you need to know.
The simple solution is a location-spoofing service like NordVPN or Surfshark.
But before we jump into that, let me explain what's happening and why it's worth the investment.
Note: Some of the links within this article are affiliate links, which means that at no extra cost to you, I will be compensated if you choose to use these services. I only write about and recommend what I personally use, however, and I'm happy to say my family is enjoying Disney+ from here in Thailand 🙂
Understanding GeoBlocking to Access Disney+
Let's say you were in my situation last year, physically located in the Thailand. If you wanted to watch Disney+ from within Thailand, you might try to visit their website.
Unfortunately, you'd be met with this frustrating landing page: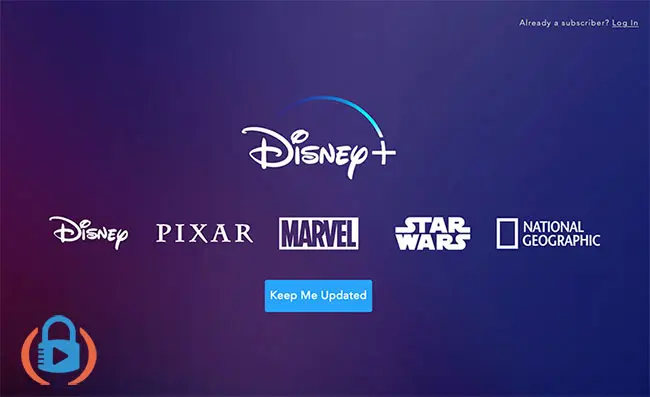 You see, for the longest time, the Disney+ service hadn't launched in Thailand (they've since launched in late 2021, but I still have to use a VPN for my US-based account).
Disney does this via a technology known as geoblocking. I won't bore you with a technical explanation here.
Instead, what you need to know is that Disney determines your location based on an address known as an "IP Address" that your computer is assigned when you get on the internet.
This similar process is happening if you want to, say, stream Netflix in China, which Netflix blocks. If the IP address shows as being inside the United States, Disney allows you to stream Disney+ movies and shows.
Horray! 🙂
If this IP address is located in a country where Disney+ hasn't yet launched…you get that fun little "Keep Me Updated" message.
Boo. 🙁
So what if there was a way that you could trick Disney into thinking that you are located in the United States, even if you're actually in Thailand, Sweden or some other such country?
There is a way…and it's called a Virtual Private Network, or "VPN" for short.
Using a VPN to Watch Disney+ Around the World
I've been using a VPN to watch Disney+ in Thailand and it's been working great.
It's a very simple process. I log into one of my VPN services, of which I have many. For Disney+, I go between using both NordVPN and Surfshark. They both have their strengths, but for the sake of this tutorial I'm just going to show you screenshots for NordVPN.
As you can see in the screenshot below, there are plenty of cities I could choose from if I wanted to.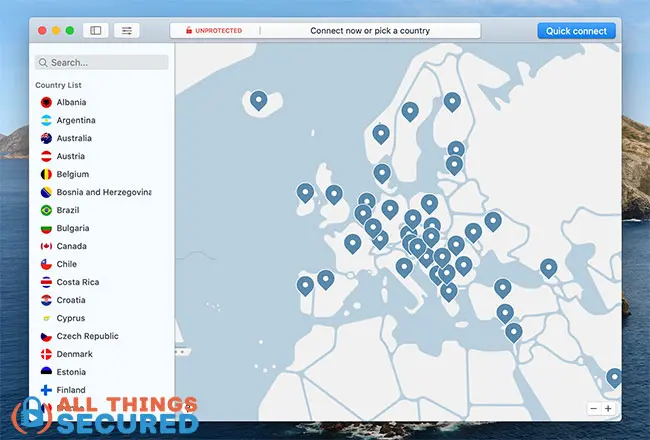 Once I'm connected to the US server, when I log on to the Disney Plus website, Disney sees my "address" as being in the United States, even though I'm physically not there.
To be clear, I'm still paying for my Disney+ subscription. A VPN doesn't give me free access nor is it a replacement for my internet.
There's more details to what a VPN is, but in this case it's a means of virtually transporting you to any location in the world to beat geoblocking.
Now when I log in to watch Disney+ internationally, I'm greeted with this welcome screen: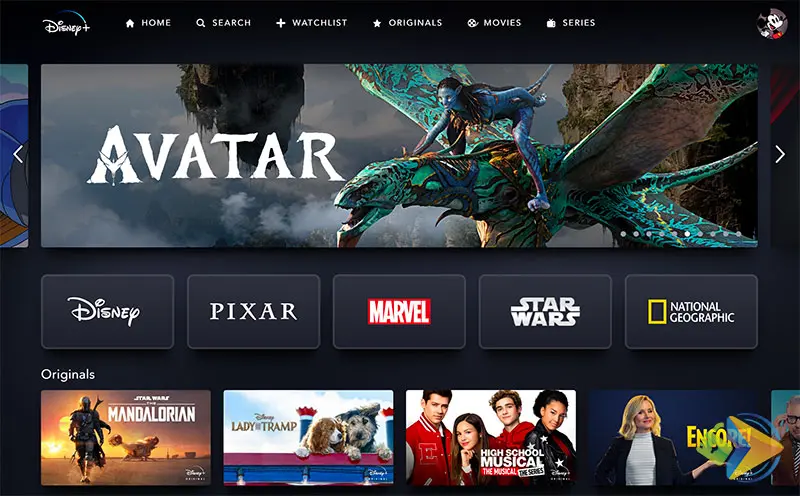 I have to remain connected to the VPN while watching Disney+ internationally, but thankfully it's a set-it-and-forget-it type of software.
Is it Legal to Stream Disney+ Where It Hasn't Launched?
Some of you may be asking whether all of this is legal or not. I completely understand where you're coming from.
It's worth stating this again – you're still paying for the Disney+ service. I'm not showing you some hack to get Disney+ free.
No, the important question isn't whether using a VPN is legal or not. There's another interesting question to consider:
Is it legal for Disney to discriminate against a paying customer based on their physical location?
We're wading into a lot of legal grey area here. Disney has every right to suspend your account if they determine that you're deceiving the system. But they won't…because you're a paying customer.
Why wait until Disney+ is launched in your country when you could start streaming it today?
Final Thoughts | Watch Disney+ Anywhere
In order to watch Disney+ anywhere in the world, you're going to need to find a way to bypass geoblocking. In other words, you need to trick Disney into believing that you're located in the United States, Canada or the Netherlands.
The best way to do this is to use a VPN like NordVPN or Surfshark. Although there are a number of other great VPNs for streaming, I've had great success with both Surfshark and NordVPN so far.
A VPN is cheap, it's simple to use, and best of all, its function goes beyond just defeating geoblocking. A VPN also encrypts your data and keeps you secure when you're accessing the internet on an unsecured public network.
Now, go enjoy a great movie or TV show as you stream Disney+ anywhere in the world!